Holiday Inn Express Euljiro, South Korea
Since the Subway Line 2 on Seoul's train can take me almost everywhere and connects me to most train interchange stations, I was looking out for an accommodation on Line 2. Euljiro-3 ga or Euljiro 1-ga was ideal since it is located within walking distance from the popular Myeongdong district. I settled for Holiday Inn Express Euljiro as it's very close by to Euljiro 3-ga station and reasonably priced at KRW115,000 (room is secured by credit card and will be charged upon check-in) per night for a Superior Double Room via Booking.com.
The location was wonderful as the hotel is located right at Exit 1 of Euljiro-3 ga. From the airport, we took the AREX train and alighted at Hongdae station before transferring to Line 2 to get to Euljiro-3 ga. There is a convenience store right opposite the hotel, which made grabbing some snacks/drinks easy. From Euljiro-3 ga station, the underpass directly connects you to the Myeongdong area such as Lotte Mall Myeongdong. It's about 10 minutes walk either under or above ground. We even walked to Myeongdong to get some fried chicken for supper when our mouths were itchy!
Other attractions within walking distance are Cheonggyechon Stream and Insadong.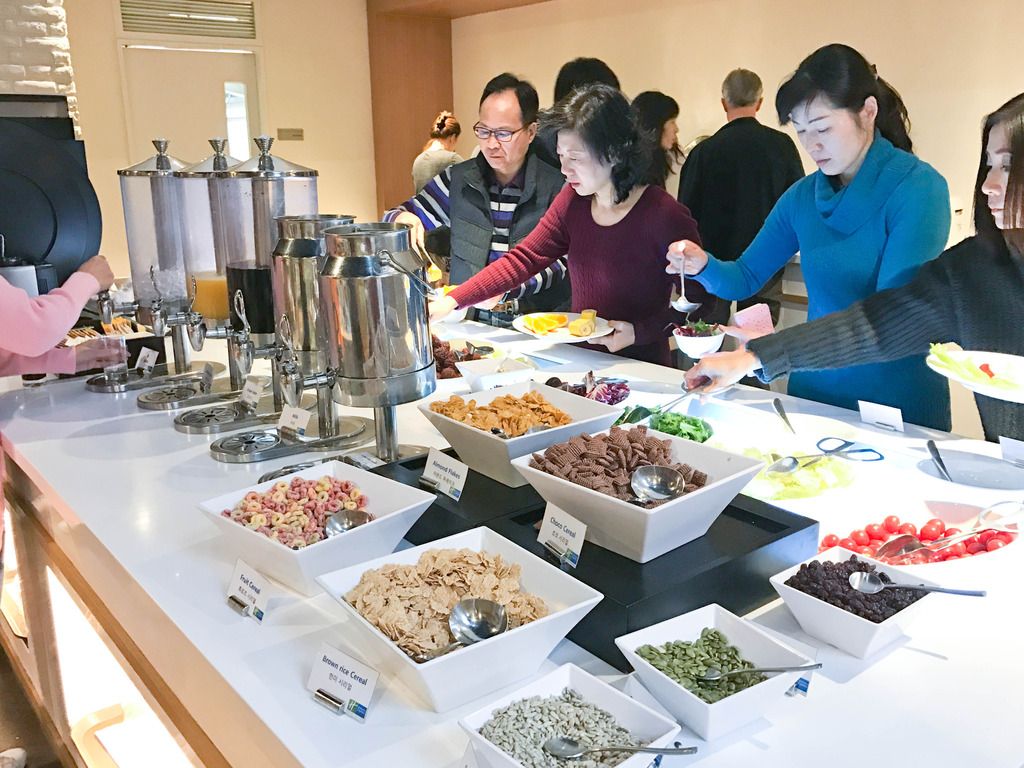 We had breakfast included in our room rate and it's located at the hotel's basement. Most of the mornings, the café was extremely packed and it's almost full house (we even had to queue and wait for awhile one morning). Breakfast was simple but good enough for a quick bite – cereal, salad, bread, eggs, juice, coffee and there were slight variations when I was there. I thought the staff at the reception had quite a good command of English so it was easy speaking to them.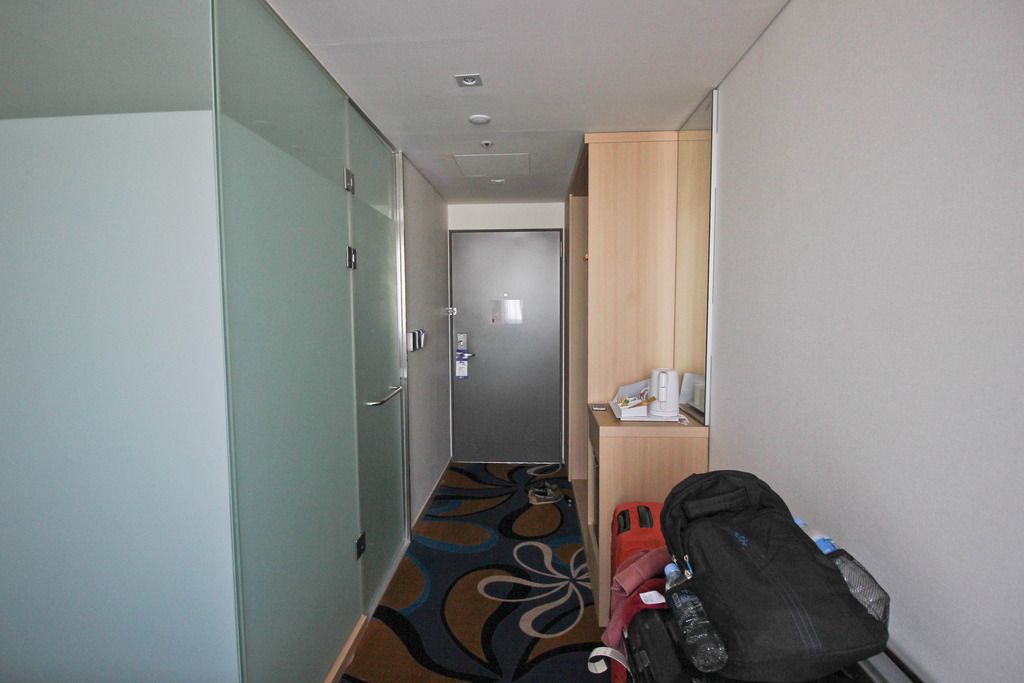 The room was simple and had the basic amenities such as toothbrush, toothpaste, shower cap (these are only replaced every 2 days), towels, hair dryer and water boiler. There was sufficient space for the 2 of us with our luggage opened up. For the bath room, only one door is available – hence you either close the shower room or both the shower and toilet which was pretty good as the toilet is still available even when your partner is showering.
One thing to note is that the aircon is not available during cold weather periods. I was there from 3 April to 9 April 2017 (spring) and no aircon was available so we had to open the window slightly but that worked fine for us. The weather was already warming up and it might get quite stuffy so you might want to check with the hotel first if you're particular about this as I'm not sure which period would the aircon come back on.
All was well until my very last night, when I returned back to my room to find that all my plastic bags were missing. They were empty plastic bags as I had already packed my bag the night beforeand had neatly folded them on the table as I had intended to bring it back to Singapore since I had some gifts with me. However, they were all missing, along with an empty Lotte mart paper box. I approached the receptionist and they checked the CCTV and saw the housekeeping staff bringing the Lotte box out of my room. I was extremely furious as it was unacceptable for the housekeeping staff to throw away the guest's belongings that were not in the trash bin/next to the trash bin. Does that mean that there is a risk that my personal belongings will also be thrown away as I am out for the day since the staff have the practice of touching the guest's belongings as demonstrated by their act above? This is a no-no for me, what more for a reputable brand like Holiday Inn.
OVERALL
---
I wish that I could recommend Holiday Inn Express Euljiro but I wouldn't based on the incident that happened. Based on all my travels thus far, I have never experienced such an act before. Coming from the point of a tourist, I have trusted the hotel by selecting them as my choice of
accommodation
but they have crossed the line.
On a side note, the hotel did provide us with a full refund after the entire frustrating incident.
Date of visit: April 2017