Eating in Jeju, South Korea — Jeju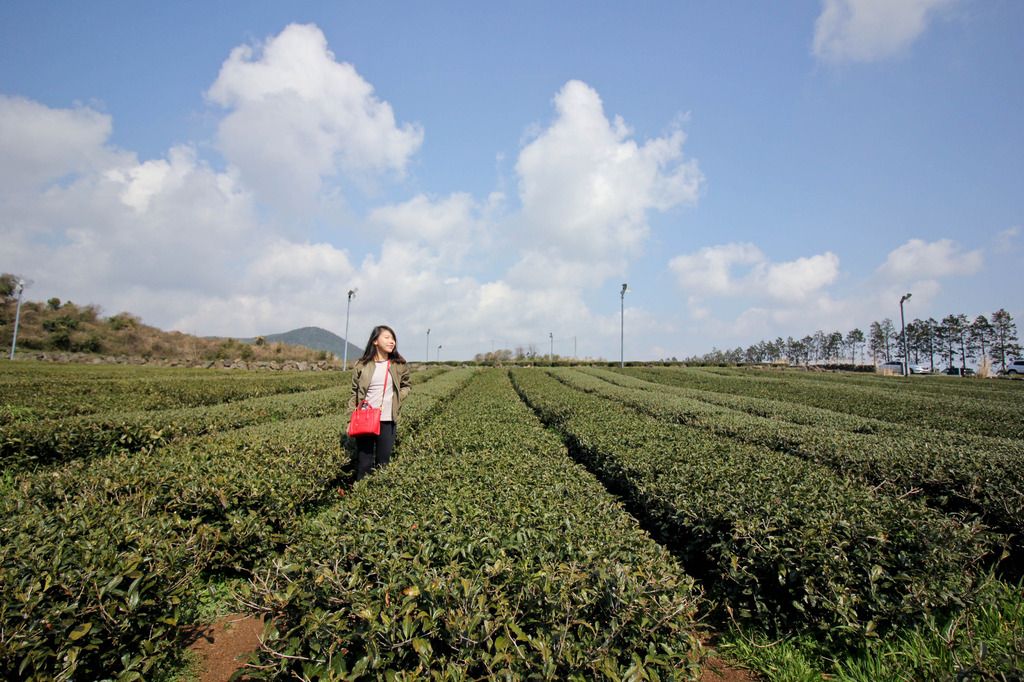 To be honest, it is easy to have a not-as-tasty meal in Korea and especially in Jeju probably due to the localized dishes that we might not be that accustomed to. I've some good and bad food this trip so read this post for more details!
064-738-0750 (Jungmun store) | Mon-Fri 1100-1500, 1700-2100 Sat & Sun 1100-2100

---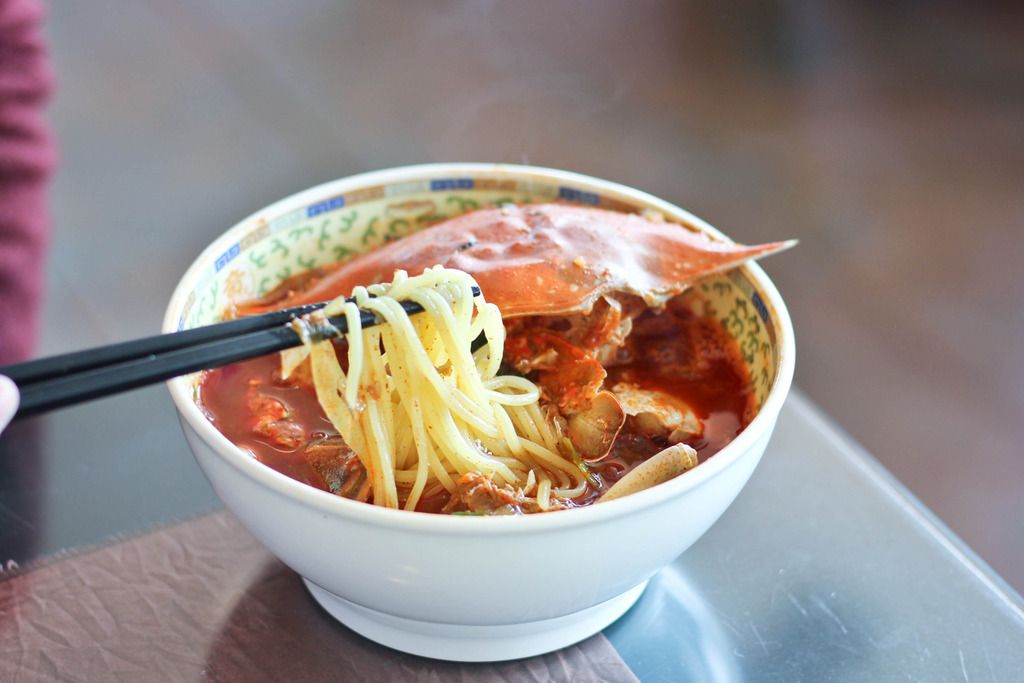 CRAB JJAMPONG (KRW8,500)
JAJJANGMYEON (KRW5,000 OR SMALLER PORTION AT KRW3,000)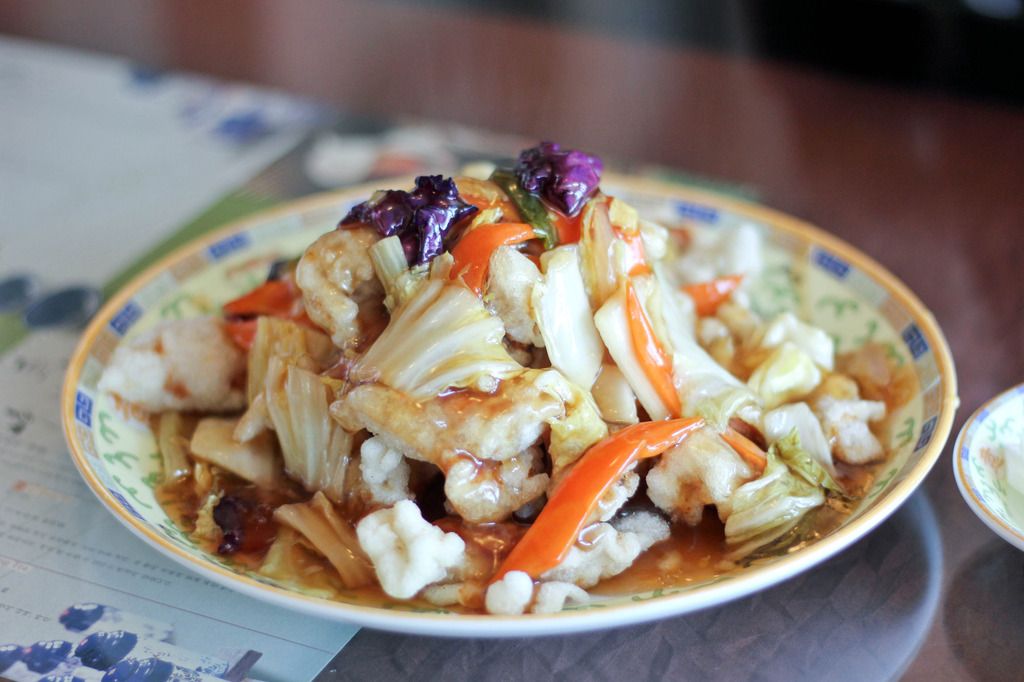 TANGSUKYUK (KRW16,000 FOR SMALL)
Deokseongwon's Menu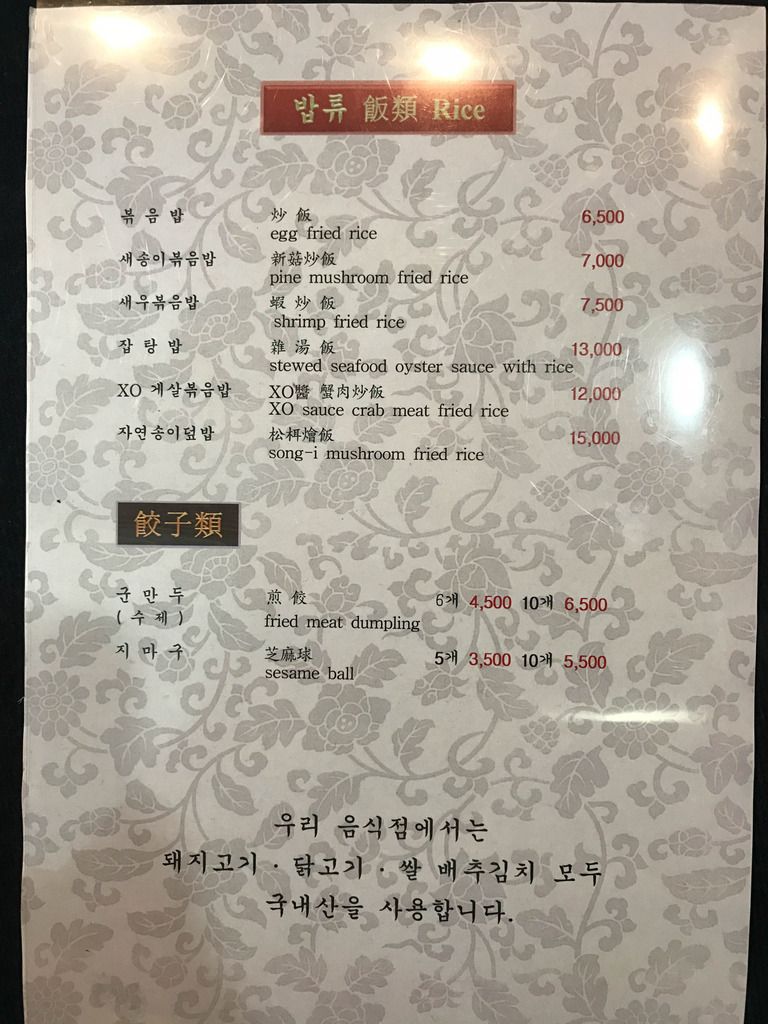 Deokseongwon is a Korean-Chinese restaurant that is popular with tour groups and locals. I heard from my friend that the Seogwipo outlet is filled with tourists but the Jungmun outlet that I visited was fairly quiet and littered with locals. Since we are in Korean-Chinese restaurant, we ordered the 3 classic dishes as pictured above!!! I was very satisfied with the super comforting Chinese food that they served. The crab jjampong soup was perfect
—
it captured the sweetness of the crab, instead of other jjampong which I find to be one-dimensional as they are purely spicy. The noodles in the jajjangmyeon were of a good bouncy texture and the black bean sauce was sweet and smooth. For the tangsuyuk, it is similar to our sweet and sour pork but the sourness comes from vinegar instead of tomato sauce. Even though there was more flour than meat in each piece, the high heat quick frying that resulted in a lightly crispy bite made me like it!
064-739-9592 (Jungmun store) | Daily 1200 - 2200

---
BLACK PORK FOR 2 PAX (KRW54,000)
KIMCHI STEW (KRW7,000)
Black pork is a local delicacy in Jeju so expect to find tons of barbecue restaurants serving it. There is even a black pork street! We visited Donsadon as I've read a number of good reviews, albeit the higher prices. The 600g pork was sizeable
—
with both fatty and meaty parts. An anchovy dip is served in a small aluminum foil cup and heated up using the charcoal fire. The staff helped us to barbecue the meat and served us the different parts as each had different cooking time. He would also tell us how to enjoy the meat
—
dip with the anchovy or salt! The anchovy dip was a little fishy on its own (meaning fresh anchovies were used to make it!) but was very savoury when dipped with the pork! The fatty parts melted in our mouth while the meaty part was tender. I was a little intrigued by the black hair strands sticking out of the skin but I overcame my fear because the meat was delicious! This black pork was definitely way better than the one my taxi guide brought me to 4 years back. The kimchi stew was equally on point as it was sour and spicy enough for me. You can even heat up your stew over the charcoal when you're done with all the meat!
064-733-0345 | Daily except Wed 1000 - 2200

---
ABALONE SEAFOOD SOUP (KRW50,000)
There is an abundance of fresh seafood in Jeju and what better way to enjoy it than a hot steaming pot of seafood soup? We visited this seafood soup in the Seogwipo area that was filled with lots of Korean and we were the only tourists! It was a pot of goodness
—
live octopus, live abalone, crab, clams, prawns, scallop and lots of bean sprouts. The generous amount of ingredients did help to add lots of flavors into the seemingly plain broth, till it got a little too salty at the end of our meal! We also had another seafood pot at Udo Island and comparing both of them, the haemultang at leodo jeonbok was definitely way better!
064-782-2516 | Daily 0600 - 2100

---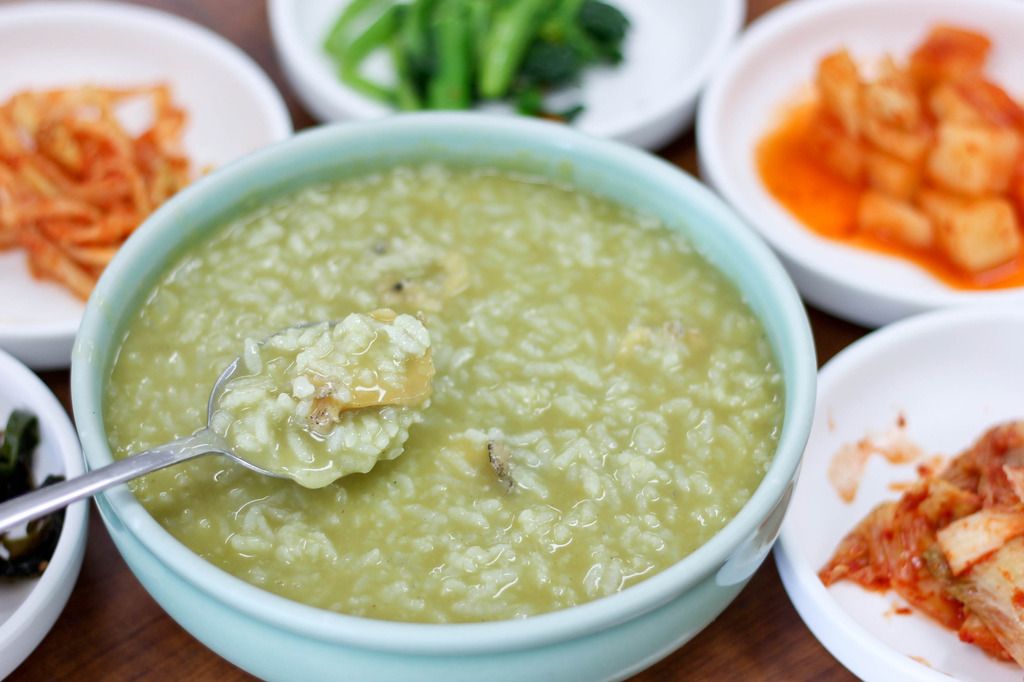 ABALONE PORRIDGE (KRW 11,000)
Due to the proximity to the sea, Jeju island is well known for their abalone porridge. A very well-known restaurant is Myeongjin Jeonbok but since it was out of the way for us, we settled for this abalone porridge which was near the Seongsan port when we returned from Udo island. Thankfully, we ordered 1 to share between the two of us as the portion was huge! It was rather plain tasting on our first mouthful but got progressively creamy as we had more of it. Nothing spectacular but it's the kind of food that I would like when I'm sick!
064-762-8927 | Daily 1000 - 2000

---
ORIGINAL GIMBAP (KRW3,000)
I've read good things about this classic Korea snack bar food, Gimbap, sold at Oneunjeong Gimbap (only take-aways). As they're very popular, it would be good to call and reserve the gimbaps before making your way down. Since it wasn't too far from our hotel, we tried our luck by walking in close to their closing time at 8pm. There are 5 flavors (original, sesame leaf, cheese, tuna, anchovy) but only the former two was available and I grabbed two rolls of the original for our Mt Hallasan hike the next morning! There was a ton of ingredients wrapped within the roll
—
pickled radish, ham, cucumber, egg, spinach, burdock, crabmeat. We quite liked it!
064-794-5312 | Daily 0900 - 1800

---
SAMDAYEON ICE CREAM (KRW5,000) & GREEN TEA O FREDO (KRW7,500)
Osulloc is Korea's well known and established tea company which cultivates their own leaves in Jeju island and has stores littered all around the country. Fans of tea, or matcha, definitely need to pay a visit when in Jeju! There is a retail shop, museum, cafe and tea fields at the Jeju original store. The samdayeon ice cream is exclusive to the jeju outlet
—
tea with Jeju tangerines with Jeju cedar wood. Perhaps due to the roasty cedar wood, the taste of the soft serve reminded us of houjicha! The matcha was also excellent, with a balance flavor between sweet and bitter. If you're into tea appreciation, you can also drop by Tea Stone for the tea tasting menu. The tea fields outside is also a great photo spot!
064-799-8900 | Daily 1000 - 2100 (kitchen closes at 1800)
---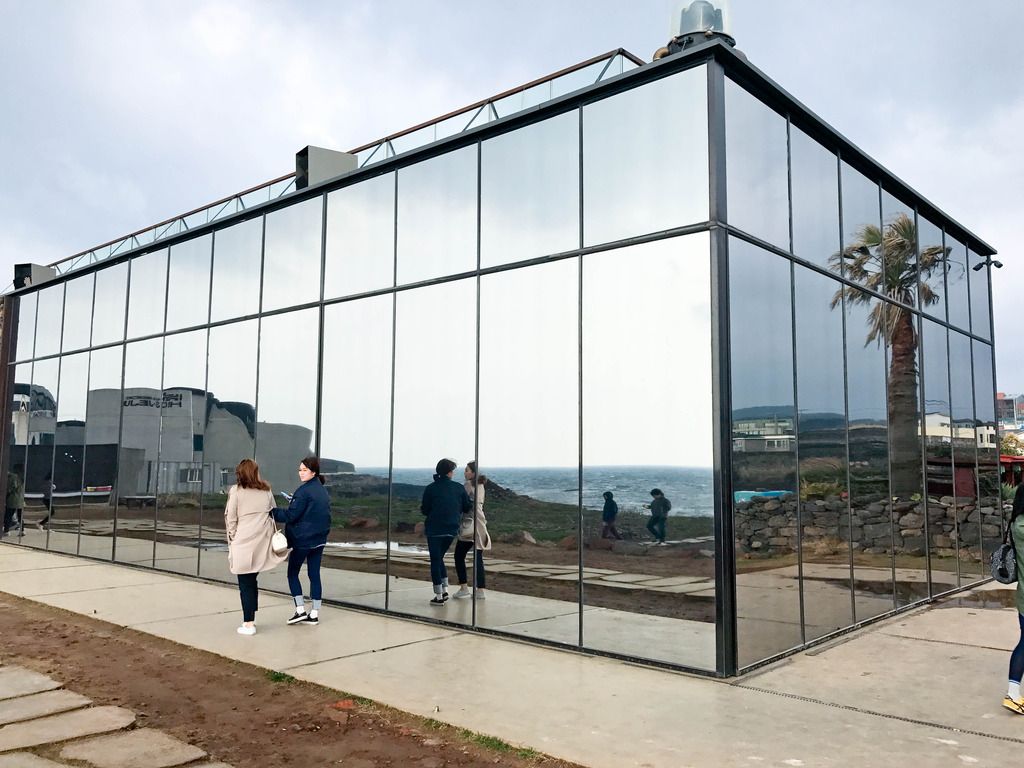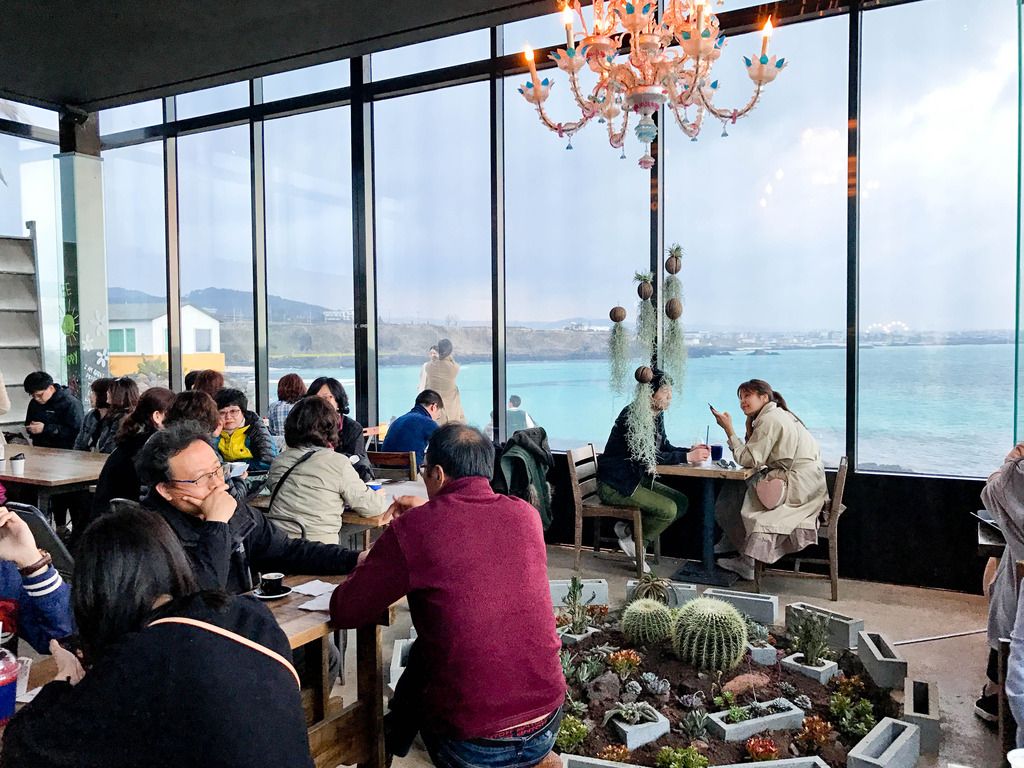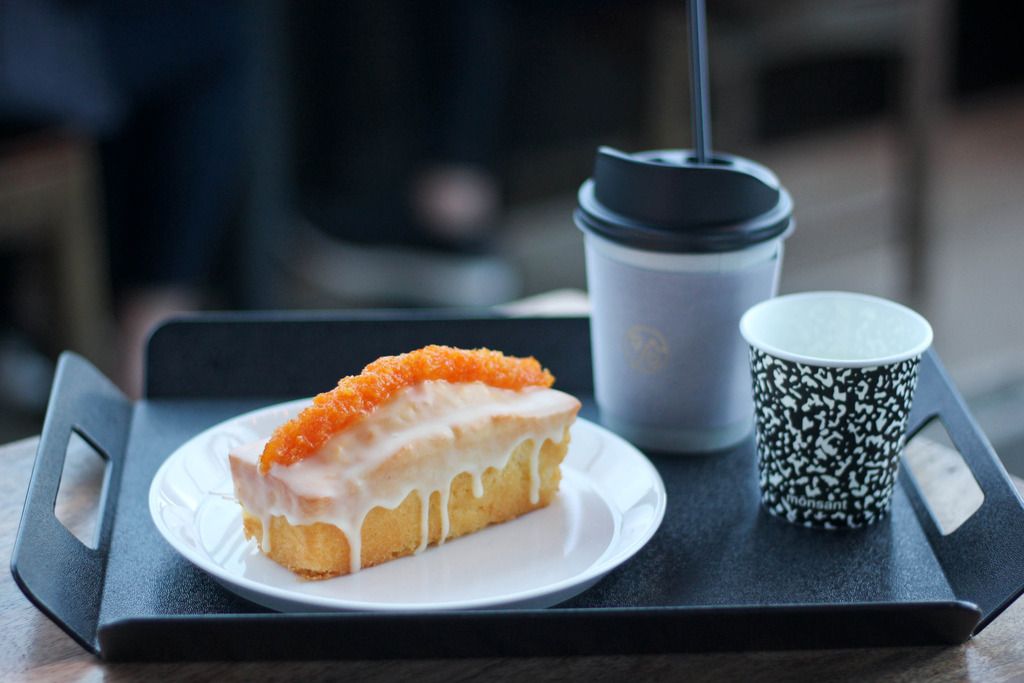 WHITE GANACHE GOLDEN ORANGE CAKE (KRW8,000)
Rumored to be G Dragon's café, Café Aewol Monsant is located at the scenic Aewol along Jeju's coastal area. The standalone structure on the rocks is a touch of modernization with mother nature. We simply got a vanilla latte and orange cake
—
nothing spectacular but it's definitely the gorgeous space that is worth visiting. From the inside, the see through ceiling to floor glass walls surrounding the cafe overlooks the sea of blue. Plants and small chandeliers decorate the interior which are both trendy and soothing to the eyes. Definitely a cafe with high traffic but worth a visit with its scenic view! Nolman seafood ramen is also located just round the corner but it was closed when we were there.
064-727-1112 | Daily 0800 - 0200

---
NOODLES IN PORK BROTH (KRW7,000)
Last but not least, my worst meal in Jeju was this pork noodles soup at Jamae Guksu. To make things worse, we even drove 40km from Seogwipo to Jeju City just to eat it because of good reviews and it looked good. Even though the pork broth looked rather creamy and milky, it was super plain and very watery. It instantly reminded me of the soup that comes with some of our local mediocre wanton mee. There was absolutely no hint of any flavor from the pork bones. If anything, the boiled pork was quite tender and well marinated but it was sitting in an entire bowl of soup that I didn't fancy and eating the meat alone does not fill our stomach at all. We even had to wait about 15 minutes for our table as the shop was quite small. After the very disappointing meal, we then had to drive 40km back to Seogwipo! I absolutely would not recommend this.
Date of visit: April 2017