The Dempsey Cookhouse & Bar, Singapore — Dempsey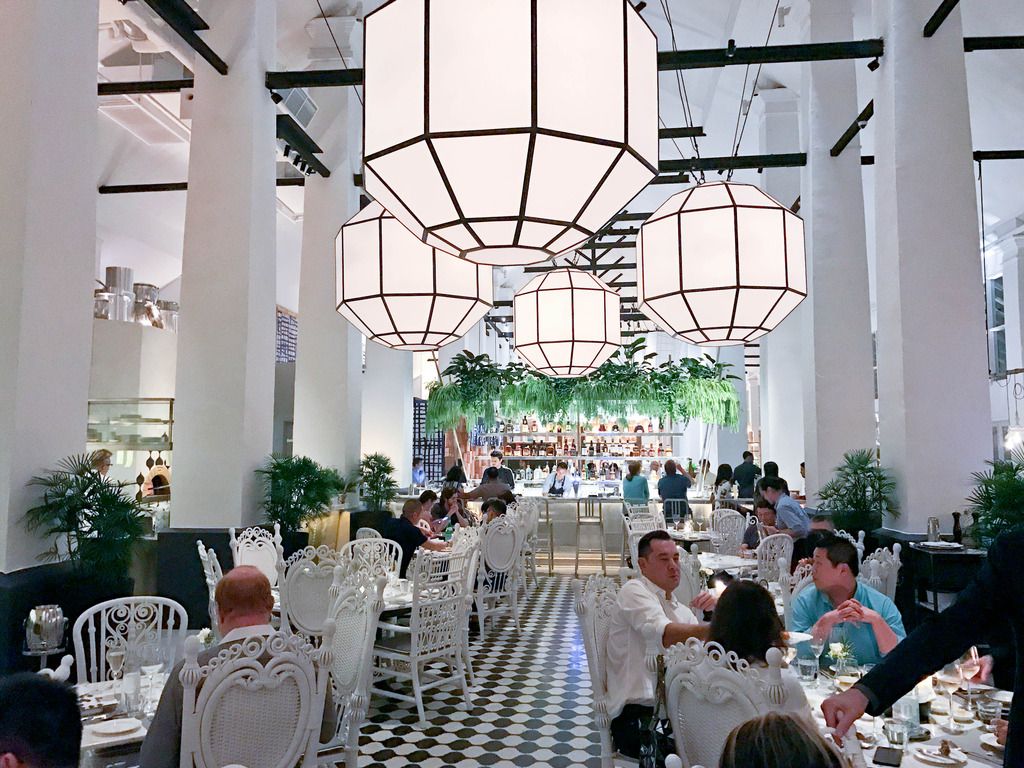 Three Michelin star Chef Jean Georges has arrived in Singapore with his brand new restaurant — The Dempsey Cookhouse & Bar, located in the new and stylish
Como Dempsey
. His menu features a wide variety of dishes ranging from appetizers, salad, pizza, pasta, fish and meat. If you would like to enjoy a set menu, you can opt for the Cookhouse Menu ($88/pax). Do lookout for the full menu at the end of post.
Having been to Jean George's restaurant at The Trump Tower in New York City last year, I was thrilled to enjoy his creations again here in sunny Singapore. I spotted some items that are also present in his New York menu, albeit some with minor differences in ingredients, probably due to availability.
$18

---
We started our meal with the yellowfin tuna ribbons that was gracefully sliced into long thin strips and rolled up into a rose shaped structure. While Japanese serve their sashimi with wasabi and soya sauce, Chef Jean Georges has cleverly transformed the wasabi experience into a ginger marinade and avocado instead. The spice from the ginger hits your tastebuds while the creamy avocado gives you the wasabi-like texture.
It was an absolutely refreshing starter!
$18

---
In contrast to the tuna, the foie gras brulee was on the rich and creamy side. It came with a smooth foie gras pate atop a thin layer of bread, topped with sour cherry, pistachio and white port gelee. I loved the richness of the pate as it melts on my tongue, while the nutty pistachio and tangy white port gelee comes in to balance it out perfectly.
BLACK TRUFFLE AND FONTINA CHEESE
$20

---
One of Chef Jean Georges' signature dishes — the black truffle and fontina cheese is a must try at The Dempsey Cookhouse and Bar. It was a beautiful collaboration between those generous amount of sexy black truffles interlaced with some buttery nutty fontina cheese. I appreciated the thin pizza base with a crispy crust which went well with the heavy tasting toppings.
$30

---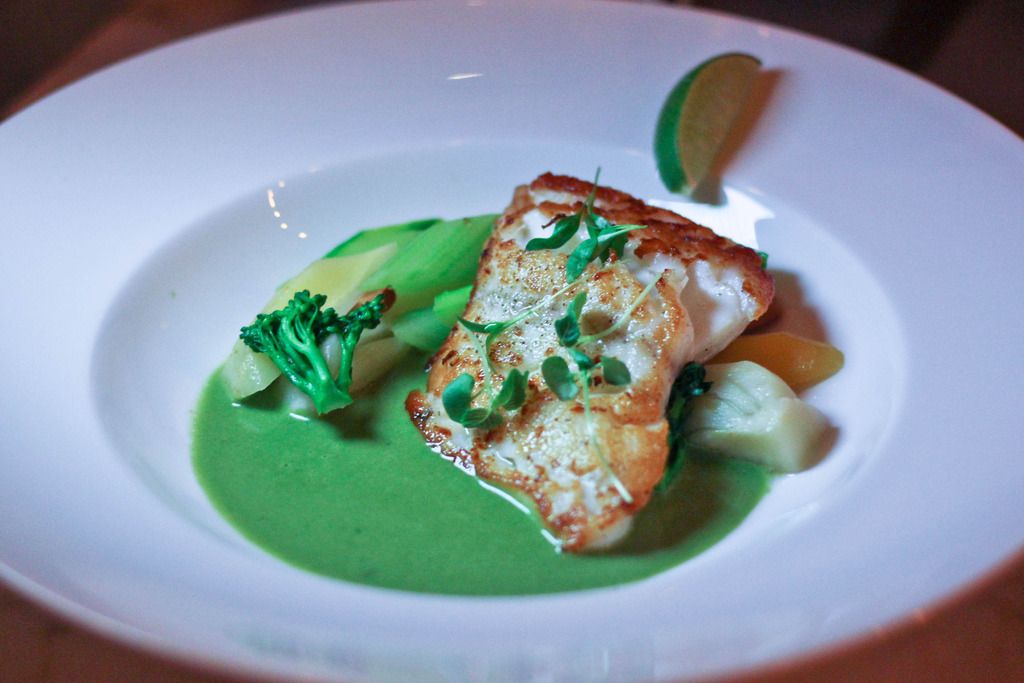 For our mains, we chose the roasted rod as it came with an Asian touch — the green curry. The green curry tasted very legit with flavors of the spices and some heat in it. The cod was buttery and well cooked, though I thought the presentation could be improved. Those tender vegetables on the plate — squash and asparagus, played a good role with its gentle and sweet flavors.
$35

---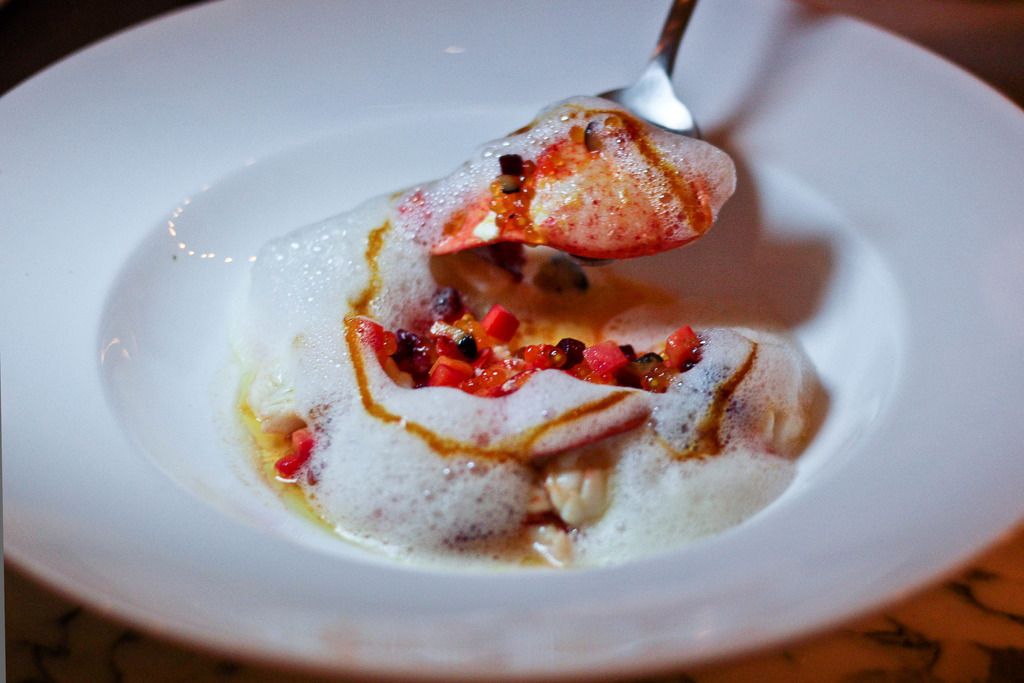 The lobster was served with a layer of gewurztraminer (white wine) foam on top and working through the foam would unveil the plump pieces of lobster meat. The lobster meat was firm with a strong sweet crustacean taste which is a testament to the quality and freshness of the lobster. It is drenched with a saffron tapioca sauce and those little sago pearls were delightful! The sauce tasted somewhat like a light lobster bisque which complemented those lobster meat very well.
SALTED CARAMEL ICE CREAM SUNDAE
$14

---
By recommendation of the staff, we had the ice cream sundae which came generously with three scoops of salted caramel ice cream — so thick, rich and definitely 100% salted caramel! Hot fudge is drenched over the side with some caramelized crunchy popcorn and nuts. This is definitely a sinful treat and best shared amongst 3-4 people!
I like how The Dempsey Cookhouse & Bar has a very organized menu that allows me to easily place my order. With the good variety and quality of food served here, I foresee myself heading back in the near future as I did not have enough stomach space to try the other dishes such as the egg caviar and warm chocolate cake. The ambience is also rather casual with a very strong team of staff that is very attentive — one of them even offered me a steak knife after seeing me struggling to cut the pizza with the normal knife! The open kitchen concept is also interesting as you see those chefs clothed in white working hard to dish out the food promptly. I was extremely happy as I got to meet Chef Jean Georges at the restaurant as the team is currently in Singapore to oversee the operations so you might want to head down soon if you want to catch him in action!
Lunch | Mon-Sun (Available from end March) 1200 - 1430
Dinner | Sun-Thurs 1800 - 2130
Dinner | Fri, Sat, Eve of PH & PH 1800 - 2230
Book your seats via
http://comodempsey.sg/reservation-dempsey-cookhouse-bar/
,
thedempseyres@comodempsey.sg
or 1800 304 5588 (Local calls only)
The Dempsey Cookhouse & Bar's Menu