South Beach Avenue, Singapore — Esplanade
The wide variety of shops ranging from wining, dining, nightlife and beauty concepts all under one roof in South Beach Avenue makes it the next to-go place in Singapore! The extremely convenient location directly connected to Esplanade and City Hall MRT interchange also makes it easy to get to.
Here are some of the places that we have explored the other day:
DIMBULAH COFFEE
#01-14 | Mon to Fri 0700 - 1900
---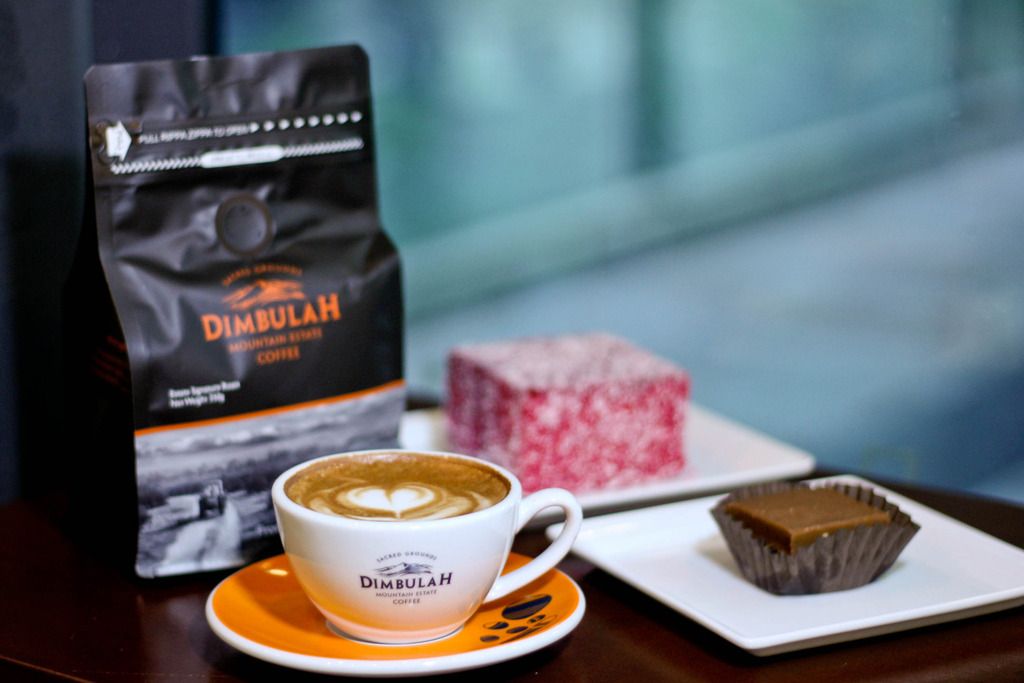 Dimbulah Coffee is an Australian coffee chain with coffee beans flown in from the Atherton tablelands in the highland region of northern Australia. Be sure to grab a cuppa Affogato ($5.90), Piccolo ($4.50) or Flat White ($5.50) and sip it at their outdoor seating area for some fresh air. If you're itching for a small bite, there is the Downunder slices ($2.50) — a fudge with coffee macadamia and white chocolate made from a family recipe, or the Raspberry Lamingtons ($3.50) — a sponge cake that is quintessentially Australian.
QUAICH BAR
#01-16 | Mon to Thurs 1700 - 0100 Fri & Sat 1700 - 0200
---

As the first dedicated whisky bar in Singapore since 2006, Quaich is the go-to place for whiskey lovers and collectors. For a start, you can try the Flavours of Single Malt Tasting Set — prices start from $45. You'll definitely find something you like with that wide range available here.
HARRY'S
#01-18 | Daily 1100 - 2300
---
Harry's is a well known bar and dining chain that has numerous outlet across Singapore. Nestled within South Beach Avenue — a mixed development including offices and hotel, it's a great place to to unwind after that long work meeting or to catch up with your friends from overseas. Apart from Harry's Premium Lager ($7 for half pint, $12 for full pint), you can also snack on their Signature Wings ($13 for 6 pieces, $19 for 10 pieces) or the Mushroom & Truffle Oil Flatbread ($23.90).
ALCHEMIST BEER LAB
#B1-16 | Mon to Thurs 1200 - 0200, Fri and Eve of PH 1200 - 0100, Sat 1600 - 0100
---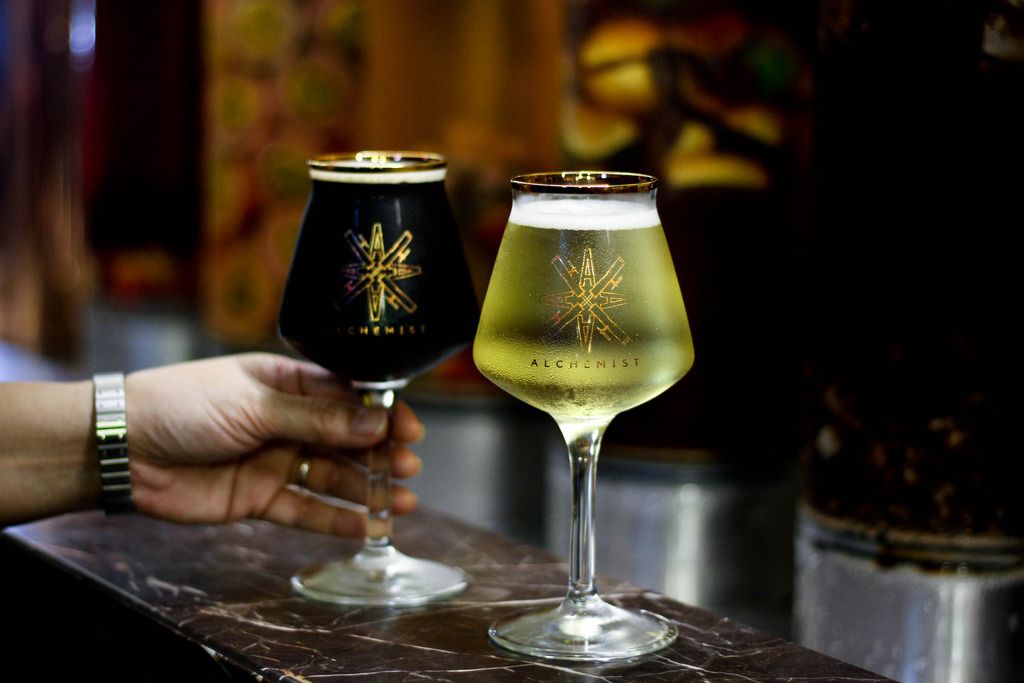 The 16 infusion towers at Alchemist Beer Lab caught my eyes when I first stepped in. Using a state-of-the-art system, Alchemist infuses different flavours into beer and creates unique concoctions. The 50 Shades of Pink ($12 for happy hour, $15 for after happy hour) is great for the ladies with its light taste — a cider with pink guava while the boys should go for the Obama ($12 for happy hour, $15 for after happy hour) — a stout with toasted marshmallows, vanilla pods and mint leaves resulting in a smoky sweetness.
CAFFE VERGNANO 1882
#B1-17 | Mon to Fri 0800 - 2100, Sat and Sun 1000 - 1800
---
A family owned coffee roaster established since 1882, the Arabica beans used in the coffee brewing process are sourced from Central America and blended with an Arabic "Sidamo" of Ethiopia. Other than the Caffe Gianduja ($6 hot, $7 cold) — a combination of hot chocolate and espresso, the Cioccolata ($5.50 hot, $6 hot) is so satisfying with that rich and decadent hot chocolate that will surely warm your bellies.
REAL FOOD
#B1-19 | Daily 1000 - 2100
---
An organic vegetarian-cum-vegan concept that believes in sourcing for ingredients that are free from preservatives, Real Food has some really delicious and comforting dishes such as the Curry Soup Noodles ($12.80) with a rich and lemak gravy that is made with oat milk and extra virgin organic coconut oil. Otherwise, other options available are the Dumplings ($9.80 for eight) or the Baked Stuffed Portobello ($11.80).
FYNN'S
#B1-21 | Tues to Fri 0900 - 2200, Sat 1100 - 2200, Sun 1100 - 1700
---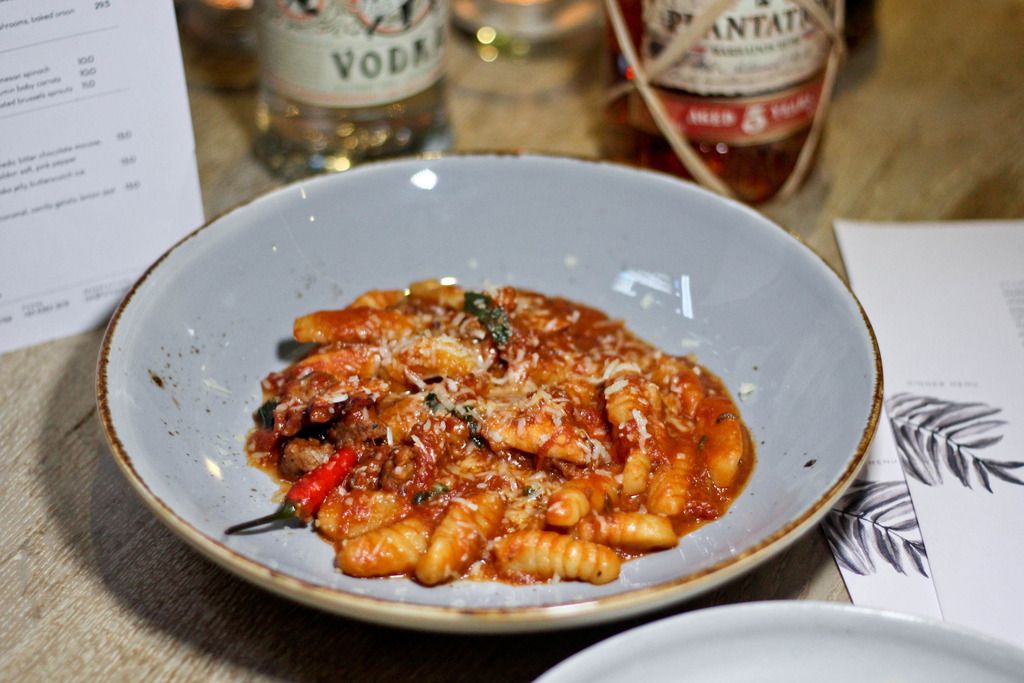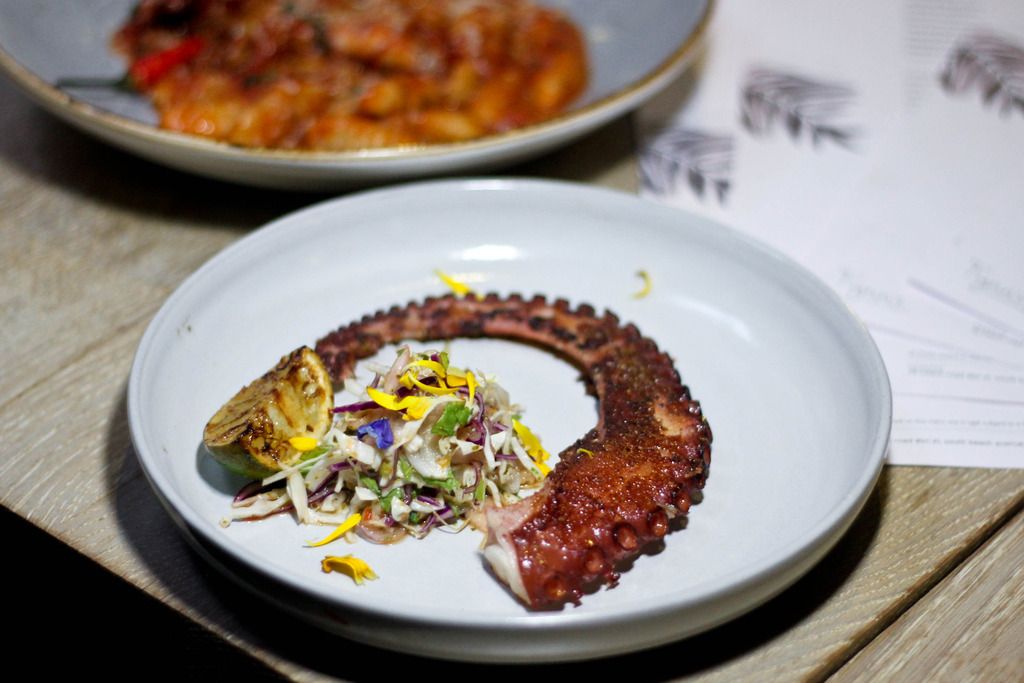 A modern Australian restaurant coupled with a stylish interior with that marbled table top. More casual options such as fresh pasta and burgers are available for lunch, while it gets more intimate at night with small plates and mains for diners to choose from. The Homemade Cavatelli Pasta ($25) was a rich tasting plate of pasta doused with a tomato based sauce with broken pork sausages, octopus and fennel seeds, topped with parmesan.
ALMASTEL
#B1-22 | Mon to Sat 1130 - 2200
---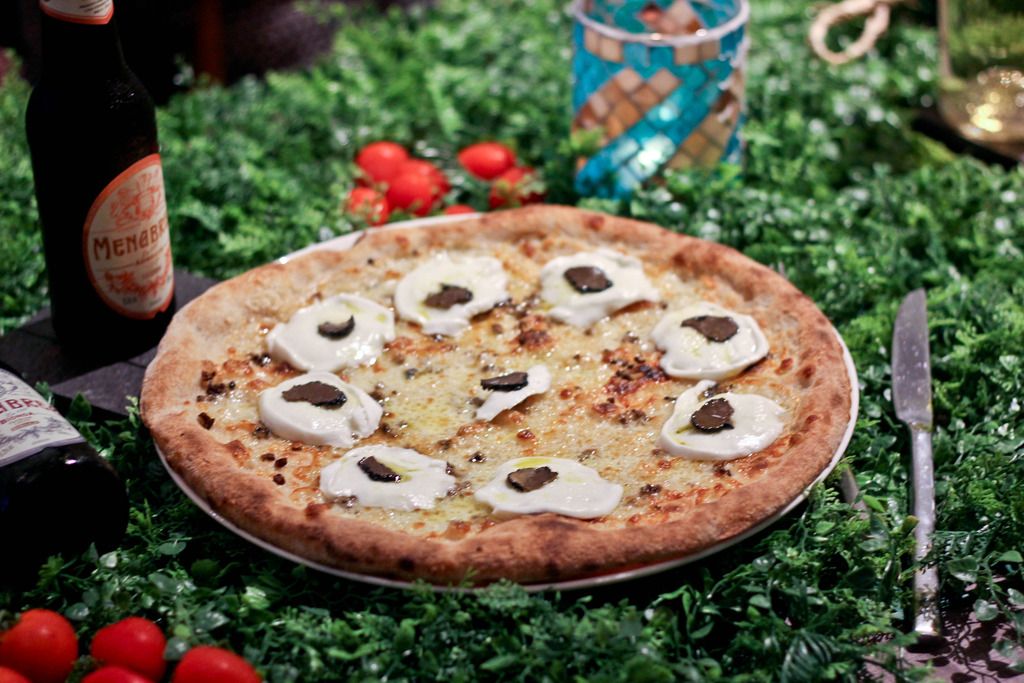 A new to market Italian modern casual restaurant is helmed by Andrea Tarini with a 3 Michelin star background. Only the freshest ingredients are used in the preparation of food such as San Marzano tomatoes and fresh burrata air flown weekly from Italy. The Zuppa di Pesce ($68 for two) was beaming with freshness of the seafood in the tomato based soup stock. The quality and quantity of ingredients used in this seafood stew makes this a must-order! We also had the Black Truffle Pizza ($48) that had a thin pizza base and crispy edges — just the way I like it. And what's more, with burrata and black truffle shavings!
FASTA
#B1-23 | Mon to Sat 1100 - 2100
---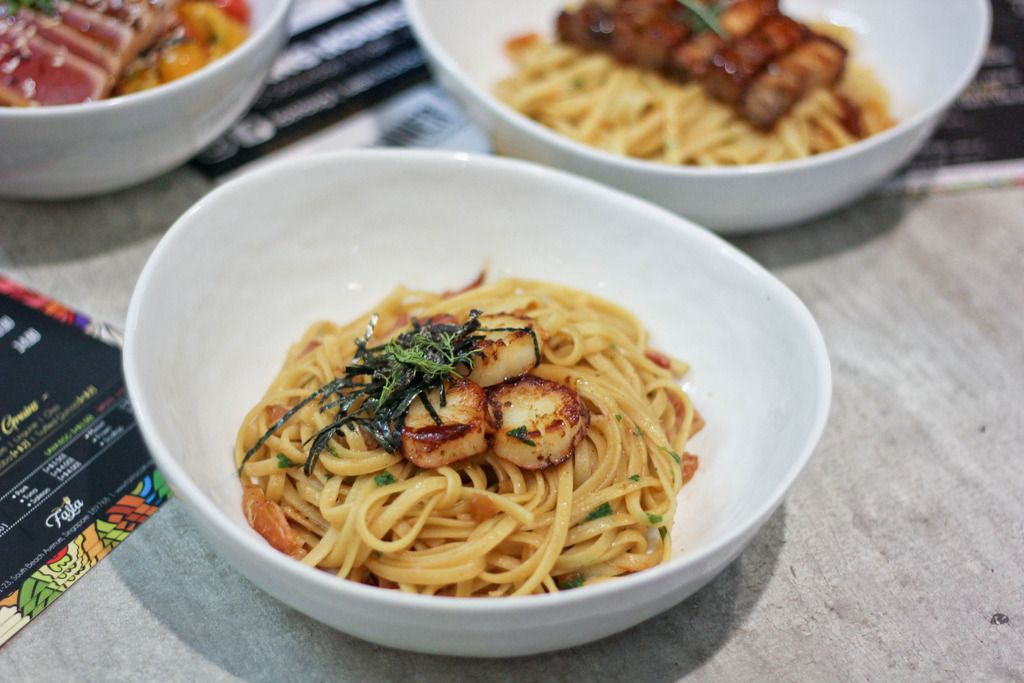 Fasta introduces quick, fresh, fun and fusion pasta dishes to customers such as the Sio Bak Mee ($13) marrying a caramelised roasted pork in Chinese style with an Italian aglio olio dressed with a tangy yuzu based dressing. As we had tasting portions, the skin for the piece of meat that I had was a little tough while my friend found hers to be very crispy. Another option is the Scallop Wallop ($16), a classic pan seared Hokkaido scallops atop your preferred choice of pasta with chopped bacon and crab meat.
THE ARMOURY
#01-01 | Mon to Thurs 0900 - 2300, Fri 0900 - 0100, Sat 1000 - 0100, Sun 1000 - 2300
---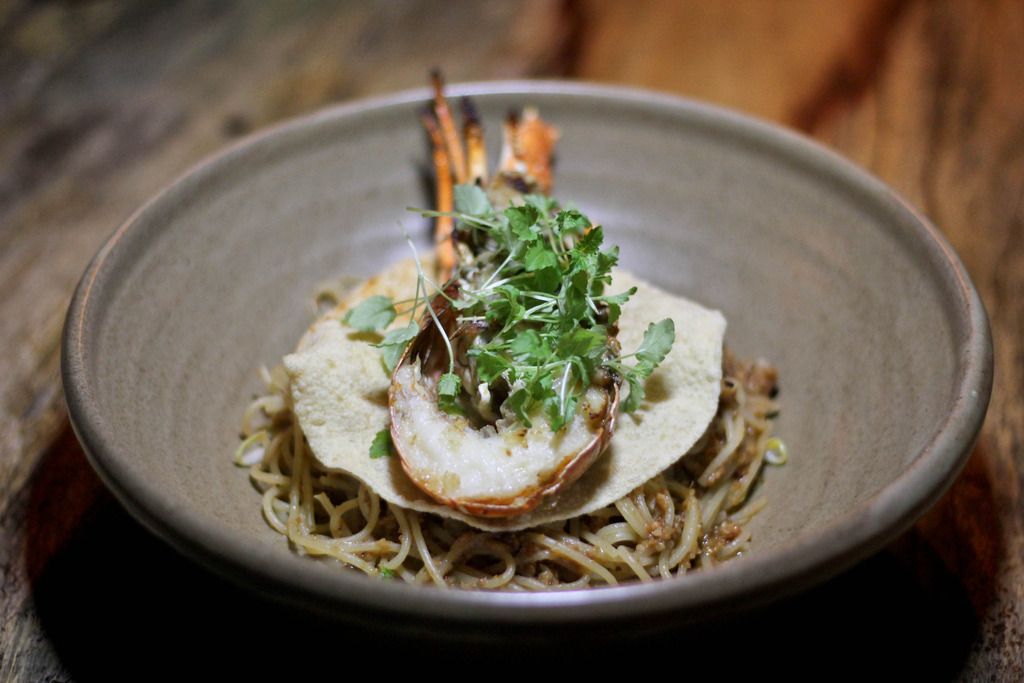 Housed in the beautiful conservation building that was formerly the military armoury of Beach Road military camp, The Armoury serves fusion cuisine of Singaporean, European and Japanese, alongside with a selection of beers and wines. We had the opportunity to try the Lobster Satay Capellini ($29.50) which uses the Chinese style peanut sauce commonly found in our satay beehoon, but tossed with capellini instead. It is topped off with a luxurious half grilled lobster and a side of papadum. If fusion food is not your thing, the Royal Armoury Burger ($19) would be a safe bet — a 200g wagyu beef patty, onion jam (!!), gruyere, maple glazed bacon, lettuce, sliced tomato sandwiched between brioche buns.
VATOS
#01-03 | Mon to Thurs 1130 - 2300, Fri and Sat 1130 - 0100
---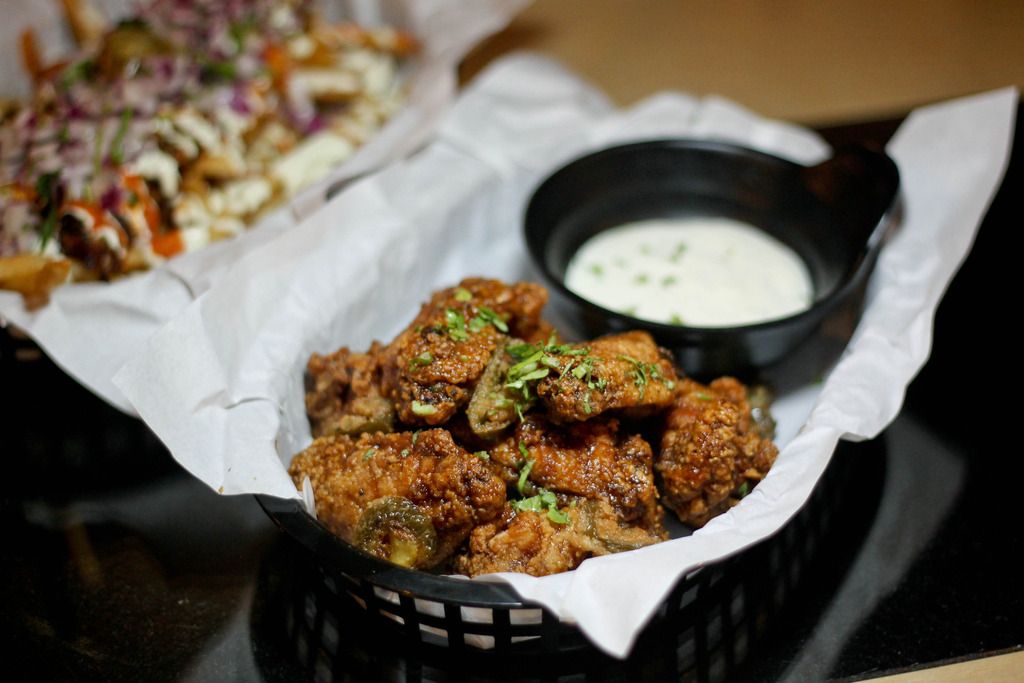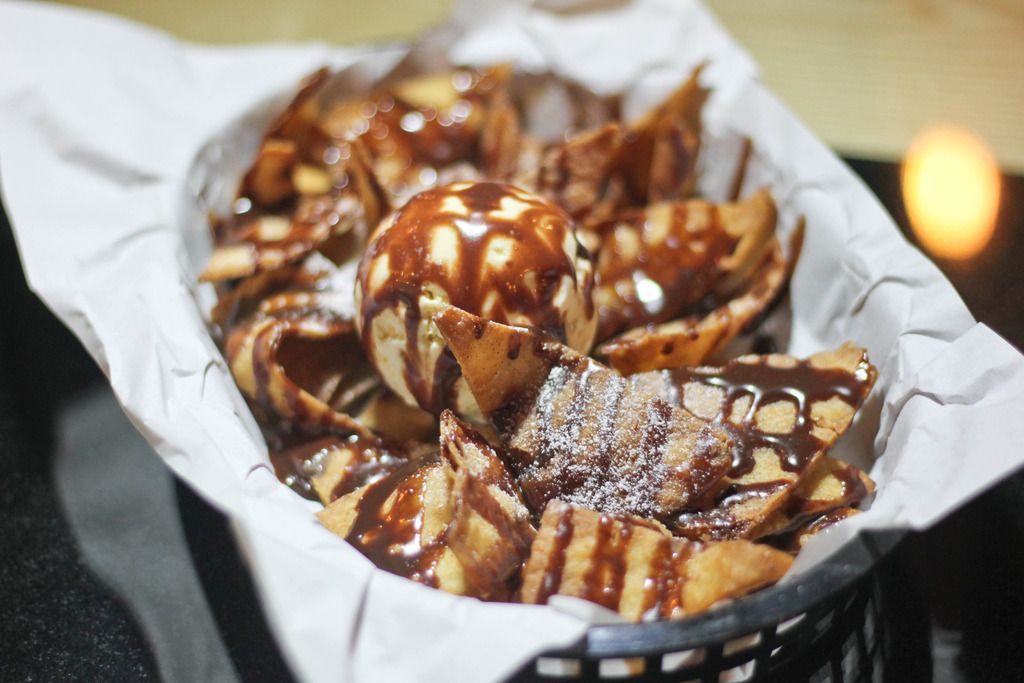 Vatos is one of the hottest KoMex (Korean-Mexican) restaurant in South Korea, creating dishes with the influence of both Korean and Mexican Food — think Kimchi Carnitas Fries ($18) and Galbi Short Rib Tacos ($13 for two, $18 for three). We also had the Honey Tequila Chicken Wings ($18) that is like Korean fried chicken and with jalapenos and a light blue cheese dipping sauce. Having been to Vatos before, I found myself liking the tacos with those well seasoned meat fillings. Also, every table gets a basket of nachos and those are very addictive!
AESTHEA MEDICAL AESTHETIC CLINIC
---
#B1-24 | Mon to Fri 1000 - 2200, Sat 1100 - 2000, Sun 1100 - 1900 (By Appointment)
#B1-25 | Daily 1000 - 2200
Apart from F&B offerings, South Beach Avenue also provides you with self-pampering options such as Aesthea Medical Aesthetic Clinic and Hairpage Underground!
South Beach Avenue is located at:
26 Beach Road Singapore 189768