Tai Cheong Bakery, Singapore — Holland Village
Tai Cheong Bakery in Hong Kong which is famous for its egg tarts and bakes have arrived on our sunny island in the form of a pop up in Takashimaya, and soon after expanded to a dining cafe in Holland Village! Identifying the demand for an authentic chan chan teng in Singapore, Tai Cheong has opened a cafe serving classic Hong Kong fare that will bound to transport you to Hong Kong in an instant.
$8.5

---
While it may be simple ingredients of macaroni, eggs, macaroni and luncheons, this is the most comforting dish to have at any cha chan teng! The tomato broth is prepared every few hours to prevent the reduction of the broth which will turn the broth sour. Instead, what you get is a bowl of lightly tangy, well balanced and slightly sweet tomato broth. We broke all three egg yolks to get a creamy eggy soup with the macaroni, paired with strips of fried luncheon meat.
SCRAMBLED EGG TOAST STACK
$9.5

---
A beautiful runny three egg scrambled egg atop a soft buttered toast is what I dream to have for breakfast everyday. Tai Cheong dresses it up with a huge piece of grilled chicken chop on a bed of mushroom sauce. I'd say dip that chicken into the sauce then grab a little of eggs and toast before sending it into your mouth. It was a satisfying dish from the tender well grilled chicken and that creamy eggs!
$6.5

---
The french toast are dipped with an egg wash before deep fried to a golden brown then topped with either 100% pure maple syrup or condensed milk. I personally love condensed milk so that is my preferred choice! The toast remained soft and fluffy after deep frying, completed with a layer of golden skin sweetened with condensed milk.
THREE COLOURED SILKY EGGS WITH RICE
$9.9

---
It is named as three coloured as it comprised of 2 meats (we had the roasted pork and crispy pork belly) and kailan, covered with a runny omelette and drenched with a light brown sauce. While the ingredients did go well together with the plain white rice, I thought the meat wasn't outstanding and the thin slices didn't give me the "oomph"!
$10.9

---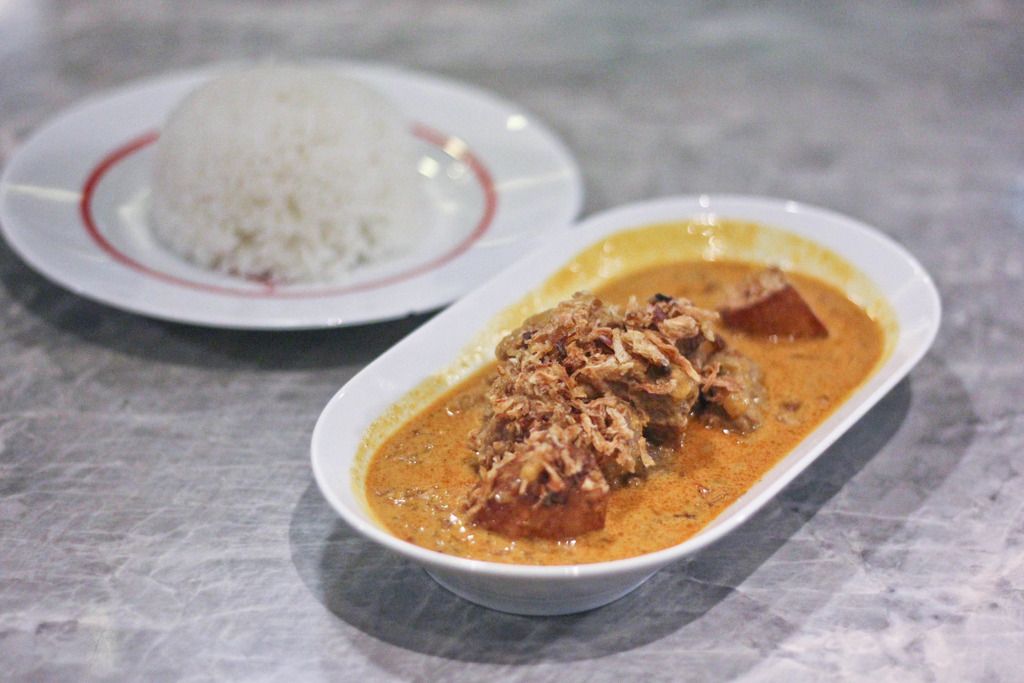 Combining the likes of Hong Kong and Malay style curry, Tai Cheong's curry is well balanced yet you can taste the umami from the rempah. Its richness makes it great for polishing out the white rice and I appreciated the tender pieces of beef brisket with some fats running through it!
$1.9
$2.5
$3.6

---
Apart from Tai Cheong's signature egg tarts, the Durian & Cheese Tart is exclusively available at the Holland Village outlet. Made with D24 durian and blended with cream cheese, the extremely creamy filling will definitely satisfy any durian lovers. Upon splitting the tart apart, the strong scent of durian fragrance can be instantly detected to display the amount of durian used in the tart!
I thought it was very brilliant of Tai Cheong to give Singaporeans an authentic cha chan teng experience, knowing how we are such big fans of it! Just like the similar stores in Hong Kong, space is limited in Tai Cheong and you might have to squeeze a little but that just completes the experience right?
31 Lorong Liput Singapore 277742
Pastries and drinks available all day Mon - Fri | 1000 - 2200 Sat, Sun & PH | 0900 - 2200
Mains available daily | 1100 - 1430, 1730 - 2130