Revolution Coffee, Singapore — One North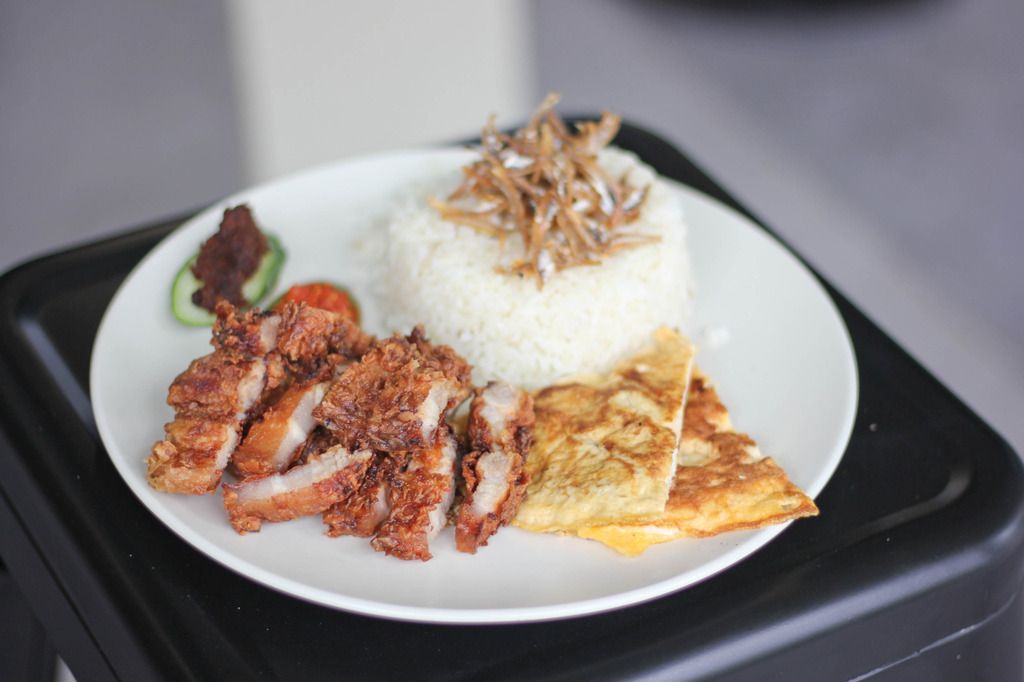 Previously helming the kitchen of a nasi lemak stall in Maxwell Food Centre then Wok and Barrel, Chef Shen Tan is here to stay in Revolution Coffee after having previously acted as the consultant behind the menu of this cafe. Focusing the menu on local flavors, the star of the menu is definitely the nasi lemak.
$7.9

---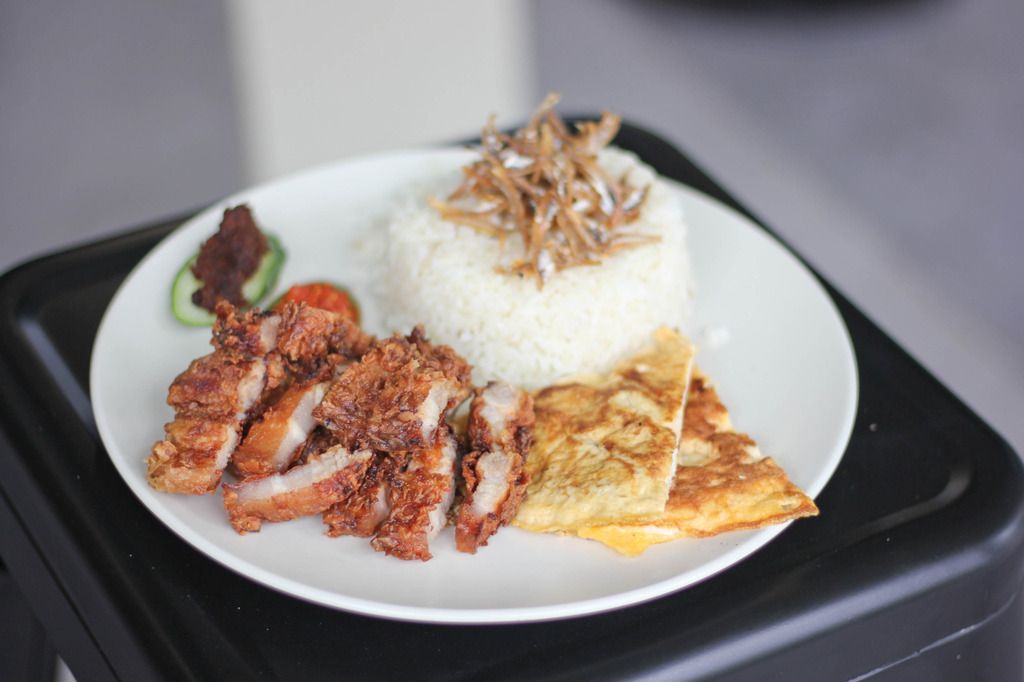 $9.9

---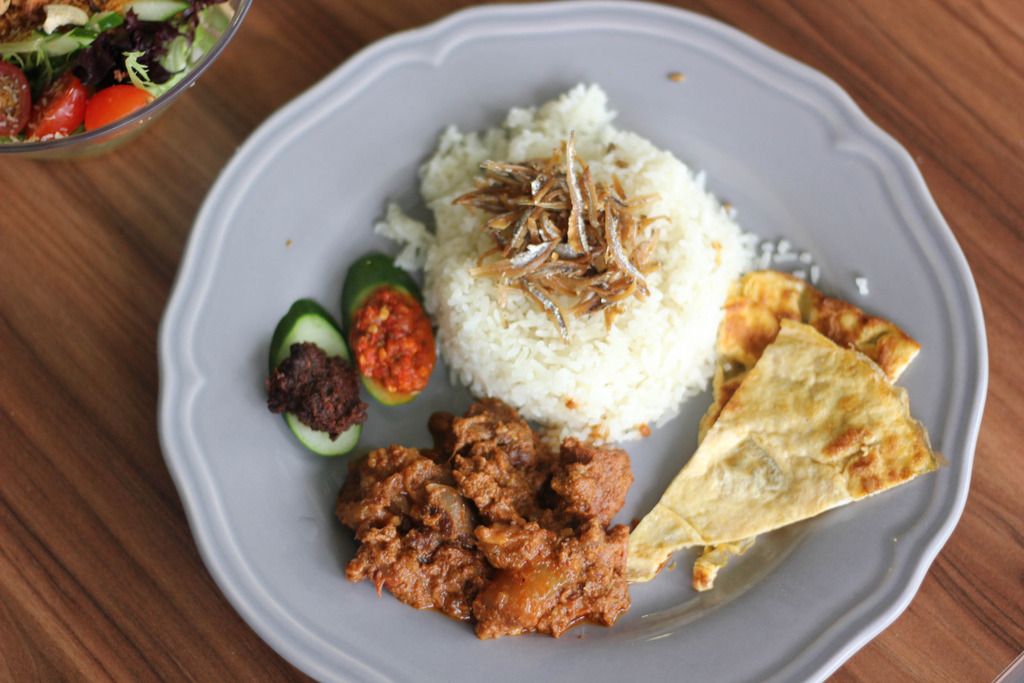 We tried 2 out of the 5 nasi lemak options on the menu. The rice is made with 10 ingredients and lovingly twiced steamed in coconut milk to let it absorb all the fragrance. Definitely fluffy with each grain nicely separated, don't expect a very strong pandan taste but a well balanced fragrant rice from the usage of 10 ingredients. The nasi lemak is served with omelette, ikan bilis, house made sambal belachan and coffee sambal. I preferred the crispy pork over the beef rendang, as the marinated pork is nicely deep fried to a golden brown and remained crispy even after snapping photos of it! As for the beef rendang, the beef is braised in coconut milk, spices and herbs till fork tender. The beef shin is used hence the presence of beef tendons which you may or may not like.
$9.9

---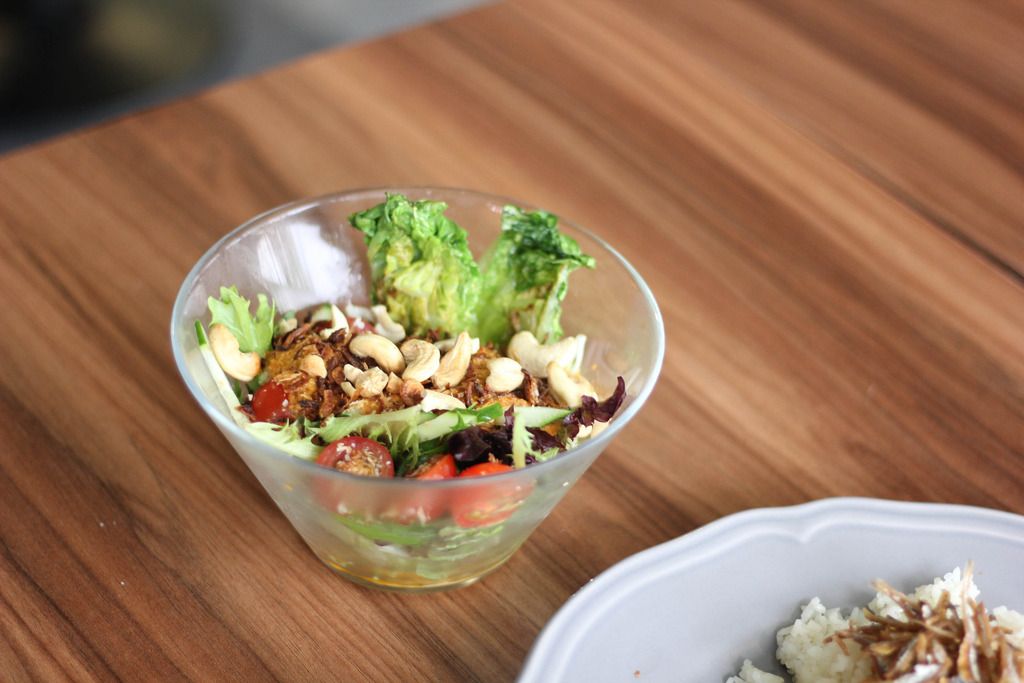 A classic baby lettuce salad takes an asian twist as it gets dressed up with toasted grated coconut, fried shallots, cherry tomato confit, laksa leaf pesto, toasted cashew nuts with a coconut lime laksa dressing. A citrusy salad which definitely whets up your appetite and having a taste of laksa in my salad? I didn't mind it at all.
$19.9

---
My first mouthful of this pasta and I was greeted with a whiff of strong vinegar and chilli smell which instantly reminded me of bak chor mee! Using al dente tagliatelle, it does draw resemblance to mee pok. It is served with Chef Shen's signature 5 spice pork confit which was bursting with flavors while being tender. And how can we forget some crispy lard and fried shallots to complete this local delight turned pasta at Revolution Coffee?
$19.9

---
The house made buah keluak sauce generously coating the tagliatelle is a peranakan western fusion that worked harmoniously together. The earthiness of the black nut definitely spiced up the flavors this plate with the addition of some chilli padi for a fiery kick. The twice cooked pork belly is poached in buah keluak and is also served with some minced prawns and minced pork.
$10 - with Gula Melaka butterscotch served with coconut ice cream

---
I usually fancy my mains more than my desserts at most places, but the desserts at Revolution Coffee are phenomenal. We first had the pulot hitam pudding, which is the black glutinous rice that are we familiar with that is served with coconut milk. Here, the pulot hitam are made into a pudding that is likened to a sticky date pudding. It's rather unbelievable how the pulot hitam can be transformed into such a moist pudding. It's drenched with some good old rich gula melaka butterscotch sauce and served with a creamy coconut ice cream as a perfect companion.
SHENDOL DELIGHTS: COCONUT PANNA COTTA
$10 - with Gula Melaka Syrup topped with homemade Red Bean Ice Cream

---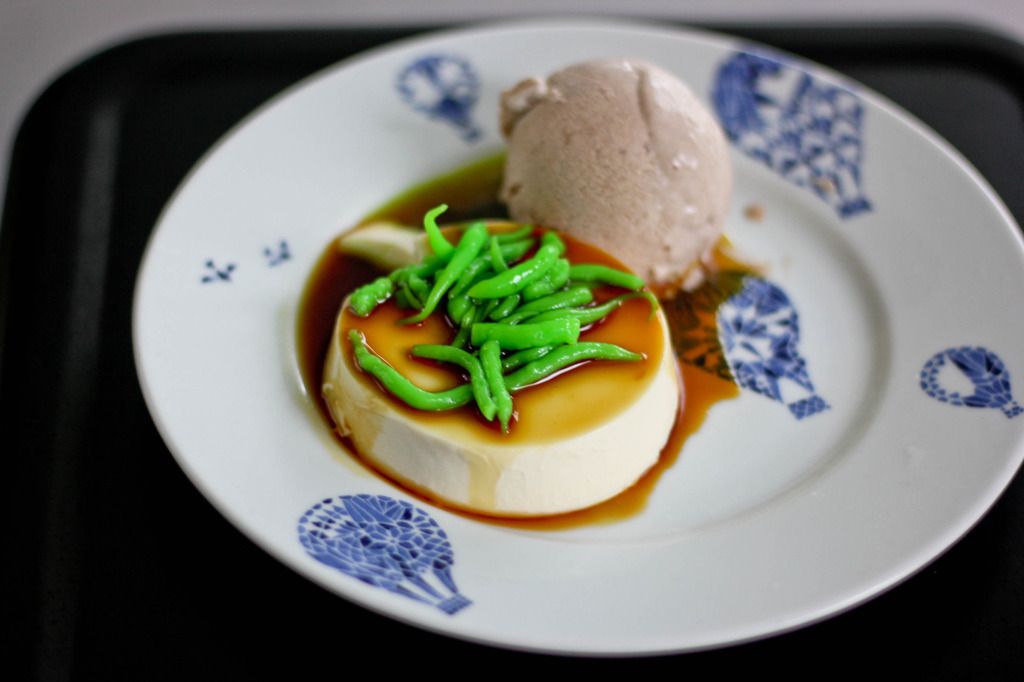 The other dessert, also taking on the transformation of local desserts, is the coconut panna cotta. Made with coconut milk and heavy cream, the panna cotta was irresistibly smooth, rich and fragrant and wonderfully paired with their house-made red bean ice cream that isn't too sweet.
The desserts really takes my vote but with such strong mains such as their nasi lemak and local fusion pasta, you definitely can have a complete meal here at Revolution Coffee! I didn't get an opportunity to try but my friends loved their coffee too!
Infinite Studio, 21 Media Cir #01-03A