Lan Ting, Singapore — East Coast
A Cantonese restaurant that sits along the busy stretch of East Coast Road in the Siglap area of Singapore, Lan Ting offers both dimsum and ala-carte dishes to its diners. Helmed by two head chefs
—
one heading dimsum and the other the ala carte dishes, Lan Ting has a very strong team of kitchen crew to deliver high quality food. The chefs were also previously trained in prestigious brand name hotels. Apart from traditional Cantonese cuisine, Lan Ting also strives to introduce a modern twist to their dishes such as wok fried udon in oba leaf, marrying Japanese and Chinese cuisine together.
The dim sum menu is offered daily from 0800 - 1700 and here are some of the items that we've tasted.
LAN TING ABALONE DUMPLING
S$9.80 FOR 3 PCS

---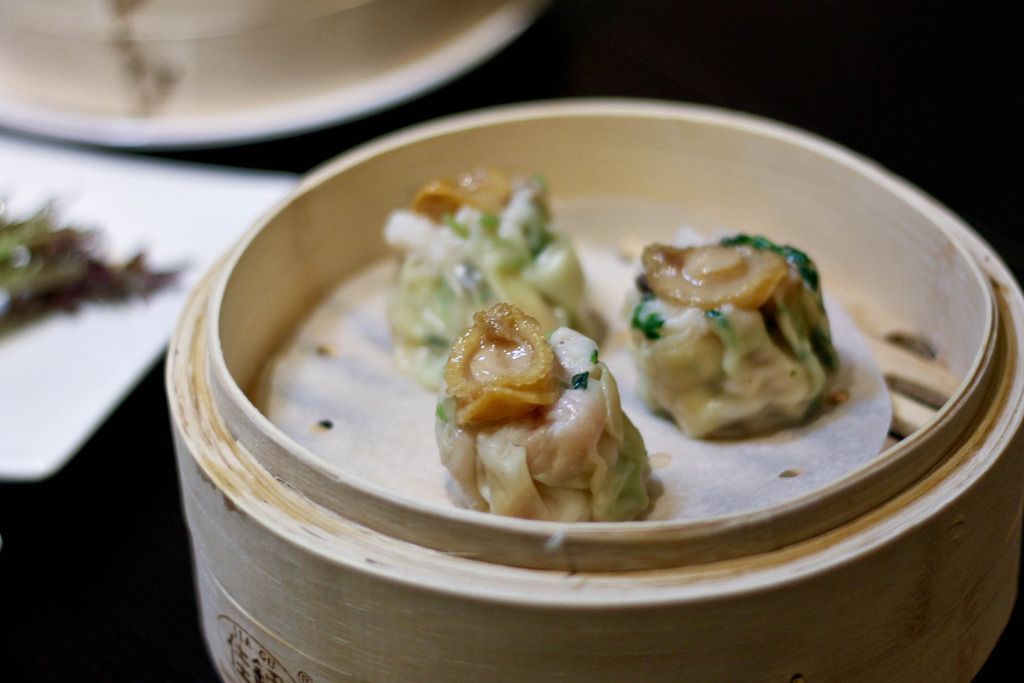 S$4.80 FOR 3 PCS

---
For the steamed dishes, we tried the abalone dumplings and xiao long bao. Within the dumplings, I appreciated the chunky meat and prawns which gave a good bite to it rather than it all mashed up. The price point is slightly higher for this due to the addition of the abalone that gave it a luxurious touch. The xiao long bao were very delicate due to its thin layer of skin so you have to be extra careful when picking it up. The burst of broth and the thin skin definitely made this very enjoyable!
VOLCANIC LAVA MUSHROOM BUN
S$5.80 FOR 3 PCS

---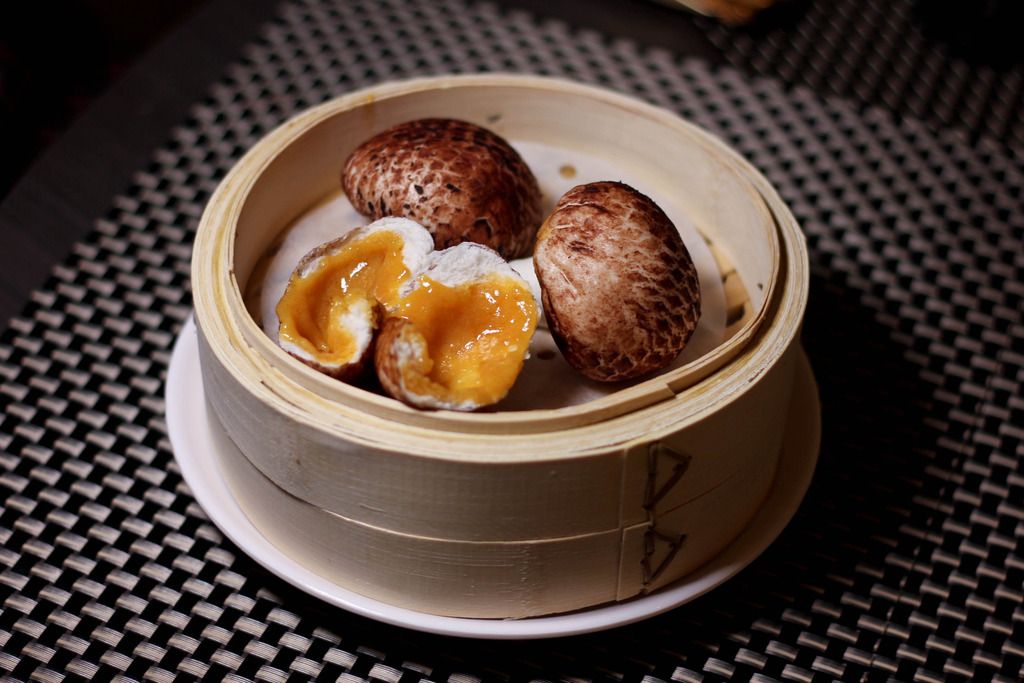 Don't be fooled by its appearance
—
there is no mushroom in it other than its looks. Instead, break open the mushroom "shell" to unveil the real deal within! Look at the richness from its colour! The salted egg molten lava was thick, gooey and very satisfying. It leans towards a sweeter finish and I will have no problem finishing all three by myself. It also displays the skills of the chefs in differentiating its dim sum from others!
S$6.80 FOR 3 PCS

---
TARO PUFF WITH DICED CHICKEN
S4.90 FOR 3 PCS

---
Under the baked/fried selection, we tried the chilli crab puffs and taro puffs. Between the two, I prefer the taro puff! Yam is not my usual choice of food, but this worked for me! The taro paste filling was very light and pieces of tender diced chicken. The chicken definitely made the paste less sticky and this is covered by a layer of crispy skin that dissipates immediately upon biting into it.
Here are the dishes that we tried from the ala-carte menu:
S$51
—
PROMOTIONAL PRICE FOR MONTH OF SEPTEMBER 2016
---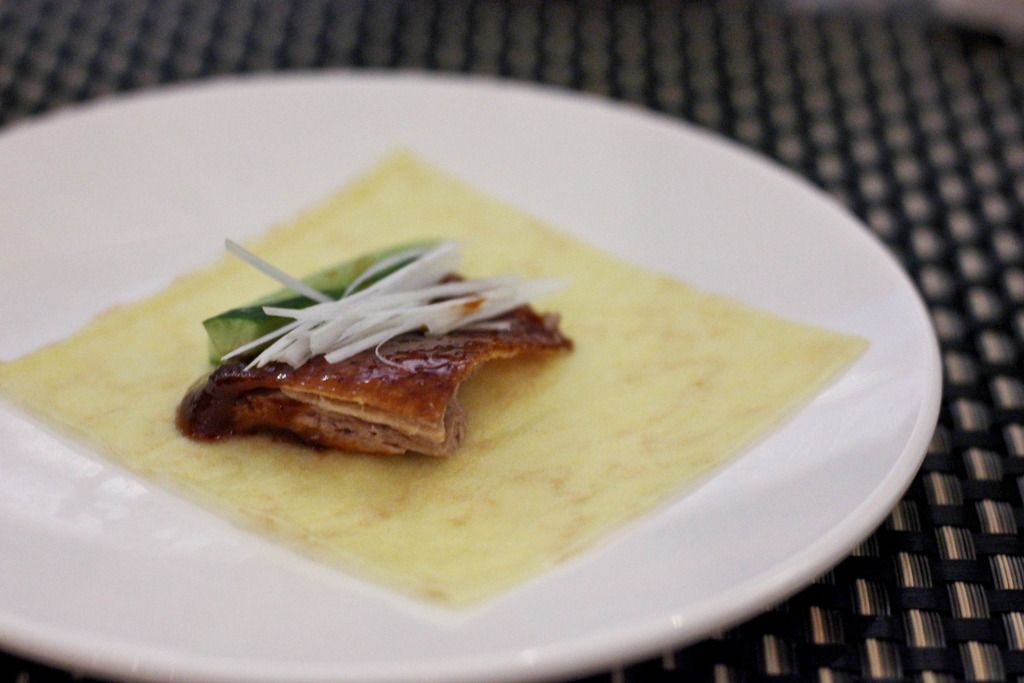 Oh glorious duck! This huge Peking Duck is available at S$51 in the month of September 2016 and they may extend the promotion further due to the great response! The staff will first slice off the skin for us to wrap it in popiah skin. We had two kinds
—
just the pure skin and skin with a thin layer of meat under. I preferred the latter as it gives me more taste and bite in the wrap. Popiah skin here is also served in a heated wooden basket to keep it warm. Add some of the sweet sauce, cucumbers and spring onions, you are ready to send the wrap down your belly! For the rest of the duck, you could request for it to be stir fried with noodles/rice (additional S$15 - S$20) or simply have it sliced up. The meat was definitely succulent and tender!
HOME-MADE BEANCURD WITH ASSORTED MUSHROOM
S$15

---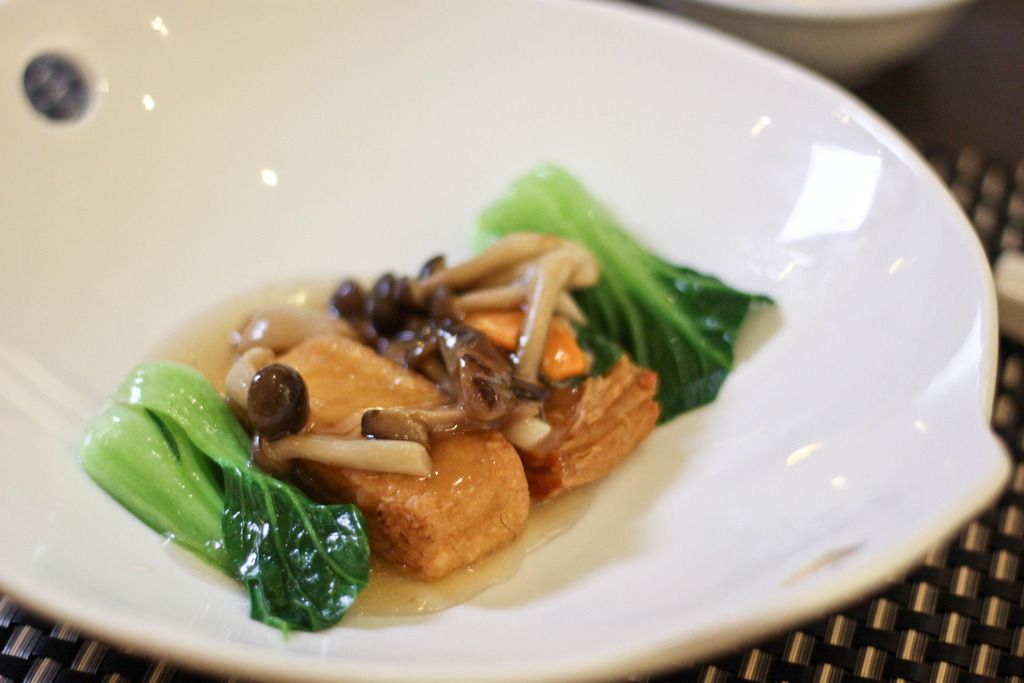 Pictured above is the tasting portion due to the wide array of dishes that we were trying that night. The beancurd are home-made and freshly fried, served with some baby bok choy and mushrooms. A simple yet delicious choice to introduce some vegetables into your meal!
S$28

---
It was a little surprising to see pork knuckle being served in a Chinese restaurant, but that's how Lan Ting strives to serve some variations in its cuisine to provide diners with an extensive choice of menu items. The pork knuckle is seasoned with cumin and has a crackling skin though it could be crispier. I was also happy to find it quite meaty so I generally prefer meat over skin!
WOK FRIED SEAFOOD UDON IN OBA LEAF
S$18

---
Presented elegantly in a boat made of oba leaf is the wok fried seafood udon. I was drawn to it with its fragrant aroma and those plump looking scallops and prawns! Each strand of the udon noodles are coated evenly with the sauce that I found to be on the salty side. Nonetheless, the sweet tasting fresh seafood made up for it! Also, the noodles were cooked to a doneness just right which gave the chewy bite to it.
LAN TING SPECIAL FRIED RICE
S$18

---
How special is this special fried rice? Unlike the usual fried rice served in Chinese restaurants, Lan Ting's version came with a hue of yellow. The reason behind the colour is due to masala seasoning being added to it! With the tossing and turning of the wok, the seasoning is nicely integrated into the rice that gives it a whiff of fragrant aroma that isn't overpowering. Bacon bits are also added to give this dish some texture.
S$5.80 FOR 3 PCS

---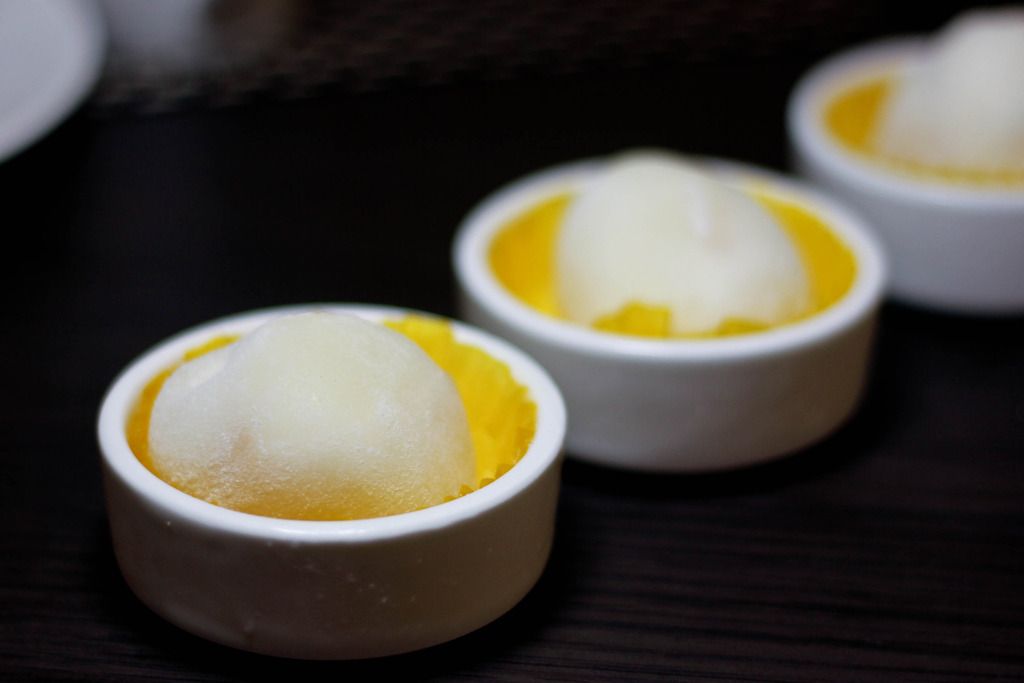 We ended our meal with dessert which was this snowy mochi filled with mango! I love the touch of the mochi skin as it was extremely soft and bouncy. The best way to eat this is to pop the entire mochi in your mouth and to enjoy the moment that the mango comes rushing out of the chewy skin. The refreshing mango paired very well with the mochi skin which was extremely soft and chewy!
Lan Ting had just opened its door this year and despite being relatively new in the market, I found that most of their dishes had a good level of execution. My favorite dish was definitely those cute liu sha baos! With an oriental decor that exudes the grace of a Cantonese restaurant, this would be great place to have a meal with your family!
907 East Coast Road #01-02 Springvale
Singapore 459107
Tues - Sun | 0800 - 2230 (LO 2200)