Joyden Concepts Group (Joyden Treasures, Joyden Seafood, Joyden Canton Kitchen) — Singapore
The Joyden Concepts Group has three restaurants under its name
—
Joyden Treasures, Joyden Seafood and Joyden Canton Kitchen. I had the privilege to have a preview of some of the Chinese New Year 2017 items that the Joyden Concepts Group will be dishing out from 9 January - 11 February 2017. Complete menu and details of the takeaway menu across all outlets are at the end of post.
This year, the theme will be "Prosperity Pomelo Feast" with the menu revolving around the pomelo fruit. In the Chinese culture, pomelo signifies abundance and prosperity. The dishes not only uses the pomelo pulps that we are familiar with, but also the pomelo pith. The pith is the layer of the fruit that is between the pulp and the skin. A multi-day laborious process is required to soak and wash the pith to remove all the bitterness and tartness to deliver a tender, juicy and spongy ingredient.
FESTIVE YU SHENG PLATTER
—
鲍鱼鲑鱼捞起
with Abalone & Salmon Sashimi

---
We were served with the large portion that comes luxuriously with both abalone and salmon sashimi. Beautifully plated with a ton of ingredients, I was delighted to also see lots of crackers too! The amount of sweet sauce was just right, not too overwhelming or too little, that coats onto the strands of thinly sliced vegetables. Strips of snow pear are also added to introduce a crunchy yet sweet bite to the yu sheng. The appropriate proportions of each ingredients on this plate, including the fresh salmon sashimi slices, came together harmoniously to form a mouthful of refreshing appetizer.
LOBSTER & FISH MAW
—
柚子皮XO龙虾鱼鳔
with Pomelo Pith in Premium XO Sauce

---
The lobster meat is deshelled then stir fried with pomelo pith in premium XO sauce. Decorated with the shell of the lobster, the plating definitely makes one's head turn! The dish also scored well in the taste department with a slightly spicy sauce, which worked well with the plump lobster meat. The star of this year's theme is featured in this dish and stir fried with the XO sauce. It didn't taste like what I thought it would be as it was especially tender and juicy, unlike the dry and stiff texture found in pomelos.
STEAMED SOON HOCK
—
陈皮丝蒸顺福鱼
in Superior Sauce with Ginger and Mandarin Peel

---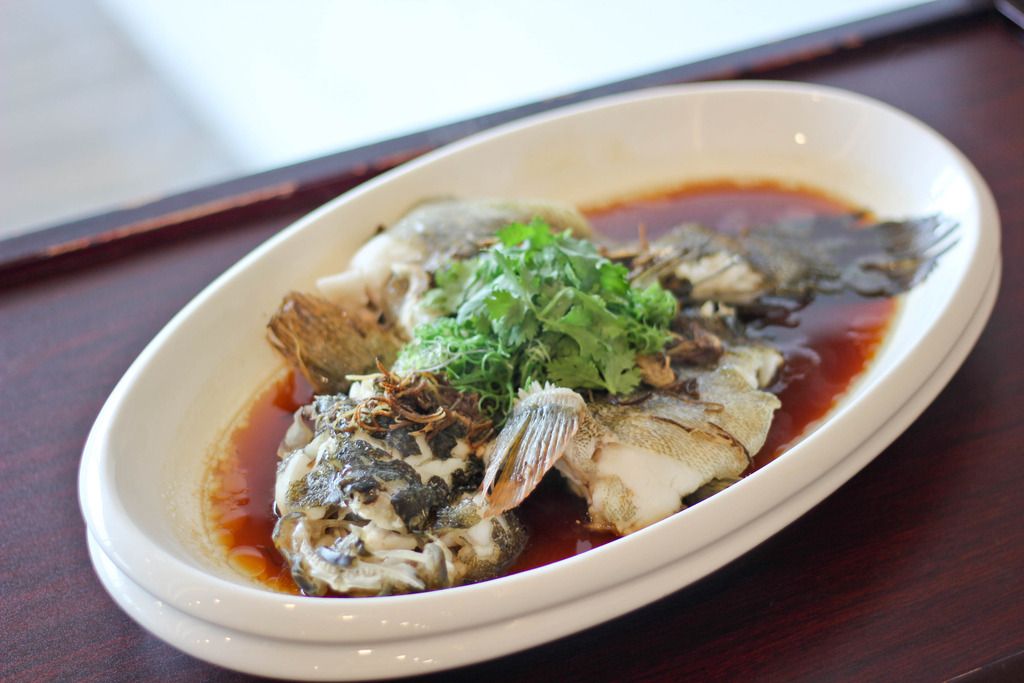 I enjoy having steamed fish at Chinese restaurants as the simple cooking style lets the freshness of the fish shine. This is no different at Joyden. Steamed with a light superior soy sauce and ginger, the meaty soon hock was served beaming with freshness. What is unique here is the addition of mandarin peel for its citrus taste and slight bitterness, adding another depth of flavor and makes you just want to polish off an entire bowl of rice with it!
CRISPY ROAST DUCK
—
红糟客家脆皮鸭
with Traditional Hakka Red Wine Sauce

---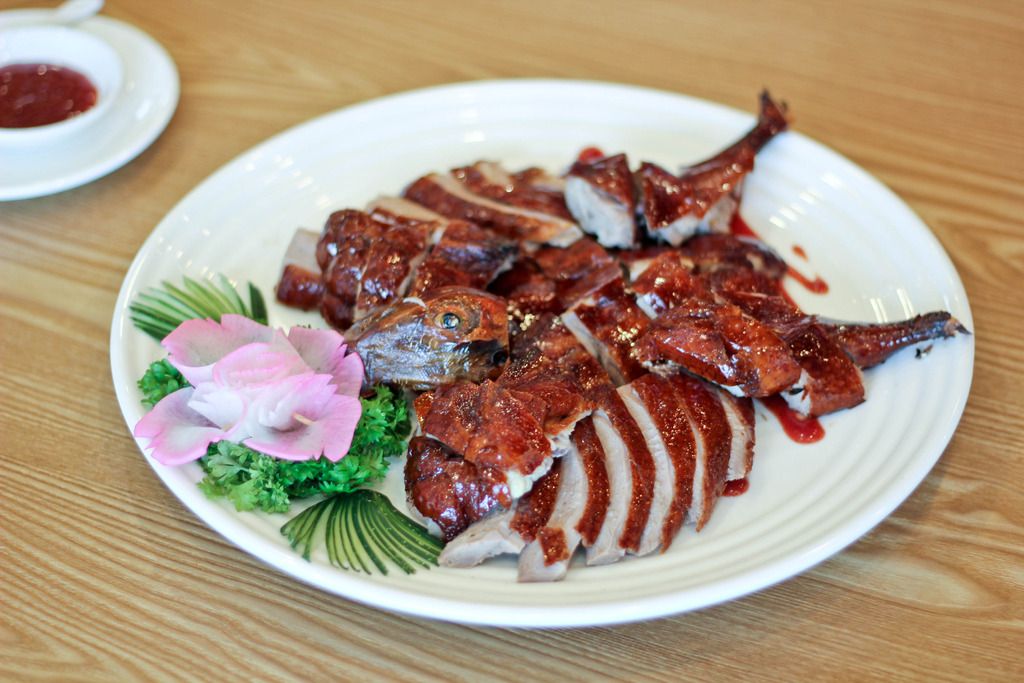 The roasted duck at Joyden is very well done with a thin crispy layer of skin roasted till golden and fragrant. I personally prefer the thigh meat as it was firm yet tender. The breast cut tends to be a little dry but this can be solved by dipping into the rich tasting red wine sauce that accompanied the dish.
BRAISED SEA CUCUMBER
—
海参柚子皮扒西兰花
with Pomelo Pith & Broccoli

---
Braised sea cucumber is one of the delicacies that you must have during the Chinese New Year festive period. The sea cucumber is slightly charred on its outer layer, then slow braised in a rich dark seafood broth. Here, it is paired with pomelo pith and broccoli flower poached in a superior broth. The light sauce allowed the pomelo pith to stand out as the sweetness emerged once I bit into it.
LONGEVITY NOODLES — 蟹肉伴面线
with Crab Meat

---
It is definitely auspicious to have mee sua for longevity and Joyden's rendition comes with crab meat. The noodles are cooked in a light white seafood broth completed with an abundance of chives and beansprouts. I love the bean sprouts for the extra crunch in this dish. The mee sua is rather plain tasting which would be suitable for the elderly and those with lighter taste buds. For those looking for more, you can add some vinegar or even their home-made belachan for a more tasteful experience.
Joyden Traditional Homemade 'Nian Gao'

---
The nian gao at Joyden is handmade by their own kitchen crew and no preservatives are added. It can be stored for a month if kept in the freezer. It is only available as a whole for take away, which is also a perfect gift for family and friends. In order to let us taste it, Joyden has specially prepared it in the form of a fried nian gao made of taro, nian gao and sweet potato. We immediately fell in love with it for its crispy skin and nian gao that isn't cloyingly sweet but full of that brown sugar fragrance.
CHILLED HASHIMA
—
雪蛤川贝柚子皮炖津梨
with Pomelo Pith, Pear & Chuan-Bei

---
We ended the meal with a chilled hashima with pomelo pith, pear and chuan-bei. This is really the kind of dessert that I look forward to after a multi-course meal at a Chinese restaurant. Perfectly chilled and refreshing, the smooth hashima and slices of juicy pear just made me gobbled this up in no time.
The above dishes will be available across all 3 Joyden Concepts restaurants in the form of Set Menus
—
however, do note that the sea cucumber is only available at Joyden Treasures while the roasted duck is only available at Joyden Treasures and Joyden Seafood. Yu Sheng Platter and Nian Gao will be available at all 3 locations. Please do refer to the below images for the Chinese New Year Menu at the different restaurants.
It's never too early to plan ahead for the Chinese New Year celebrations to secure your family a good restaurant for the festive season! I am definitely showing my parents the menu and hopefully have the chance to have some of the above dishes again!
Joyden Treasures is located at:
Leisure Park Kallang 5 Stadium Walk #02-42 (S)397693
Joyden Seafood is located at:
West Coast Recreation Centre 12 West Coast Walk #01-11 (S)127157
Joyden Canton Kitchen is located at:
HillV2 4 Hillview Rise #02-21 (S)66797
Please find menu across all outlets for Chinese New Year 2017: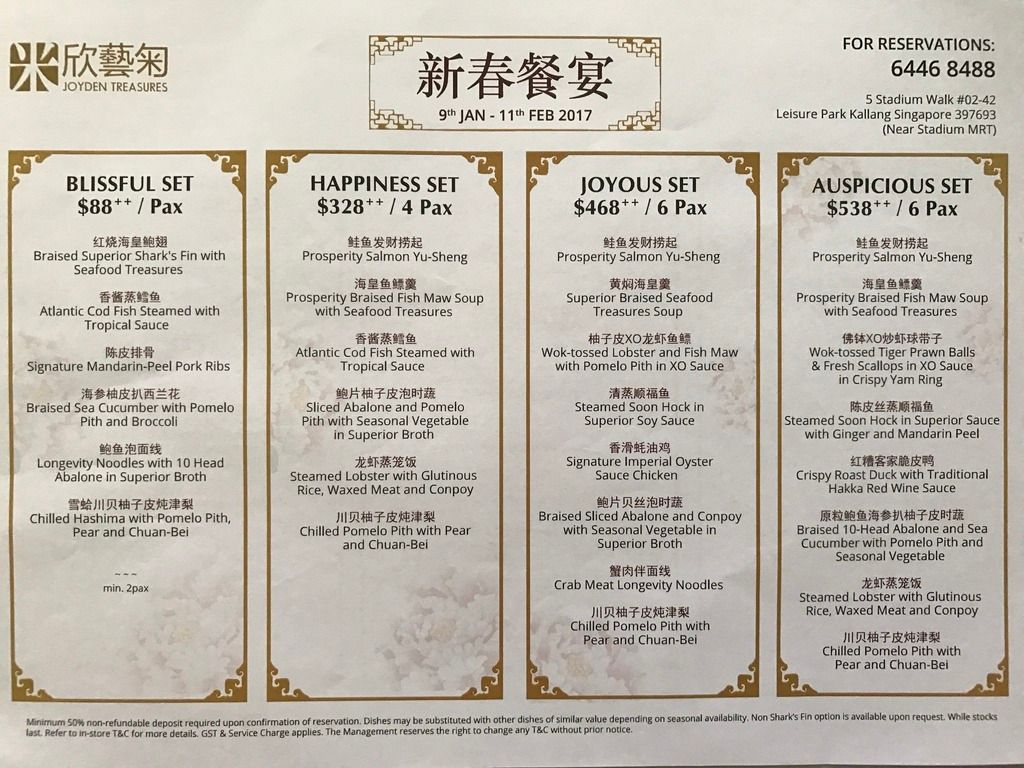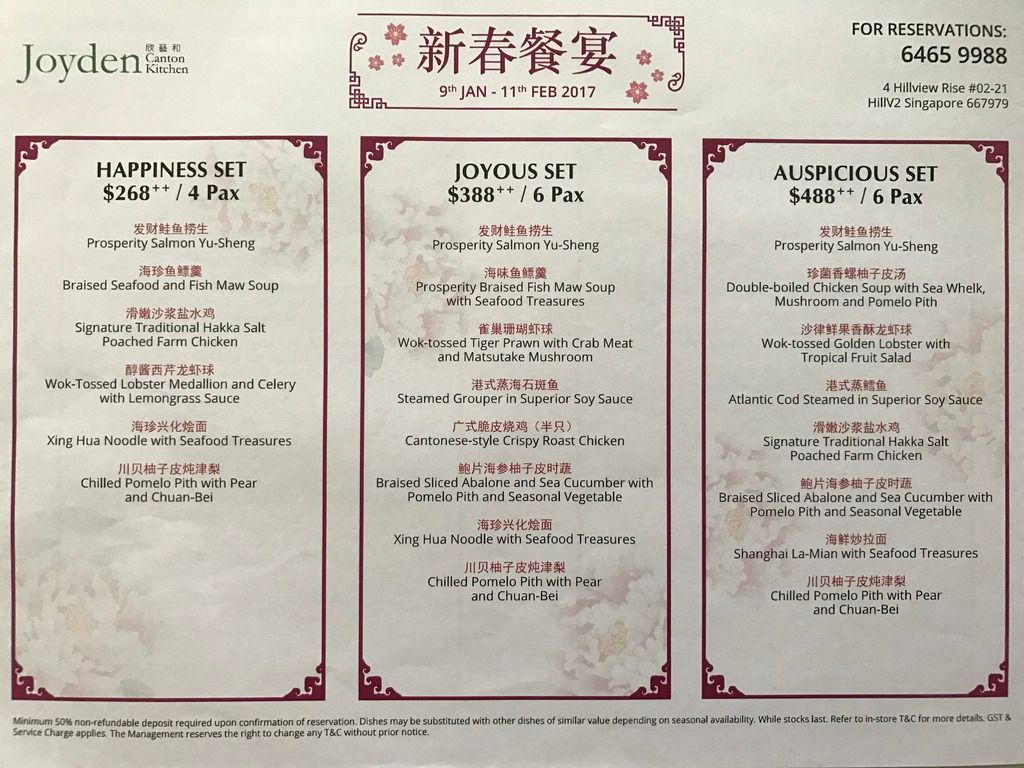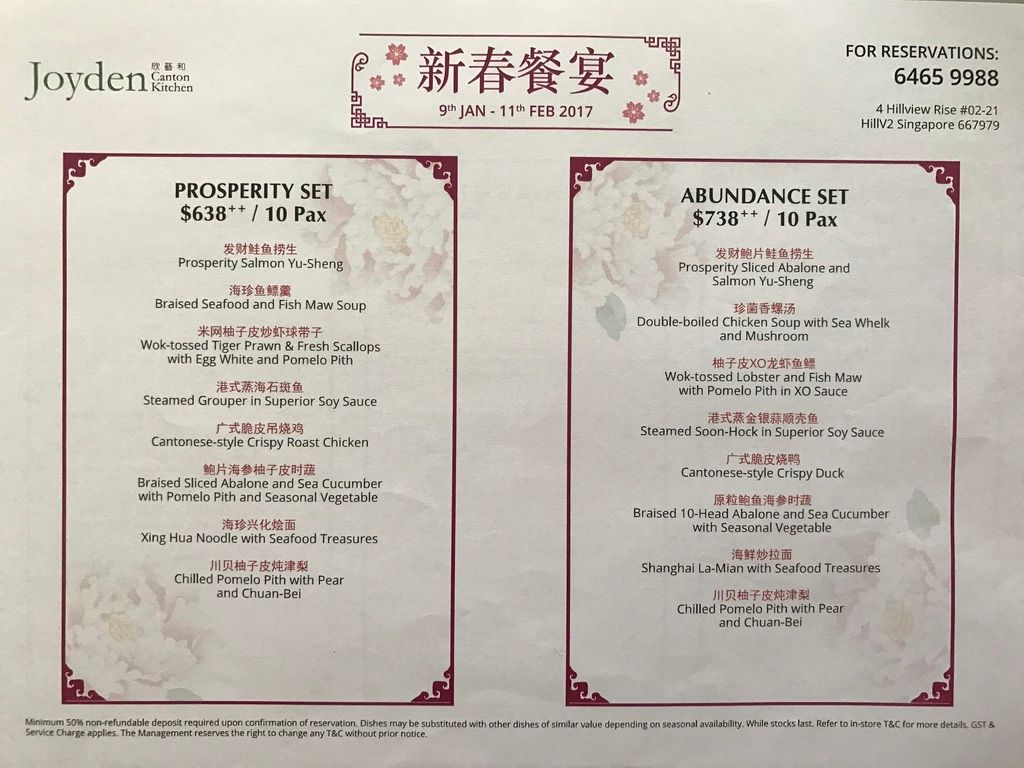 Please find additional pricing for takeaway items:
a.
Prosperity Salmon Yu-Sheng鲑鱼发财捞起
i.
Regular Size (5-6 Persons) $58+
ii.
Large Size (8-10 Persons) $88+
b.
Prosperity Sliced Abalone Yusheng鲍鱼发财捞起
i.
Regular Size (5-6 Persons) $88+
ii.
Large Size (8-10 Persons) $128+
c.
Prosperity Sliced Abalone and Salmon Yu-Sheng鲍鱼鲑鱼捞起
i.
Regular Size (5-6 Persons) $78+
ii.
Large Size (8-10 Persons) $148+
d.
Joyden Bountiful Treasure Pot* 山珍海味柚皮盆菜
i.
Regular Size (5-6 Persons) $298+
ii.
Large Size (8-10 Persons) $438+
e.
Joyden Traditional Homemade Nian-Gao 福寿康宁年糕
i.
6 Inch Regular Size $18.80+/Piece
*** 10% off Prosperity Bundle (Yu-Sheng + Nian Gao + Treasure Pot)
** Additional Salmon is available at $18+ and Abalone at $38+
* Joyden Canton Kitchen does not offer Pen Cai
Note: Joyden will start taking orders for takeaway items from 27 Dec 2016 onwards. Minimum 3 days advanced ordered required. Collection period is between 9 Jan and 11 Feb except on 28 Jan 2017. Collection timing is 11am to 3pm, 6pm to 9.30pm but on 27 Jan, collection is only between 3pm and 4.30pm.
More promotions on their website here.