Dal.Komm Coffee — Singapore, Orchard Road
dal.komm COFFEE has finally arrived in Singapore after appearances in Korean hit drama
—
Descendants of the Sun starring Song Joong Ki. Originating from South Korea and having expanded to Malaysia, the first flagship in Singapore is located right at the entrance of The Centrepoint situated along busy Orchard Road.
CAPPUCCINO/ CAFFE LATTE (HOT)
$6 or espresso ($4.5)

---
dal.komm COFFEE prides itself in having 3 types of Arabica coffee bean blends choices. The K1 is a well-balanced blend with chocolate tones, the K2 is the lightest roast with a sweet citrusy finish while the K3 is the strongest and full-bodied blend. I had the K3 cappuccino which was strong and roasty despite having milk added to it, just the way I like my coffee to be!
$8.5

---
If you're looking for a cold coffee on a hot day, definitely do go for the coffee cube! Each cup comes with 9 blocks of frozen K1 espresso in temperature-controlled milk. Unlike the usual iced coffee with ice cubes and the resultant diluted drink over time, this gets stronger as the coffee cubes melt into the milk. And by strong, it's the real deal with about 4 shots of coffee once all the coffee cubes are completely melted!
$8.5

---
Apart from coffee, dal.komm COFFEE offers a wide selection of non-coffee beverages such as Honey Grapefruit (Cold - $8.9), Mojito Black Vitali-Tea (Hot - $8) and Sweet Potato Latte (Hot - $7). From the above drinks that I tried, I am having a hard time deciding if I prefer the honey grapefruit or strawberry cube as they were both equally good! The grapefruit juice was very refreshing and not overly sour after adding some honey. Half a grapefruit is used and it's a good time to replenish your Vitamin C! The strawberry cube is made of fresh frozen strawberries crushed atop iced milk. No sugar syrup is added but some honey is used to sweeten it up! The frozen strawberries function like frozen ice cubes with the added bonus of getting some real strawberry flesh when you bite into it!
$11.5

---
$8.5
with Mojito Vitali-Tea on right and Sweet Potato Latte in background

---
$10.9 (regular) / $15.9 (large)
with Honey Grapefruit in background

---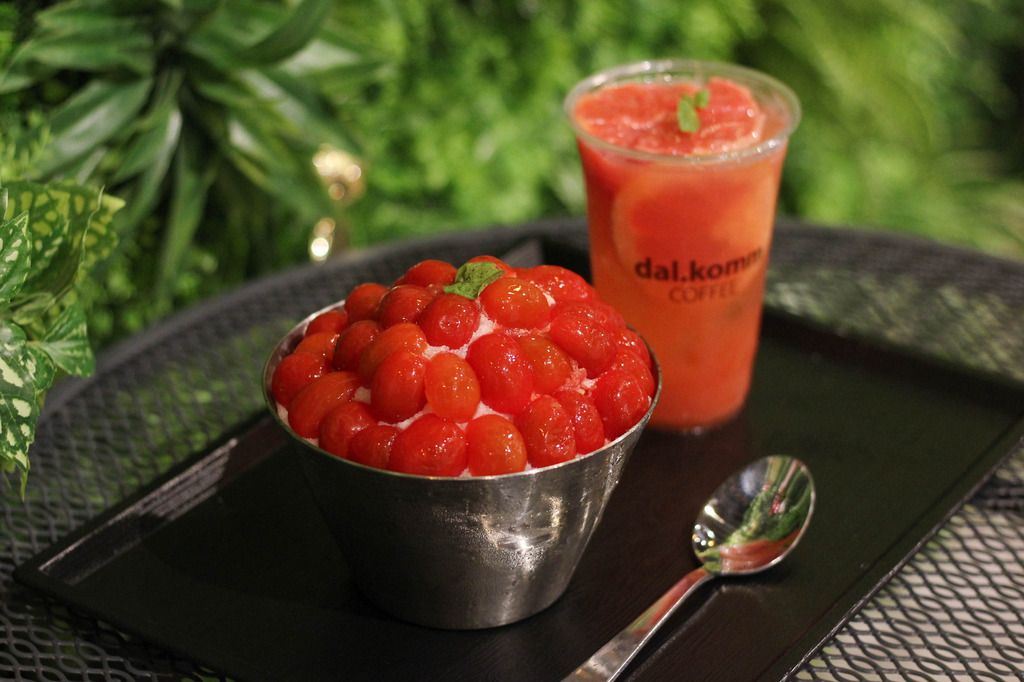 We also had the opportunity to try some food and dessert items on the menu. The injeolmi toast was a hit with the toasted bread sandwiching addictive chewy Korean rice cake and topped with sweet red bean paste, dusted generously with soybean powder. As for the bingsu, this was my first time eating a cherry tomato bingsu! This is created with ladies who are looking for an indulgent yet healthy dessert
—
yay for the ladies! The sweet cherry tomatoes burst with juices as I bit into them and went really well with the fine sweetened milk shaved ice. That is not all
—
hidden within the shaved ice is plum powder which introduced a little salty-ness and made the bingsu more fascinating taste-wise!
The spacious interior of dal.komm COFFEE which spans over four shop spaces is definitely a good spot to rest your legs during shopping breaks or just for lazing your afternoons away. Fans of DOTS will also be happy to know that the plushies are available for sale! It also doubles up as a music cafe as the cafe will be hosting "Open Mic" events for performances once a month! I can foresee myself returning soon but having a hard time deciding which drink to get!
176 Orchard Road #01-01/06, #01-102/103 Singapore 238843