Basil Thai Kitchen, Singapore — Paragon
Basil Thai Kitchen by Thai Express recently opened a new flagship outlet at Paragon Shopping Mall, after having opened its first outlet at Kallang Wave Mall (yes, the second store is its flagship outlet). By using ingredients from all over Thailand, Basil Thai aims to create dishes originating from various parts of Thailand for us Singaporeans! The restaurant's flavour profile focuses heavily on sweet, sour and spicy, not any different from the Thai food that we are used to.
$9.9

---
You must order these spring rolls at Basil Thai Kitchen. The spring rolls are hand-rolled with black fungus, glass noodles, minced chicken and bamboo shoots. Freshly fried, the crispy skin gives way to a generous amount of fillings as you bite into it. The minced chicken releases its sweet meat juice while the bamboo shoots gave some crunch to this little snack.
$8.9

---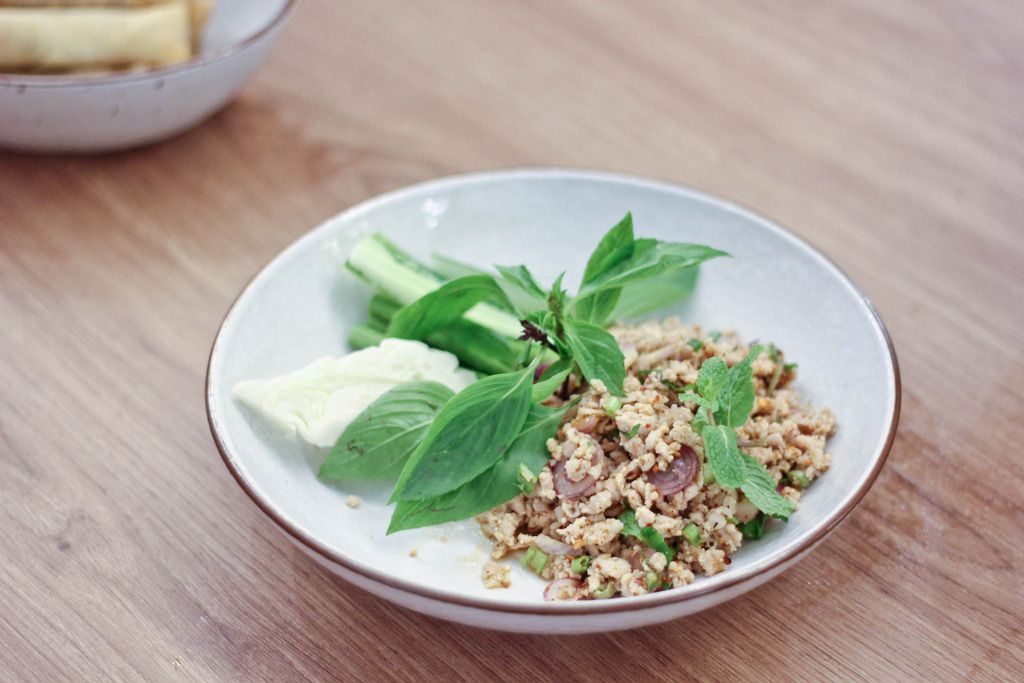 The minced chicken salad is for those who love their food with a fiery kick. Tossed in fresh lime juice, chilli padi, roasted rice and herbs like kaffir lime, lime and basil, the dish brings one right into the heart of Thai cuisine as it is absolutely sour and spicy. Some cabbage and cucumbers are also served on the side to help curb the spicy-ness if it's too much for you. I thought some rice crackers would have went well with this!
$9.9

---
This dish from the Southern Thailand, comprising a wholesome plate of assorted boiled vegetables with battered fried prawns, vermicelli, shredded chicken breast and tao khua (pressed beancurd), is something that I have never came across before! It is served with two sauces on the side
—
the homemade chilli and palm sugar & fish sauce mix. The sauce is really pivotal here in bringing this entire dish together with its spicy and sweet flavors so be sure to drizzle a little of both on the plate of mixed ingredients! It was quite an interesting mix of ingredients for me and I like how it was rather clean tasting yet flavourful.
$8.9

---
Onto the mains, we first had the omelette. Omelette may sound very ordinary but Thai-style omelettes are always to die for! The omelette is deep fried with lots of oil till it's golden brown and very very crispy, yet fluffy on the inside. I love this simple and sinful dish that goes so well with plain white rice. Basil Thai Kitchen serves a mild chilli which tasted similar to sriracha sauce with this omelette.
MASSAMAN CHICKEN CURRY WITH CRISPY ROTI
$13.9

---
Other than green curry, Thai cuisine also has a Persian-inspired massaman chicken curry and it is served with crispy roti here. Over 13 ingredients, including star anise, thyme and galagal are grounded into a spice blend that makes up the curry. Chicken thigh is then added to simmer in the curry before serving. The chicken meat was entirely fork tender which made it very easy to eat! Using a wide variety of herbs and spices, the massaman chicken curry is very flavourful yet not spicy
—
definitely a family friendly dish
!
$16.9

---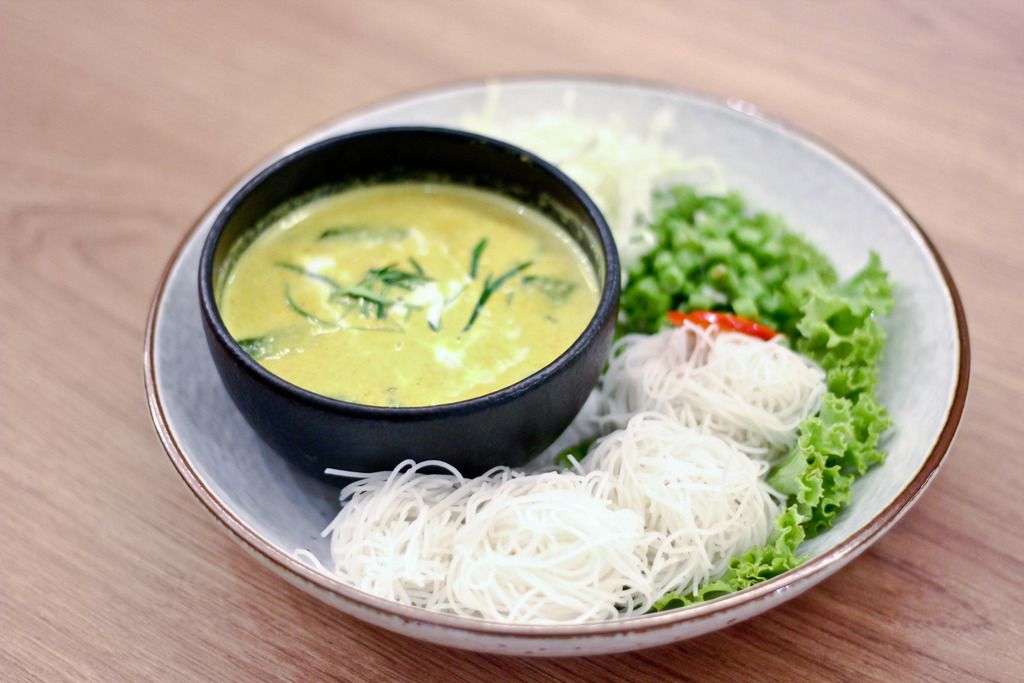 Yet another Southern-style dish, this yellow curry with crab meat is served with vermicelli and fresh long beans. The generous amount of curry is more than sufficient to drench the noodles with. The curry was heavily loaded with coconut milk hence it had a sweet milky taste that isn't spicy at all.
RED RUBY WITH COCONUT CREAM
$5.9

---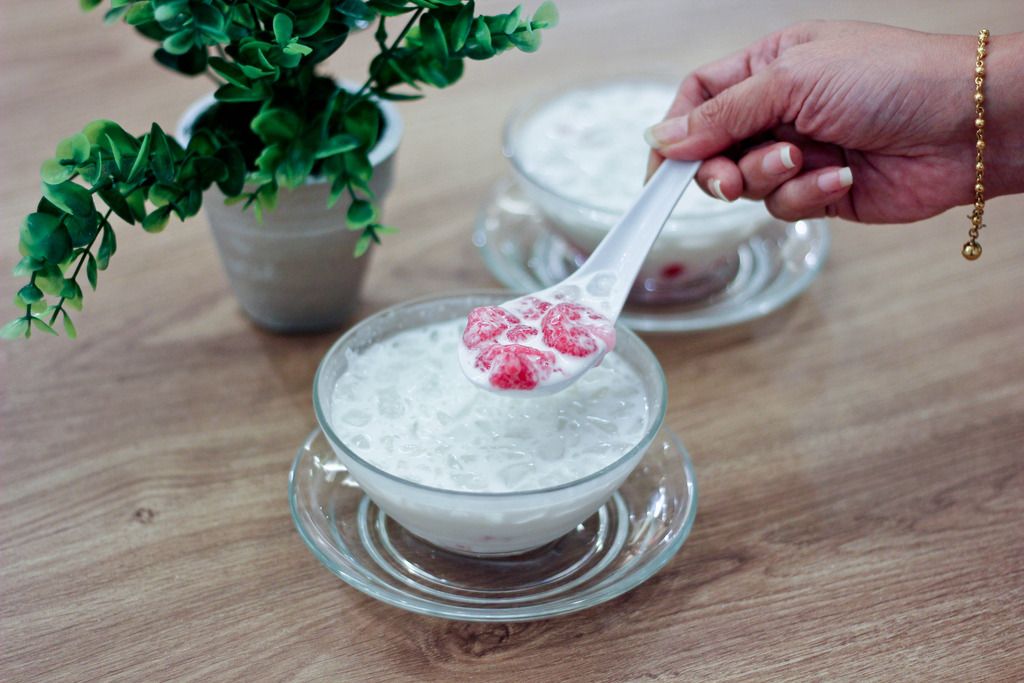 The rubies are homemade by tossing water chestnuts in rice flour. The red colour is achieved by soaking it in rooibos root instead of artificial coloring. With this, I could taste the water chestnut and a solid crunch in these red rubies, which were coated with a thin and chewy layer of tapioca flour. A pinch of salt is added in the coconut cream soup, which balances out the milkiness.
$6.9

---
Another coconut based dessert, the Thai Chendol is made of coconut slushie, jackfruit, palm sugar, red rubies and lod chong. The lod chong, which is the green jelly you commonly find in chendol, are homemade by the team behind Basil Thai Kitchen with rice flour and pandan juice. Instead of the usual agar agar-like taste experience, this self-made lod chong had more texture to it which was great!
My experience at Basil Thai Kitchen has exposed me to some brand new dishes of Thai culinary world, such as those from Southern Thailand. It is definitely a good place for Singaporeans to try out these dishes that may not be as commonly available. Also, the overall consensus of the dishes served at Basil Thai Kitchen was that they weren't too overpowering, which would probably be suitable for most of us!
290 Orchard Road #B1-45/46 Singapore 238859