Sushi Murasaki, Singapore — Millenia Walk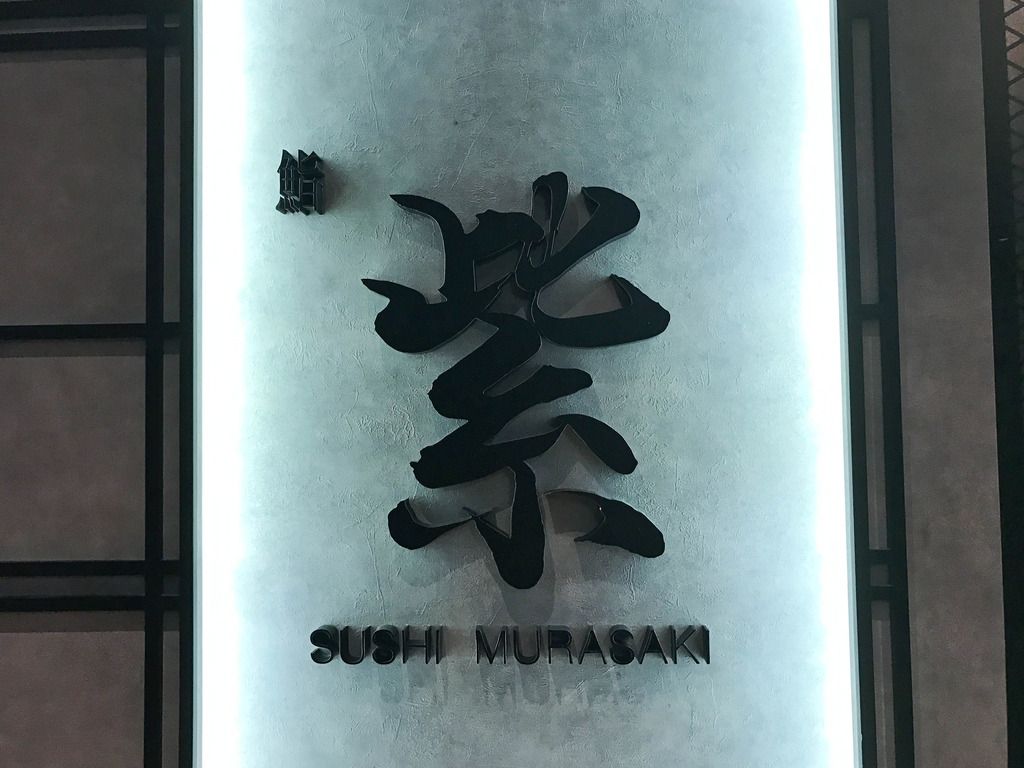 In the day, Sushi Murasaki is a more casual restaurant serving don sets, but at night, it turns into an omakase restaurant. I had the opportunity to try out Sushi Murasaki's Kumo, the omakase set priced at $180++. The Kumo consists of 2 appetizers, 3 sashimi, 6 pieces of nigiri sushi, mini premium don, signature soup and dessert.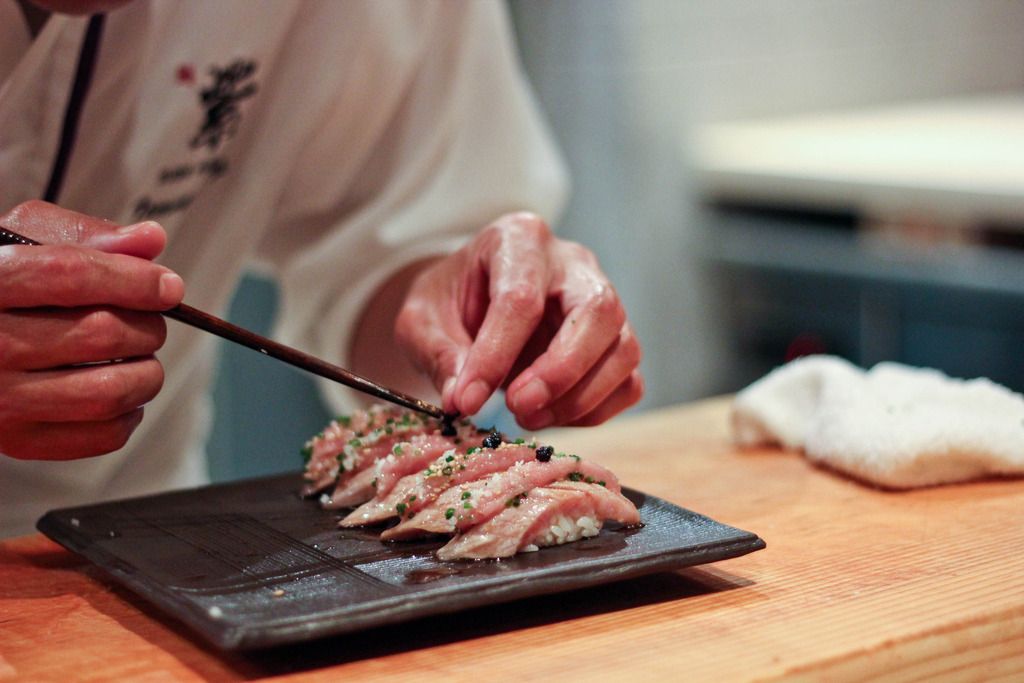 Omakase simply means to let the chef decide and the items served at Sushi Murasaki is heavily dependent on the availability of the ingredients. The main ingredient, fresh raw fish, is shipped to Singapore from Tokyo's Tsukiji Market four times a week!
We started off with a hairy crab appetizer with fresh de-shelled crab meat topped with crab roe and black vinegar jelly. A mouthful of sweet crab meat paired with some tangy jelly was such a great way to whet our appetite for the omakase meal ahead!
The Spanish mackerel was first smoked with Japanese charcoal, then topped with onion and ginger flower and a squeeze of the lime. The crispy strips of fried ginger added fragrance and some crunch to the mackerel, which had a hint of smokiness embedded within.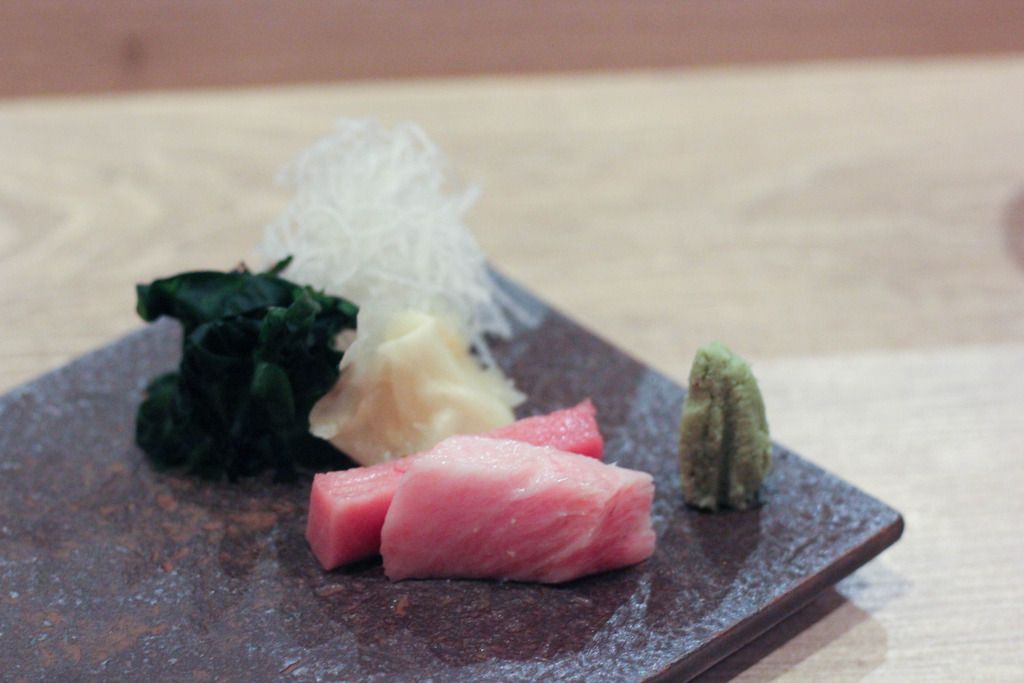 Classics when it comes to sashimi, the chutoro and ootoro never fails to put on a great show for both the eyes and the palate with the beautiful marbling on the tuna.
Next, we were presented with the tilefish with the fish scales fried till crispy. It was surprising how the crackling skin (fish scales!) complemented the delicate sweet tasting fish meat so well!
The Boston lobster was slow cooked at 80 degrees for 25 minutes to preserve the sweetness of the meat with a firm yet tender texture. It was drenched with a mushroom sauce and topped with some luxurious fresh truffle shavings. I thoroughly enjoyed this!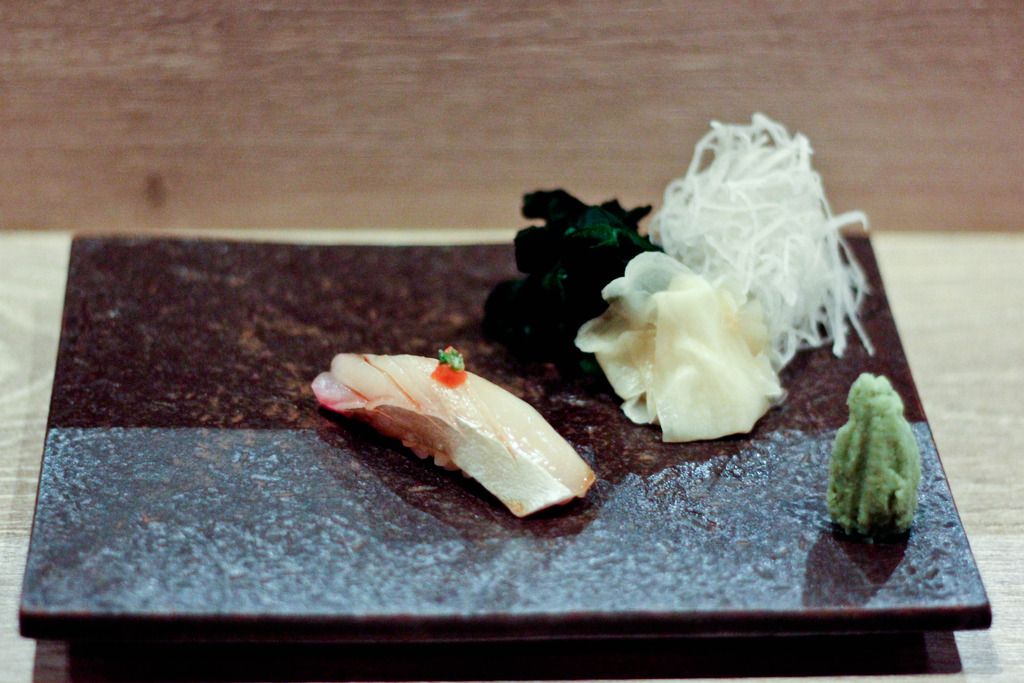 KINMEDAI (GOLDEN EYE SNAPPER)
---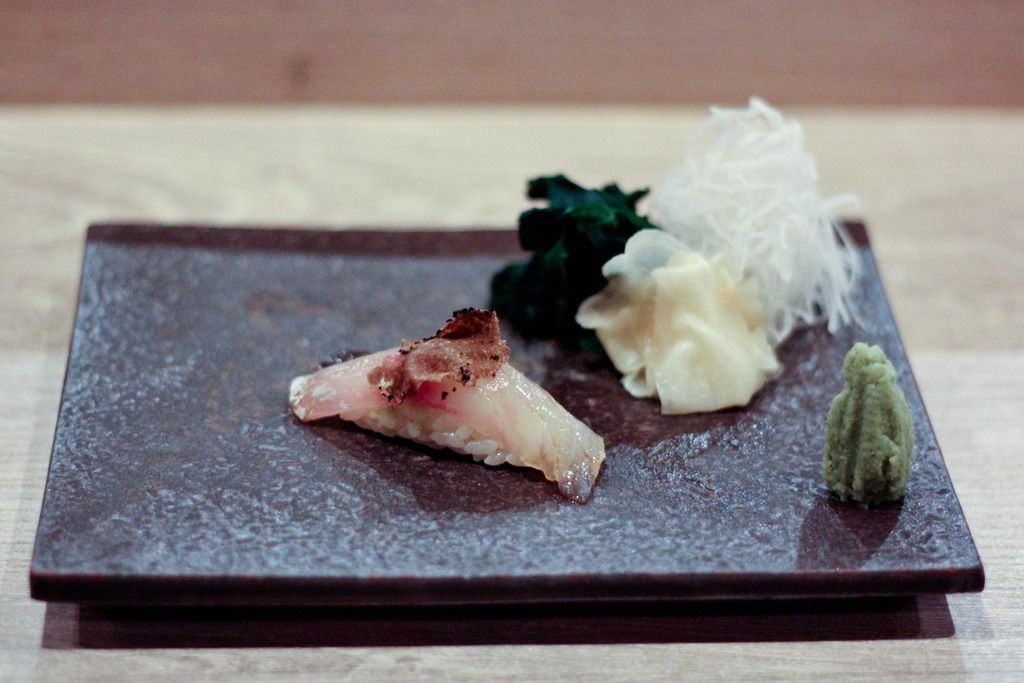 Then, we had 3 nigiri sushi
—
the shimaji, kinmedai and kodai, seasoned with lime, yuzu and truffle oil respectively. The frequent shipping of the freshest catch from Tsukiji would only mean that the freshest taste and it was a joy popping these sushi into my mouth!
ABURI OOTORO WITH NEGITORO
---
The joy of omakase is being able to score first row seats to watch the sushi chef prepare your food! The chef executed a high level of concentration as we watched how he pieced this sushi together. An aburi ootoro was placed over vinegared sushi rice, followed by a generous amount of minced tuna, garlic and onion mixture, and finally topped off with a dollop of caviar and pure gold flakes. I ate this in one mouthful and there was a lovely mixture of freshness, flavors and richness all gushing in.
This nigiri sushi will definitely steal the customer's heart, as it did with mine. It was an aburi foie gras topped with uni and dabbed with a touch of shoyu. Both the foie gras and uni were very rich ingredients, but the uni, being light and creamy, went hand in hand with the fatty liver.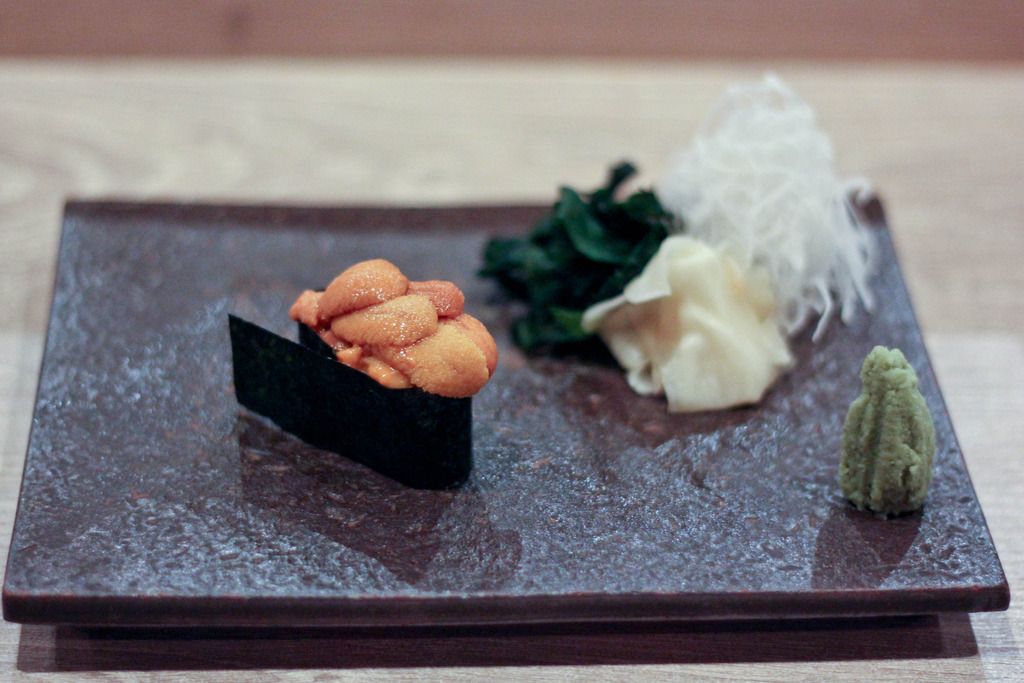 A glorious uni sushi with the golden uni sitting proudly atop sushi rice and then wrapped with seaweed. Uni from the Hokkaido region was used and I was delighted to taste such fresh uni that had some sweet notes and without a lingering aftertaste.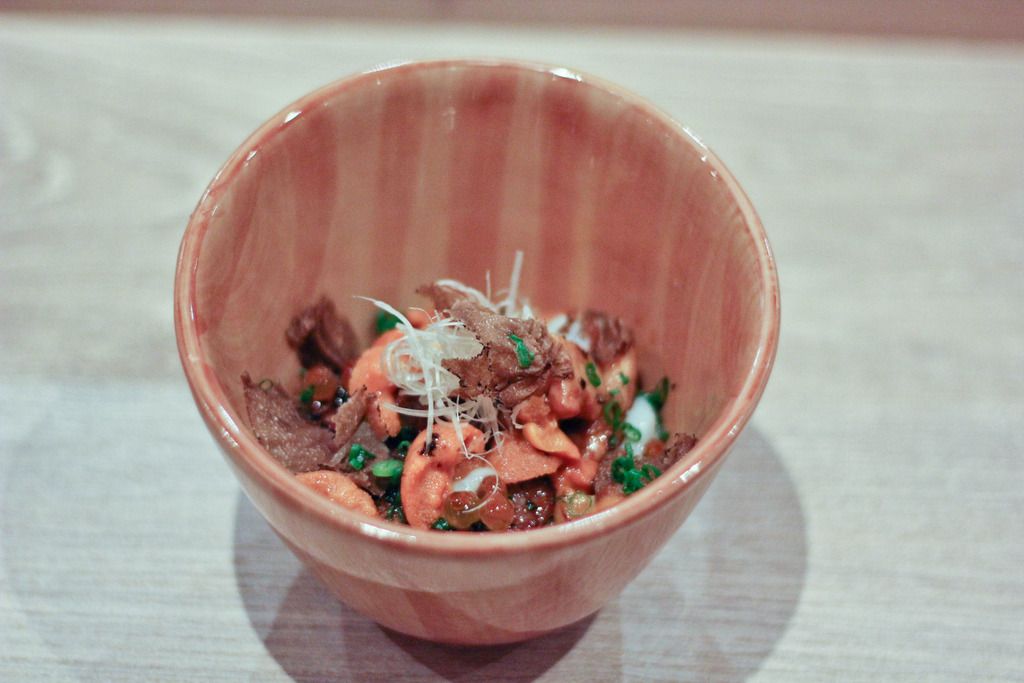 The mini premium don is a garlic fried rice topped with all the good things you can possibly have in a bowl
—
wagyu beef, ikura, uni, foie gras, onsen egg and truffle shavings. Even with the platoon of ingredients, the aroma from the garlic fried rice still shone through it all. Gave the don a good mix and I had a little of everything in one mouthful. The creamy texture from the uni and onsen egg definitely brought the flavors together. A full sized portion of this don is also available during lunch service, priced at a pretty hefty $85.
As we came to the end of our meal, we washed it all down with a simple konbu and bonito based soup stock that is boiled with kinmedai (golden eye snapper) for an added level of sweetness.
Our dessert for the night was the houjicha creme brulee and I was thrilled when I saw it as it was also my favorite dessert from Sushi Murasaki's sister resturant, Kurama and Yoi Sake Bar. Find my review of the creme brulee and my robatayaki experience here!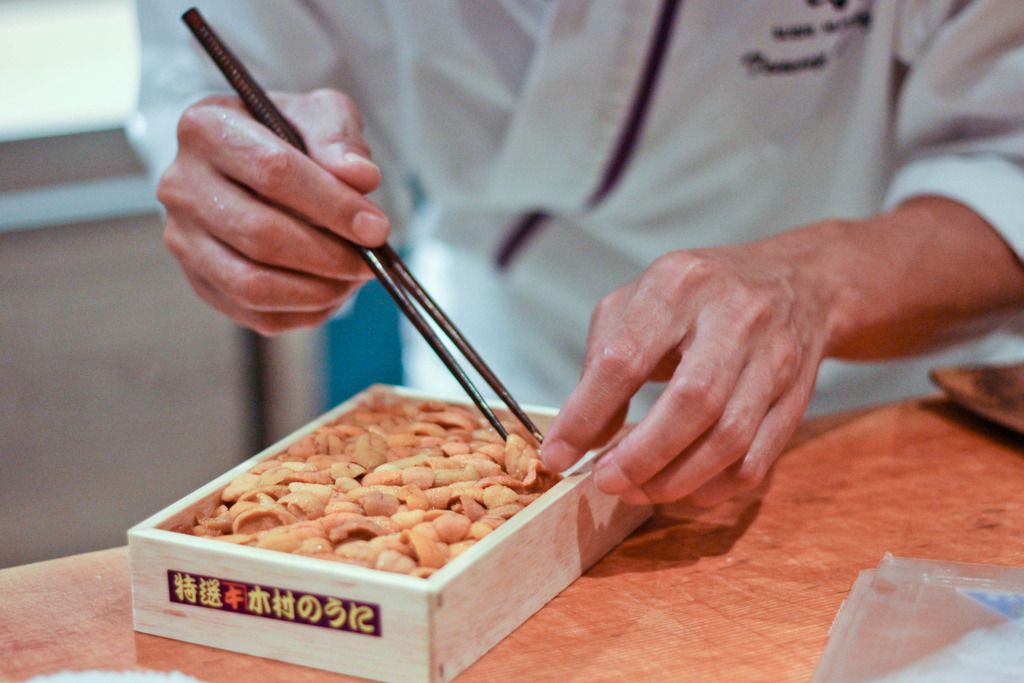 I've had omakase a couple of times and each time, I thoroughly enjoyed myself as I watch the sushi chefs treat each ingredient with utmost respect and presenting the best to customers. As the ingredients are dependent on the availability, the menu varies and you might not get the same dish each time you visit. However, isn't that just the beauty of it
—
to be able to
wait for pleasant surprises!
Thank you Eleanor for the invite and Sushi Murasaki for hosting!
9 Raffles Boulevard #02-08 Singapore 039596
Daily | 1200 - 1430, 1800 - 2200