Alter Ego, Singapore — Esplanade Mall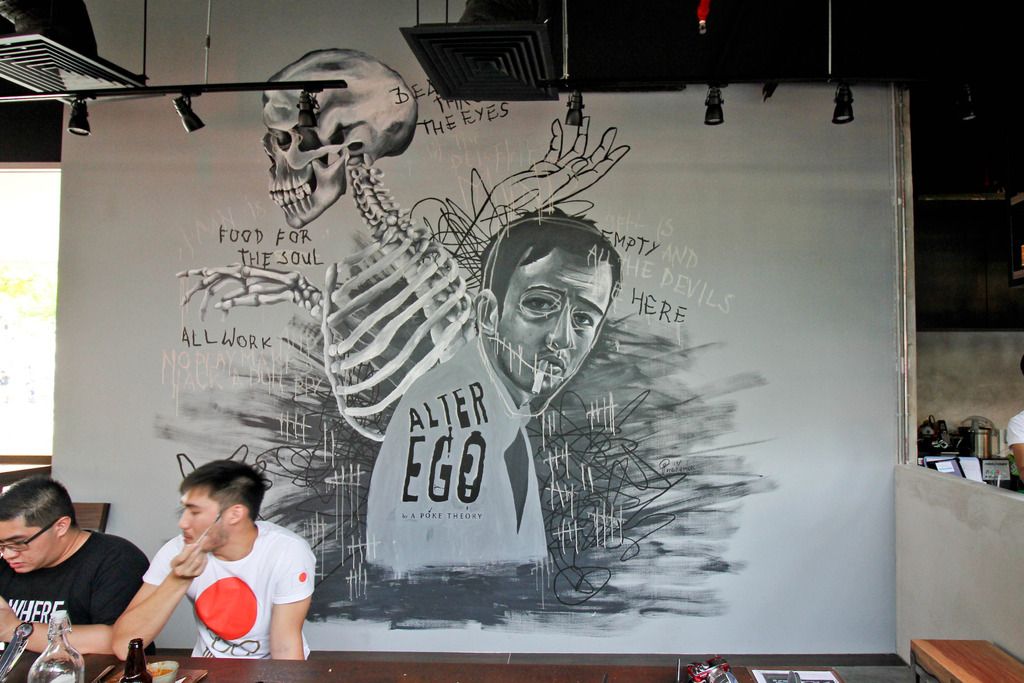 Coming up at Esplanade Mall is a whole new row of F&B choices, situated just right next to the Supply and Demand area. Apart from Suzette (read about it here), another new tenant to look out for is Alter Ego, sister restaurant of A Poke Theory. Focusing on poke bowls & smoothie bowls during the day and American grub & beer by night, Alter Ego is suitable for groups that like to hang out at the Esplanade waterfront area overlooking the Marina Bay skyline all day and perhaps all night long. Please refer to the end of post for full menu.
$16

---
$16

---
$15

---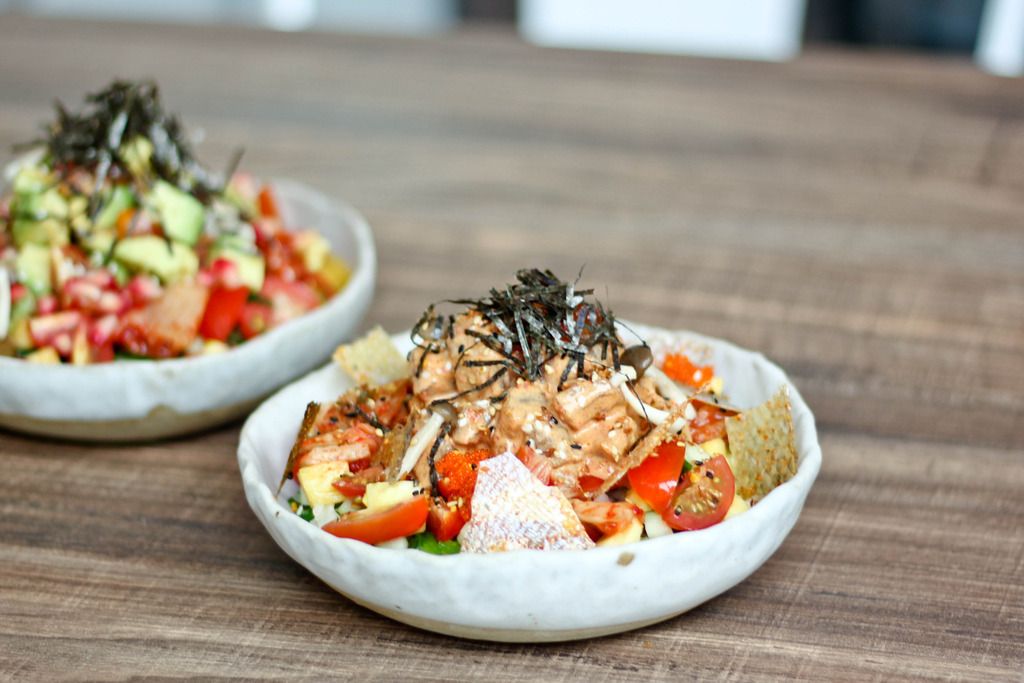 $13

---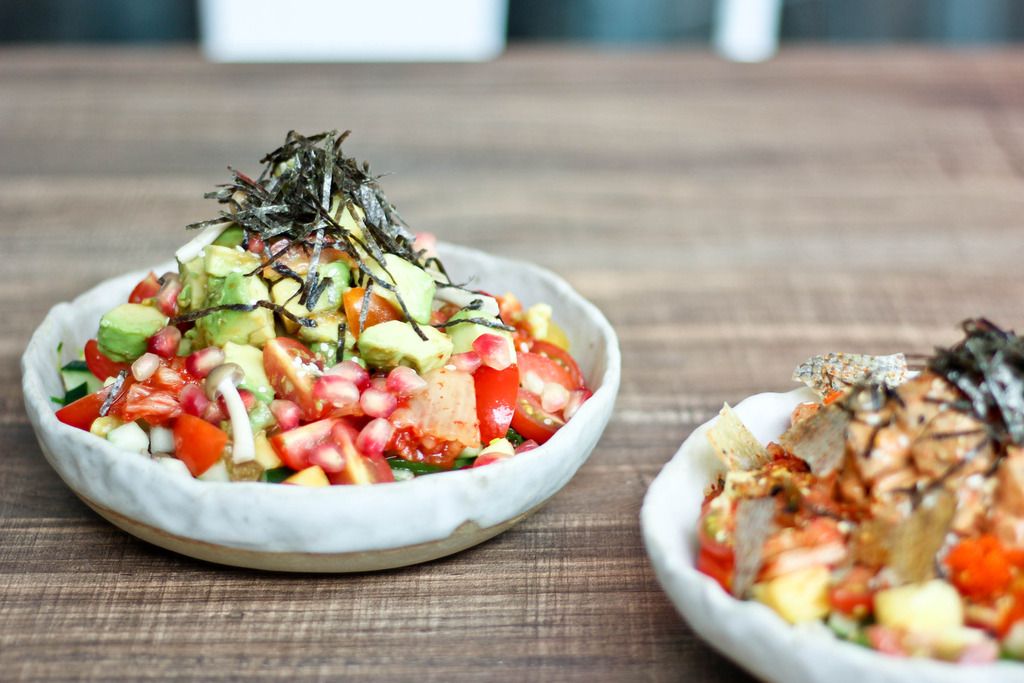 We tried 4 out of the 5 poke bowls available at Alter Ego. My favorite out of the 4 is definitely the Dynamic Kickin'
—
with spicy mayo tuna on sushi rice, served with cherry tomatoes, pineapples, cucumbers and premiums of kimchi & crispy salmon skin, topped with ikura and alfafa sprouts. The combination of the kimchi with salmon skin was close to perfect, complemented with chunky well marinated tuna. The generous amount and variety of ingredients definitely made every mouthful very enjoyable. Even though I like to have meat in my meals, I thought the Green Goddess was pretty good too with the crunchy pomegranate, kimchi and lots of avocado!
Do note that the poke bowls are only available from 11am - 8pm. By night, you can choose to have Poke & Chips instead, with crunchy tortilla chips served with a poke (Spicy Mayo Tuna, Avocado Miso Tuna, Original Shoyu Salmon, Spicy Garlic Sesame Salmon or Avocado) of your choice.
$8

---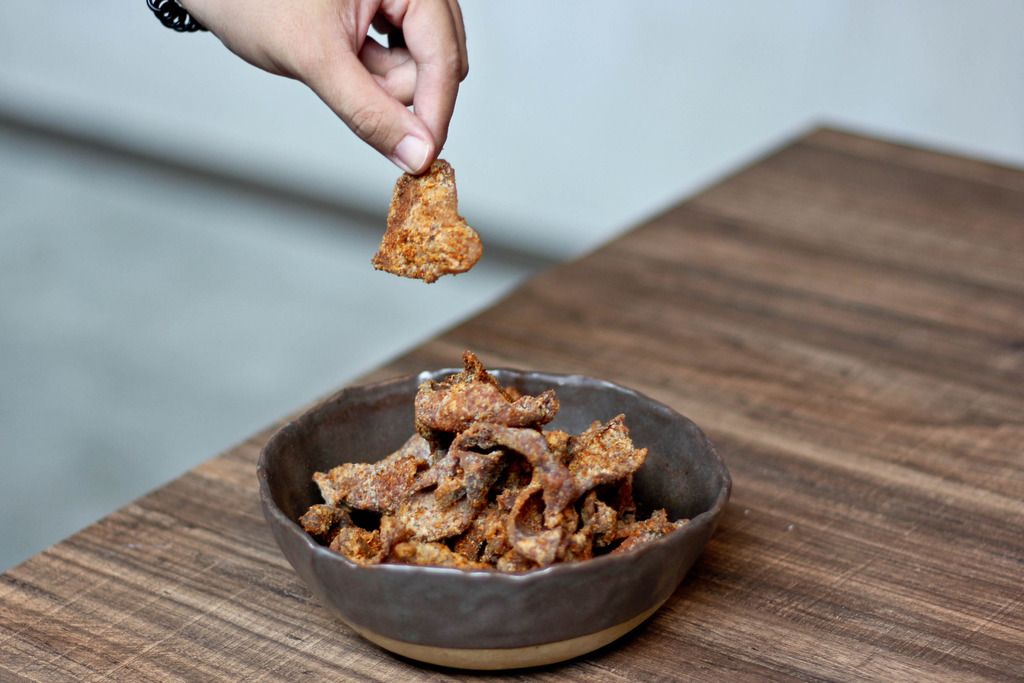 $10

---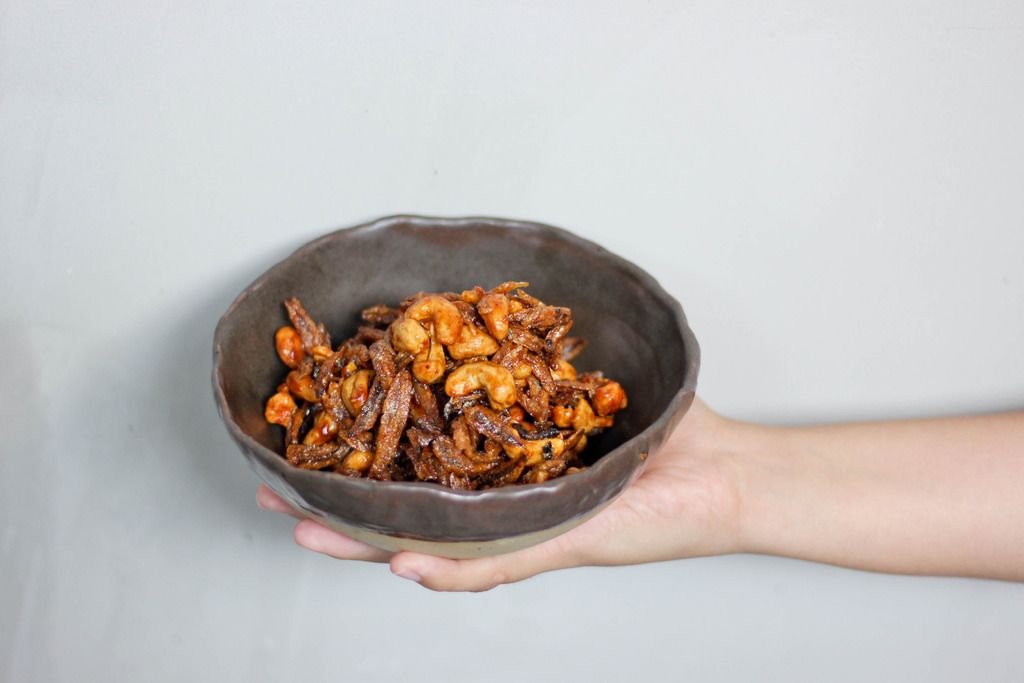 For small bites to go with your beer, you can either go for the fried chicken skin or caramelized ikan billis, or both! The fried chicken skin is rubbed with a southern spice mix then deep fried till golden and crispy. You just can't stop popping them into your mouth! It's also a bonus that it did not taste greasy at all. The caramelized ikan bilis reminded me of nasi lemak, but now you can have it on its own at a cafe! Ikan bilis and cashew nuts tossed in their own secret spice mix and baked till caramelised, I wished that it would be more spicy than sweet but I guess it suits those who can't take spice well!
$11

---
The pulled pork dip, a slow roasted Kalua pork marinated with spicy gochujang sauce, introduces an Asian twist to the usual barbecue sauce. I generally enjoy Korean food so this pairing easily worked for me! A mixture of the soft tender meat and crunchy shredded vegetables did well to provide a good texture to each bite. Initially, I did not pay attention to the pita bread and only saw it as a carbo filler. To my surprise, the toasted pita bread turned out to be so light and fluffy! With such a "meaty" dip, the light and fragrant bread was truly a good complement.
$13

---
$14

---
For the potato lovers, you will be in a dilemma deciding to order either the loaded taters or the pizza fries as both tasted awesome. The tater tots are dressed with a spicy jalapeno cheese sauce, maple-glazed bacon and sour cream. It's a simple dish that is hard to go wrong! For the pizza fries, it really is a genius idea to marry both pizza and fries together. The fries are drenched generously with a 3 cheese sauce comprising gruyere, parmesan, mozzarella. The cheese is not just on the surface, but also in between the layers to ensure that you have more than enough cheese for every single fry. A savoury house-made bacon ketchup is served on the side for you to dip the cheesy fries in for the ultimate pizza fries experience.
$14

---
An American favourite served at Alter Ego is the twice-baked buffalo wings tossed in spicy and tangy buffalo sauce and served with house-made ranch. It was well coated with the tangy sauce and fits the classic pairing of wings and beer.
$14 ($11 without meat)

---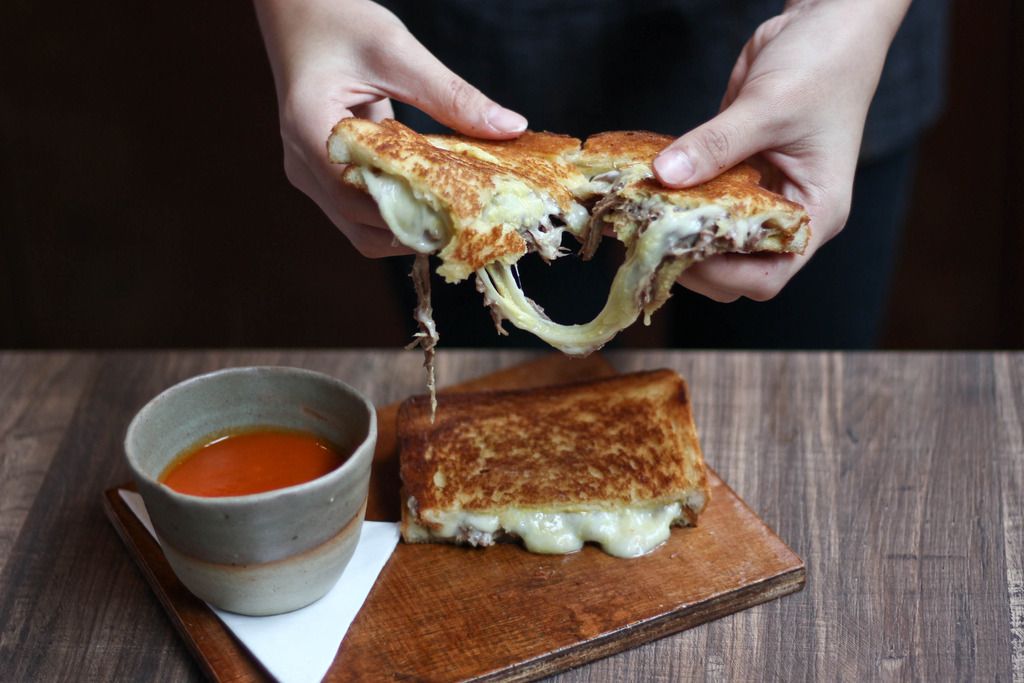 A grilled cheese sandwich is a dish seemingly simple but executed superbly here at Alter Ego. Gruyere and taleggio cheese with braised beef short rib sandwiched between two slices of bread. The magic lies with that buttery toasted bread (yes, the bread again!)
—
so lightly crisp that it disintegrates almost instantly as I bit into it. The braised short rib was also wonderfully juicy and tender, especially lovely with the creamy cheese. A tomato soup is also served on the side, which can serve as a dip like what most Singaporeans tend to do!
BLACKBERRY BINGE SMOOTHIE BOWL
$6

---
$6

---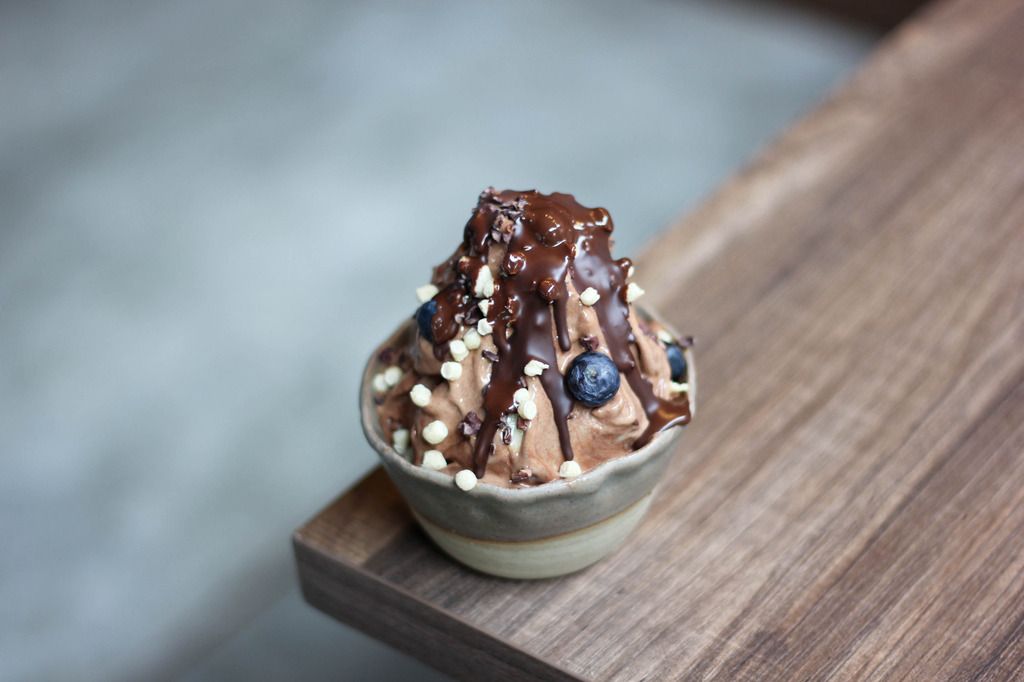 $11

---
$11

---
Four desserts are available on the menu, ranging from smoothie bowls to a no-baked lemon pie. Both the smoothie bowls have bananas blended into them so your choice of smoothie bowl boils down to whether you prefer chocolate or berries. The berries & cream is made of macerated fresh strawberries and raspberries served with Chantilly cream which will satisfy any strawberry fan! The lemon icebox pie is a no-bake pie filled with tangy lemon filling on a buttery cinnamon spiked crust with Chantilly cream and berry reduction. I was happy to find that the lemon curd was smooth and retained a curd-like texture and tangy enough to excite the taste buds.
We were definitely treated to a great feast at Alter Ego and I was happy to walk out with a rounder tummy but with the discovery of some really delicious dishes! I would definitely return for the grilled cheese sandwich and pizza fries. The brunch menu is in the works right now and I can't wait to see what other new creations the folks at Alter Ego will come up with!
Sun - Thurs | 1100 - 2300 Fri & Sat | 1100 - 0200
Alter Ego's Full Menu