The Carvery, Singapore — Park Hotel Alexandra
The Carvery is a restaurant situated on the 7th floor of Park Hotel Alexandra, just beside IKEA. As the name suggests, the Carvery offers cooked meat that are freshly sliced to order right in front of you. If you're a true blue carnivore, you're in for a real treat! The meat selection includes chicken, pork and the restaurant's specialty, beef.

The Great Meat Feast is happening from 28th September 2016 to 22nd October 2016 and the dinner is priced at
S$78++ (Sun - Thurs)
and
S$88++ (Fri & Sat)
. Apart from the standard
pork knuckle
,
roasted chicken and beef
(which may vary) on the regular 3 metre long carving counter, an additional 6 different types of beef will be made available during this period of time!
No doubt, my favorite was the Mayura full blood wagyu from Australia. The wagyu comes from cattle that grazed on calcium-rich pasture from young and then grain fed for 500 days. In addition, chocolate is added to their diet to result in a robust and nutty flavor to its meat. The intense marbling throughout the meat makes it ridiculously tender, juicy and irresistible. Too much of a good thing might become a bad thing so go easy on it even though it's free flow!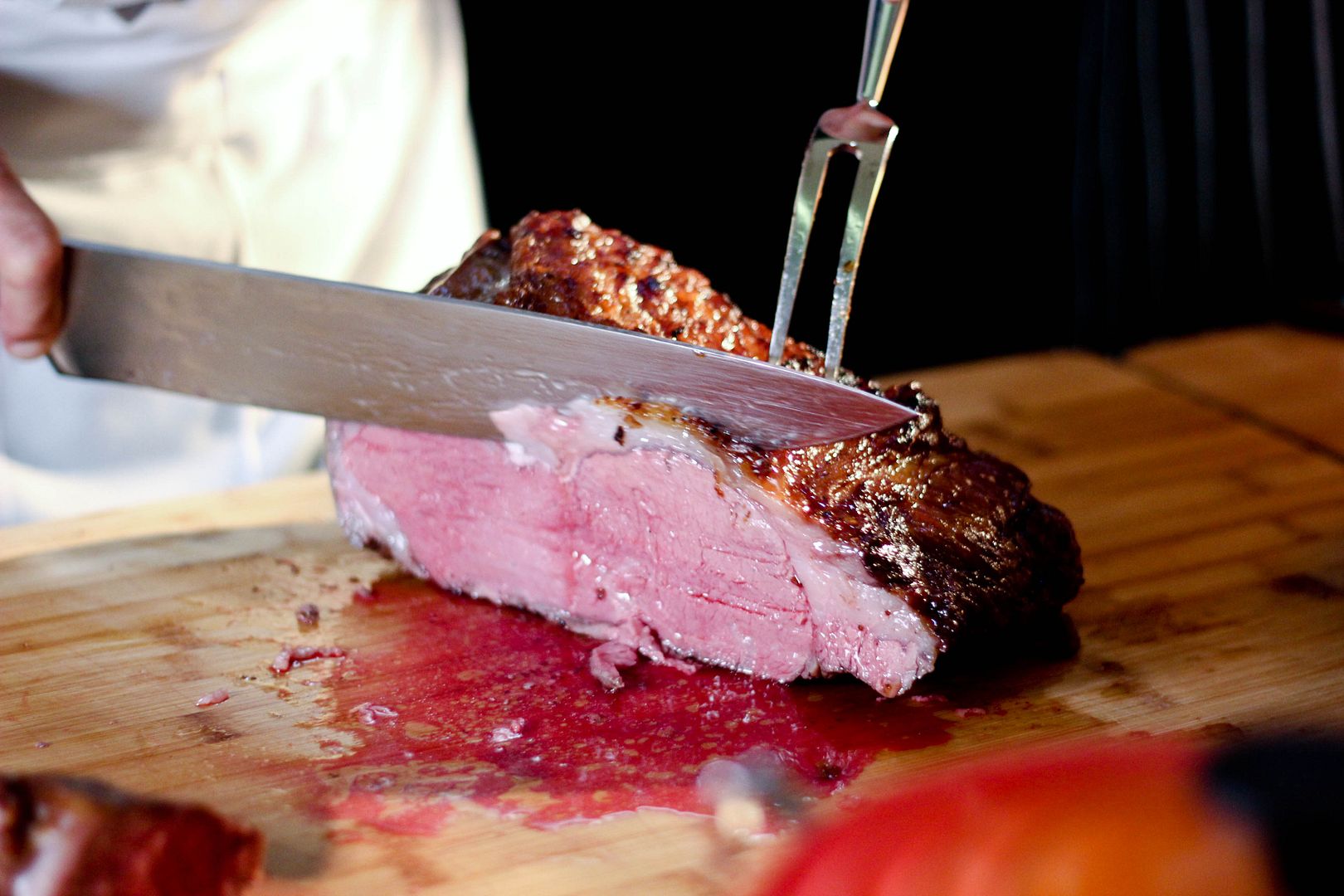 Aomori Rice Beef
Slice of Aomori Rice Beef with purple cabbage, mixed vegetables and corn
Black Angus
My other picks are the Aomori Rice Beef from Japan and the Black Angus from USA. Both beef are done to a medium to medium well, but still retained the tenderness of the meat. The former is from cows that are fed on Mount Hokkoda's spring water and whole rice plants which have meat that are of umami flavors due to the oleic acid produced from ingesting rice. The latter is of a grain-fed meat that is flavorful and tender.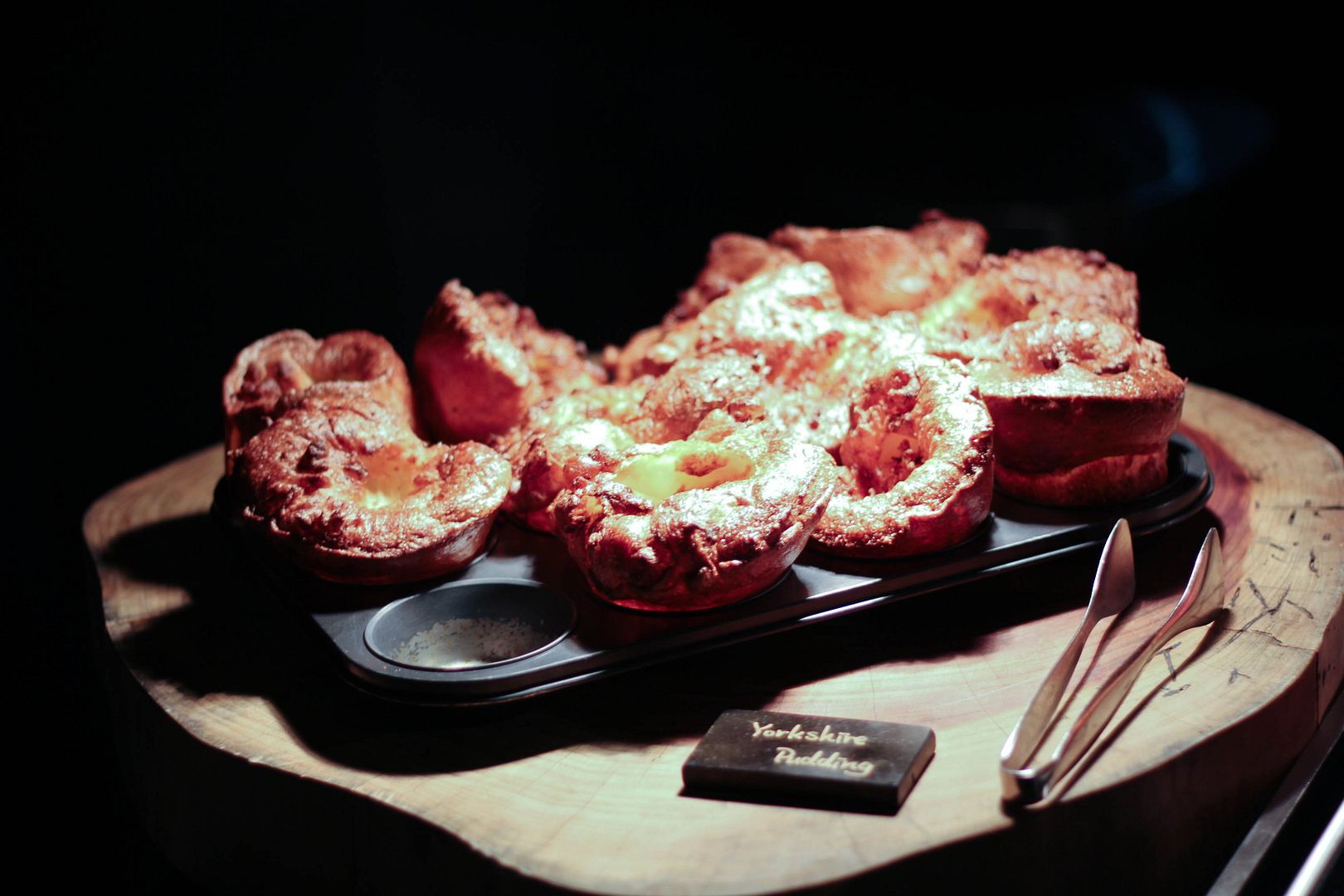 Yorkshire Pudding
Selection of butter
With such outstanding main stars, we can't forget about the supporting characters. There is a wide array of condiments and sauces for pairing your meat with, alongside a buffet line of sides that you can help yourself to. The sauces include
red wine jus, veal jus and chicken gravy
. The red wine jus was fantastic with the Black Angus. Placed near the meat was this amazing
Yorkshire Pudding
which is a definite must have! Initially, I was afraid that it might fill me up too quickly but I was pleasantly surprised at how light it was such that I had no trouble finishing it. The salt selection includes Black Lava, Pink Himalayan, Maldon Sea Salt, Chilli-infused Salt and my favorite
Truffle Salt
! For butter, you can choose between the
Anchovy and Truffle Butter
. For me, the latter stole my heart. The chefs are also ever ready to recommend which confinement to pair your meat with for the best taste experience
—
but you should always try the meat first without any add-ons for its original flavour!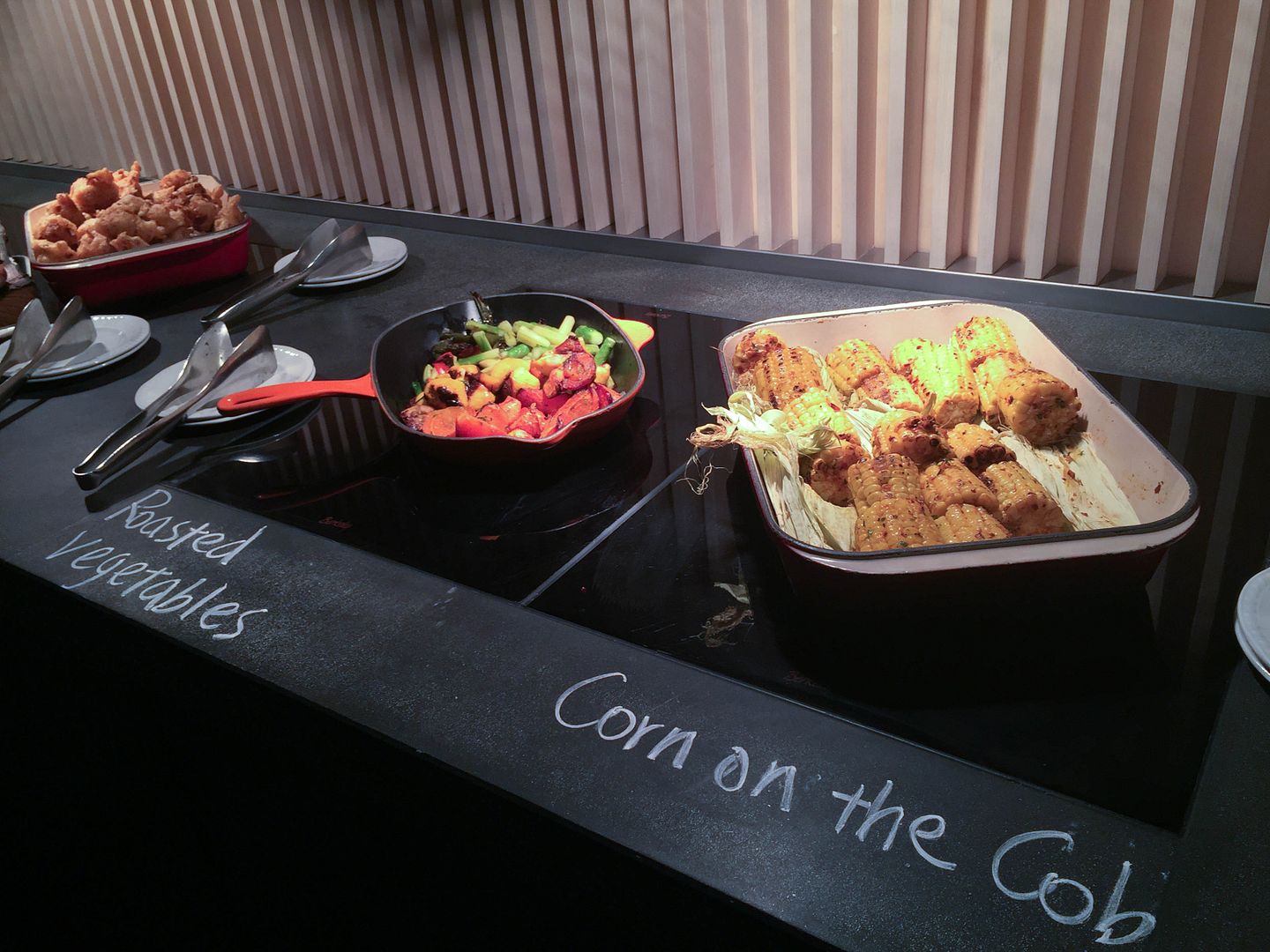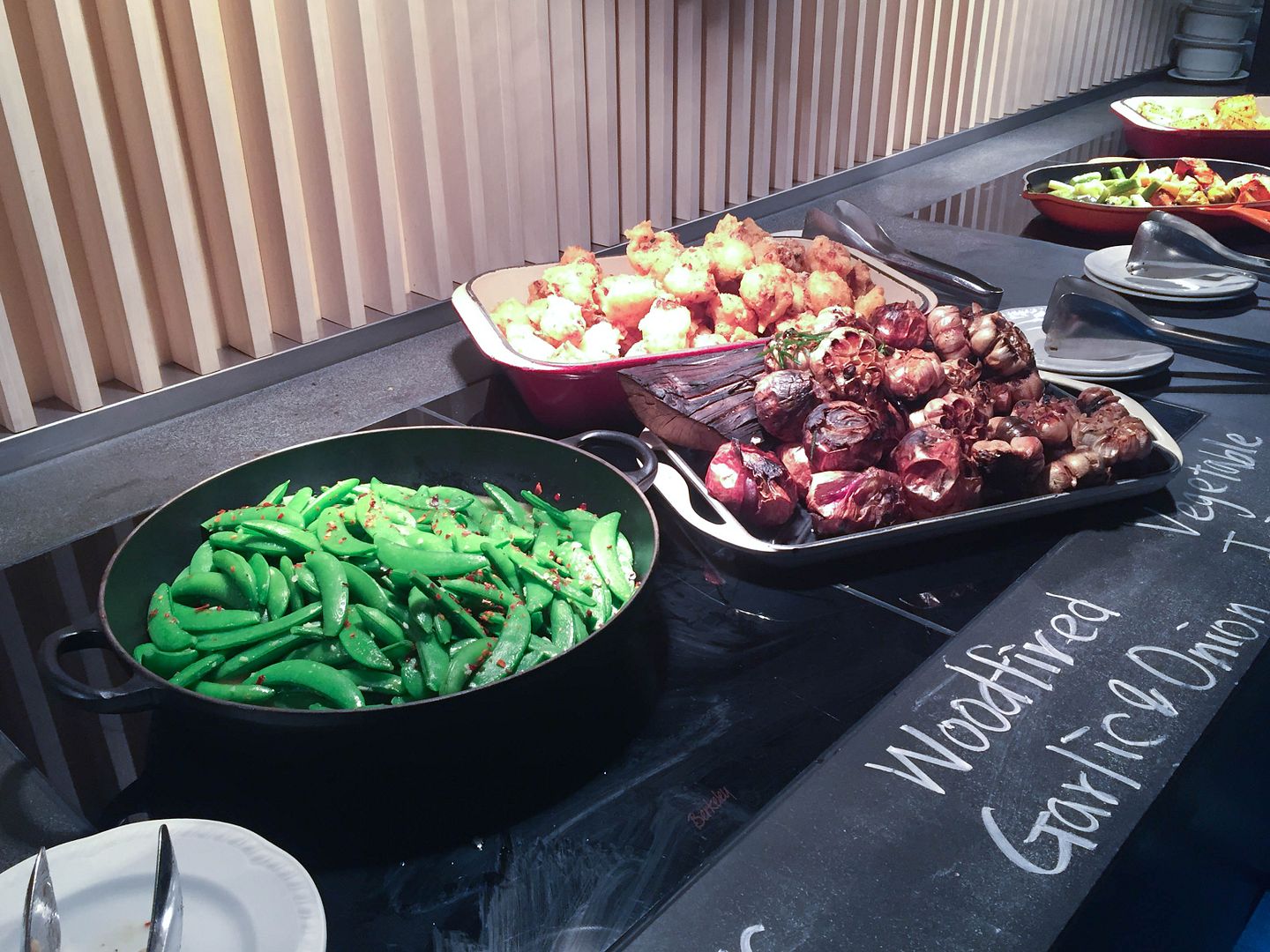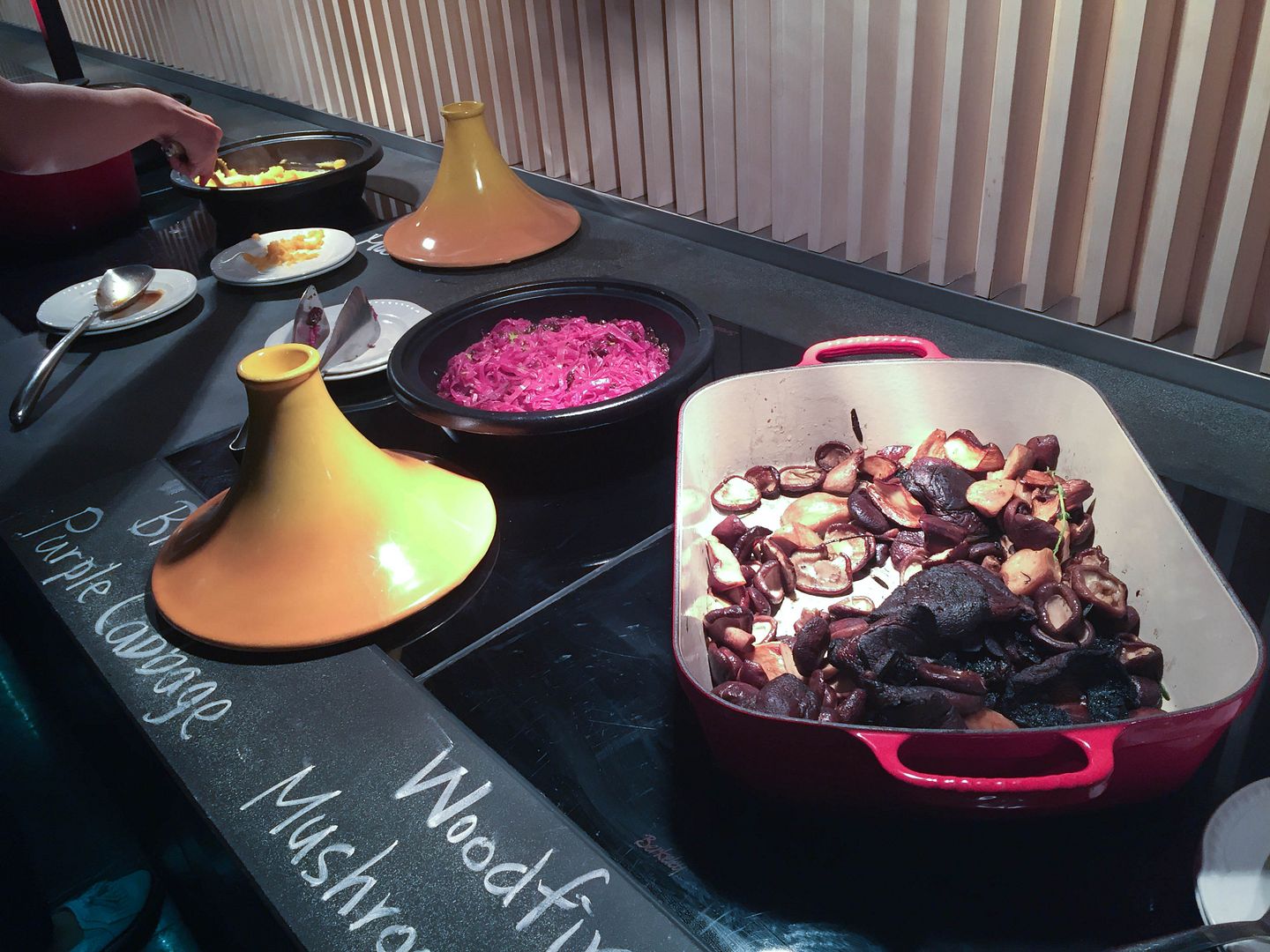 For the buffet line, I was salivating the moment I saw it. Sides for the meat includes Braised Radish, Roasted Vegetables, Braised Purple Cabbage, Grilled Asparagus, Grilled Corn, Black Pork and Beans, Woodfire Mushrooms, Vegetables Fritters, Garlic and Onion. My choice of second servings went to the Braised Radish and Woodfire Mushrooms! If you're feeling like having a variety apart from the meat, there is also Olive Rice, Seafood Stew, Salmon with Tomato Pesto, Soups, wood fired pizzas and even a live pasta station!
It's natural to jump straight to the meat when you're at The Carvery but if you backtrack a little, their starters include DIY salad, Fresh Cold Prawns, Oysters, Cheese Selection. To end the meal, there are also fruits and cakes. The most memorable dessert was definitely
The English Trifle
—
very simple ingredients layered together such as thick custard, Kirsch soaked sponge cake and berries, which delivered comfort on every single level. Since this is a buffet restaurant, the caveat always is that the selection may vary. Overall, I thoroughly enjoyed the variety and quality of the spread!
Thank you Sixth Sense for the invite and Park Hotel Alexandra for hosting!
323 Alexandra Road Level 7 Singapore 159972