Okamoto Kimono, Japan — Kyoto
Donning a kimono for the ladies and yukata for the men is a must when you're in Kyoto! You can easily find many other tourists and even Japanese on the streets wearing the traditional costumes. Of course, there are many shops offering kimono rental service and I rented mine from
Okamoto Kimono
.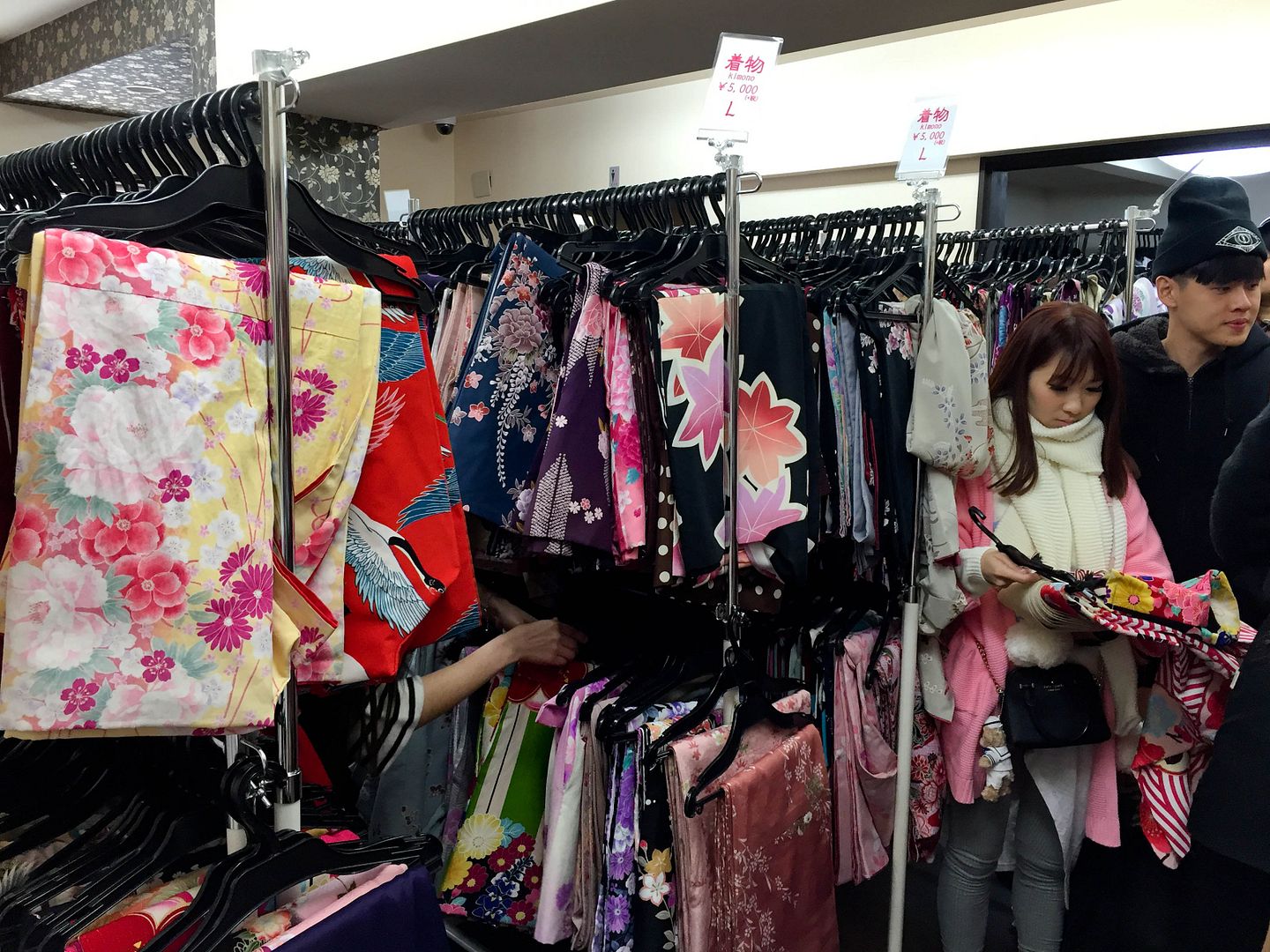 Depending on your travelling period, I made my reservation via their online portal 4 months in advance as I visited Kyoto during the peak sakura season in Spring 2016. You can choose from the timeslots that starts from 0900
—
you obviously want the earliest slot so that you can maximize your time! All kimonos have to be returned by 1830 on the same day. They provide next day pick up at an additional cost from your hotel but it might be unavailable during the busy periods.
There are a few packages such as Set Plan, Select Plan and Full-Scale Attire Plan available (which largely affects the range that you choose from). Only the
5,000JPY
plan was available during the peak period when I was there.
I was given a white plastic to put my shoes in and then another bigger bag to leave all my other belongings inside. I was there right on time (or in fact, earlier) so that I have the full range to choose from! It is very important to roughly know what kind of kimono you are looking for
—
the color, the flowers. I knew I wanted a light pink kimono with small petal flowers so that was what I went straight for as the first batch of girls dashed into the shop.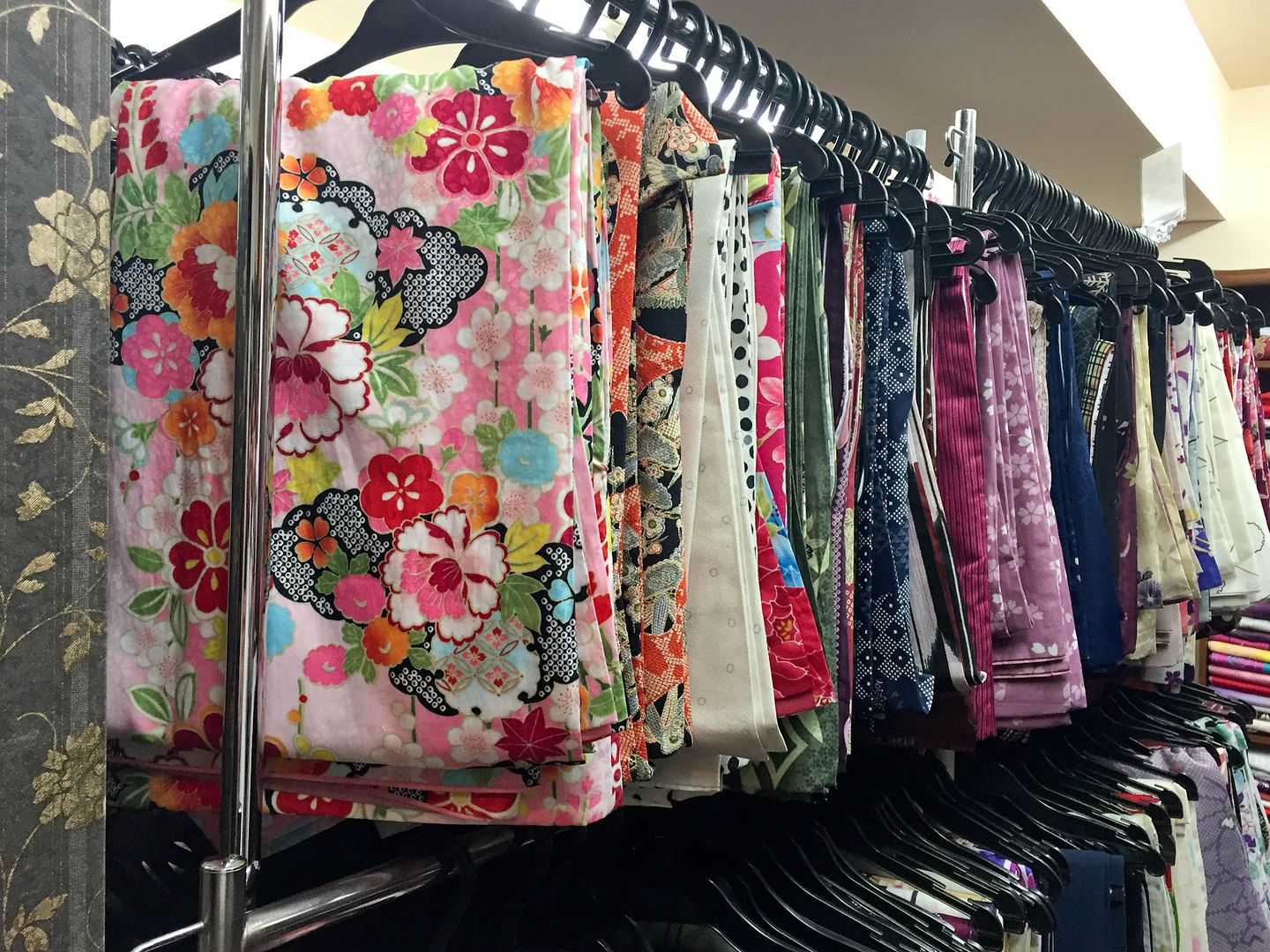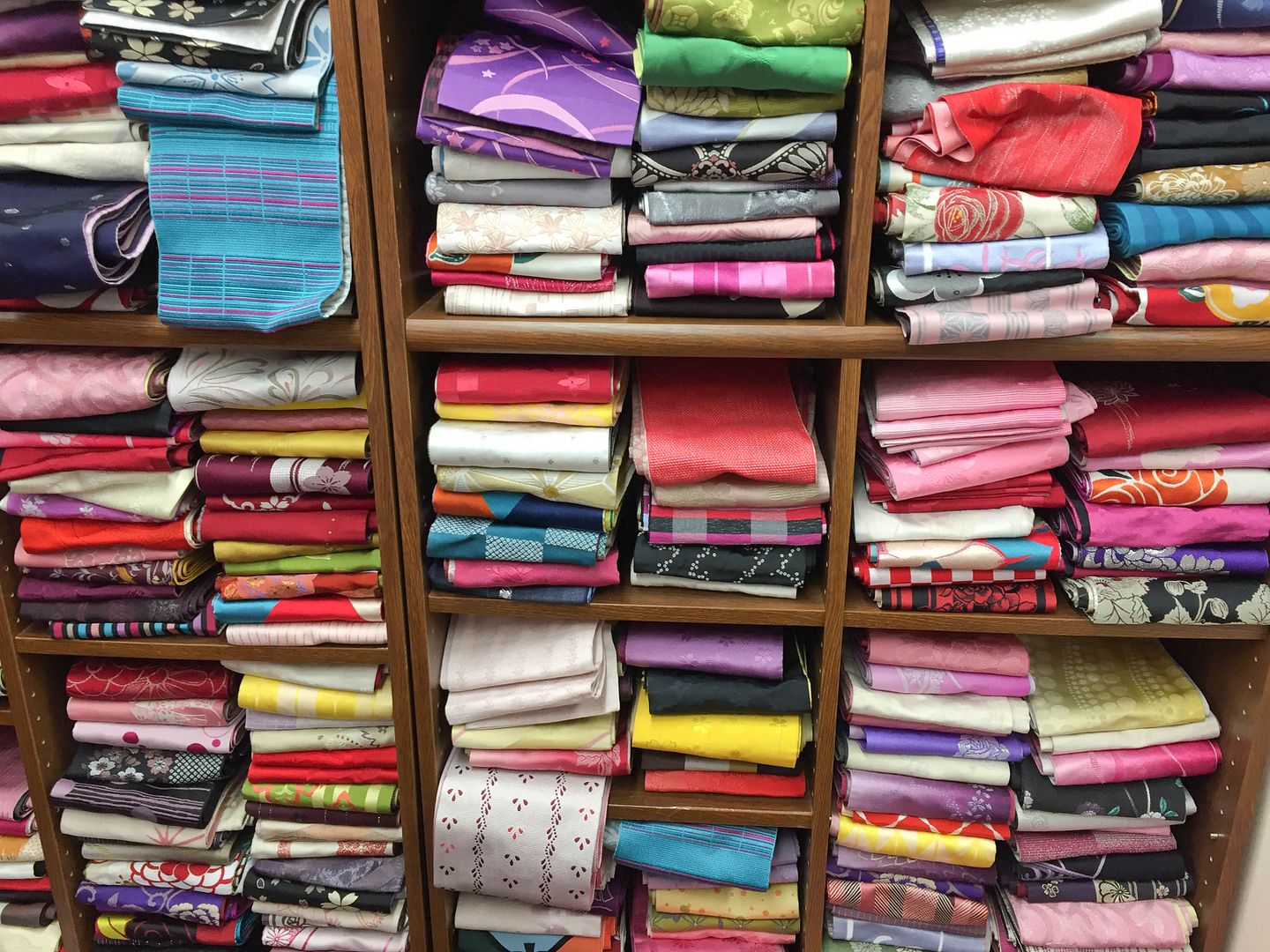 Bags (upper left), Belt Accessories (bottom left), inner coat (upper right)
I picked up all the kimonos that've caught my eyes first before someone else takes it. I was also required to pick another
inner coat
that would only show at the collar area so I had to make sure the collar fits my kimono. I picked my
obi belt
next with the colour matching my kimono. Afraid of making the wrong choice, I seeked confirmation from one of the staff that the colour is alright! After the belt, I chose a
belt accessory
that would be tied above the belt which can be of a brighter shade. Lastly, I had to pick up a
bag
from the shelves but I chose to carry my own!
After everyone in your party is done with the selection, you then proceed to the 2nd floor for the fitting and hair-do. For guys, the selection is on the 2nd storey in the fitting room. Hence, the guys would usually have to wait for the girls to be done with their selection first. On the 2nd storey, turn right and head towards the end for the waiting area if there are no more space available in the changing room. A name board will be placed there to put your name on the waitlist.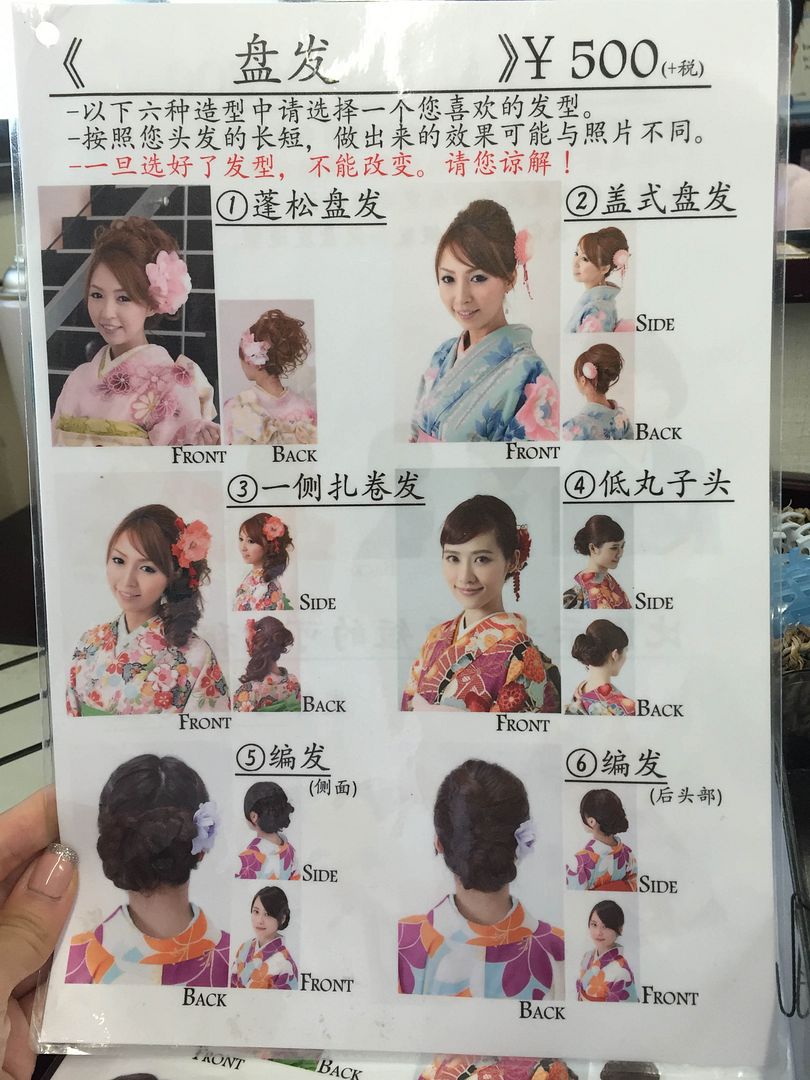 Hair styles to choose from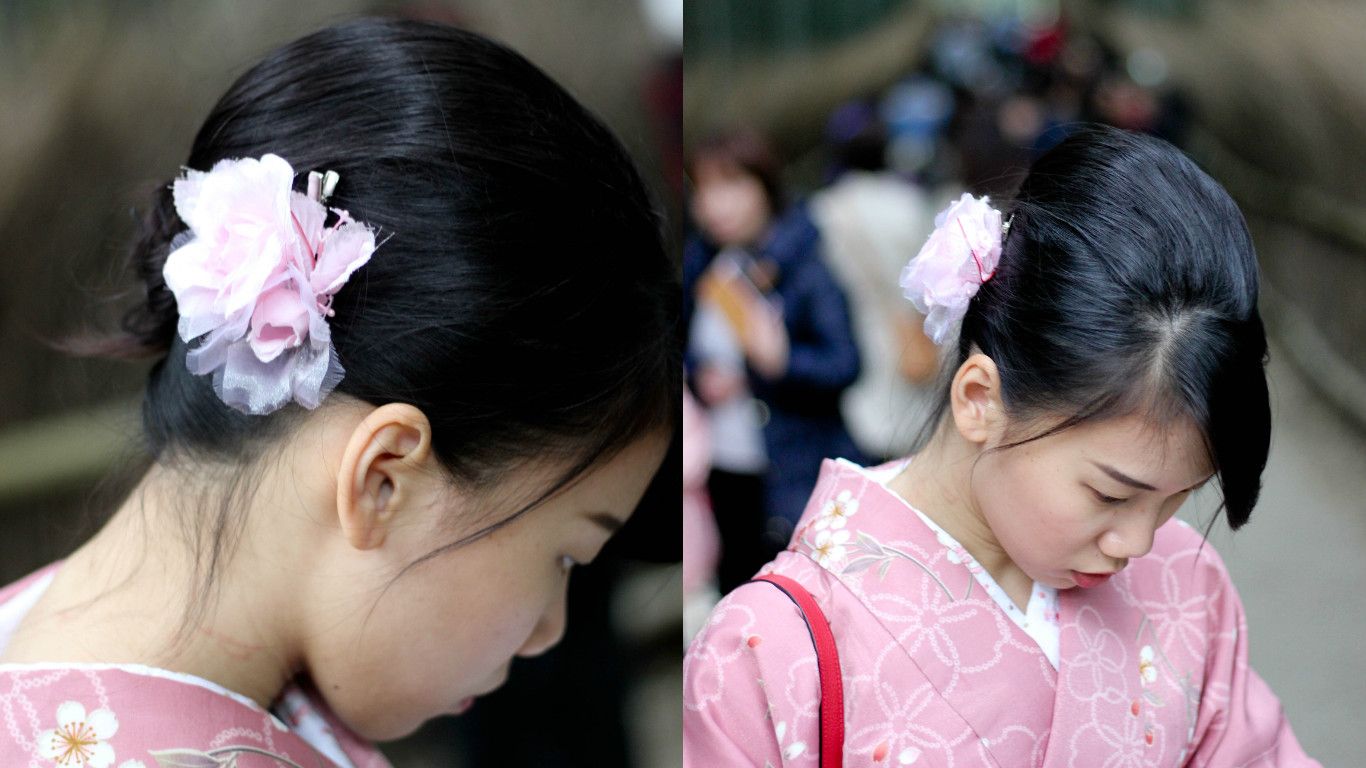 Depending on the availability of the rooms, you might change or do your hair first. In the ladies
changing room
, there were more than 10 staff helping customers put on the kimono. I was free to wear anything under my kimono and I kept my heat tech on. The staff are highly experienced and they took about 10 - 15 minutes to put on the kimono for me. They used many strings to tighten my waist area so it would be good to exhale slightly to prevent it from being too tight! After that, I went into another room to do my hair at an additional
500JPY.
I could choose from
4 basic hairstyles
and I chose the simple up do (number 2). That took about another 15 - 20 minutes as the staff used hot rollers and backcombed my hair before using bobby pins to secure my hairstyle. Lastly, I chose one of the
hair accessories
available for a final touch.

During colder seasons, there are
outer layers/scarves
at the ladies waiting area to choose from. With my heat tech on, I did not choose from any of these outer layer as I thought it didn't go too well with my kimono selection. The kimono proved to be warm enough for about 10 degrees!
For men, you might end up waiting for a longer period of time as there are lesser staff due to the lower demand. You are expected to spend about 20 - 25 minutes in the changing room as you choose your Yukata inner layer, outer layer and obi belt.
The total time spent would range from 1 to 1.5 hours depending on how long you take to pick the kimono and the availability of the changing rooms. I left my bag of belongings which was tagged with my name in the shop and I was left with a last choice to make
—
the
slippers
. I was told to just randomly wear one (either small or large) that was available at the doorstep, but there wasn't a pink one to match my kimono so I asked for one and the staff kindly brought a pair out for me. With all the decisions made after a hectic session at Okamoto Kimono, I was then ready to roam around the scenic streets of Kyoto!
There are three outlets for Okamoto Kimono. I went to the Kiyomizuzuka shop, which is just 5 minutes away from Kiyomizu-dera Temple!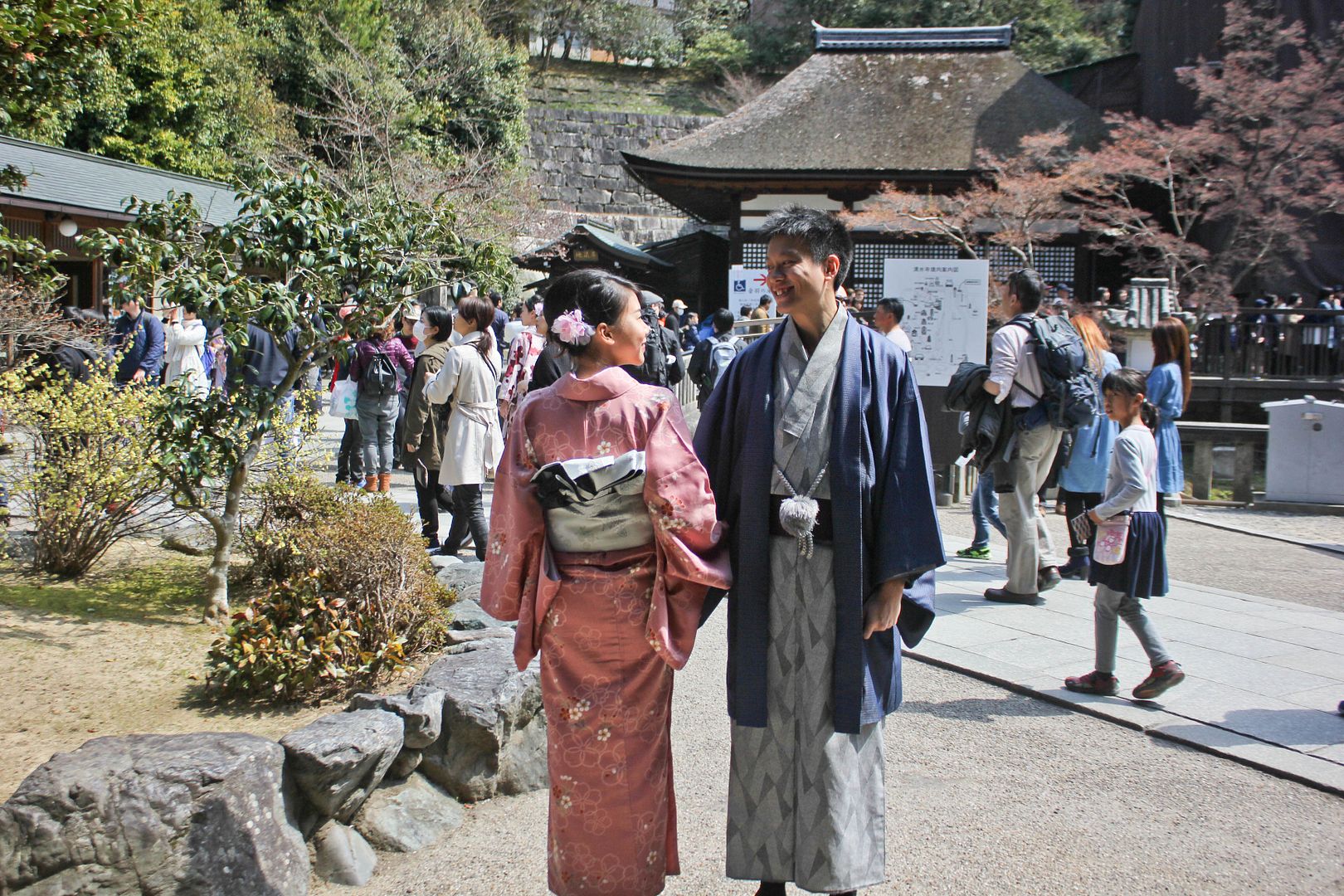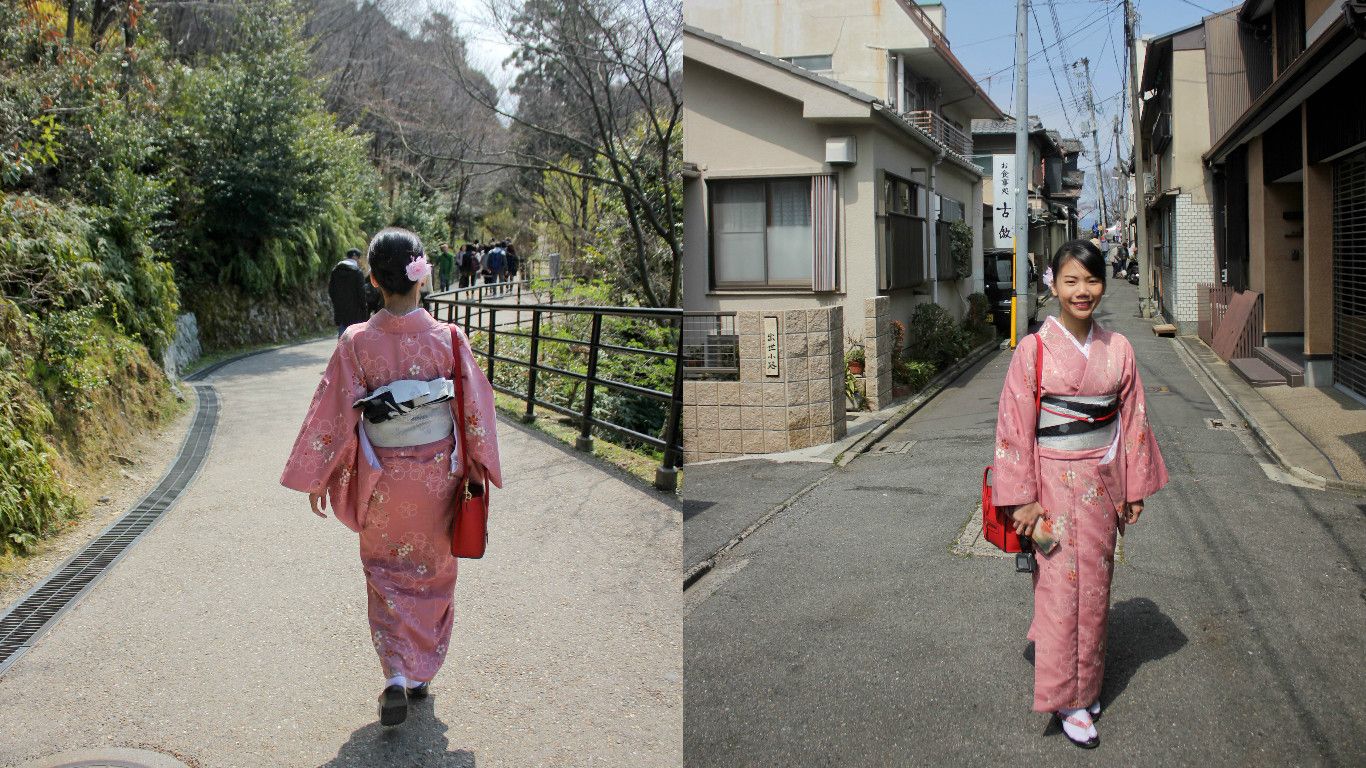 Roaming along Kyoto Streets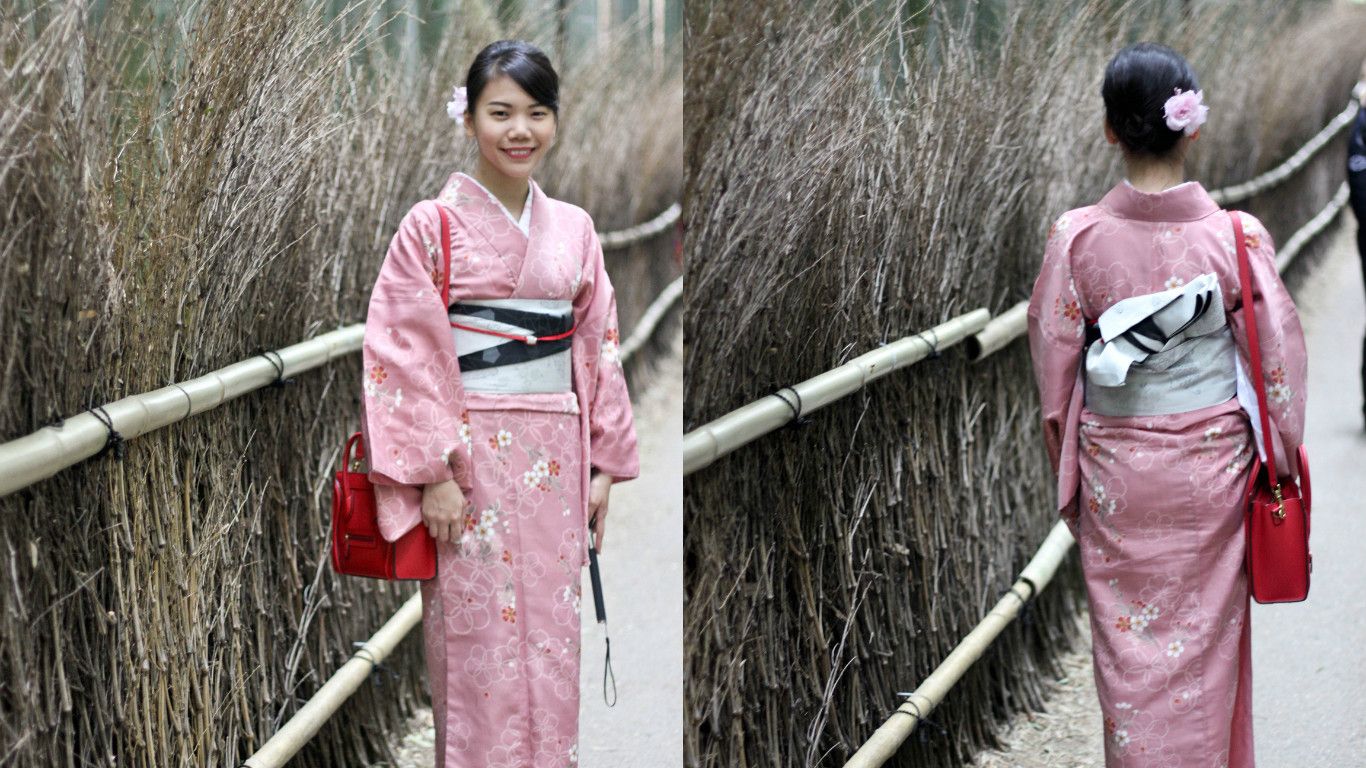 Arayashiyama Bamboo Forest
237-1-1 Kiyomizu2-chome,Higashiyama-ku,Kyoto-shi,Kyoto-fu,605-0862,Japan
Main Shop
(located a street away from Kiyomizuzaka shop)
546-8 Gojouhashi Higashi,
Higashiyama-ku, Kyoto-shi
523, Washio, Higashiyama-ku, Kyoto-shi
All outlets are open daily from 0900 - 1800 and all kimonos are to be returned by 1830.