Pho Street Singapore
Bringing you a wide variety of Vietnamese cuisine is Pho Street, a brand under the Select Group. The menu is separated into 6 main sections — Noodles, Vermicelli, Rice, Banh Mi, Street Snacks and Drinks, which encompasses a good selection to satisfy each customer. Once every few months, Pho Street introduces a limited-time special item that features a dish from a Vietnam province that may not be as commonly known to us. Ingredients will then be specially imported from Vietnam to recreate that dish. This is part of their idea of bringing lesser known Vietnamese cuisine to us Singaporeans.
From today till 31 July 2016, Pho Street is bringing to us the Bun Cha — a dipping rice vermicelli dish. If this dish rings a bell in your head, it may be because this was the dish that Chef Anthony Bourdain had introduced to President Obama when he was in Vietnam. Now, we can all have a taste of what the POTUS had!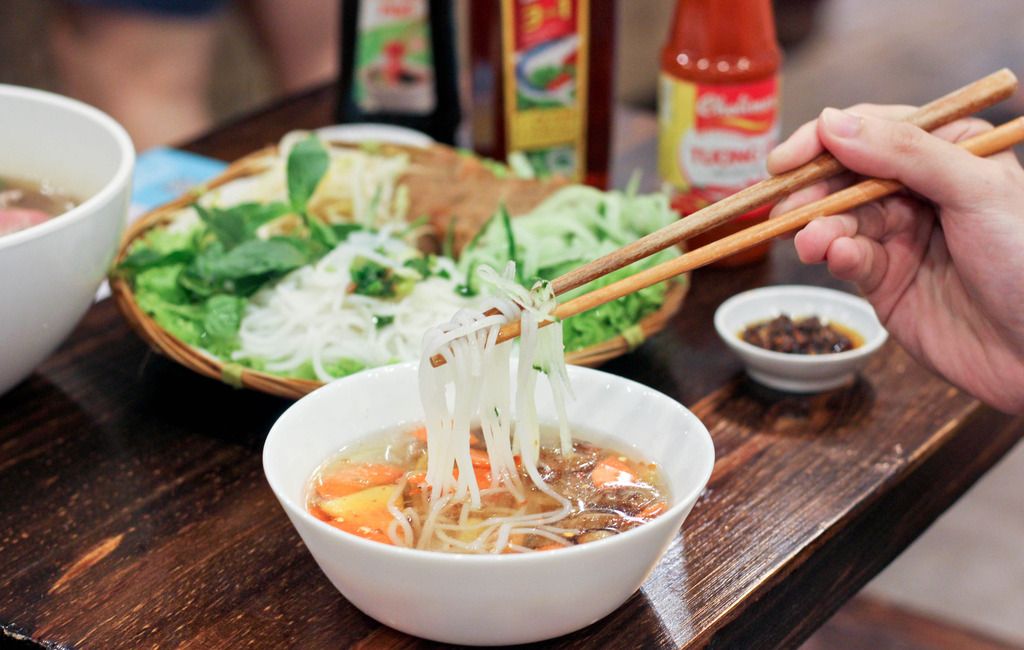 The Bun Cha is served with a basket of ingredients with a bowl of specially concocted fish sauce. The basket is filled with thick rice vermicelli, pork patties, bean sprouts, cucumber and mint leaves. Pick up a bit of everything and dip it in the sauce before slurping it up, just like Japanese tsukemen! The crunchy vegetables provided a refreshing bite to it while the sauce added a sweet and tangy kick. The sauce is made with pork belly, pickled carrots and pickled papaya to enhance its flavor. With such strong ingredients coming together, the taste was surprisingly rather light-tasting. Personally, I could do with a more bold tasting dip.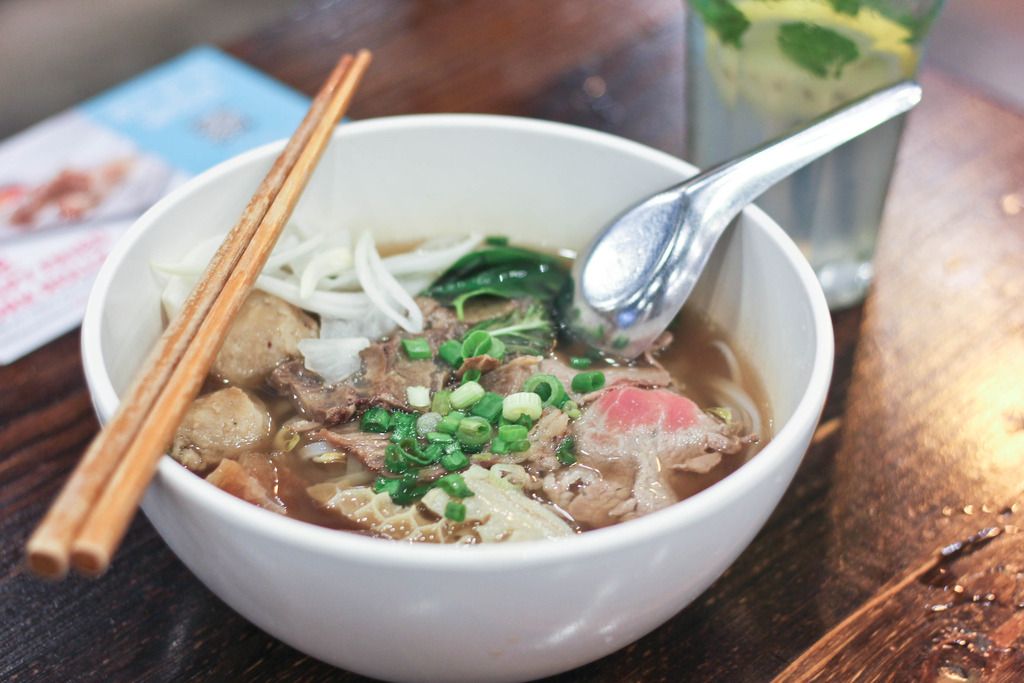 A popular option amongst Singaporeans is the Vietnamese pho, a flat rice vermicelli noodle cooked in a beef broth. The beef combination comes with beef balls, beef slices, beef shanks, beef tendons and beef tripe. Customers who like a bit of everything will love this! I definitely enjoyed the tender slices of beef so I'll probably order the Pho Beef Tender Slices (S$8.90) the next time!
Banh mi is a staple for Vietnamese, which is also an Asian version of the English baguette sandwich. A very crispy baguette sandwiching pickled carrots and radish, pork belly, grilled beef, chicken ham and coriander. Yes, this banh mi combination comes with all 3 kinds of meat that are thinly sliced that went well with the crispy toasted baguette. I would have preferred having more of the pickled vegetables (or maybe you could request). The sour and crunchy pickled vegetables is my favourite part of banh mi!
S$8.90

---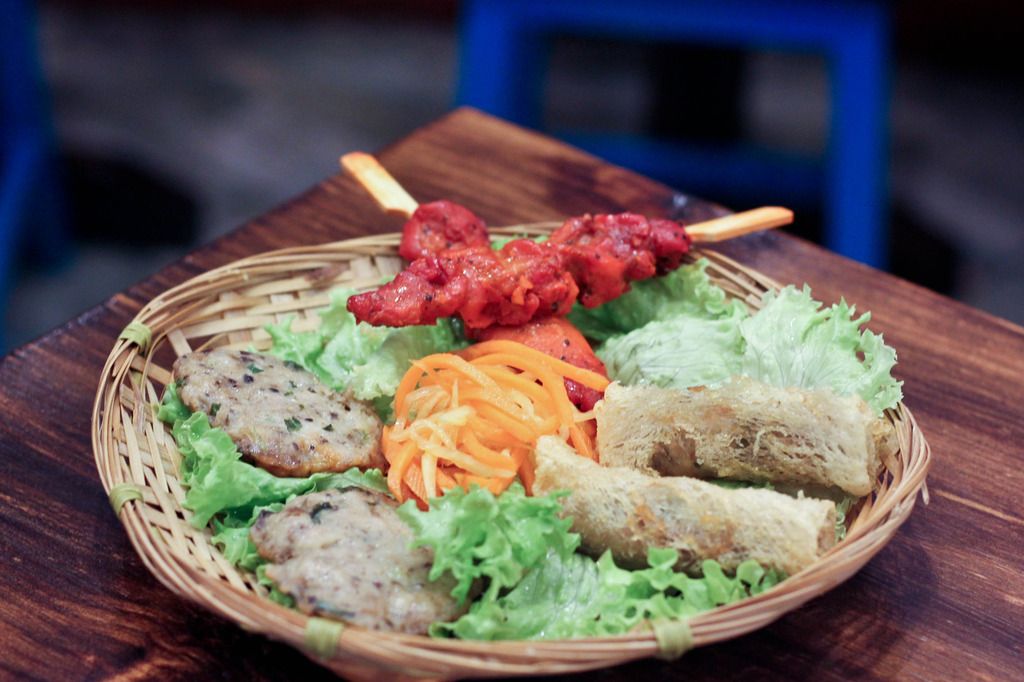 The Vietnamese snack platter is good for sharing between two people. It comes with 2 crispy fried pork rolls, 2 roasted chicken skewers and 2 Vietnamese crabcakes. My favourite was the crispy fried pork roll! Stuffed with a generous amount of pork filling, the fried pork roll was light and crispy. I can't quite say the same for the skewer and crab cakes as the former was dry and the latter was slightly too mushy for my liking. These items are also available ala carte so I would recommend just going for the rolls!
SESAME RICE CRACKERS WITH MINCED MEAT DIP
S$6.90

---
A crispy rice cracker with a meat dip sounds like something that never goes wrong and Pho Street delivered on point. The minced meat dip is flavored with five spices which gives it a touch of fragrance. The chunks of minced meat creates a more textured bite which was a nice contrast to the crispy cracker!
LEMON COOLER WITH PEPPERMINT AND BASIL
PASSIONFRUIT & BASIL MOJITO
S$3.50 each

---
Two refreshing options for your choice of beverage would be the lemon cooler and passion fruit mojito. Both drinks have basil added to introduce a slight minty aroma without being overpowering.
Pho Street is one of the few Vietnamese restaurant that serves such a wide variety of Vietnamese dishes. It is definitely a good place to bring your family and friends as Pho Street caters and appeals to many. WIth a new dish introduced every few months, that gives you an even better reason to make return visits!
Thank you Mei Ping for the invitation and warm hospitality!
Century Square #B1-36 — opening 1 July 2016
Daily | 1100 - 2200 (LO 2130)
Changi Airport T2 Transit Level 3