Peony Jade Restaurant — At Home in Peony Jade
Peony Jade Restaurant always come to my mind during the Mid Autumn Festival period because I'm a big fan of their durian snowskin mooncakes! Mooncakes aside, they currently have two restaurants
—
one at Clarke Quay and another at Keppel Club. It is highly recommended to take a cab into the Keppel restaurant if you are not driving as it is quite a long walk from the main road.
From 1st June 2016 onwards, Peony Jade has introduced some new items on their menu and we were privileged to have had a sneak preview.

SUCKLING PIG SERVED WITH OTAH IN VIETNAMESE RICE ROLL WRAP
么么袋乌打片皮乳猪全体 SGD268 (the whole roast), serves up to 10 guests
一品醉蚶 SGD10 (S), SGD15 (M) & SGD20 (L)


CRISPY AROMATIC DUCK SALAD
手撕香酥鴨沙律 SGD18/single serving
---
(pictured from foreground to background)
The appetiser platter was made up of 3 dishes
—
the Marinated Drunken Clams, Chinos Salad and a Crepe with Crispy Suckling Pig and Otah. Even though I don't usually take cockles, I didn't mind having it as it was heavily marinated with a spicy sauce. I can only imagine how fans of cockles and spice can fall heads over heels for this! The chinos salad had shredded duck and a citrusy sauce to go with it, which delivered refreshing tangy notes to the dish! Perhaps the most disappointing item was the crepe. While it sounded very promising with the crispy suckling pig, I found it to be tough and chewy. The presence of the otah also did not feel quite right with the sweeter sauce in the crepe.
CONCH CHICKEN CONSOMME WITH BLACK GARLIC
功夫茶(黑蒜炖螺头汤) SGD18/teapot, serves up to 2 guests

---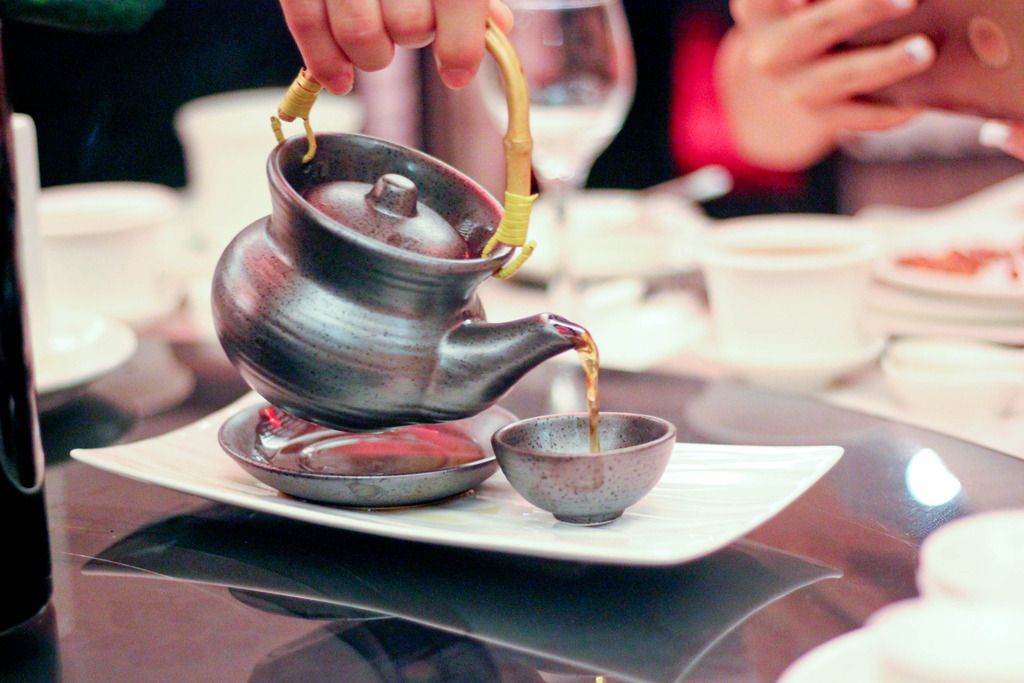 This tea-pot soup is usually served in a tea-pot as shown above and poured into a small cup. Diners will then be able to enjoy the hot soup in small gulps to truly appreciate the essence of the soup. This double boiled conch consomme with black garlic had pieces of pork and chicken in it. I could taste the depth of its flavor that could only be achieved from long hours of boiling. The addition of black garlic gave it a very smoky fragrance that I thought worked quite well!
STEAMED EGGPLANT WITH CRAB MEAT IN CLAYPOT
SGD38

---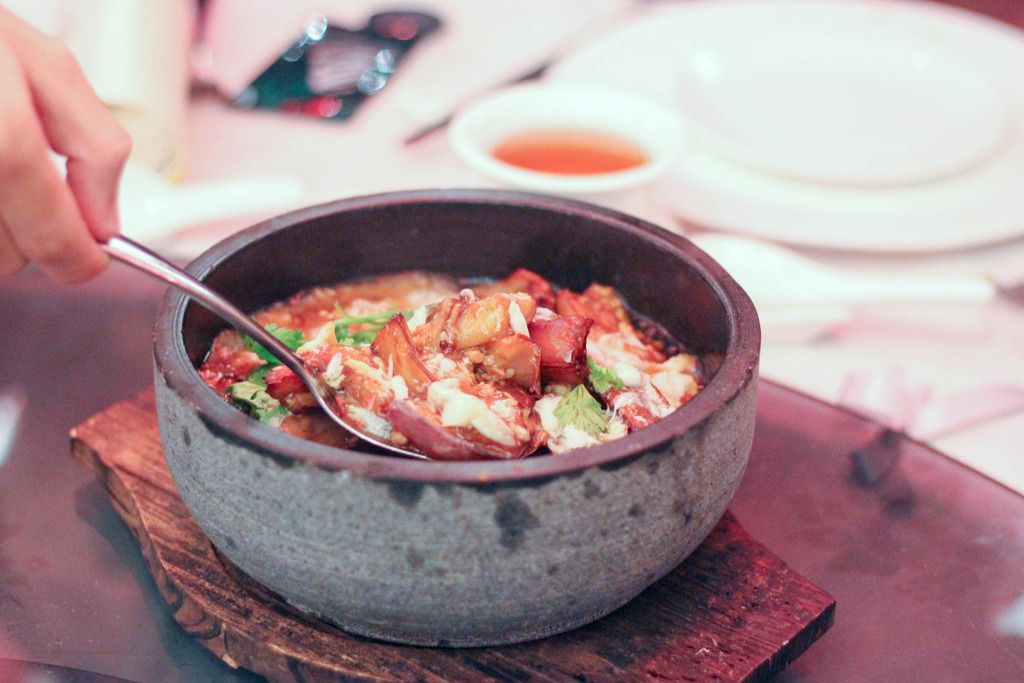 The eggplant was braised with a savoury brown sauce and was served piping hot in a claypot. I was never a fan of eggplant due to its slimy texture on the inside. However, this was nothing like that! The sauce was very flavorful and the eggplant was nicely cooked till it was soft and tasty. I would gladly order this again!
BRAISED OXTAIL WITH RED WINE
红酒焖牛尾煲 SGD38, serves up to 8 guests
---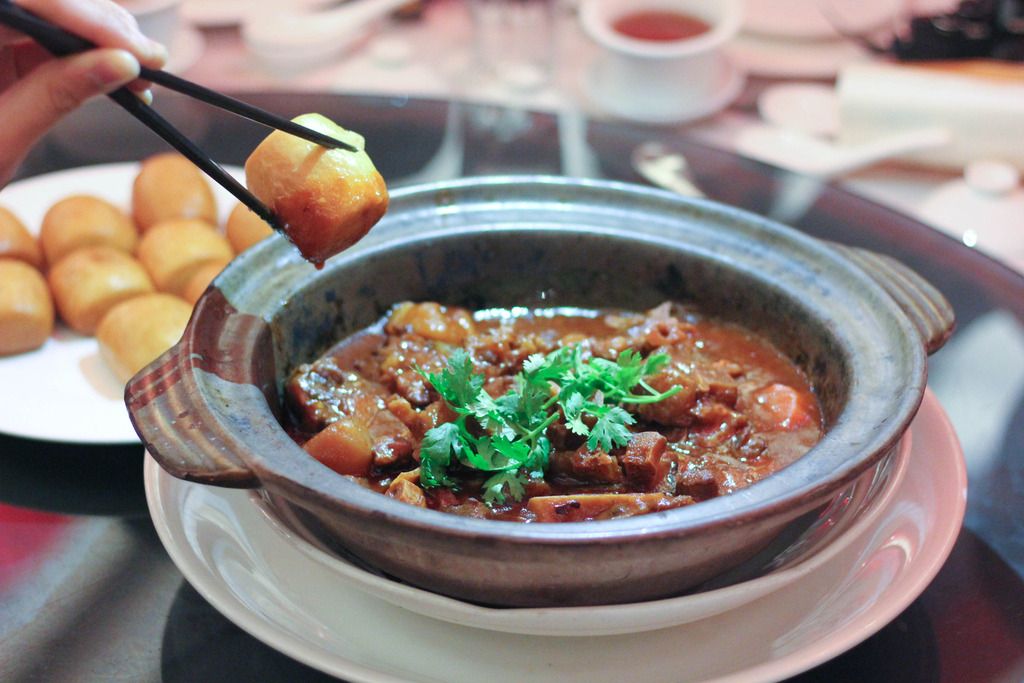 Yet another claypot dish, which always seem to resonate with me! The braised oxtail is more commonly known as a french dish, but Peony Jade does it with a twist by having more sauce and serving it with deep fried mantous! Don't we Singaporeans just love our food with an abundance of sauce? The sauce was very very rich which made good pairings with the mantous or even rice. The oxtail was braised till soft and tender. I am a sensitive to the "beefy" taste and I could taste a little of it in this dish.
GAI MAI LO ROASTED CRISPY CHICKEN
Stuffed with Glutinous Rice and preserved meats 腊味脆皮糥米鸡 SGD58, serves up to 10 guests

---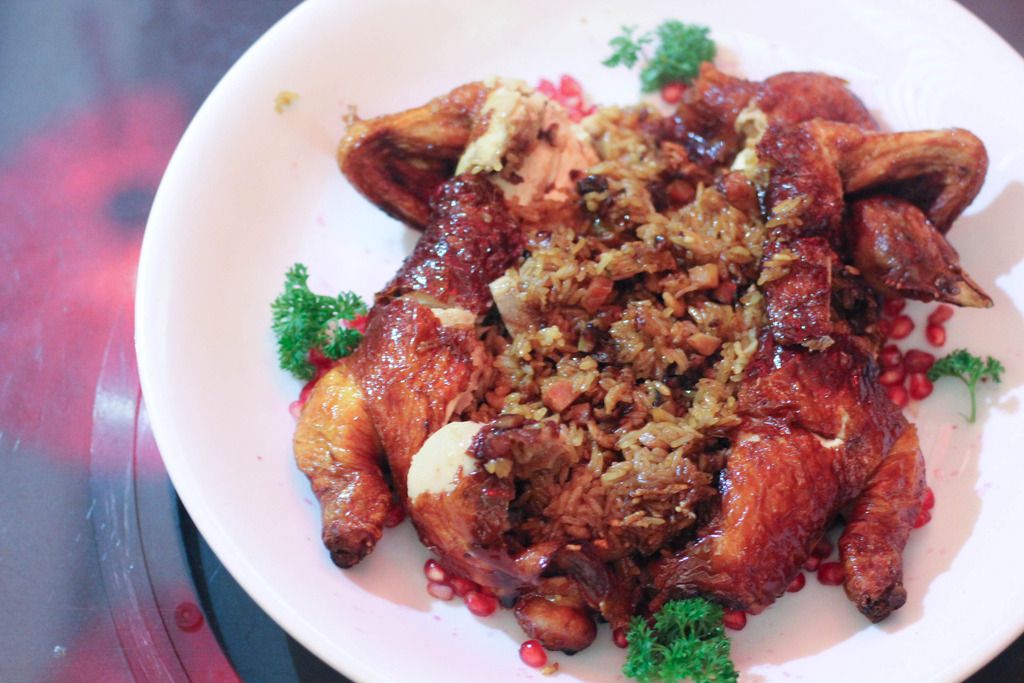 A roasted crispy chicken stuffed with glutinous rice and preserved meats. It looked very unassuming on first sight but we changed our minds after having a bite of it. The roasted chicken was so moist, tender and covered with a layer of crispy skin. The glutinous rice stuffed on the inside was extremely fragrant! It was a little on the oily side but I believe this is how it should be like! We easily wiped this out within minutes even after having several dishes before this.
Deep-fried Sesame Molten Dumplings
Fill with Taro Paste and salted egg yolk, served with Coconut Ice-cream SGD12/ 3pieces

---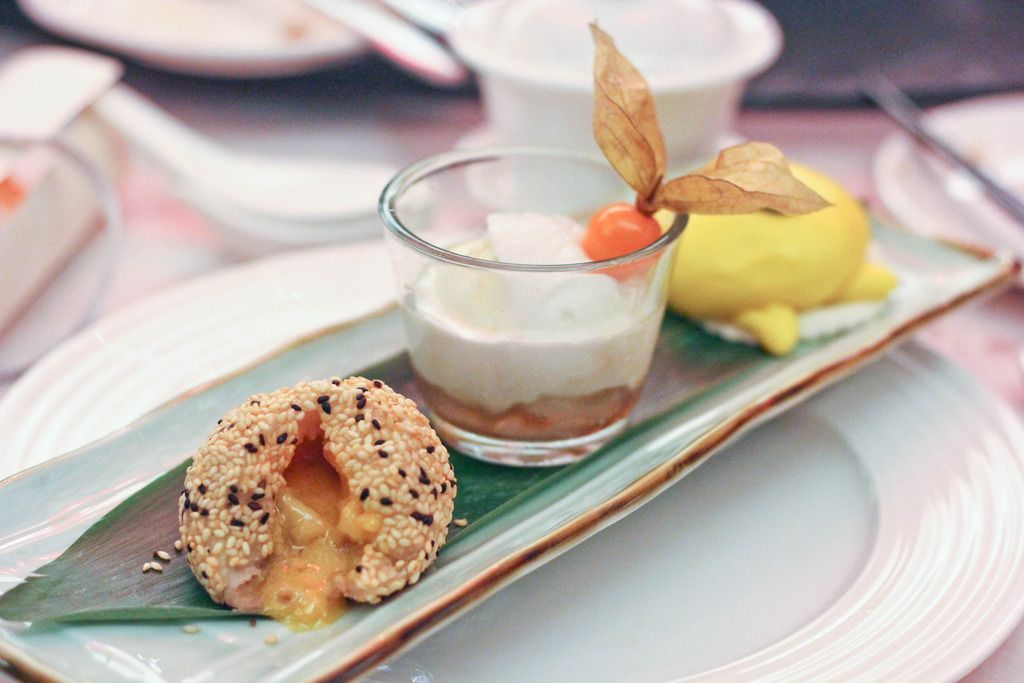 Steamed Molten Choc-on-bao
SGD7.50/ 3pieces

---
We ended our meal with 3 desserts on a plate. My favorite of the three would definitely be the deep fried sesame molten dumplings filled with taro paste and salted egg yolk. The sweet taro shell was chewy with fragrant sesame seeds and the all time favorite molten salted egg yolk was a perfect match! The coconut ice cream and steamed molten choc-on-bao were nothing to shout about.
I enjoyed most of the dishes here at Peony Jade and I would definitely recommend this place for large family gatherings! Even though several dishes were made with ingredients that I don't usually eat, I found myself liking them as the cook on it was fantastic!
Thank you Sherena for extending the invite and 37comms & Peony Jade Restaurant for hosting!
Peony Jade Restaurant
is located at:
Clarke Quay
3 River Valley Rd, Clarke Quay, 179020
Daily | 1100 - 1500, 1800 - 2300
The Keppel Club
Bukit Chermin Rd., 179020
Monday to Friday | 1100 - 1430, 1800 - 2230
Saturday & Sunday | 1030 - 1430, 1800 - 2300