Huang Ting Restaurant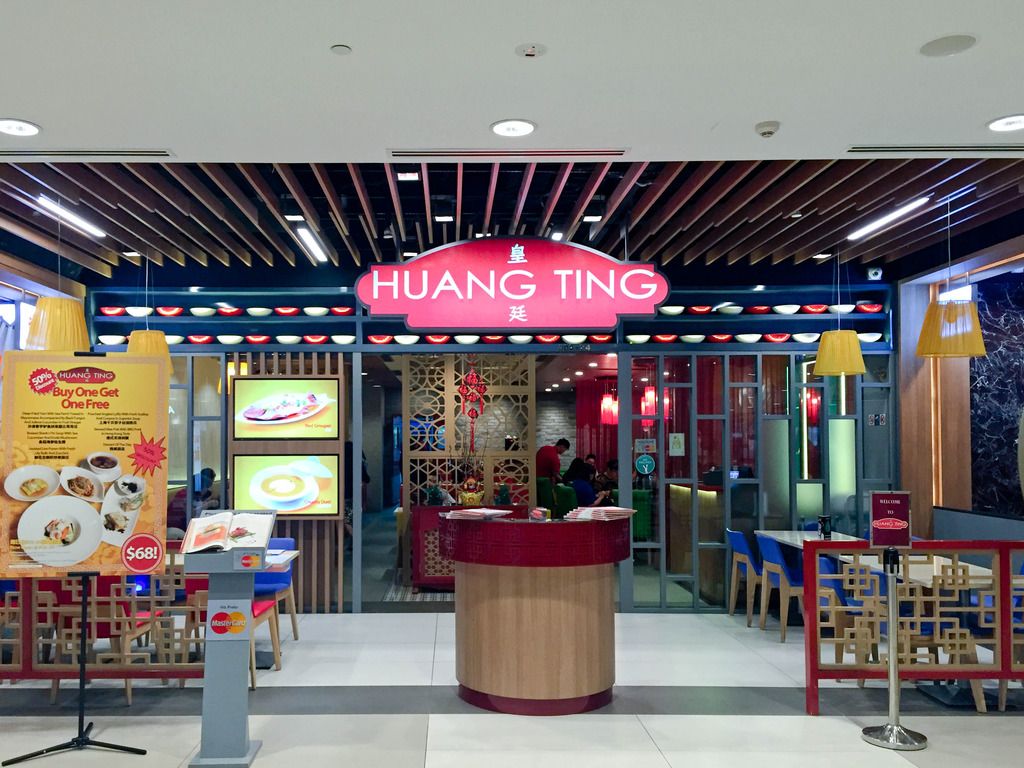 I usually don't venture much to the Western part of Singapore but now I think I have found a reason to. Huang Ting, specializing in Cantonese cuisine with a contemporary twist, recently opened its doors in January 2016. Helmed by Chef Alex Chuh with prior experiences in Hua Ting and Peach Garden, there was great finesse displayed in the plating of the dishes, which definitely gave us a very good first impression.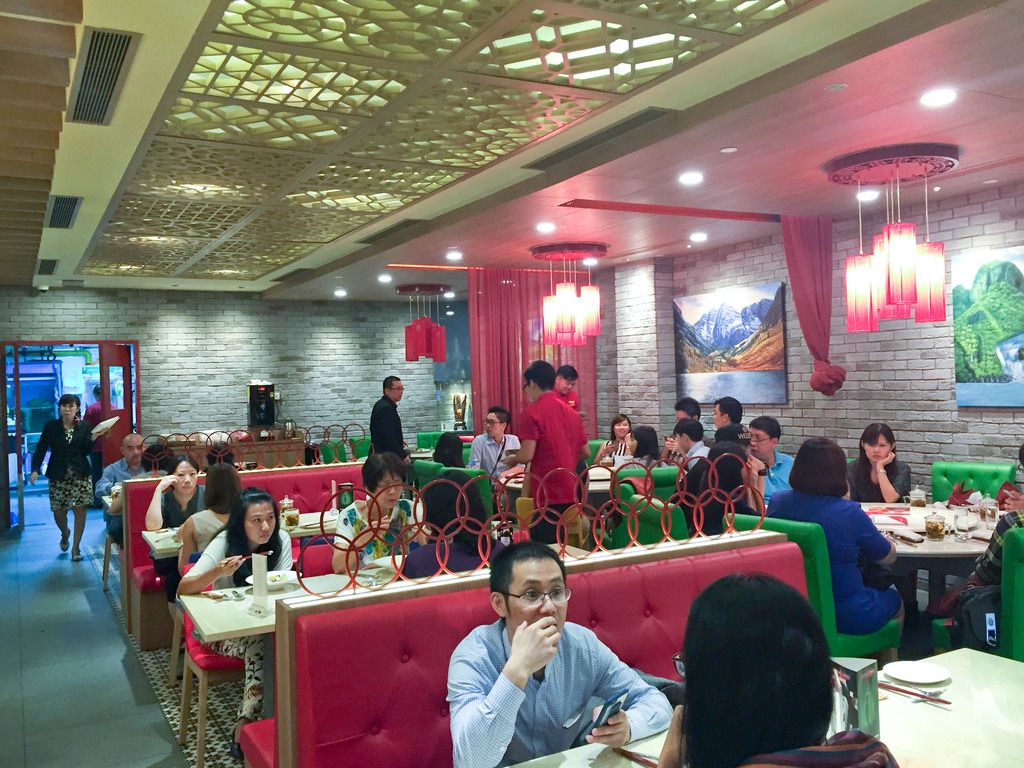 The dishes that we tried that night were part of their Mother's Day set menu. Due to the good response, Huang Ting will be bringing these dishes into their permanent menu!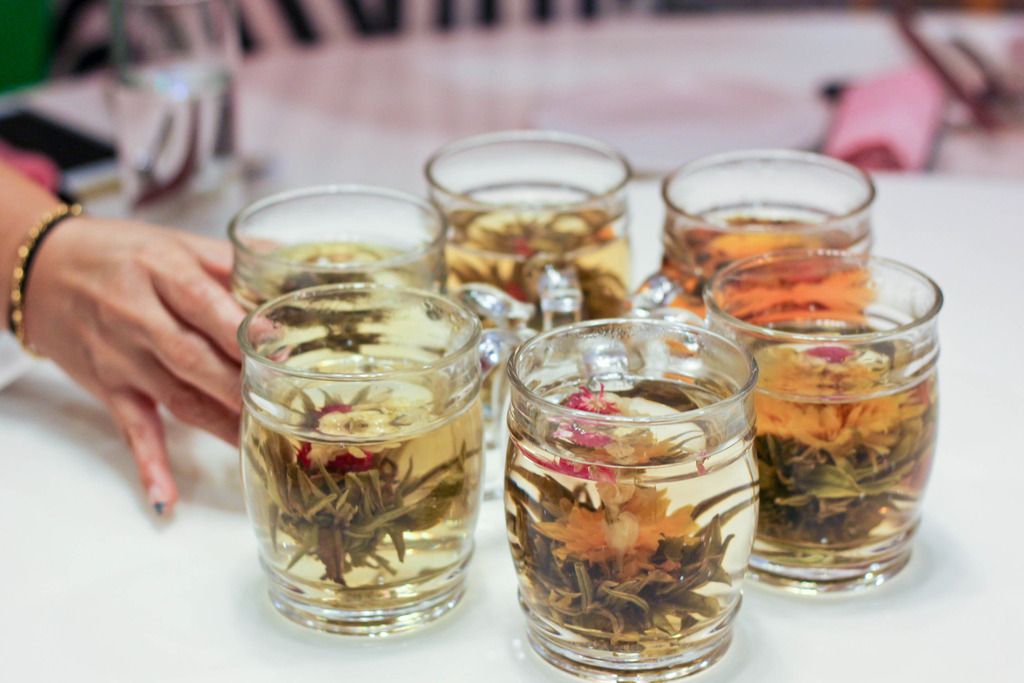 First, we were served with an array of flower teas. Chinese tea and Chinese style dinners is the go-to combination as the tea helps to cleanse the palate with the smooth tea fragrance. The flower teas here are not served in your ordinary tea-pot ones, but in individual see-through glasses and you can see how the flowers "bloom" as they submerge in the hot water. The teas are also given very prosperous sounding names such as 双喜临门 (Double Happiness), 金花怒放 (Blooming Flowers), 花开富贵 (Garden Petals). Priced at $4.80/glass with refillable hot water, it's definitely a worthy choice of beverage for your meal.
FRESH SCALLOP WITH SILVER FISH SALAD (S$12)
---
We started our meal with a salad, which had a scallop, some fried silverfish and strawberries with a Japanese creamy sesame dressing. It is definitely uncommon to have such salad in a Chinese restaurant setting, but that's how Chef Alex Chuh seeks to introduce his modern take on Cantonese cuisine. The scallop was fresh, sweet and a good touch to the dish!
RICH CHICKEN MILLET CONSOMME WITH BAMBOO PITH (S$13.80)
Please note that this is the promotional launch price.
---
Next, we had the
Chicken Millet Consomme
served in a hot stone bowl! I love having my soup hot and serving it in a hot stone bowl allows me to savour every drop of the soup hot even after having spent some time snapping photos. This soup was just amazing
—
rich, creamy and very comforting. Shark cartilage is added into the soup to achieve that super creamy base. Fresh sakura chicken was also used and I could taste it from the sweetness of the broth. There was also rice millets added, which was a type of cereal grain and gave it the texture of a soupy porridge!
CRISPY CHICKEN IN ALMOND FLAKES AND DRIED CHILLI (S$18)
---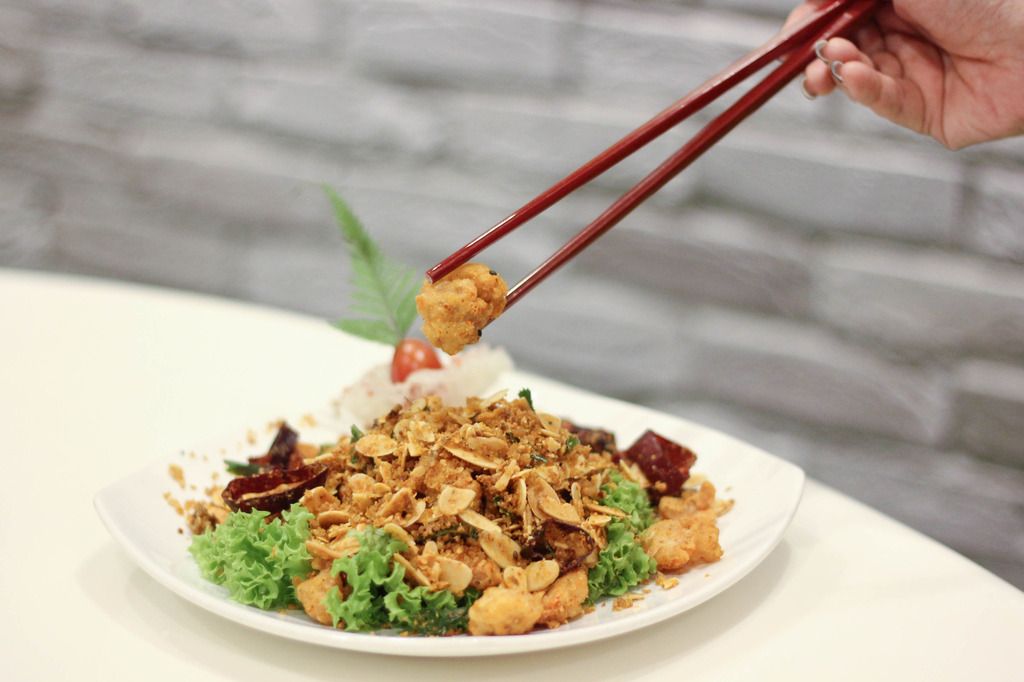 After having a warm and soothing bowl of soup, my stomach was ready for the fried food! An entire pile of crispy fried chicken, fried garlic bits, almond flakes and dried chillies. This was inspired by the 避风塘 style crabs that is commonly found in Hong Kong but Huang Ting adopted this cooking style with chicken bites as it was more convenient to eat. Boneless, tender and with a little bit of heat from the dried chillies, the bite-sized chicken was indeed addictive and I had more than I should! Don't forget to have spoonfuls of the very fragrant fried garlic bits and almonds too!
ASSORTED VEGETABLES WITH SHIITAKE MUSHROOMS IN TRUFFLE OIL (S$18)
---
Huang Ting added a modern twist to this vegetable dish with the use of truffle oil. The assorted vegetables include xiao bai cai, broccoli, asparagus, tomatoes and shiitake mushrooms. The truffle taste was quite strong in this dish, but I would have preferred it without. I guess traditional still works better for me in this case.
STEWED CRABMEAT VERMICELLI IN EGG WHITE SAUCE (S$28)
---
Vermicelli served with an egg white sauce, stewed crab meat and a raw egg yolk on top! The vermicelli was cooked in a flavorful broth and every strand was nicely coated with the sticky gooey sauce. Fresh sri lankan crab meat was used, something I could do with more of! To further enhance the taste, I added some vinegar and their sambal chilli (spicy and tangy!) and happily slurped down the entire bowl in no time.
These crispy yam rolls are all hand-made with fresh yam, then rolled with breadcrumbs before deep frying them. The outer skin was crispy while the inner yam filling was slightly molten. This was drenched with a mango sauce which was refreshing when paired with the fried food!
Even after having numerous dishes, I was not too stuffed and my taste buds were not laded with the aftertaste of the meal. I would attribute this to the balanced flavors of each dish, and also how the dishes as a whole worked together harmoniously
—
having the soup before the fried chicken and vegetables after. You could definitely get the waitress/waiter to recommend you the set of dishes that would work well together or simply just have all the dishes above!
Thank you Eleanor for extending the invite, Affluence PR and Huang Ting for your warm hospitality!
IMM Building 2 Jurong East Street 21
Daily | 1130 - 1500, 1800 - 2200