Antoinette — Matcha Fetish
Antoinette has recently been trending on social media for their lava croissants and cheese tarts. Now, they're taking the food scene by storm with the launch of the
Matcha Fetish
, available from 27 May 2016 to end-July 2016. Antoinette sure knows how to feed the customers right! Expect 22 matcha related savory and sweet options, which are bound to capture your heart in one way or another.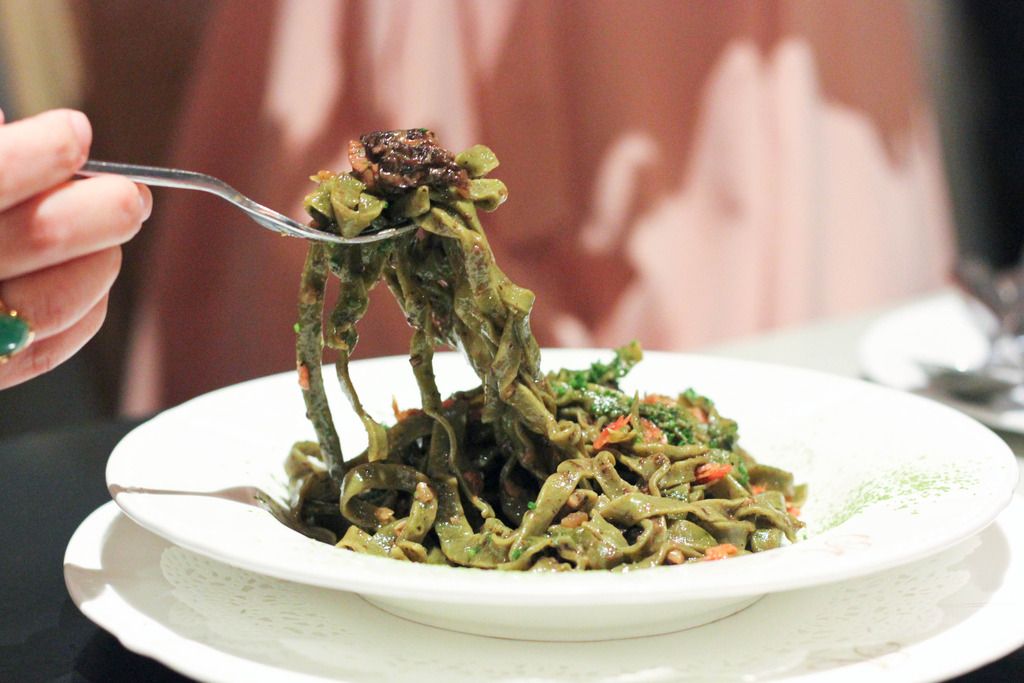 I was more intrigued yet excited by this savory matcha option because these are less commonly found. We had the
Matcha Pasta,
made with the addition of matcha powder into the handmade dough. Morel mushrooms were added to give it a deep earthy flavor and sprinkled with some dried ebiko for the crunch. Pasta was done al dente with a subtle hint of the matcha flavor. I love how the matcha was present but not overwhelming, and makes this plate of pasta very delectable.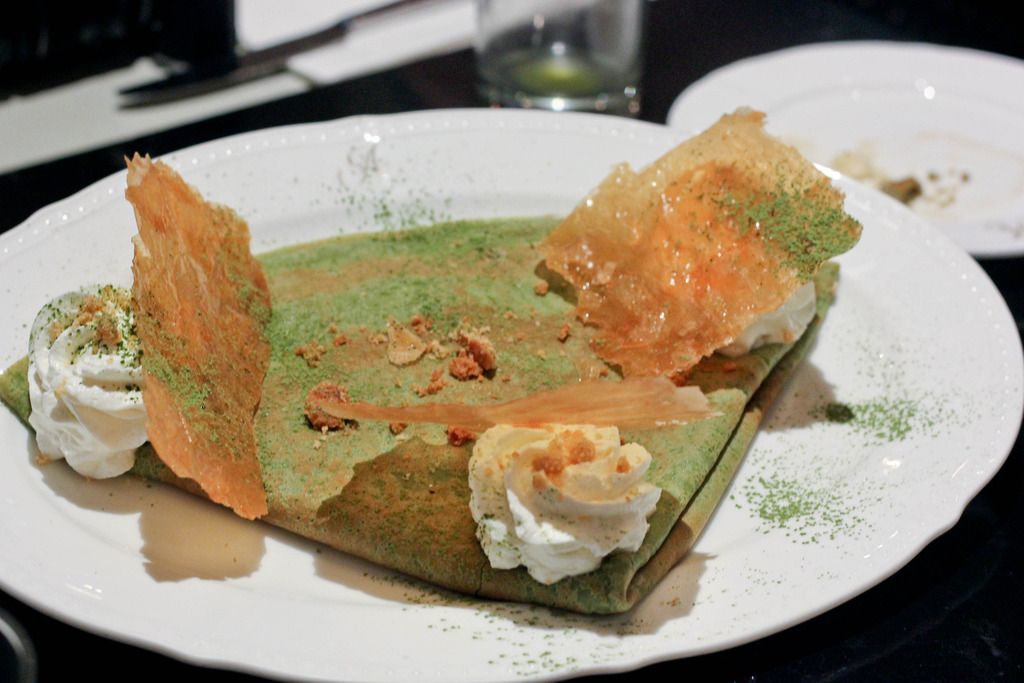 We were then served with 3 classic french brunch ideas, all done matcha style. Amongst the three, I personally preferred the
pancakes
. It was served in a stack of three, with a marron glace chantilly cream and a hint of rum and maple syrup on the side. The pancakes were soft and fluffy without being overly dense. A tinge of bittersweet matcha could also be tasted as matcha powder was added into the pancake mix.
The
french toast
and
crepe
were not too bad, with the former just a little too heavy while the latter was thin and delicate.
MATCHA YUZU LYCHEE ICED TEA
S$12.50
---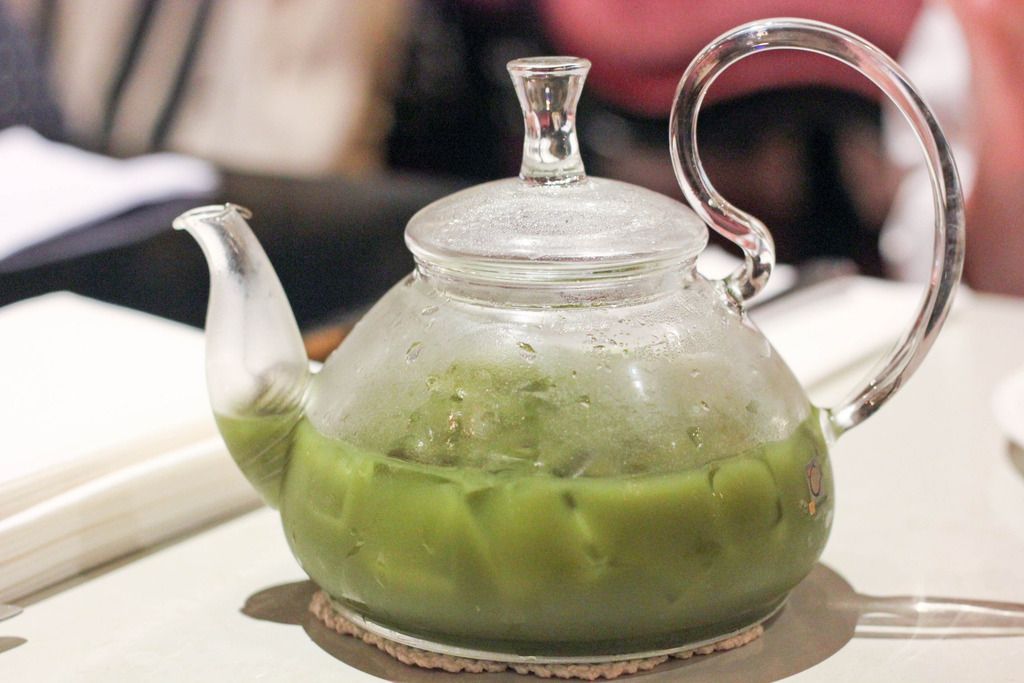 How about a
matcha yuzu drink
to refresh the palate? A cocktail of iced matcha, natural yuzu juice from Kochi and lychee, this fruity refreshing drink is the best to go with your meal as it helps cleanse the tastebuds!
Matcha latte is quite commonly found in Singapore nowadays, as easy as grabbing it from Starbucks. However, Antoinette takes it to the next level by serving it with a cloud of cotton candy! Don't you instantly feel like you're on cloud nine? Surely, the price tag may put you off initially, but fear not as this is served with a matcha almond cookie, matcha truffle and matcha financier
—
it's almost like having your own personal afternoon tea set! The matcha latte is served sugarless but as time passes, the heat from the drink will cause the cotton candy to melt and drip into it. A pretty sight to behold, but also be careful while drinking as the cotton candy can get quite sticky.
That night, we were also introduced to a full range of other matcha desserts below:
Matcha sponge with kirsch, layered with matcha ganache, almond nougatine, enrobed with milk chocolate and roasted almond nib


MATCHA ORANGE ALMOND TUILLE
S$9
---
Very fine matcha almond biscuit scented with fresh orange zest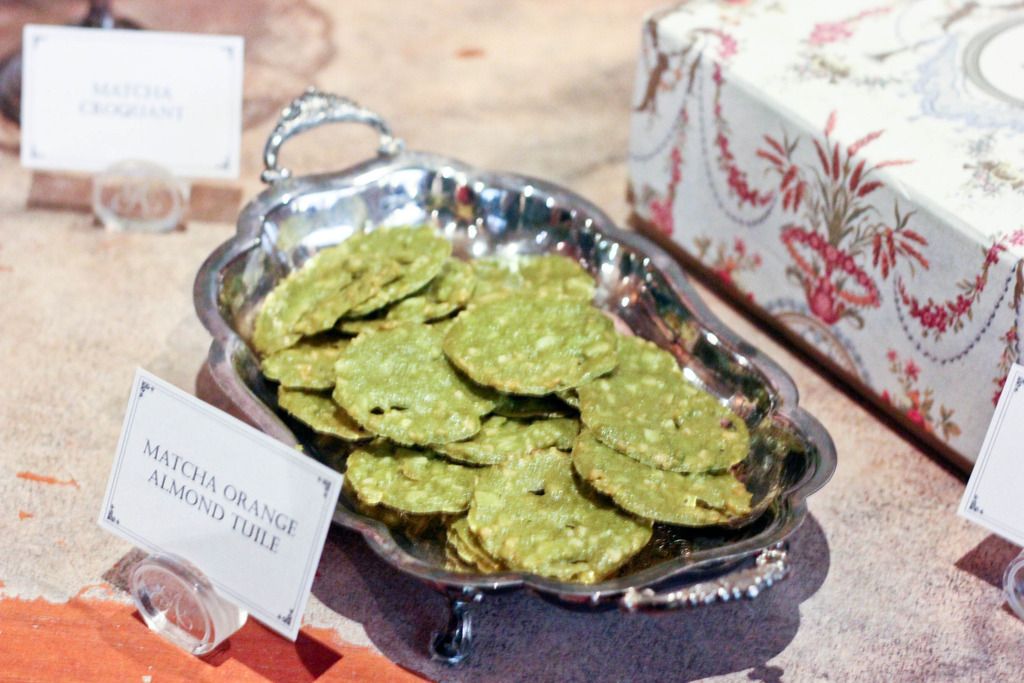 MATCHA ALMOND SHORTBREAD
S$2.50
---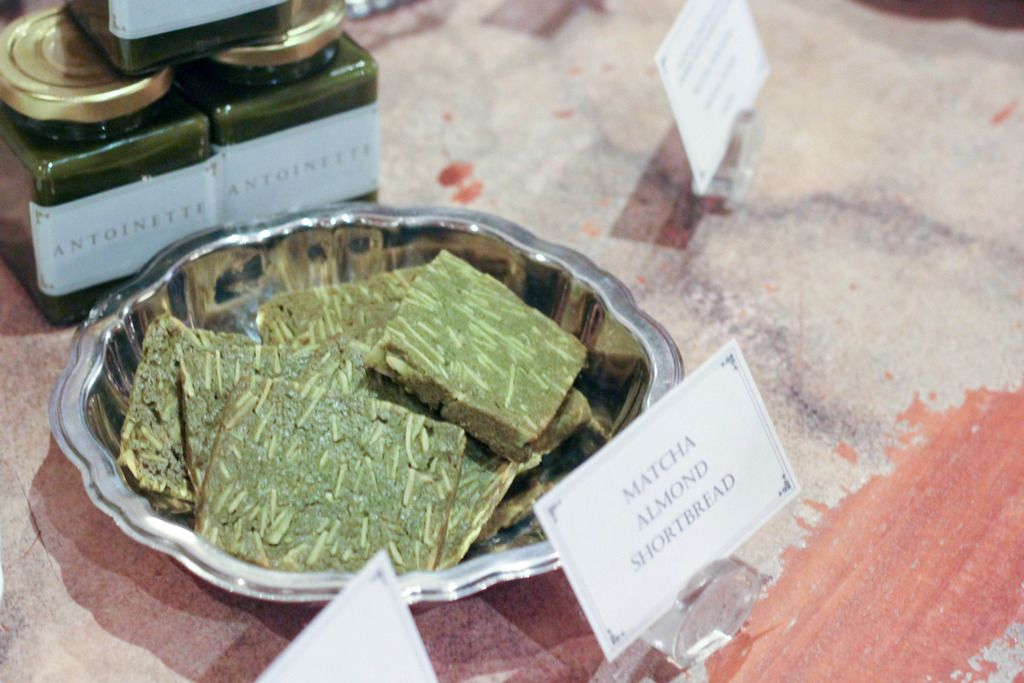 Matcha butter cake layered with matcha crème mousseline and yuzu curd (sugar free)


MATCHA STRAWBERRY SHORTCAKE
S$9 / $55
---
Light matcha sponge cake with kirsch layered with fresh strawberries and crème Chantilly


An iced refreshing fizzy Matcha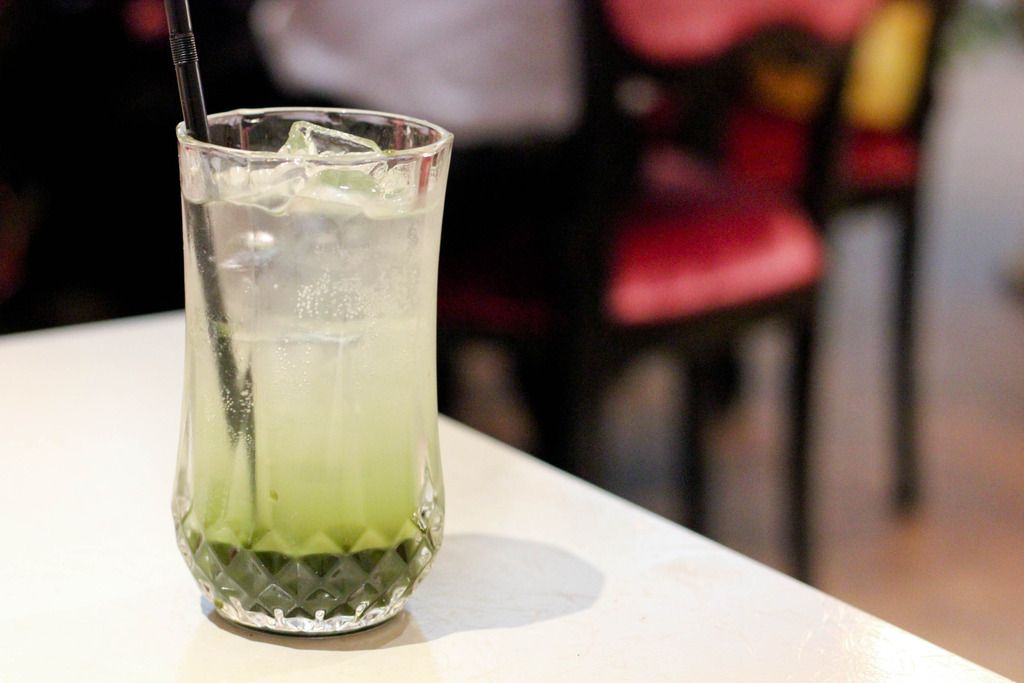 MATCHA TRUFFLE
S$2.50/pc
---
To end the night, we had some matcha chocolates. I particularly enjoyed the
Yucha
, a yuzu and matcha chocolate. The creamy matcha ganache was layered with a milk chocolate yuzu ganache enrobed in milk chocolate with a hint of kirsh. The citrus-y and refreshing yuzu definitely worked very well in the chocolate!
I liked how Antoinette has incorporated matcha into their creations by having it inside the raw ingredients but not as add-ons such as a sauce. Since this is
all things matcha
, it definitely helps that you don't get too overwhelmed with the matcha flavour. High quality matcha powder from Nishio Japan is being used, which directly explains the quality of matcha creations you can enjoy at Antoinette!
A
La Carte Fetish Match
set priced at $190++ for 4 people is also available exlusively at Antoinette Penhas for sharing and it includes the following: 2 cups Matcha Latte, 1 cup Matcha Soda, 1 pot Matcha Yuzu Lychee Iced Tea, 4 slices Matcha Milk Jam on Toast, 4 portions Matcha Pasta, 4 slices Matcha Pancake , 4 slices Matcha French Toast, 1pc Yucha (cake), 1pc Strawberry Shortcake, 2pcs Matcha Financier, 1pc Matcha Pop, 4pcs Yucha & Matcha Truffle, 4pcs Matcha Croquant, 4pcs Matcha Orange AlmondTuile, 4pcs Matcha Chocolate Rice Crispies with Marron Glacé & Matcha Swiss Rocks, 4pcs Matcha Macaron with Mango Jelly.
All matcha items, excluding the Matcha Latte and La Carte Fetish Set, are also available at Mandarin Gallery.
Antoinette Penhas
is located at:
30 Penhas Road (off Lavender Street) Singapore 208188
Mon - Thurs | 1100 - 2200 (LO 2130) Fri and Eve of PH | 1100 - 2300 (LO 2230)
Sat | 1000 - 2300 (LO 2230) Sun and PH | 1000 - 2200 (LO 2130)
Reservations are taken for lunch and dinner only at the Penhas Road store.