Nobiro Japanese Restaurant & Sake Bar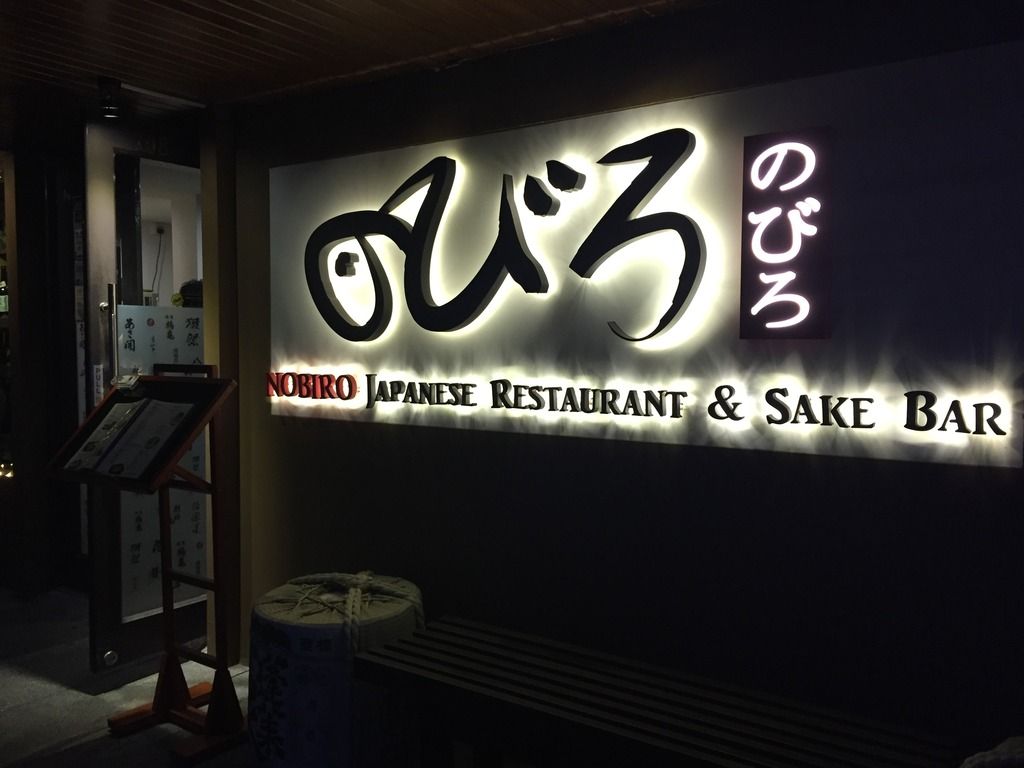 Nobiro Japanese Restaurant & Sake Bar located in Clementi is helmed by a Japanese executive chef so you can expect genuine Japanese offerings. Nobiro has a very wide range of dishes on its menu so there's definitely something for everyone! For sake and Japanese alcohol lovers, you will be thrilled with the variety brought in from Japan.
We were given a range of umeshu available at Nobiro: Mango, Strawberry Milk, Yuzu, Chilli and White Plum. The Chilli was slightly peculiar with the spicy notes but the others were very enjoyable! These flavored umeshu are very suitable for the ladies who would like to enjoy a light drink to go with dinner.
Sashimi Salad Iwanori Tsumi (SGD16)
For a start, we were served with 2 salads to start our meal on a light note. I prefer the sashimi salad more even though the caesar was yummy but it's more unhealthy with the salad sauce! The
Sashimi Salad
is served with seaweed and you can actually make a sashimi salad handroll on your own! There was a generous amount of sashimi, squid, lettuce and ikura. The tangy sauce was very refreshing and definitely whet my appetite for more food.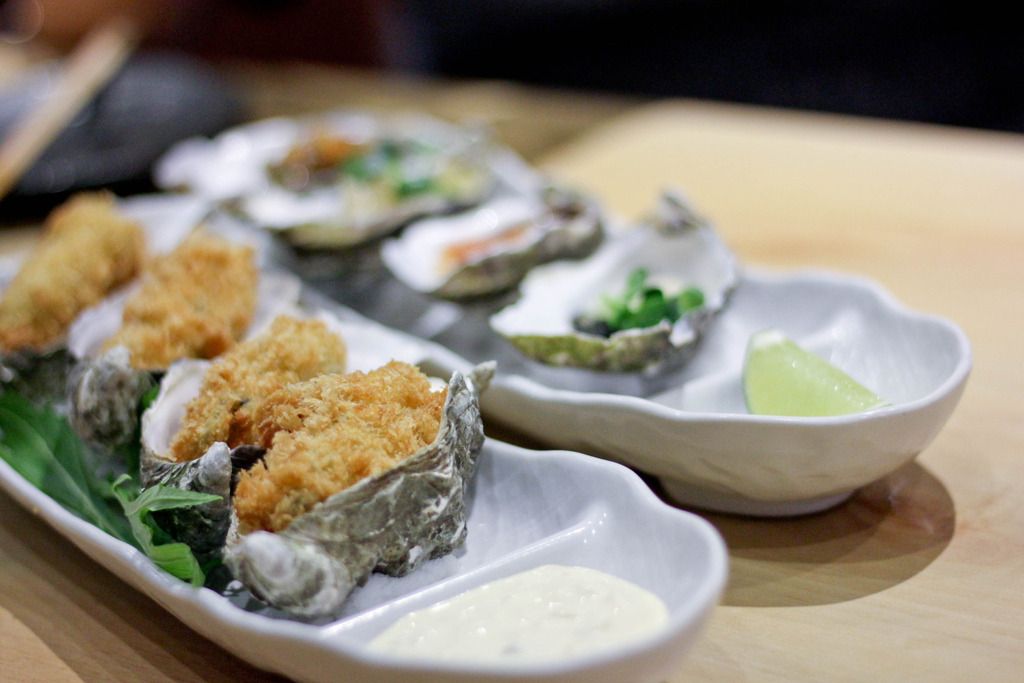 Nama Kaki Yonshiki (SGD20)
Oysters
are done three ways here
—
fresh, steamed or fried. I don't take oysters so I wasn't intending to have any till my friend told me that the oysters are really fresh without any fishy taste at all. I tried the fried oyster and it is true! Very creamy without any fishy, slimy and nerve wrecking texture in the mouth.
Tonpei Yaki (SGD13)
Surume Ika Maruyaki (SGD15)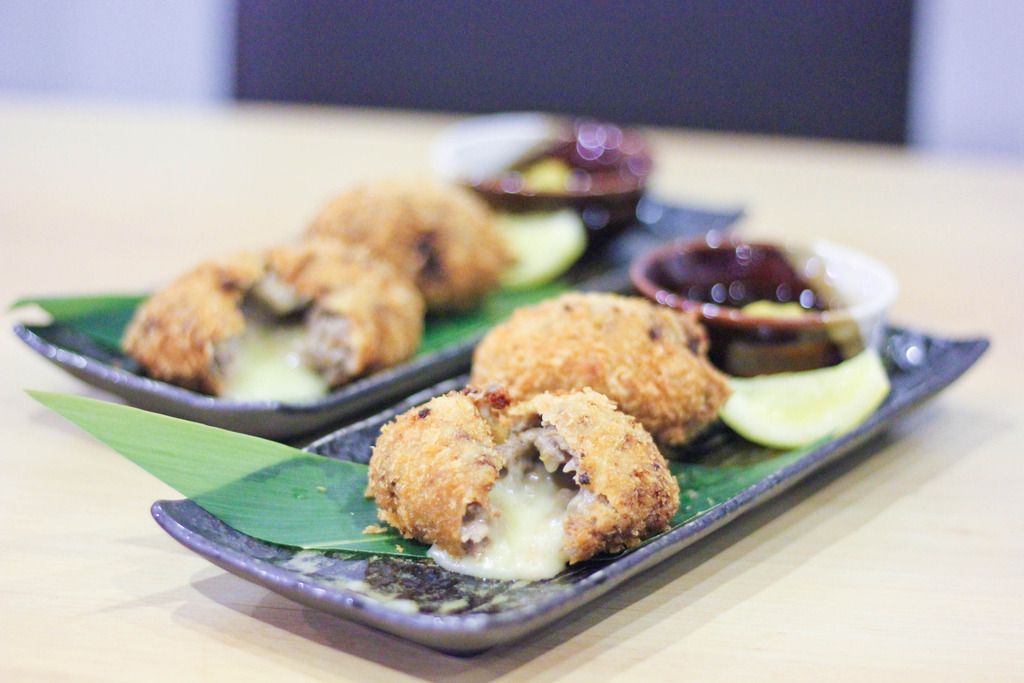 Cheese Menchi Katsu (SGD16)
Yakitori Sticks (SGD3 - SGD7 per stick)
If you are at Nobiro with a group of friends, there are so many delicious options for you to share amongst the group! The
Tonpei Yaki
, a fluffy bacon and prawns omelette atop a stack of cabbages though simple, was one of my favorite dishes! It is completed with a brown sauce and bonito flakes, alike to takoyaki! The creamy eggs was very likeable as you pair it with the crunchy cabbages. The
Menchi Katsu
is a fried minced beef ball with molten mozzarella cheese on the inside! A cheesy goodness explodes in your mouth as you sink your teeth into it. Also, you will find some cartilage soft bones in the minced beef, which was added on purpose to increase your satisfaction as you chew on it! This was tasty on its own and rendered the tonkatsu sauce on the side useless.
Omakase Sushi (SGD38 for 6 types of sushi)
Dobin Mushi (SGD20)
Seafood Chawanmushi (SGD10)
When you're at a Japanese restaurant, don't you want to just indulge in all things Japanese? You can consider having the
Omakase Sushi
set if you're a fan of sushi. It consist of the Hirame (Flounder), Shimei Saba (Mackerel), Tai (Seabream), Kanpachi (Yellowtail), Maguro (Tuna) and Ika (Squid). The rice grains here are well cooked and are loosely gathered together so it's recommended to use your hand (the authentic way!) to prevent the entire sushi from falling apart. The
Dobin Mushi
, a dashi soup stock boiled with lots of seafood sounds like a good option to wash down all the food that you've had at Nobiro. A slice of lime comes with it, where a drop of it into the soup instantly lifts it up and becomes super refreshing! While the
Seafood Chawanmushi
was really silky smooth and egg-y, I found it to be on the pricey side.
Wagyu Tataki (SGD45)
If you feel like splurging, the
Wagyu Tataki
is a great choice
—
A5 wagyu Japanese beef seared so beautifully on the outside and melts so wonderfully when you eat it. There was great seasoning done on the meat so there isn't anything to fault here! The
Mentaiko Pasta
was nicely cooked, with each strand of noodles done al dente. The pasta was evenly coated with a layer of mentaiko sauce and topped with seaweed and ikura. The savoury mentaiko paired with the burst of ikura proved to be very satisfying!
Nobiro can be considered slightly secluded, especially if you do not live in the West. However, the wide variety of food and Japanese alcohol may be well worth the effort to travel to Clementi, or even make return visits!
Thank you Shaun for the invite and Nobiro for the warm hospitality!
108 Faber Drive Singapore 129418
Lunch
—
Wed - Sun | 1200 - 1430 (LO 1400)
Dinner
—
Tues - Sun | 1800 - 2230 (LO 2200)
Sake Bar
—
Saturdays | 2200 - 0100