Hungry Heroes
Hungry Heroes is a Super Heroes themed cafe and restaurant with a pretty cool interior space. I was pleasantly surprised when I stepped foot into the restaurant as it was a stark contrast to the simple exterior. Find life sized Captain America, Iron Man, Thor, Batman and Spider-Man within the restaurant that belongs to the owner's personal collection! I can already imagine Super Heroes fans going "woo" and "wow"!
They serve up some great American grub here which are perfect for sharing or you can just be greedy on your own!
---
Fries can never go wrong as the perfect finger food before the mains arrive. This came with beef chilli con carne, nachos cheese and mayonnaise drizzled on it. Reminded me of the chilli cheese fries from Carl's Junior!
Clash of the Potato, Mayo & Scallions (SGD7)
---
We were told that these are so good so we were served with double portions. The owner was so right
—
I couldn't stop stealing bites of these even though I was saving stomach space for the other dishes! Duck fat potatoes, kewpie mayonnaise and spring onions; three simple ingredients but delivered a heavenly combination. The slightly mashed soft potatoes with chunky bites proved to be so addictive indeed!
Bacon Karate Chop with Honey Thyme Gastrique (SGD20)
---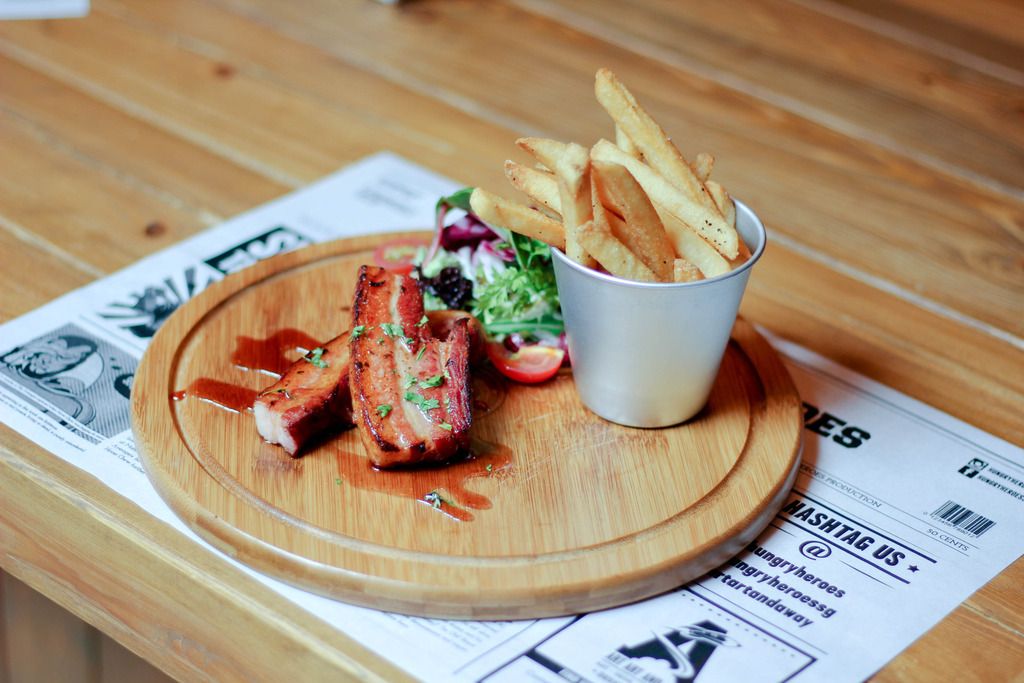 A whole slab of bacon anyone? To maintain its full flavor and to keep it tender, the bacon is first placed in a sous vide bath before giving it a quick sear on the pan for a nice glaze on the exterior. The honey thyme gastrique carries both sweet and sour elements, which helped to cut back on the oiliness of the bacon. While the layers of fat were quite soft, it was still a little too fatty for my personal liking!
Nuclear Fission Angus Beef Cheeks (SGD27)
---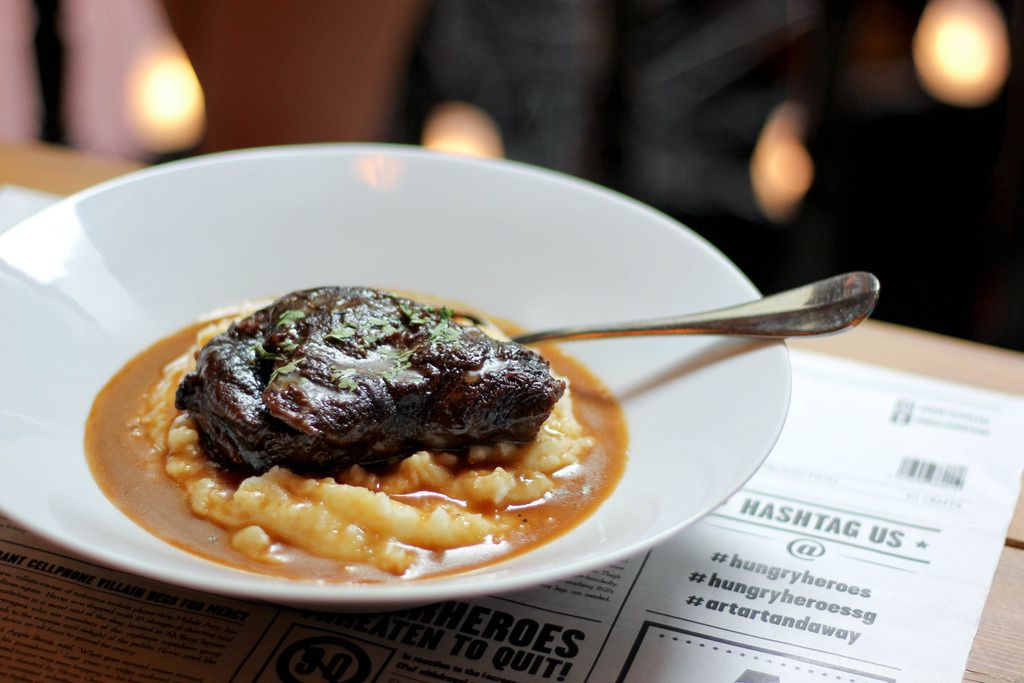 How were we going to finish this huge piece of beef cheeks?! This was power-braised in veal jus in a pressure cooker and the end product was a fork tender braised beef cheeks! Our fears soon disappeared as it was so easy to eat! It was served on a bed of truffle mash, perfect for those who like the classic combination of beef and potato!
Spider Pig Burger (SGD21)
The Roost - BAMZ! Chicken Burger (SGD21)
Mother of all Chicken Burgers (SGD32)
---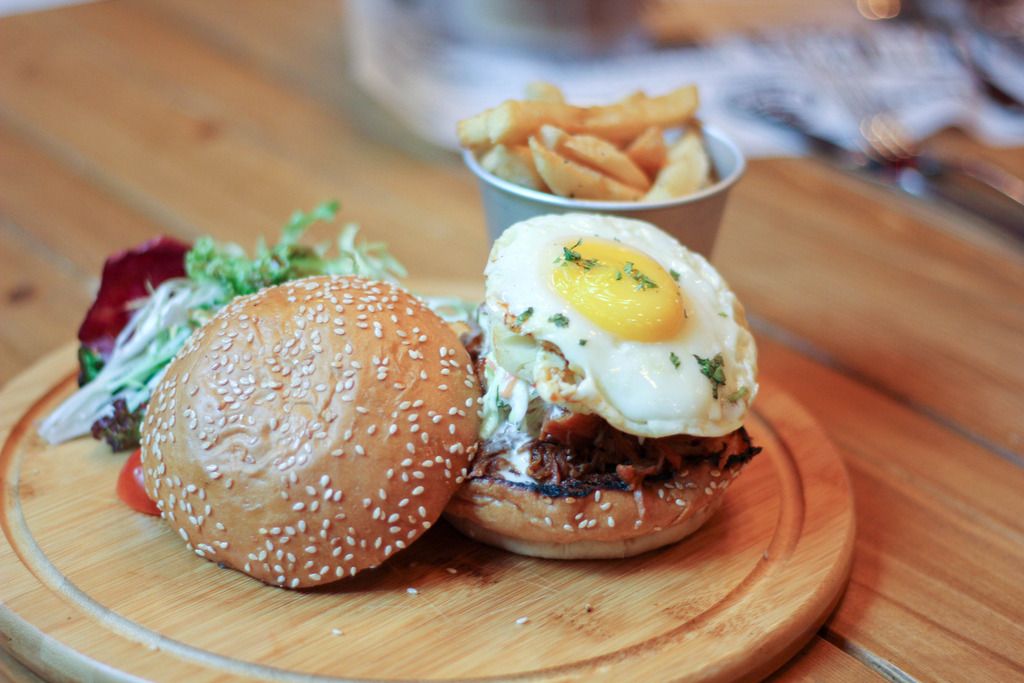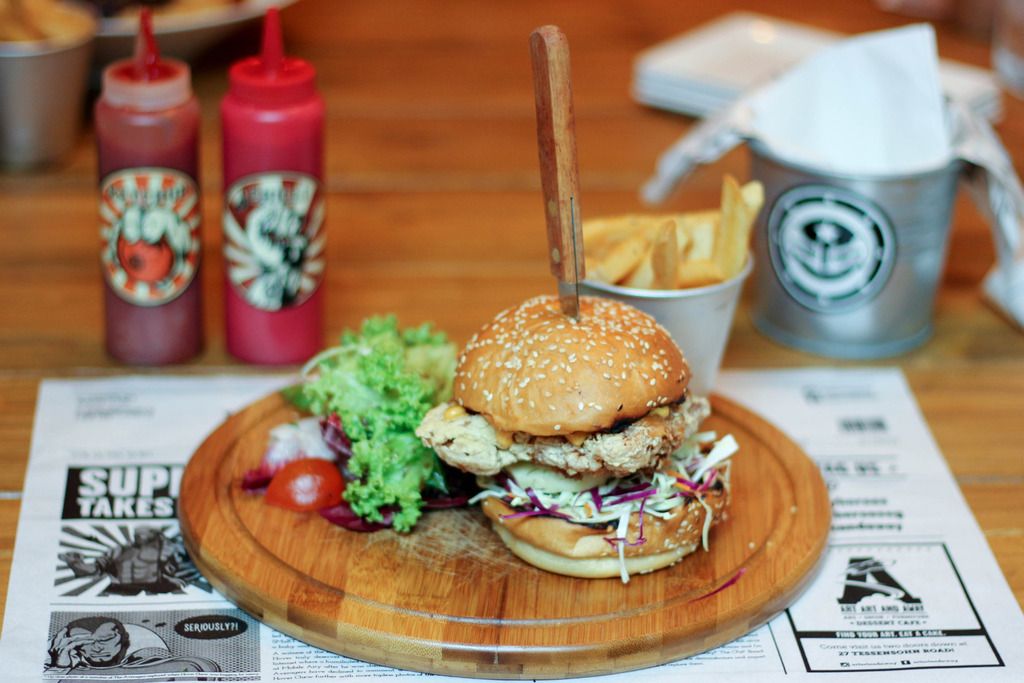 What is American grub without the burgers!! There are 7 burger selections on Hungry Heroes' menu and we tried 3 of them. The most memorable one was definitely the Mother of all Chicken Burgers! You get 2 fried chicken legs, fried egg, cheese, coleslaw, caramelised onions, bacon, pickled jalapenos, tomato and cajun mayo. It is highly encouraged to pick a little of everything and have it in one mouthful! With the myriad of ingredients stashed into two fluffy buns, the Mother of all Chicken burger was a dissemination of multi-dimensional flavors onto your taste buds.
With the interesting interior space of Hungry Heroes, this place will be great for family with kids, large group gatherings or with your superhero fan friend!
Thank you Shaun for the invite and ZQ for the hospitality!
33 Tessensohn Road Singapore 217656
Sat, Sun & PH | 1200 - 2300