Chir Chir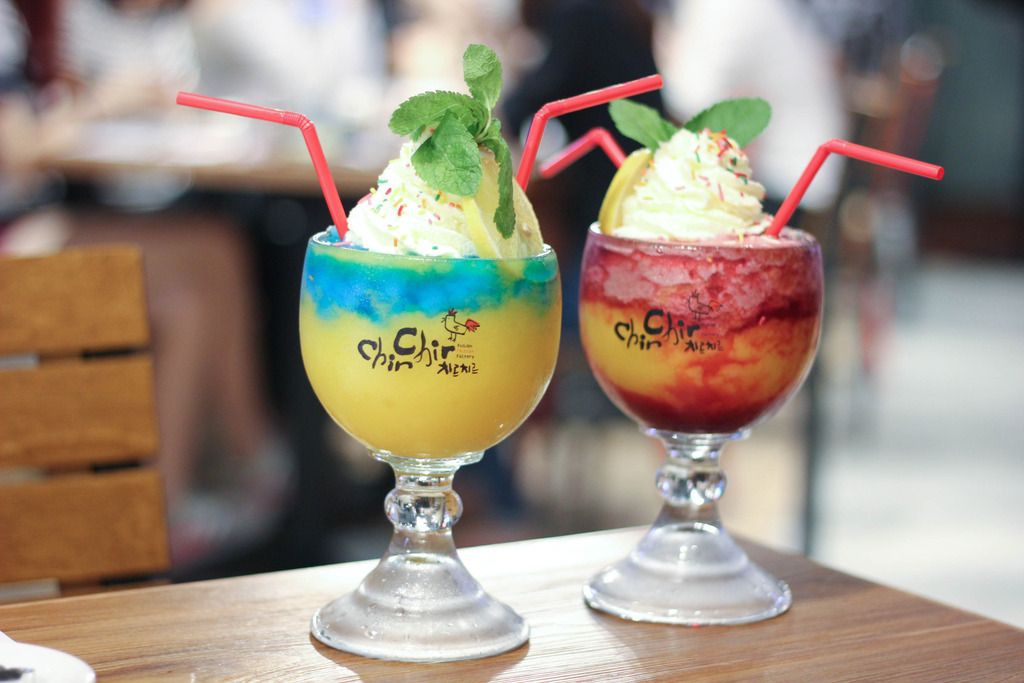 Chir Chir Fusion Chicken Factory as the name suggests, dishes out chicken creations such as the Nest Snow
—
yes, that famous cajun chicken chicken tenders with a mountain of whipped cream above it and served on a hot plate! Recently, Chir Chir has introduced various new dishes such as the Honey Butter Chicken which came as an inspiration from the popular Korean honey butter potato chips!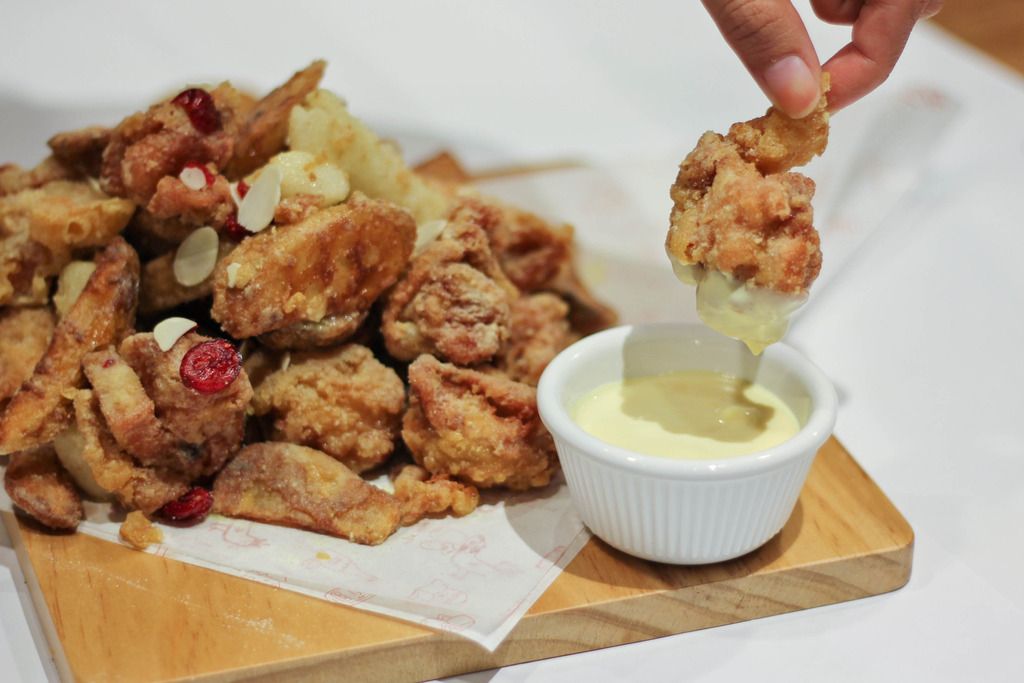 Boneless fried chicken and pan fried topokki are glazed with honey butter sauce, before adding more honey butter seasoning powder, dried cranberries and sliced almonds. It also comes with a honey garlic sauce on the side which you can dip for more of that honey butter flavour. Strong honey butter game going on here! I thought the honey butter went okay with the entire dish, but I definitely need to share this with a group of friends as I still like my fried chicken done savoury style. The chewy toppoki complemented the sweet tasting seasoning very well though!
Apart from this signature new dish, there are four other new items on the menu:
Raspberry/Aqua/Mojito Double Smoothie (SGD12.90 +SGD3 for soju)
---
A ice blended mango puree based drink topped with raspberry/tropical fruit/lime slushes respectively and completed with fresh whipped cream and rainbow sprinkles. It is recommended to stir in the whipped cream for ultimate enjoyment. It predominantly tasted like a mango slushie, which was very refreshing as a complement for the heavier tasting dishes here at Chir chir! And with this weather of ours in Singapore, everyone needs a slushie!
Topokki and cheese (SGD9.90)
---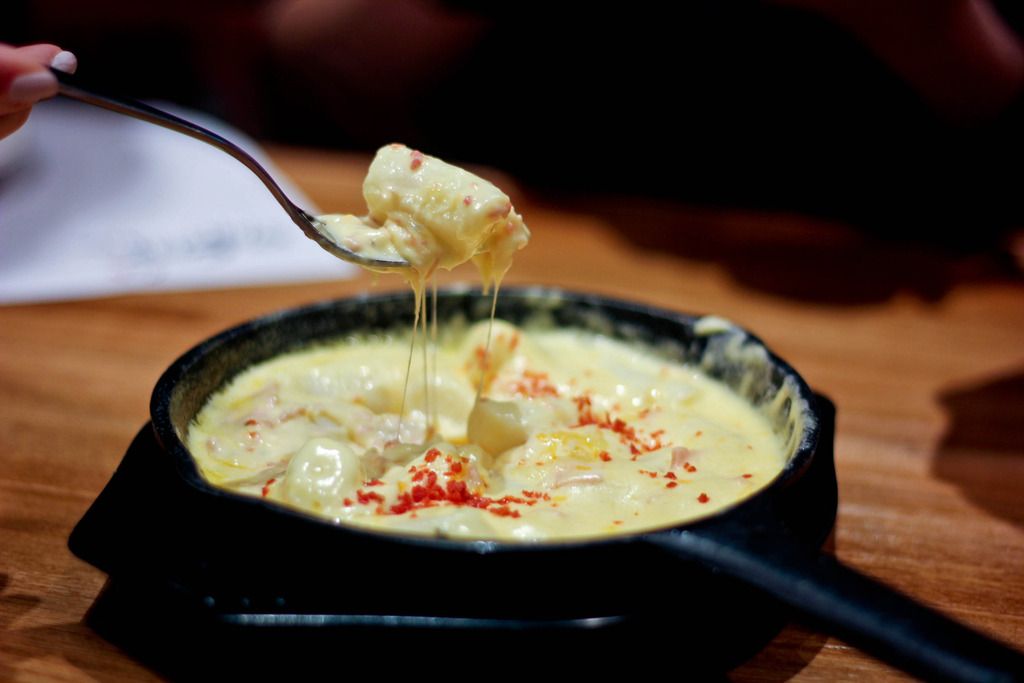 A variation from the usual Mac & Cheese, there's the topokki and cheese here! I'm not a big fan of these korean rice cakes but I gotta admit that they were really soft and chewy, till I couldn't resist having a few of them! The creamy cheese sauce was thankfully quite light, so you won't get too gelat. It needs a little more seasoning though
—
perhaps the mock bacon bits used just couldn't replace the actual bacon.
Spicy Seafood Soup (SGD26.90)
---
You can't probably see any soup from the picture due to the overwhelming amount of ingredients but there's definitely enough of this spicy clam-based broth to go around amongst the four of us! You know they're not scrimping on the ingredients when you can find lots of clams in the soup! The spice level here is moderate, tasting slightly similar to a Jjambong (Korean seafood noodles) soup! Filled with mussels, crayfish, prawns, squid and glass noodles, it is no doubt filled with flavour and the goodness of the seafood.
Spicy Topokki (SGD15.90 + SGD4 for breaded chicken)
---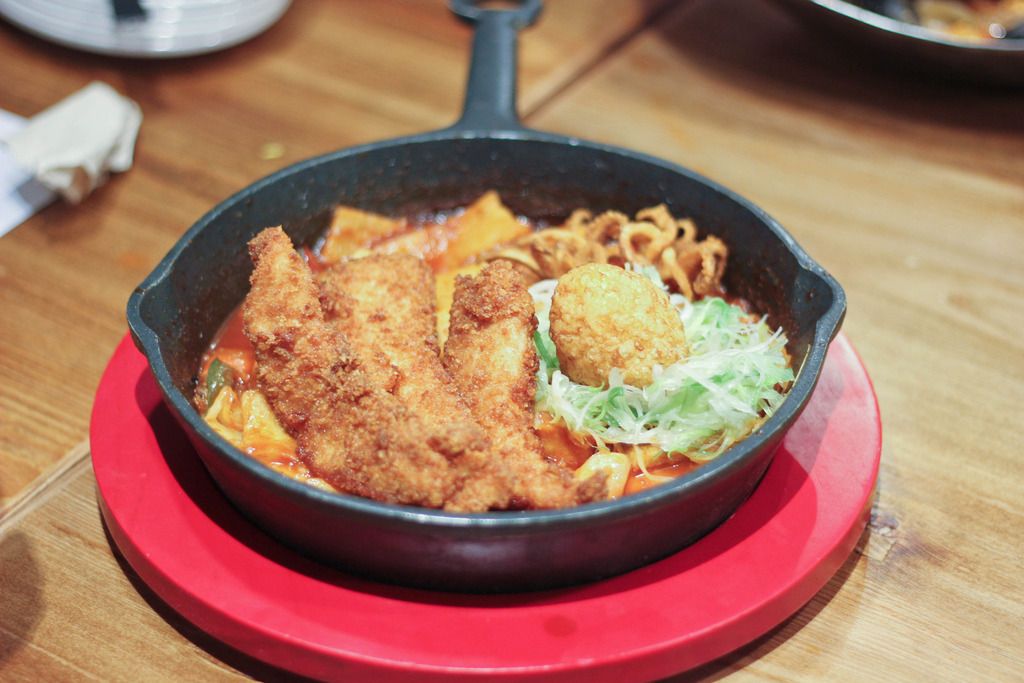 This is indeed a fiery dish, living up to the word "spicy". Definitely made for the spice lovers, this spicy topokki made with gochujang sauce also comes with Korean fish cakes, Cajun battered squid, sweet potato cubes and fried hard boiled egg. You can also add on $4 for breaded chicken. I love spicy food and this was simply "shiok" for me! It also reminded me of "Jaws" and the street cart stalls in Korea which I frequented when I was there for student exchange
—
so nostalgic!
If you realized, Chir Chir isn't all about fried chicken. There's seafood soup, toppoki or roasted chicken for those who do not want to indulge in fried food (but why?!). Also, Chir Chir at Chinatown Point is opened till 3am daily! Who's up for some sinful supper time?
Thank you Rachel (Sixth Sense) for the invitation and Chir Chir for hosting!
Daily | 1100 - 0300 (LO 0230)
313@Somerset
#B3-04/05/06
Sun - Thurs | 1100 - 2200 (LO 2130)
Fri - Sat | 1100 - 2300 (LO 2230)
Bedok Point
799 New Upper Changi Road
Daily | 1100 - 2200 (LO 2130)