Pompompurin Cafe Singapore
Many are excited about the Hello Kitty cafe coming to Singapore in May 2016, but before that, we first welcome another Sanrio Character
—
Pompompurin at Orchard Central on 18th April 2016. Pompompurin is a lovable male Golden Retriever, easily recognizable by his brown beret hat. To be honest, I never knew about this character because I generally don't fancy cartoons but he does look cute and cheery with his innocent puppy face and yellow skin.
I can imagine kids and fans of Pompompurin going gaga over the opening of this first-in-Southeast Asia cafe right here in Singapore. The cafe resembles our garden city, proudly displaying a garden whimsical themed design. A life-sized Pompompurin right smack in the middle of the cafe is definitely one of the main attractions and I can foresee its popularity! The cafe features cosy booth seats for families on the left, and merchandise such as graduation Pompompurin, water bottle, towels etc on the right.
---
During our media preview, we were treated to the following dishes: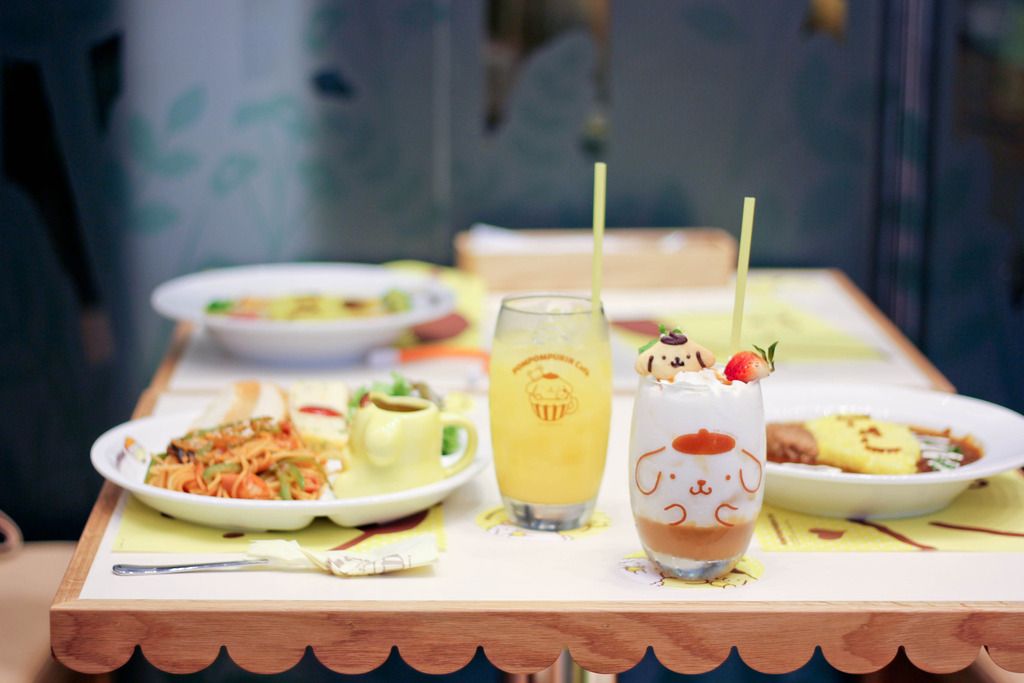 Cookies & Cream Caramel Latte (SGD11.99)
Beef Stroganoff (SGD18.99)
Coconut Milk Chicken Curry (SGD17.99)
Mushroom and Bacon Carbonara (SGD26.99) - comes with a take-home Pompompurin mug!
Background Right - Mango Parfait (SGD19.99)
Foreground Left - I am Pompompurin Pudding (SGD9.99)
The plating of all the dishes were all on point! There were so many Pompompurins on our table but didn't look disfigured (you know how some cartoon characters can get replicated on products and just look so different?). I thought the mains fared slightly better than the desserts as the pancakes were too dry and the pudding had a very strong egg-y taste that I'm not a fan of. If you insist on desserts, I would recommend the
Mango Parfait
out of the three that we had. For the mains, the
Coconut Milk Chicken Curry
reminded me of a Thai curry more than a Japanese one. Taste-wise, this suited my palate most out of all that I've tasted.
For selected dishes such as the Spaghetti Napolitana, it comes with a complimentary brand new Pompompurin mug for the diner to take home after the meal. So now you know what to order if you want to bring a collectible home!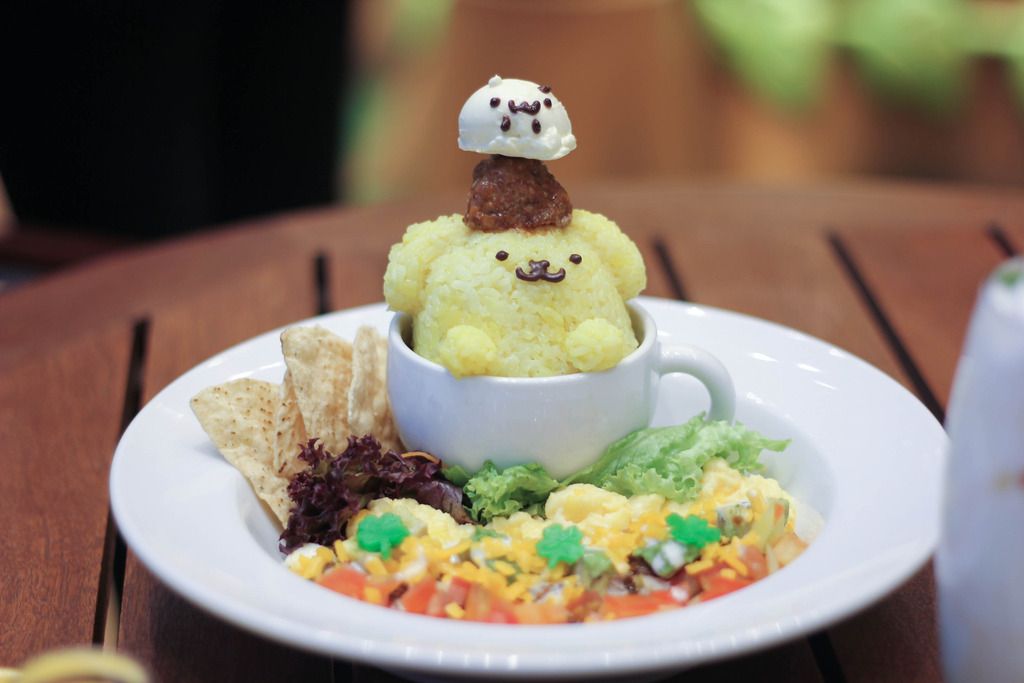 Taco Rice in a Cup of Friendship (SGD19.99)
Food was definitely not a strong point for this one of a kind cafe and it did leave me a tad disappointed after an aesthetic fiesta. Food aside, I'm pretty sure many will visit the cafe to snap that Instagram-worthy shot in this cutesy photogenic place. It's also a decent place for a kids' outing. The interior is very well done up and the abundance of Pompompurin will definitely satisfy all Pompompurin lovers!
Thank you Hanan for the invite and Pompompurin Cafe for hosting!
Pompompurin Cafe
is located at:
Orchard Central Singapore 238896
Daily | 1100 - 2230 (LO 2200)
No takeaway and no reservations