Bridge - Brunch Menu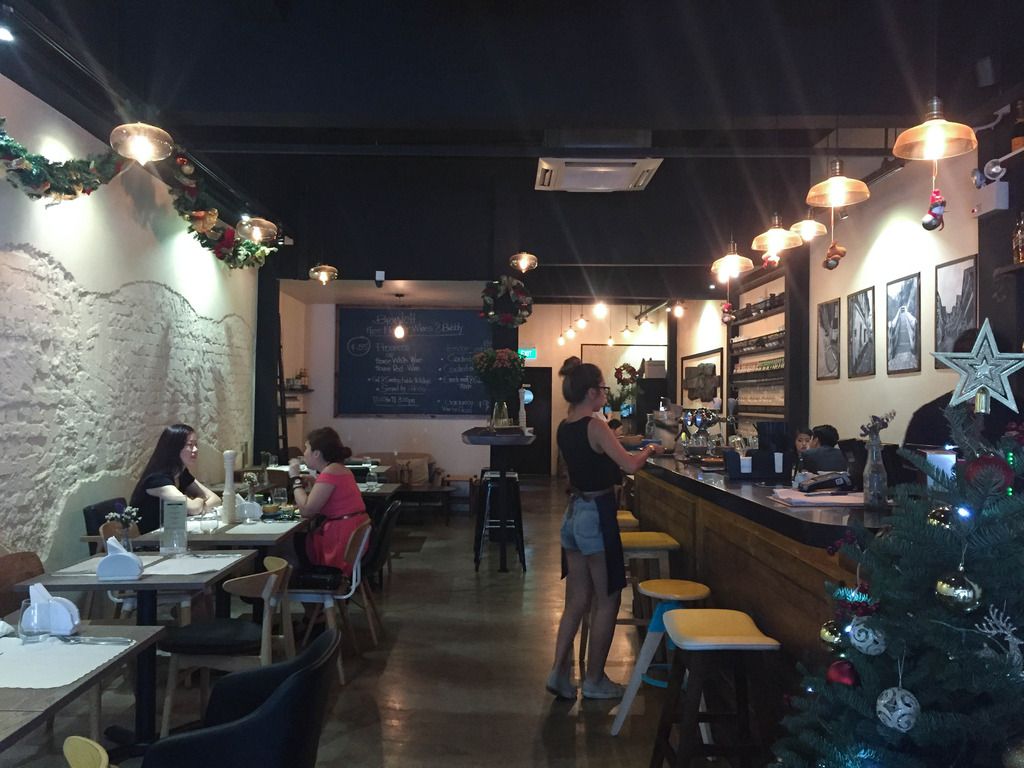 There are plenty of cafes in Singapore that you can walk into to fulfill that brunch date with your friends. Now the question is, which cafe might that be? I often find myself browsing through the cafe's menu online before deciding on which to go. Generally, cafes offer the usual options such as your big breakfast, pancakes and eggs benedict. Here at Bridge, there are some different options on top of these usuals such as the lobster croissant (!!) and the pumpkinoa (pumpkin & quinoa hybrid)!
---
Eggs, mushroom and potato are some of my favorite ingredients on my ideal breakfast plate and Bridge have them altogether on the
62' Eggs
! A bed of truffle mash topped with generous toppings of sautéed wild mushrooms, prosciutto di Parma, chicken jus and seasonal truffles. This dish was seasoned naturally with the use of Parma ham with the molten egg yolk adding a smooth and velvety texture to the entire dish. The juicy mushrooms and mashed potatoes were crucial components to the plate as well. This dish is definitely a crowd pleaser!
HAVING YOUR MEALS OUTSIDE CAN BE HEALTHY
---
Are you feeling sinful from that recent indulgent meal that you had? Eating out can be healthy too with this
Pumpkinoa
made with organic quinoa, roasted rosemary pumpkin, feta cheese and carrot vinaigrette. I'm not a fan of pumpkin, but this roasted pumpkin was acceptable for me with the sweetness of the pumpkin complemented by the slightly charred outer layer.
FOR THE LOVE OF AVOCADO
---
A-S-S
is a sourdough topped generously with smoked salmon and avocado scramble. Coincidentally, it was a combination of ingredients that I did not fancy but my friends loved it! The corn salsa was a good addition as the zesty-ness broke through the whole creamy avocado salmon mix.
BREAKFAST ARE MEANT TO BE INDULGENCE
---
The Lobster
is the dream breakfast that I've always wanted. Buttered croissant with scrambled eggs, baby spinach, bacon and of course the lobster. What more can you ask for? Despite the price, they are generous with the lobster, which makes it quite value for money! The lobster meat was slightly on the chewy side, but the sweetness of the meat came through and I loved it!
STICKY PASTA WITH A CRUNCH
---
If pasta is your thing, then
Red Sea
can be your choice. Capellini with a spicy tomato sauce, served with pan seared sea bass and crispy baby squids. The chef here uses a very wholesome and flavorful sauce that goes very well with the comparatively plain fish meat. I thought that there was good use of ingredients here, especially with that crispy baby squid which livened up the plate with its crunchiness! I'm not sure if it can get "gelat" from consuming the entire plate on your own as it's a little sticky, but you can consider sharing these amongst your friends and at the same time, try other dishes too!
WHO SAYS YOU CAN'T HAVE SEAFOOD FOR BREAKFAST
---
Marine Fregola
is a pan seared teriyaki salmon with a side salad dressed with citrus and ponzu. That bed of chickpeas lookalike thing is actually pasta! Having a more mochi-like texture, this was far more enjoyable than chickpeas for me. Nothing too exceptional here, so I would highly recommend trying the other dishes instead!
FALL IN LOVE WITH TRUFFLE HONEY
---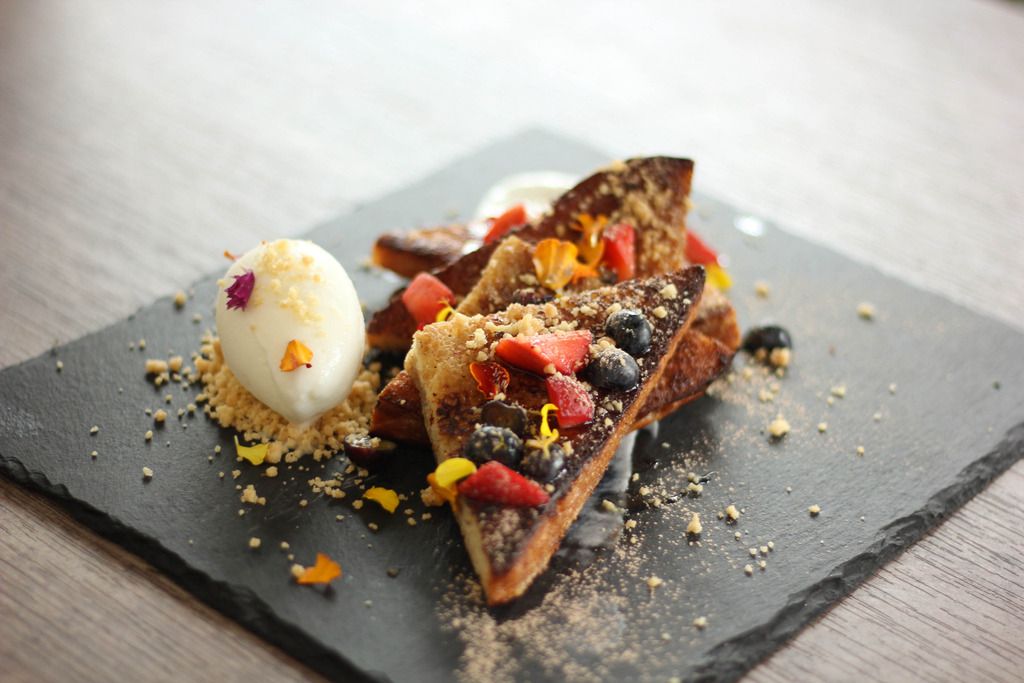 Truffle Honey Toast ($18)
All meals should end with sweets and here at Bridge, you definitely can't miss out on the
Truffle Honey Toast
! Served with berries, vanilla sour cream and salted milk ice cream sprinkled with crushed cookies and that touch of edible flowers, it's not just pretty to look at
—
it's delicious too! The entire toast was not too cloyingly sweet and had the fragrance from the egg batter which was lovely when paired with the ice cream!
Apart from food, Bridge serves a pretty good cuppa coffee too! A house blend of three different beans, my cup of flat white was robust and provided me with the caffeine kick I needed right in the morning! If brunch and cafes are not your thing, Bridge has a dinner menu with the highlight being the A4 Japanese Wagyu beef going at $48/100g. Conveniently located near Bugis, I think Bridge is well worth a visit!
Thank you Bridge for the warm hospitality!
Tue to Thur | 15
00 - 2300
Fri | 15
00 - 0100
Sat |
1100 - 0100
Sun |
1100 - 170
0