24 Hours in Osaka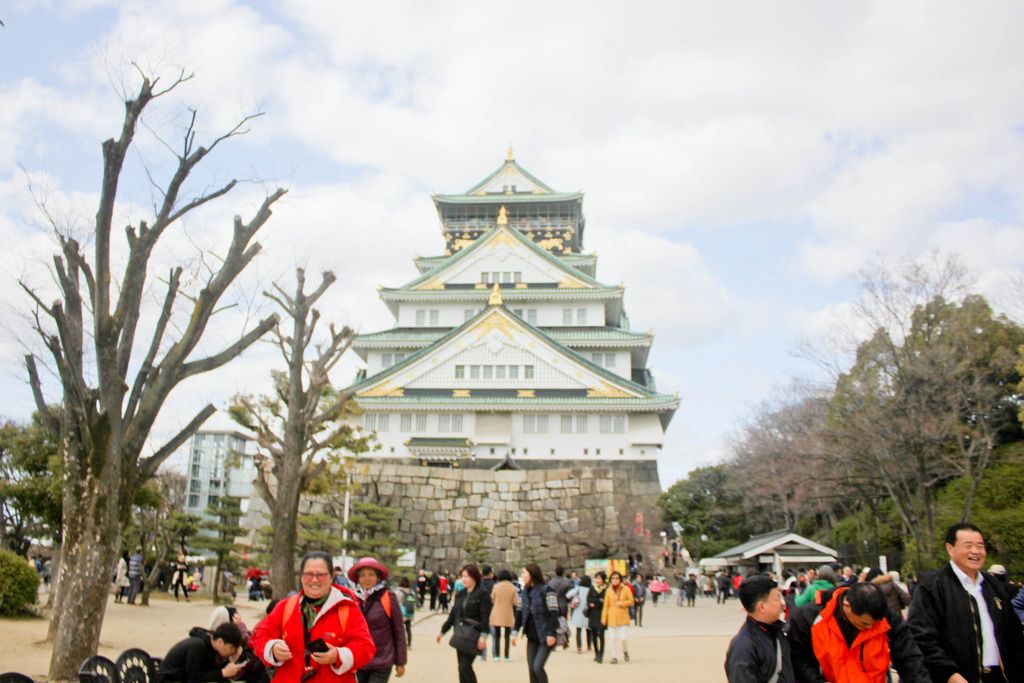 If you have only 24 hours in Osaka just like I did in March 2016, you could probably eat your way around the city of Osaka like this.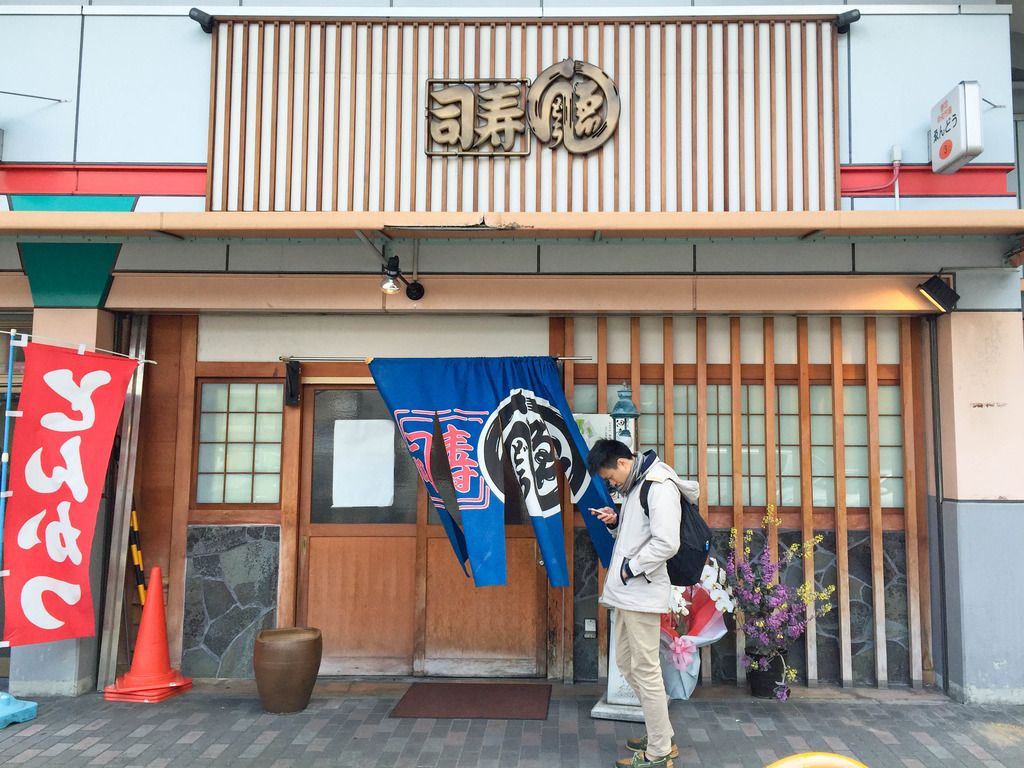 ---
1-1-86 Noda Fukushima-ku Osaka City Osaka
Closed on Sundays and Public Holidays
For
JPY1,050
, you get to enjoy
5 pieces of sushi
. There are 4 sets on the menu which you can choose from, but you are also free to switch any sushi (might be subjected to increase in price). We had Set 2, with the Ark Shell swopped for Uni instead and there was no extra surcharge. Don't expect to find sophisticated/neat looking sushi here as you see the sushi chefs churning out plates and plates of sushi continuously, but what you can expect here is definitely top grade sashimi. Now I truly know the difference of having a sushi restaurant right next to the fish market
—
this freshness is unbeatable.
If I had to make a choice, I would pick the Toro (Fatty Tuna) as my favorite sushi here! It had the perfect melt in your mouth goodness that would probably be what happiness tastes like - I'm not even kidding. For this price that you're paying, it's so value for money!! The uni was very creamy without an overpowering aftertaste while the 3 other sushi (crab, hairtail and scallop) were beautifully sweet tasting! Be in line before 1.45pm as we saw them cutting off the queue then. Located some distance away from the nearest bus/train, Endo Sushi is not exactly the most accessible place I'd say it's worth the effort!
---
542-0073 Osaka Prefecture, Osaka, Chūō-ku, Nipponbashi, 2 Chome−4
Nearest station: Namba/Nippombashi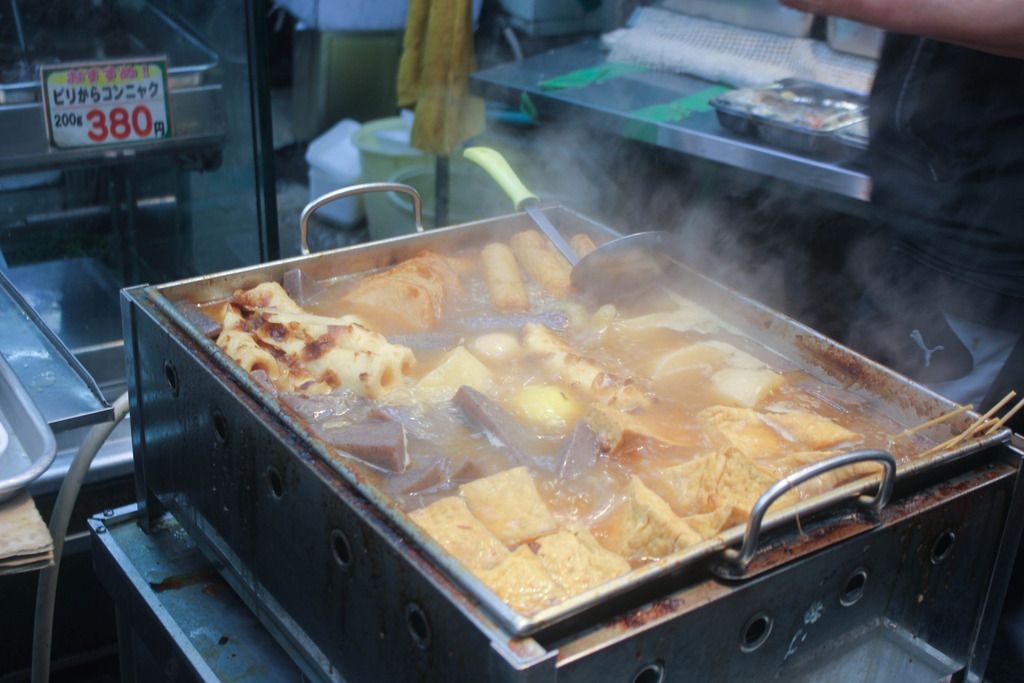 Kuromon Ichiba Market is great for tourists to experience the local food culture. A wide variety of dried food, local produce, fruits, sushi, sashimi, meat and many more can be found here. You will be dazzled with the myriad of choices so you should know what you're looking for before you unknowingly spend too much Yen! One thing that definitely caught my eye was this bubbling pot of oden, located somewhat near the middle of the main market street. You will definitely not miss it if you walk through the market.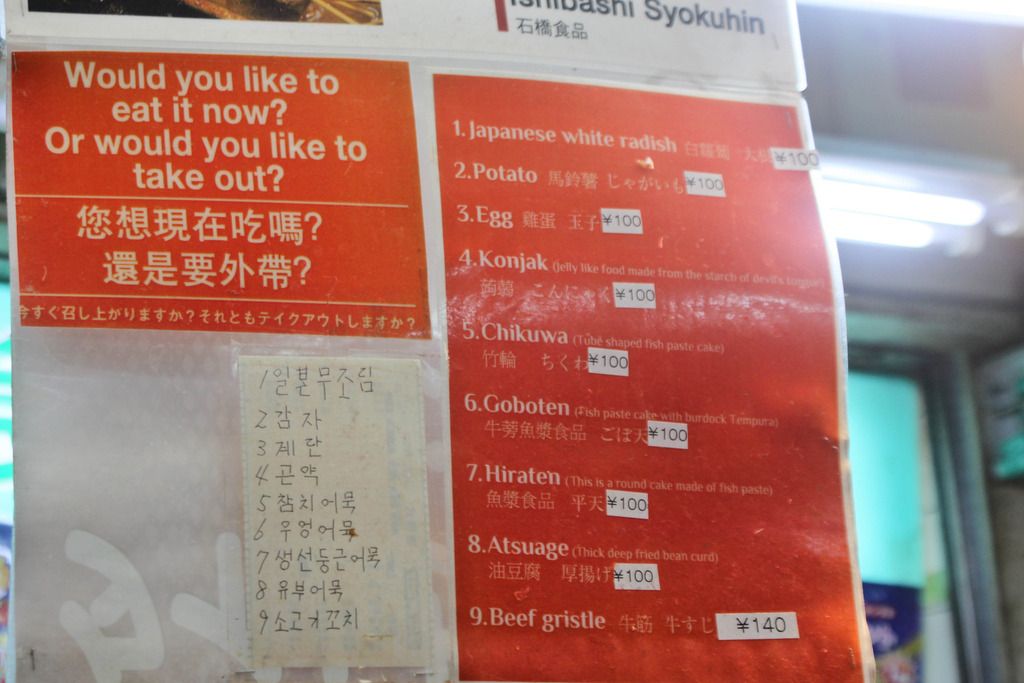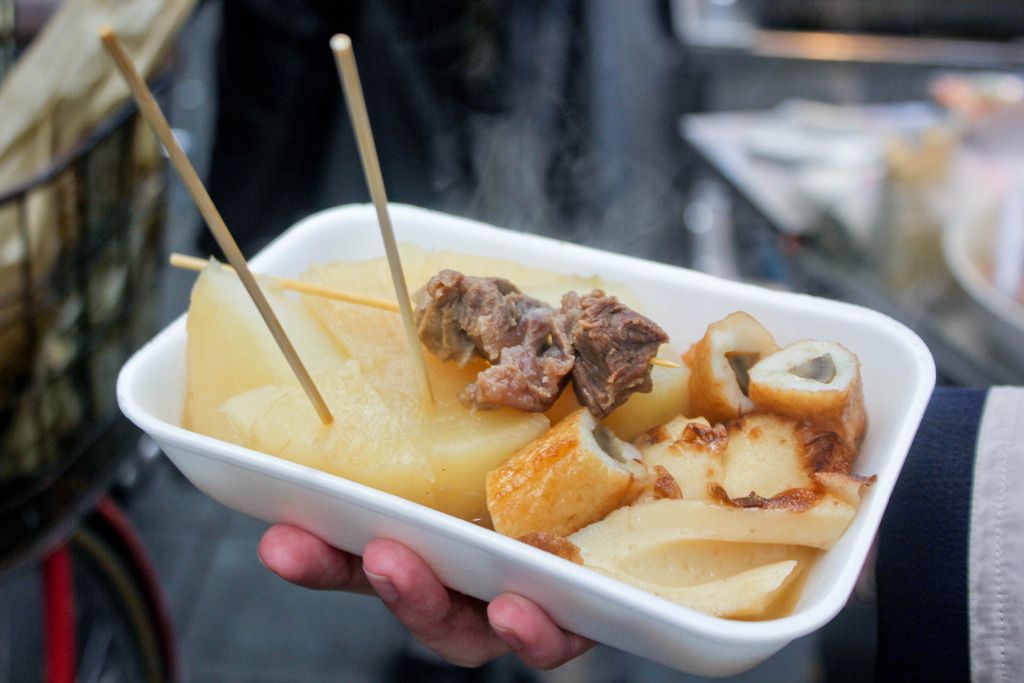 A full pot of oden concentrated with radish, potato, japanese fish cakes and beef all mixed together. Can you already imagine how sweet tasting the broth was? We had a couple of radish, fish cakes and beef and they were so so comforting especially in the cold weather.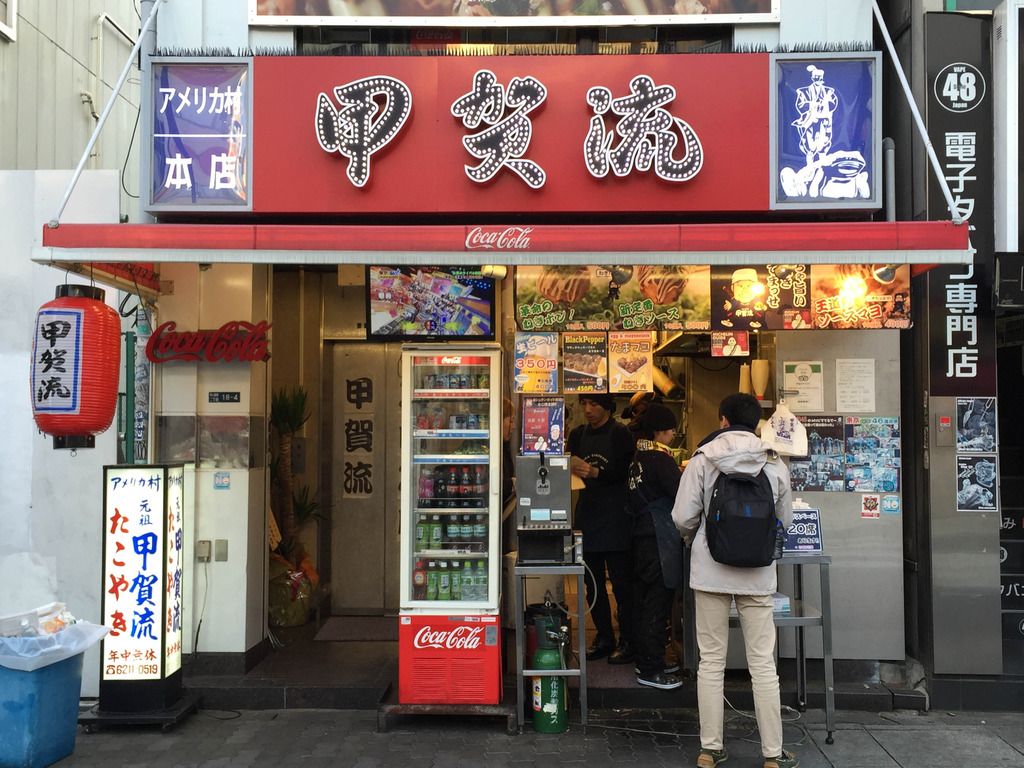 ---
2-18-4 Nishishinsaibashi, Chuo-ku, Osaka
What is Osaka without
takoyaki
! In the land of takoyaki, you are bound to chance upon a takoyaki stall. During my trip, I managed to try from two stalls
—
Korgaryu
and
Shirangana
. Bo
t
h are located in the Amerikamura area, in fact, they are just a few steps away from each other!
Korgaryu
is listed on the Bib Gourmand list in Osaka's Michelin Guide 2016, so we decided to give it a try first. Served in 10s, there were a few flavors to choose from but we went for the original one with sweet sauce and mayonnaise. The takoyaki balls were served almost immediately due to ongoing preparation and the almost steady stream of customers.
10 Takoyaki - Sweet sauce and mayonnaise (JPY400)
The takoyaki balls looked slightly flattened due to its molten filling as they sat on the styrofoam plate. As we attempted to lift them up, we struggled to hold onto the balls with our toothpicks for long as the molten insides hung heavily. We popped them into our mouths and it melted instantly!!! I extremely love how fluid the tako mixture was, that allowed the ball to melt and what remained was a plump, sweet and chewy octopus. We easily finished 10 of them in minutes without feeling any bloatedness.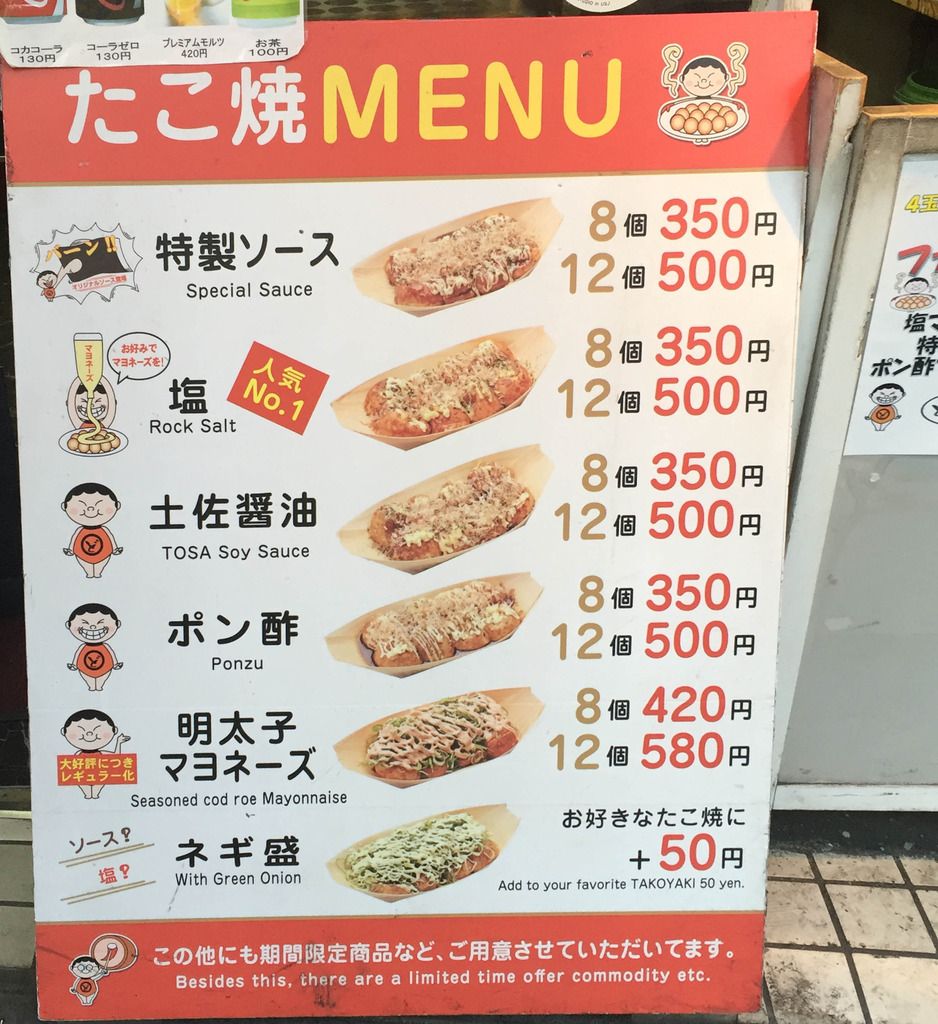 12 Takoyaki - Rock Salt (JPY500)
We then proceeded to buy 12 takoballs from Shirangana, easily identified by the 3D rotating tako balls on its signboard. We tried the rock salt since it was their most popular flavour. Shirangana's takoyaki balls were larger in size and had a firmer structure. Every mouthful was dense, but still tasty and molten nonetheless. Their octopus were also plump and sweet, keeping up with the Japanese food standards. Nevertheless, my vote and heart belongs to Korgaryu!
---
1-4-15, Dotonbori, Chuo-ku, Osaka-shi, Osaka, 542-0071
Okonomiyaki is a japanese pancake made with a flour batter loaded generously with cabbages, seafood and meat. They are then usually topped off with mayonnaise and bonito flakes. We decided to go for Mizuno's signature Yamaimo-yaki (scallops and pork loin) and Mizuno-yaki as we had waited in line for over an hour in the cold just to land ourselves a seat in front of the sizzling hot plate.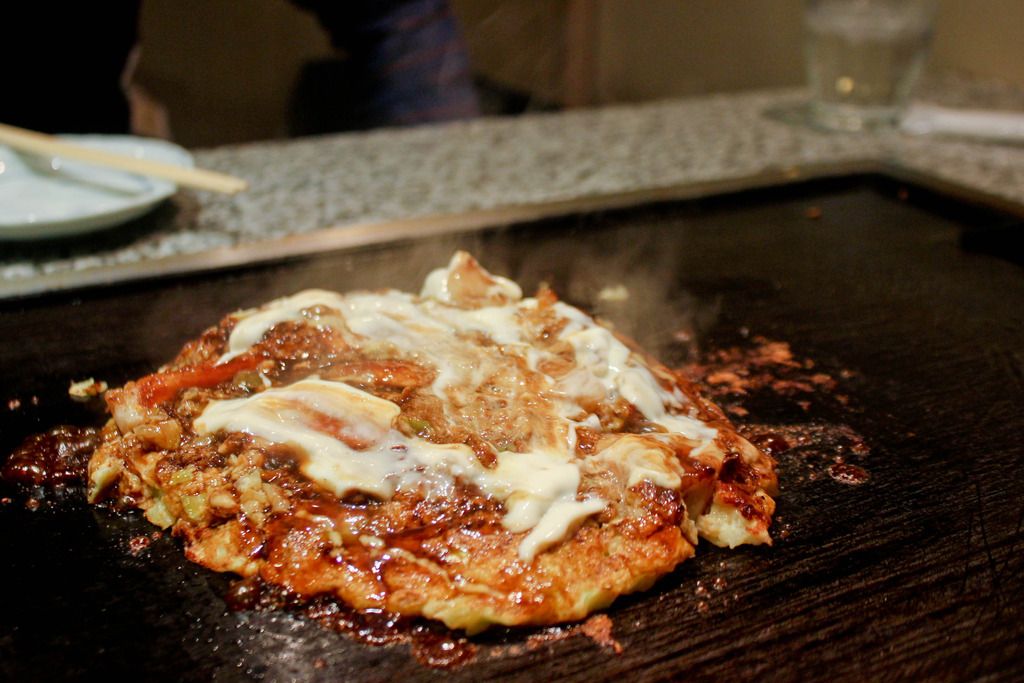 There are about 10 bar seats on the first level, and several other tables on the second level to accommodate bigger groups. I felt dining on the second level was more relaxing and enjoyable. We were first served with our Mizuno-yaki first and the waiter helped to prepare it in front of us! To be honest, I thought both tasted very similar to each other as they were coated with the same sauce. Texture wise, the Mizuno-yaki had a melt-in-your-mouth moment as the yam batter was very smooth and soft. On the other hand, the Yamaimo-yaki with its flour batter had more bite to it. For variation, I would recommend you to get one of their yakisoba instead as they looked really good!
The okonomiyakis are not exactly cheap but it was really delicious and fun to watch them cook right in front of you! Being featured on the Bib Gourmand list on Osaka's Michelin Guide 2016 and conveniently located at the ever popular Dotobori, it's worthy of a visit!