Seorae Galmaegi Singapore
When I first chanced upon the news of Seorae Korean BBQ opening in Singapore, I thought the photos looked very similar to what I had in Korea a few years back! While on student exchange there, we found this one restaurant situated near Seoul station in Korea that my friends and I really loved. There are plenty of BBQ restaurants in Korea, but the charcoal grilled meat and warm hospitality of the staff was what attracted us. And this restaurant that I'm talking about is Seorae.
To be honest, I wasn't too sure what was the actual cut of meat that I had in Seoul as I had a limited knowledge of Korean and always depended on my friends to make the order. My impression was that the meat was very tender and so well marinated. In Singapore's outlet, Seorae's signature dish here is the Galmaegisal - the pork skirt meat that is said to exist in quantities of 250g per full grown pig; so rare that only the Korean royalties get to enjoy it in the olden days!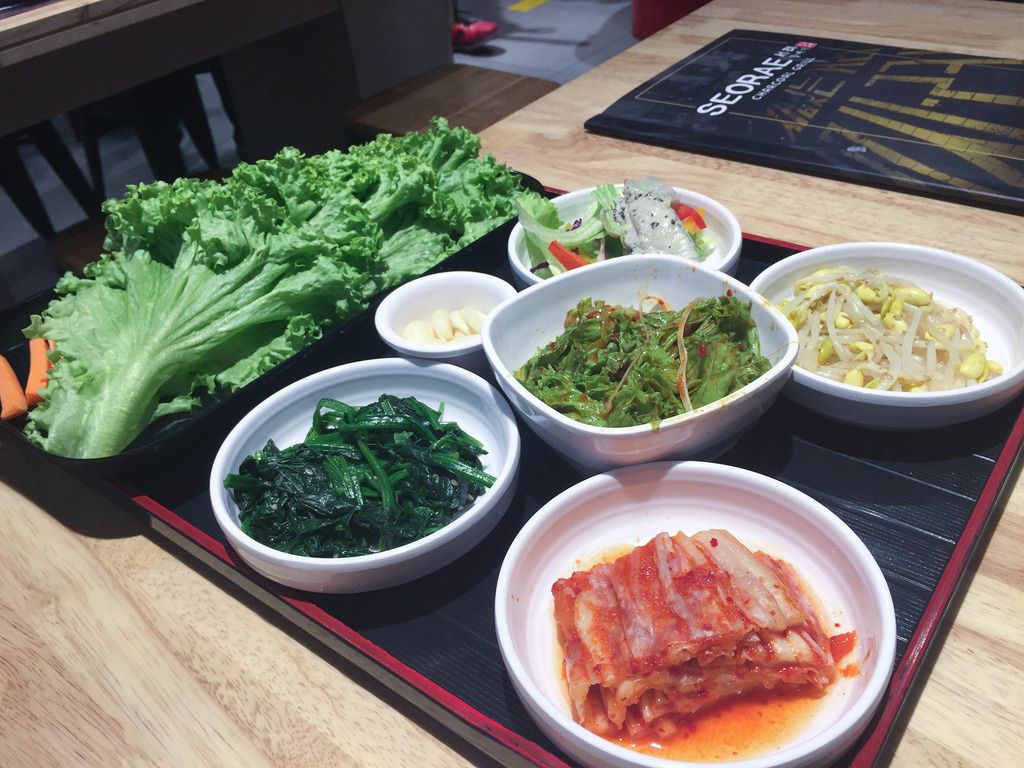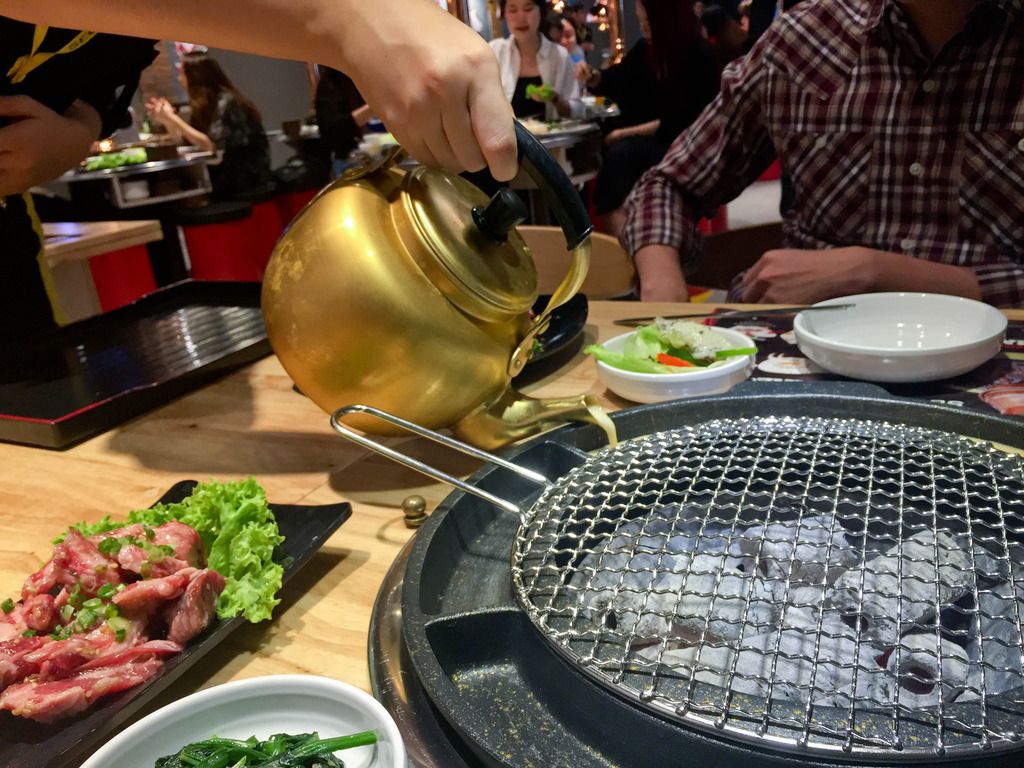 Shortly after we were seated, we were served with a tray of banchans and lettuce. Feel free to request for more servings. I needed extra servings of kimchi because it goes too well with bbq meat! The staff proceeded to set up the charcoal in the grill. Using charcoal in a korean bbq restaurant just ascertains the authenticity of it! A grill was then brought over, where the egg mix will be poured into a section of the grill along with some kimchi and garlic. Another section is for the addition of molten cheese at an additional $2. Find the full menu with prices at the end of post.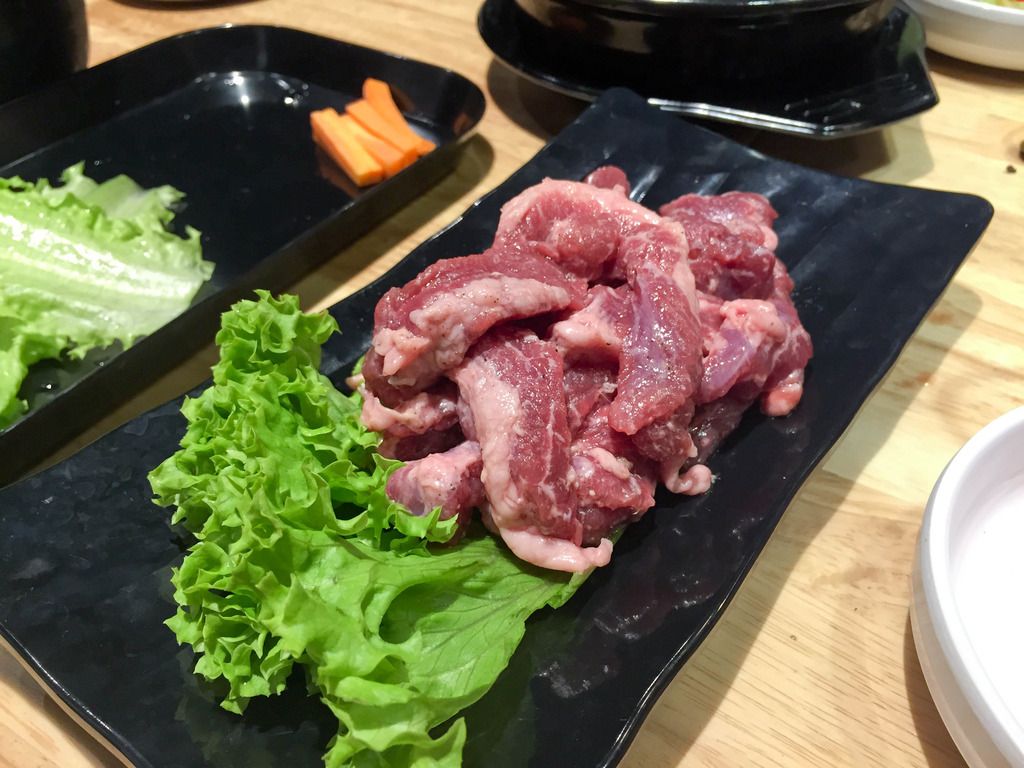 Galmaegisal (Standard size - SGD21.90)
Galmaegisal (King size - SGD29.90)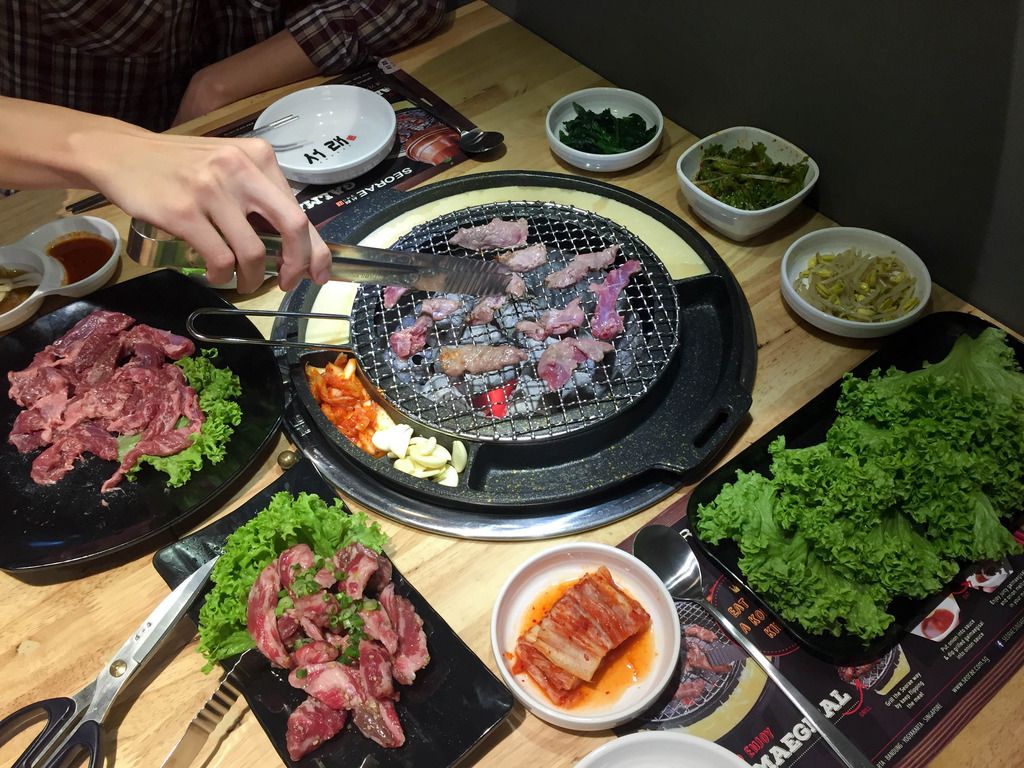 The pork skirt meat is said to be marinated with some korean spices and is a cut that is less fatty. However, the tenderness and juiciness of the meat is not compromised! Personally, the best way to enjoy them is to place each piece onto the grill till half cooked, then use the scissors provided to cut each piece into half to ensure that the meat gets thoroughly cooked. However, be careful not to overcook it (you can tell when the exterior gets too burnt) as the meat might turn tough. The staff recommended for us to dip it into the soy sauce with onions for the maximum taste experience and they were not wrong - it was extremely juicy with all the flavors flowing onto my tastebuds. Make a lettuce wrap, just like how the Koreans do with a garlic and kimchi - life is indeed a bliss.
Beef - Woosamgyeob (SGD24.90)
We picked two beef options, namely the Woosamyeob (beef belly) and Galbisal (beef rib finger). Not being too thinly sliced, each slice of beef belly gives you a wholesome meaty experience in your mouth as you bite through the soft slices. The beef rib finger was a little too fatty for my liking (great for the ones who love it this way!), but nevertheless still tender and flavorful.
I can never miss out on a piping hot korean stew served in a claypot. Seorae's soondubu is made up of the usual suspects - soft tofu, enoki mushrooms, clams, onions, spring onions and zucchinis. The stew was flavorful and a little on the spicy side! You don't have to order rice (pretty expensive at $2 per bowl) as each stew comes with one!
Sinsa Patbingsoo (SGD14.90)
What is a Korean meal without some patbingsoo to end it off! It seems that the patbingsoo craze has yet to die down as gradually more restaurants are offering it! Interestingly, the patbingsoo in Seorae are named after popular areas in Seoul. We tried the Sinsa made of honeydew, red beans and vanilla ice cream. The honeydew balls are sweet to the tastebuds, paired with the fluffy shaved ice and red beans. However, the shaved ice got progressively lumpy as we worked our spoons towards the melon "bowl". This definitely needs improvement!
Fans of Korean barbecue definitely need to head down to Seorae! I would recommend the pork skirt meat as it was the highlight of the meal for me. Staff are super friendly and will do almost anything to assist you e.g. helping you to cook your skirt meat properly. Do remember to make your reservations as it would be an average of 1.5 hours wait if you were to walk in from the popularity of the restaurant!
Sun - Thurs | 1130 - 2200 Fri - Sat | 1130 - 2300
Seorae's Menu