National Kitchen by Violet Oon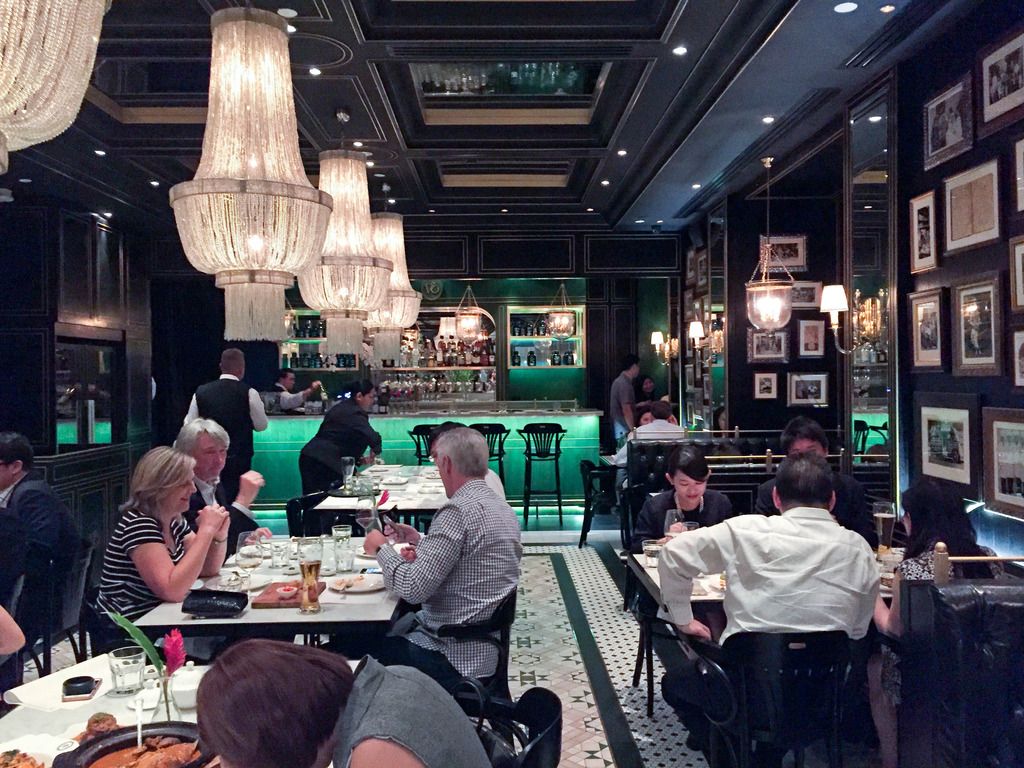 I've recently been hooked onto Peranakan food for its myriad of bold and rich flavors. All the spices and ingredients work together so harmoniously to deliver a comforting meal. Violet Oon is no stranger to the Peranakan cuisine circle in Singapore, with her flagship store located along Bukit Timah Road. Just recently, Violet Oon moved on to her next project. Her new outlet is located at National Gallery Singapore, known as National Kitchen by Violet Oon.
Amongst the four of us, we ordered 1 starter, 1 meat, 1 seafood, 1 noodles and 2 desserts to share. I love how Peranakan dishes are made for sharing so all of us get to taste a little of everything!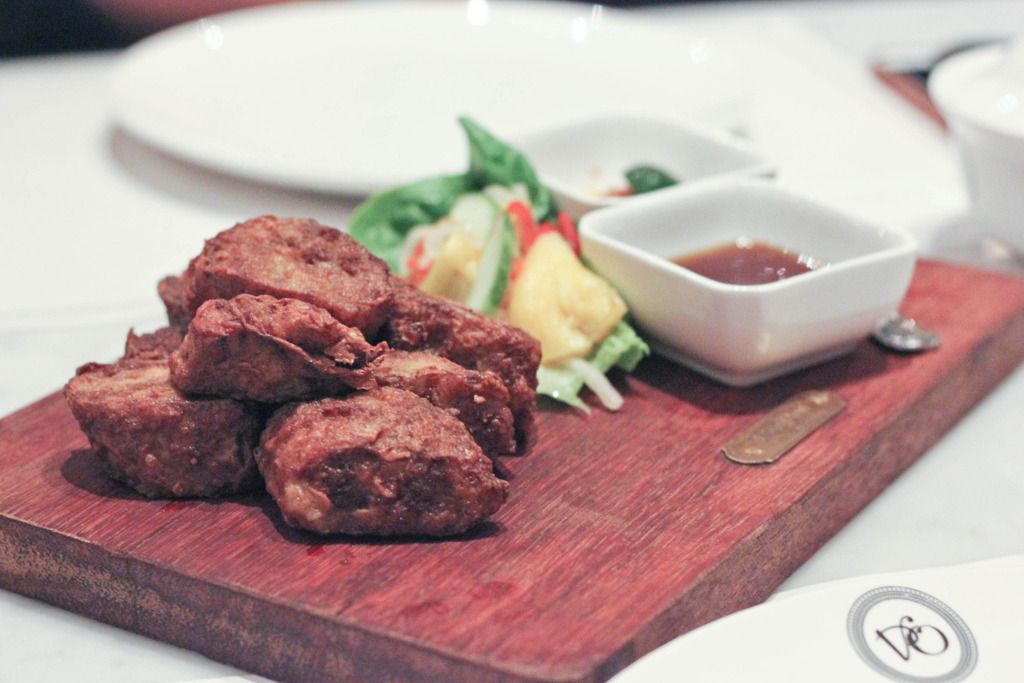 For the starter, we went for the
Ngoh Hiang
— beancurd skin wrapped with prawns, shredded crabmeat, chunky chicken pieces and water chestnut seasoned with five spiced powder. The ngoh hiangs are all double fried, hence, delicately crispy even with such thin skin! I appreciated the chunky meat instead of having them all mashed up within the roll, which gave a nice overall bite with the tender meat and some crunch from the water chestnut. A sweet sauce, sambal belachan and achar were also served on the side.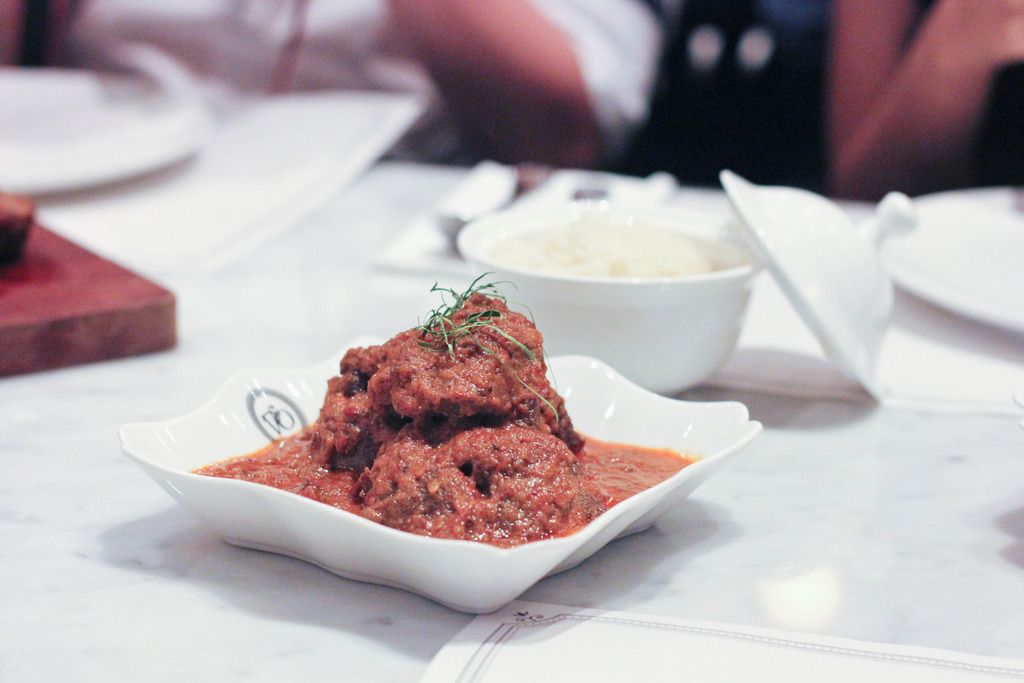 We tried the
Beef Rendang
as our meat option and also my must-order whenever I eat Peranakan food! The rich coconut curry sauce was blended with a melange of spices and kaffir lime leaves. I enjoyed the smoothness of the sauce and how it was well-absorbed by the beef shin after being stewed in it. It was a nutty and savoury sauce that went so well with rice! The meat was quite tender but personally I thought it could be even softer!
Get ready to feast on this claypot full of
Fish Head Curry
bubbling goodness! I'm already sold by the fact that they served this in a claypot, which means that the curry can be kept hot for a longer period of time. The red snapper fish head was sizeable! Red curry made of cumin, fennel, chillies, turmeric and onions and came with vegetables such as tomatoes, baby eggplant and okra. It was a very well balanced curry without an overwhelming spiciness. It had an appropriate amount of sour notes that neutralised the richness of the curry.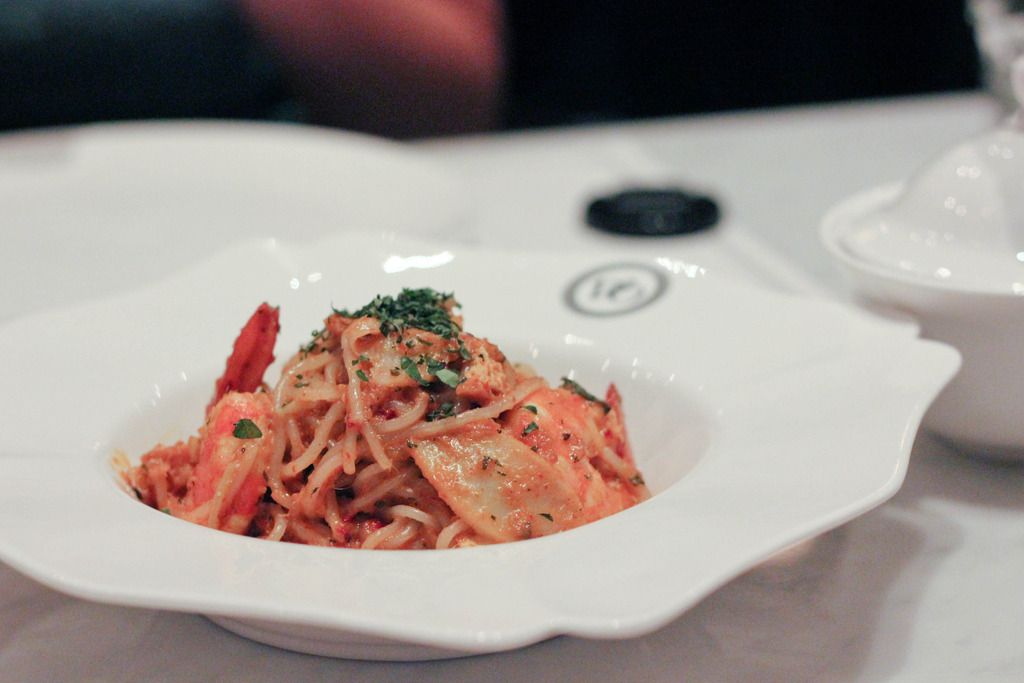 Thick beehoon tossed in Violet's laksa gravy topped with prawns, fish cakes and bean sprouts. This
Dry Laksa
though without the gravy, had the same amount of umami as a regular bowl of laksa. There was a very generous amount of haebee (dried shrimps) being used that brought out that wonderful fragrance together with the coconut curry. Totally impressed with it! Ingredients of prawns, fish cakes and bean sprouts were ordinary.
Jasmine Rice (SGD1), Nasi Lemak Rice (SGD2) and Chicken Rice Rice (SGD3)
We ordered a serving of each of their rice, and if your wallet allows you to, the Chicken Rice Rice is worth an order! Otherwise, just stick to the usual jasmine rice because there's all the awesome sauces from the dishes to pair it with!
t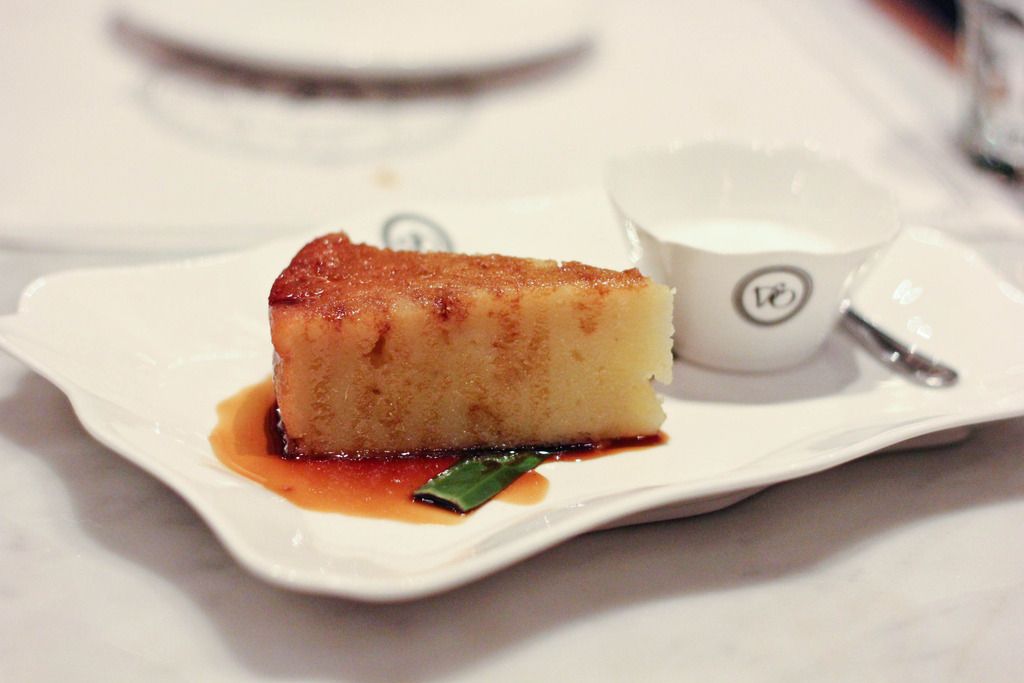 This tapioca cake was served warm, with a pudding-liked texture. The softness of the
Kueh Beng Kah
was very alluring, especially so when accompanied by that rich gula melaka syrup and coconut milk. I'm not a usual fan of these kuehs but I thoroughly enjoyed every bite of this!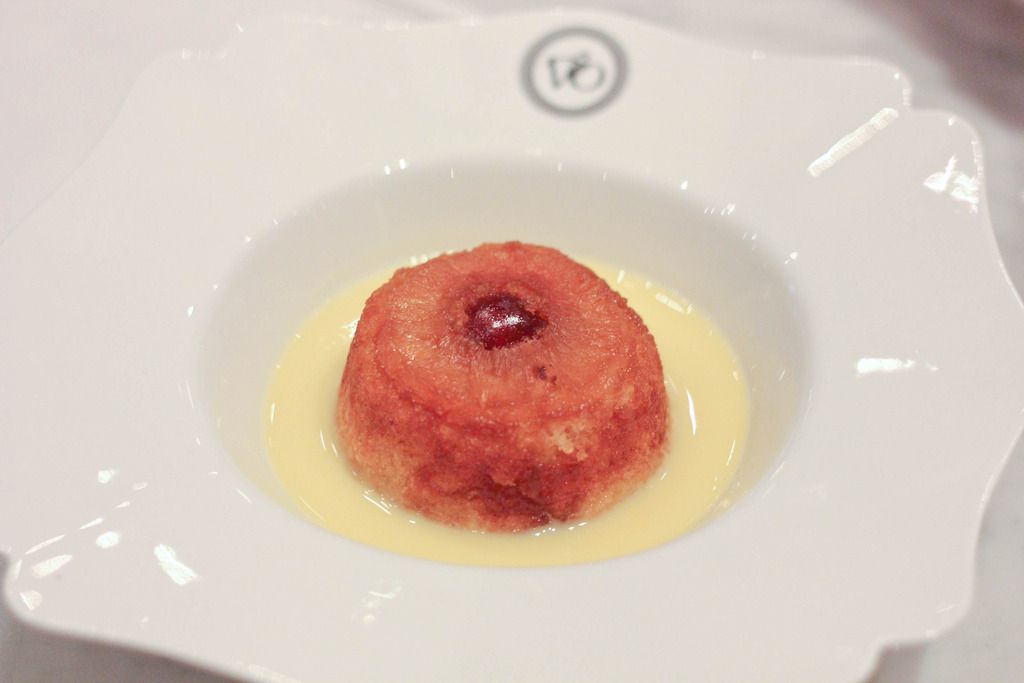 Pineapple Upside Down Cake (SGD12)
Light butter sponge cake with a baked canned pineapple ring and cherry on top, drizzled with a butterscotch sauce. Violet's son who works in the restaurant shared with us that the
Pineapple Upside Down Cake
was a dessert commonly known in the olden days and they would like to bring back such simple items to remind people flavors of the past. There is nothing too complicated here, but that sponge cake was so fluffy that it amazed me. He shared that french butter was used and I think that made the world of a difference. The sauce was on the sweet side, but complemented the sponge cake very nicely.
You can definitely find quality yet homely dishes here at National Kitchen by Violet Oon. The gorgeous space and the vibrant service staff definitely warrants a return visit for myself! Or perhaps their Bukit Timah outlet instead?
#02–01, National Gallery Singapore (City Hall Wing)
Enter via Coleman Street entrance
Lunch | 1200-1500 (last order 1430)
Dinner | 1800 - 2300 (last order 2130)
Veranda | 1730PM-2300 (last food order 2200)