Carne & Caipirinha
Carne & Caipirinha is a Brazilian churrascaria in Singapore that uses charcoal fire for roasting quality meats. The usage of charcoal fire not only retains the rich flavours of the meat but also delivers the charred smoky taste. How appealing! A meal here comes buffet style, featuring a self service salad and starters bar to accompany your never-ending supply of meat.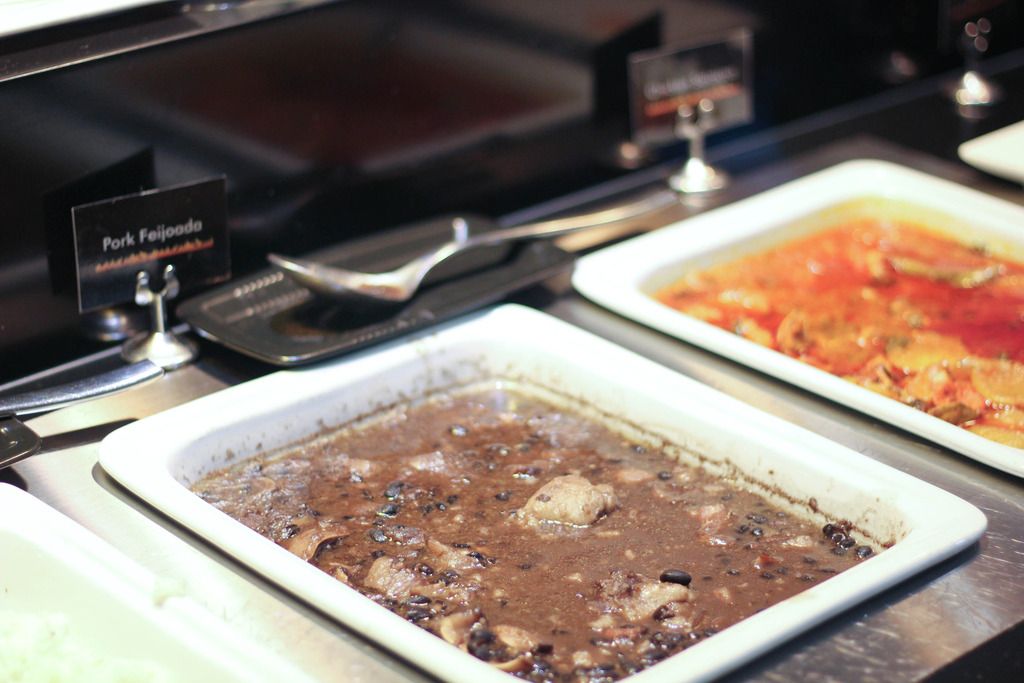 You will be spoilt for choice at the salad and starters bar! If you want to feel less sinful, help yourself to the lettuce with various dressings for you to choose from, although this isn't really the place for it. Otherwise, hop over the starters side and pick out whichever that catches your eye — sauteed vegetables, grilled corn, green olives, coleslaw, mushroom with onions, mixed fruits, potato & egg and more. The selection is just endless! Traditional Brazilian Feijoada, a type of black bean stew, is also available at Carne & Caipirinha. This is stewed together with some pork and it was easy to eat with the soft textures.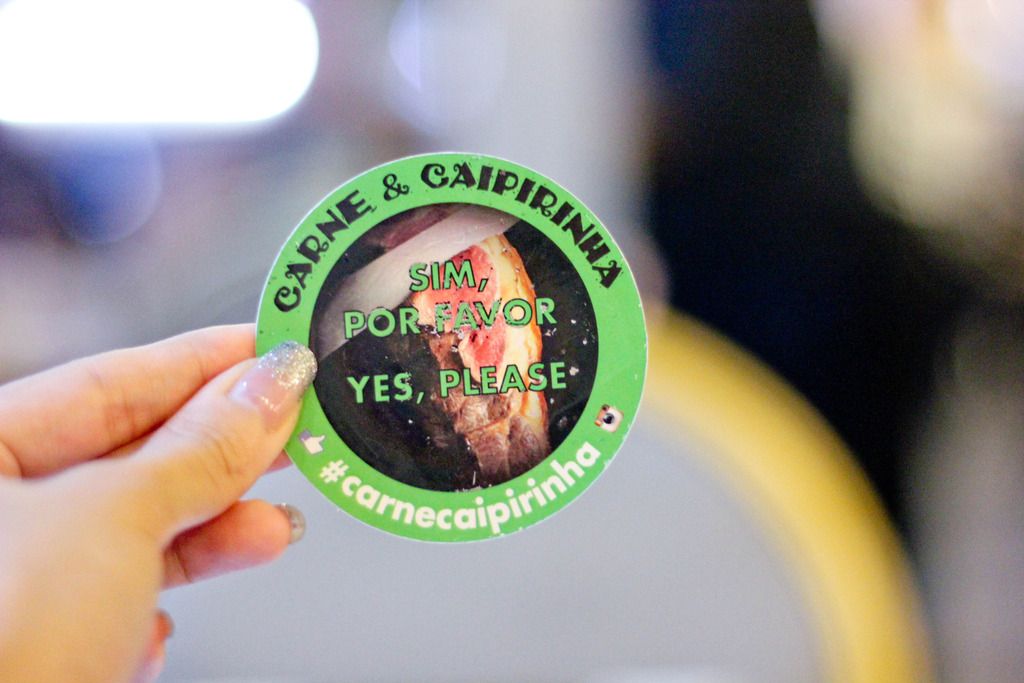 As attractive as the salad and starters bar might be, remember to save lots of stomach space for the main character of the night — the slow roasted meats! A disc will be available to every diner. You can flip it to the "Yes, please" side and the servers will offer you the skewers. But if you would like to take a break, you can turn it to the "No, thanks" side that signals them to stop!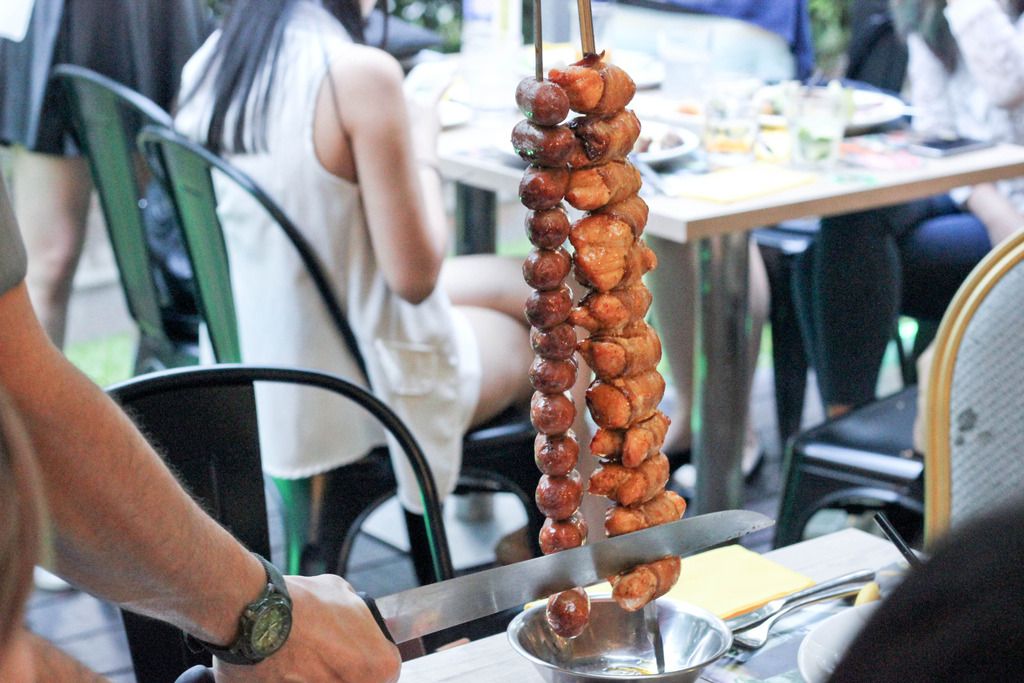 These are the meats available — Pork (sausage, belly, rib, ham), Lamb leg, Chicken (thigh, fillet wrapped with bacon, heart), Beef (rump cap, rump, hump, rib), Fish and Grilled Pineapple. What a hearty selection!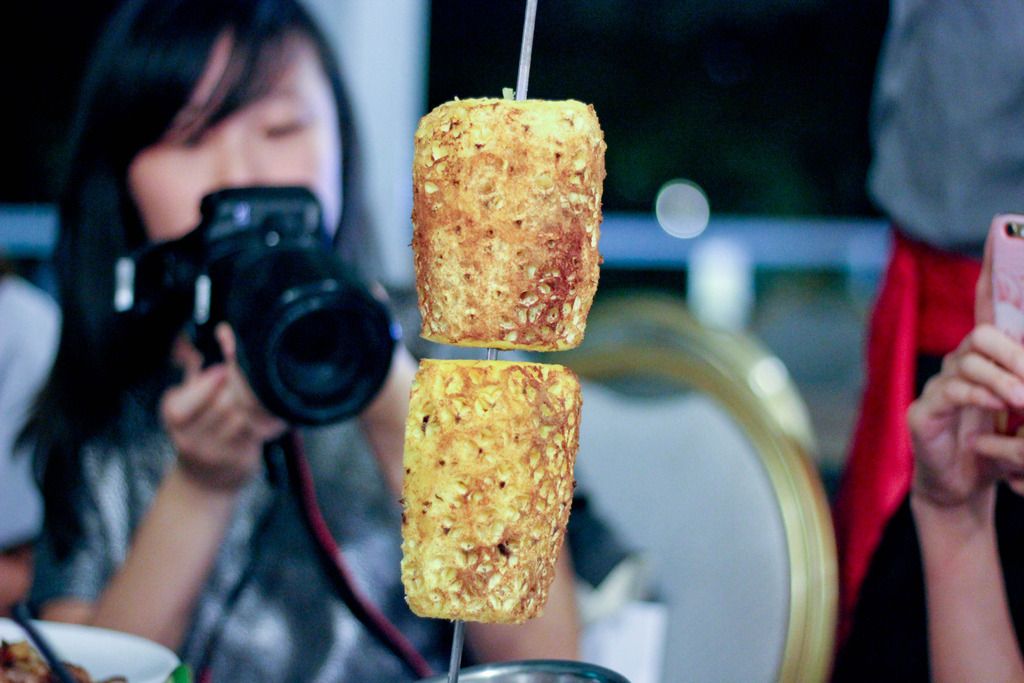 The highlights for me were the pork ham, chicken thigh and grilled pineapple! The chicken thigh was beautifully roasted with a brown glazed skin, yet retaining the moisture and tenderness on the inside. Perhaps it's the nature of thigh meat being more tender, but it was definitely a crowd pleaser amongst us! The pork ham was flavorful and tender, and contrasted well with the rest of the roasted meats. After all that meat indulgence, a piece of sweet juicy and tangy roasted pineapple definitely served as a good break. It came with thin layer of slightly charred exterior and beneath that was where all the goodness was. The warm pineapple was a great way to end off the heavy meal!
Unfortunately, I found the lamb too gamey and the beef too dry and that explains my picks, the pork and chicken. Also, one of the interesting selection is the Chicken Heart! We were slightly apprehensive about consuming a chicken heart but it is not often that we get to try it. It was actually not too bad! It had a rubbery texture but did not have a strange taste. I thought it had a very slight liver-ish taste to it.
Carbonara is also available free-flow to all buffet diners. You can choose to top up $10 for "The FireBomb" instead, which is a flaming carbonara pasta in cheese wheel. After tossing freshly cooked pasta into a large Parmigiano-Reggiano cheese wheel, a flaming cocktail made from 3 different alcohol will be poured in to melt the cheese, resulting in a balanced cream sauce with an intoxicating aroma. My preference lies with the non-alcohol version as it had a more apparent creamy cheesy taste which is the way I like my carbonara to be!
Adult | $39.90 Children (5-12 years old) | $18
Adult | $49.90 Children (5-12 years old) | $24
And yes, the happy hour applies for your meal even if you reach a minute before the regular hours. With an alfresco setting and a selection of wine and cocktails, it's a rather enjoyable place to chill out with your friends!
Thank you Openrice for the invitation and Carne & Caipirinha for hosting!
Sunset Way Blk 106 Clementi St 12