Boruto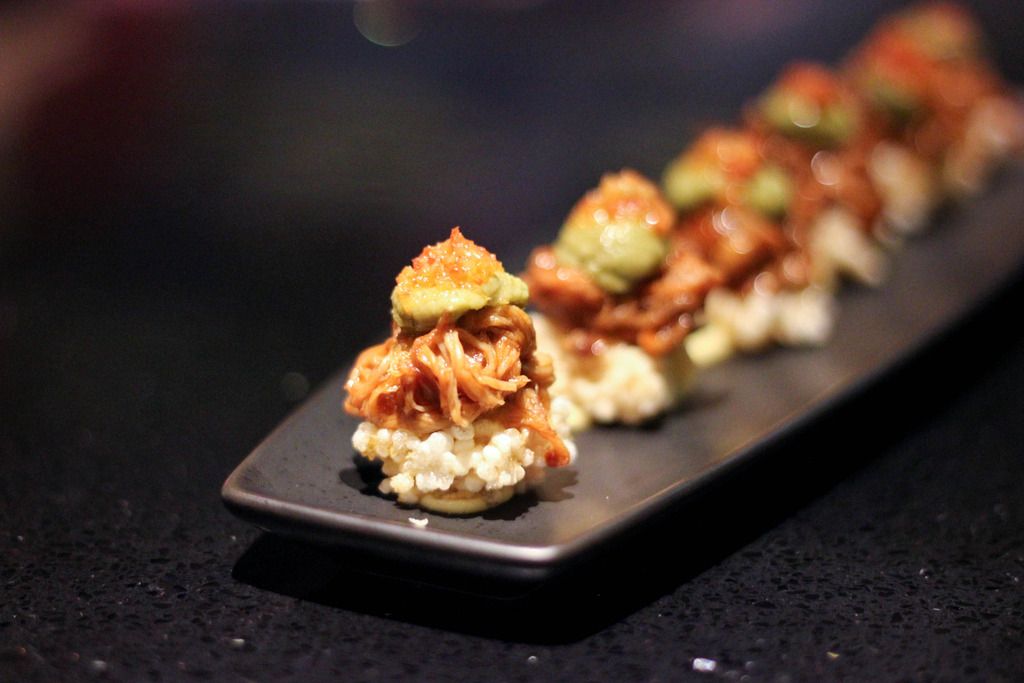 Boruto is located along South Bridge Road, which is just a stone's throw away from Clarke Quay and Raffles Place. The prime location is convenient for office workers to unwind while grabbing a bite from their tapas menu and a drink from the sake bar. With this concept, the dishes served are of a smaller portion, but that would mean that you get to try a greater variety of food!
During our visit, we managed to try Boruto's 5 signature dishes.
Saga Beef Tataki (SGD28.80)
We started our meal with the Saga Beef Tataki. Wow, just wow. The beautiful marbling of the beef resulted in tender pieces of thinly sliced meat. Heavily marinated with a soya based sauce, it made up a small bite but was definitely not lacking in flavour. Next, we had the Crispy Rice Cracker Tacos (SD12.80 pictured above). The tacos are topped with pulled pork, guacamole and chilli salsa. Easily a crowd pleaser, the crunchy rice cracker serves as a contrast to the tender pulled pork. It is beautifully completed with a creamy guacamole and some zest from the chilli salsa. Just pop it into your mouth and enjoy the flavours on your tastebuds!
The cold tapas of the night was the Ahi Tataki. Sliced tuna tataki with black olives, japanese leek, chilli and wasabi yuzu dressing. The tuna was slightly pan fried on the outer layer and very well seasoned with the sauces. I thought this was average, perhaps it's because I'm not a big fan of tuna.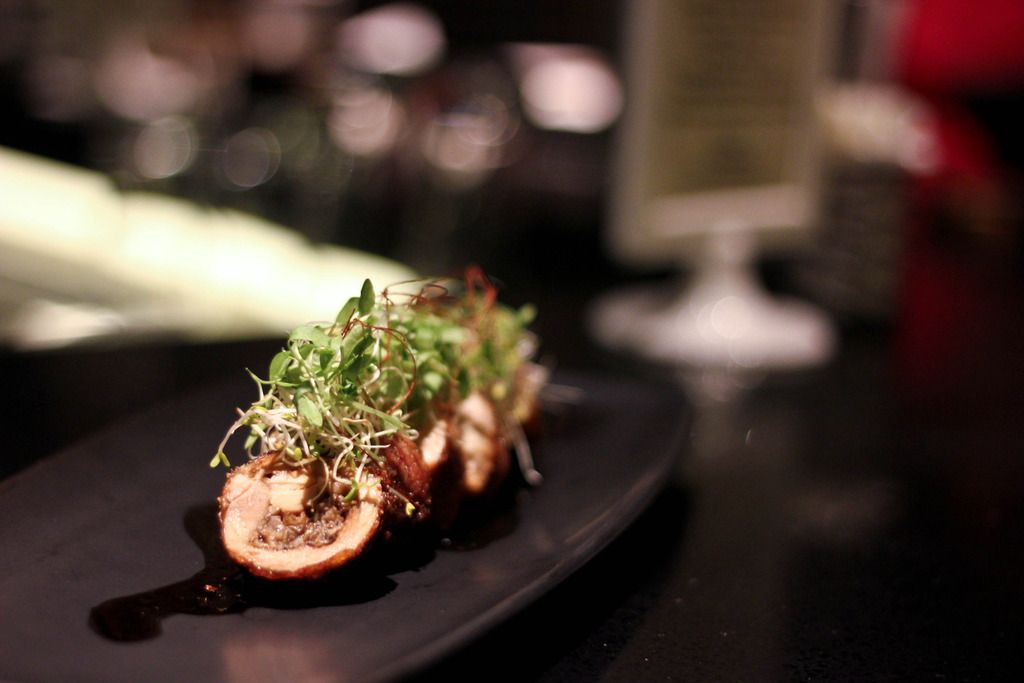 Tori-take Roll (SGD15.80)
The Tori-take Roll is a crispy chicken roulade stuffed with shiitake jam, drizzled with a chinese sauce. The rolled chicken was so tender and juicy that we couldn't just stop at one. This was when I thought the small serving of tapas wouldn't be able to satisfy the diners — I needed more!
Uni Pasta v1.1. (SGD35.80)
Uni Pasta v1.1 is made of braised cappellini in a seafood and yuzu stock, topped with fresh sea urchin roe and hokkaido white wasabi. This is an improvisation from v1.0 which was an aglio olio based pasta. The flavors of the seafood broth came through in the pasta, with a little citrusy notes from the yuzu. Quite a unique taste I must say. The sea urchin adds a layer of creaminess on top of it without being too heavy on the palate.
Overall, I thought the price tag was on the higher side with it being served tapas style. I'm not sure if I will return for the food, but the sake selection does look promising so I would definitely recommend it to those who appreciate sake!
Thank you Openrice for the invite and Boruto for hosting!
80 South Bridge Road #01-01
Tapas Bar - Daily | 1800 - 2300 Sake Bar - Daily | 1630 - 0000