Masizzim
Not that I'm complaining, but it does seem like the Singapore food scene is attracting many Korean brands in recent times. Making its appearance in our little red dot is Masizzim, created by the same folks of Chir Chir and located right next to them on Basement 3 of Somerset 313. Having spent 6 months in Korea a few years back, my impression of Korean food is spicy and piping hot. I absolutely love that about Korean food and that is exactly what Masizzim offers! A direct translation of Masizzim means delicious stews.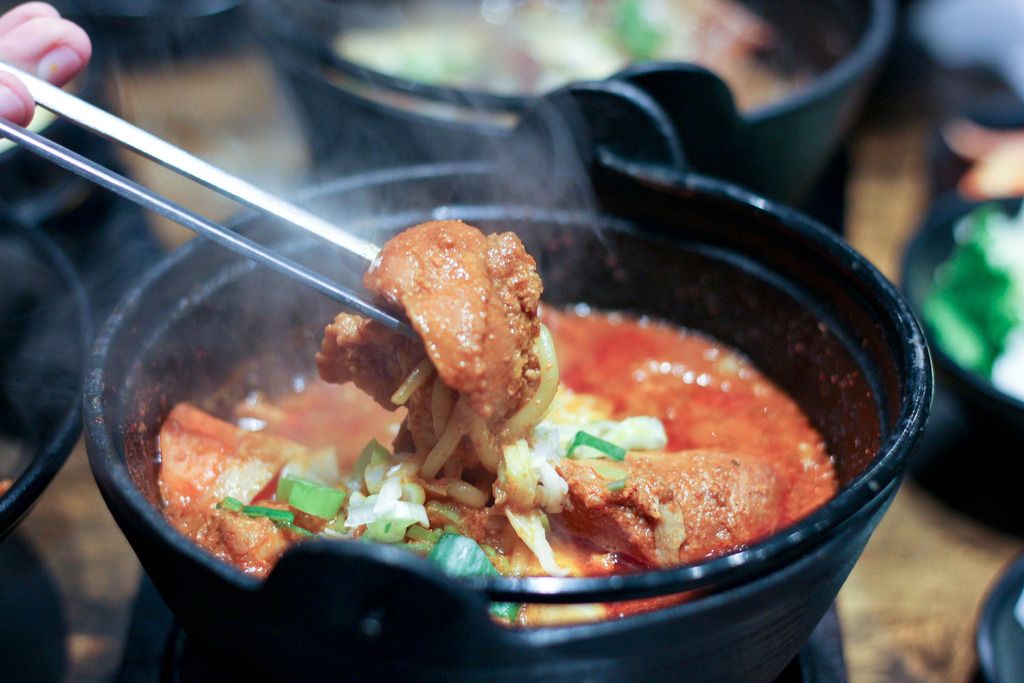 These are the steps for ordering your choice of stew -
Meat - Beef ribs or pork ribs or chicken (only spicy)

Flavour - Soy or Spicy (Level 1, 2, 3 or 4)

Noodles - Udon or Glass Noodles

Optional Add-ons - Cheese ($2), Toppoki ($2), Extra Noodles ($2)
Every stew comes with a bowl of brown rice, and you can choose to upgrade it to the anchovy or tuna rice balls at an additional $6 (ala-carte at $8).
For variety, we chose the beef ribs and chicken stew and also upgraded both rice to try the anchovy and tuna rice balls.
We had the soy flavored Beef Ribs Stew (SGD18 for 1 pax, SGD32 for 2 pax) with glass noodles. The soup base was sweet, flavorful but I found the beef stench a little heavy for my liking. On a positive note, the beef ribs were really tender and the meat had soaked up the goodness from the broth! On the other hand, our Level 2 Spicy Chicken Stew (SGD16 for 1 pax, SGD29 for 2 pax) was comfortably spicy without overwhelming the flavors. If you just want a tinge of spiciness, I would recommend level 1. For the dare devils, go for level 3 or 4! Some of the chicken pieces were slightly tougher but I really enjoyed the potatoes and carrots (sadly there were only 1 or 2 of them in it!).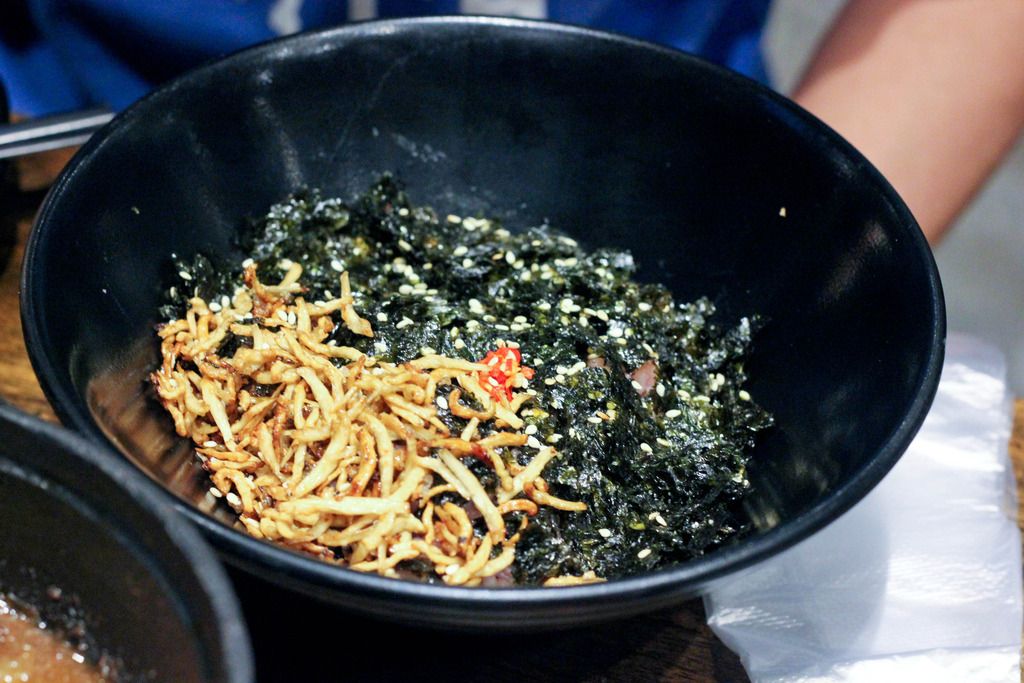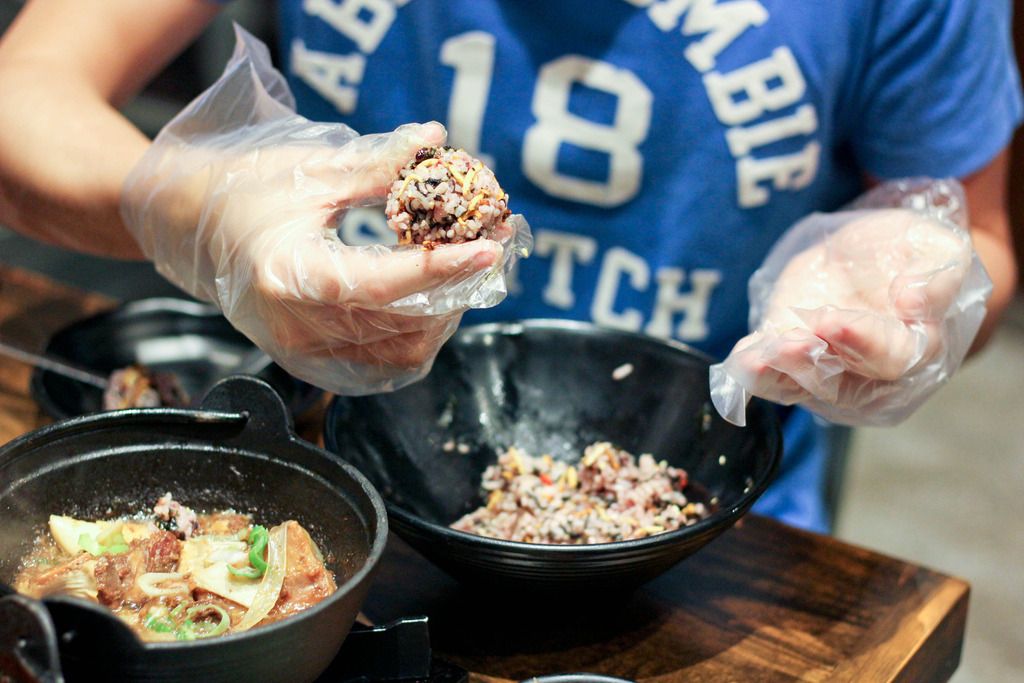 Have some fun during your meal by making your own rice balls! The rice mix is being served with the ingredients and gloves will be provided for rolling the balls. Two variations are available here - the anchovies or tuna. One came with crispy anchovies, crushed chilli padi and seaweed while the other came with tuna, kimchi and seaweed! I had such a tough time deciding which one I prefer that I kept trying both, till I unconsciously overate and was so full! If you like having a crunch - go for the anchovies. If you like more spice and a bit more on the salty side - go for the tuna.
We also had a Steam Egg (SGD6) just because I love eggs! Banchans (kimchi and pickles) and salad were served alongside with our meal. I was looking forward to having kimchi since it's a Korean restaurant but I found it to be on the dry side and were too hard for my liking. I personally prefer crunchy kimchi that comes with more kimchi juice!


All in all, great location and delicious piping hot stew - what's not to like?
Sun - Thurs | 1100 - 2200, Fri - Sat | 1100 - 2300