Jatujak Weekend Market, Bangkok
Weekends in Bangkok would only mean Jatujak Weekend Market (or Chatuchak)! I absolutely love the clusters of small shops, with a wide variety of shops from fashion to food and many others. I mean, how often do you find all these under one roof? It's rather amazing seeing how the owners make great use of the limited shop space for their business. Undoubtedly, the heat may put some people off but isn't this what Bangkok is all about? If time permits, I would visit Jatujak on both Saturdays and Sundays!
In this post, you will find some of the eats that I had at Jatujak!
Milk Tea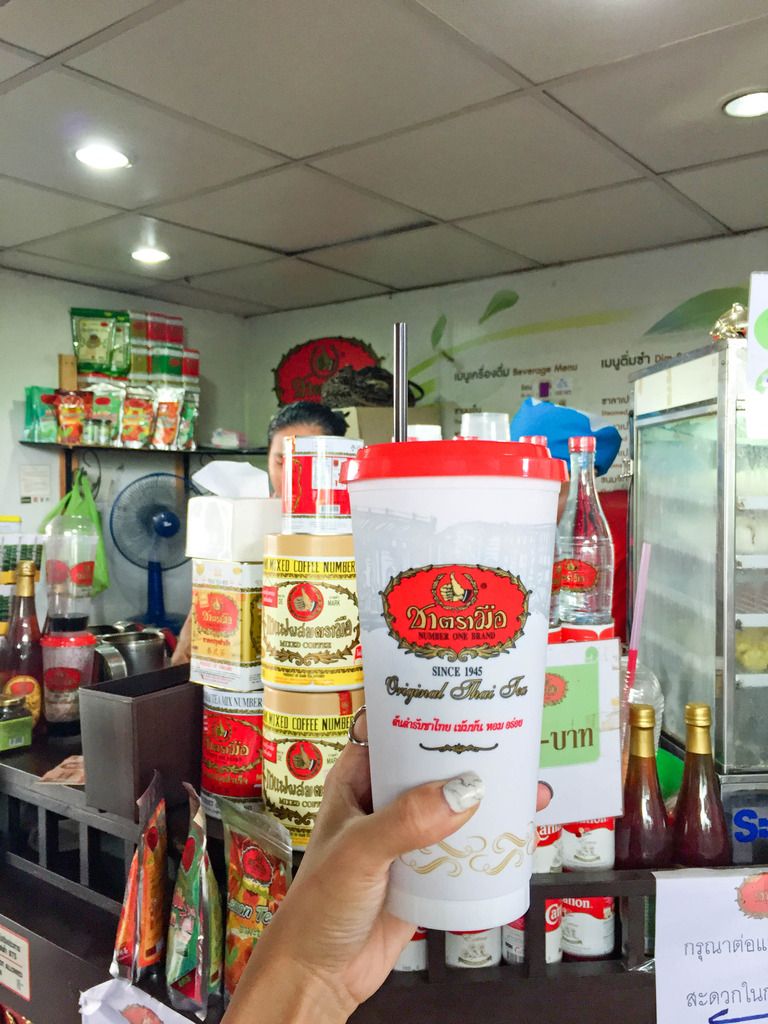 To combat the heat, you need to know where to get your hands on some ice cold chayen (Thai milk tea) to make things a little more bearable. If you are traveling to Jatujak via BTS Mo Chit Station, you can consider your chayen fix from "
Original Thai Tea & Coffee
", which is located within the station after you've exited the fare gantry. It is easily recognizable with the packets and tins of a thumbs up logo milk tea. Using one of the more renowned chayen leaves brand, this shop serves up rich and fragrant milk tea, not short of that sweetness from the condensed milk. I've also spotted this shop at Suvarnabhumi Airport near the airport rail link entrance. Their green milk tea is superb too!
While shopping around the market, you can also get hold of a chayen from
Section 3 No 202 Soi 44/2
with herbal-ish jelly - a slightly bitter taste and chewy jelly, which is both cooling and balances out the sweetness from the milk tea. Otherwise, another good cup of chayen can be found at the stall located
outside Chatuchak Part MRT
, which is next to the famous coconut ice cream.
Green Chilli
Section 2 No.126 Soi 38.3
Essentially very similar to our mixed vegetables rice in Singapore, Green Chilli serves dishes with rice. With recommendations from one of the aunty who can speak English, we ordered a few dishes to share - stir-fry crab meat (spicy/non-spicy), braised pork and pork in red curry. Simple as they may look, the taste was extremely comforting. Both crab meat dishes were delicious, but I personally think the non-spicy crab meat was a better option, as you can taste the sweetness of the crab meat. The braised pork was stewed with a sweet tasting soy sauce, which was characteristic of a more traditional Thai style stewed dish. The pork itself was stewed to perfection and was amazingly tender!! The pork in red curry was however not as soft but that curry gravy was packed with flavors. Apart from these, we also ordered a peanut sauce noodles (not too sure what's the exact name as I ordered by showing them a picture of it!). The sauce reminds me of mee-siam but comes with a peanut flavor to it. The slightly sour sauce was very appetizing and coats the vermicelli very well. The aunty also helped to add on a bunch of banana flowers from the basket of vegetables till it was almost a 1:1 ratio with the noodles! This adds a whole lot of crunch to every mouthful.
The downside was that this meal wasn't as cheap, with the bill coming up to about $15 for 2 which is on the high side for Bangkok standards. Then again, it's not that I am there all the time so if I were to return, I will skip the pork in red curry and order the rest!
Snacks
With the rows of endless shops going on in Jatujak, a small snack to munch on is definitely welcomed! These bags of
Fish Cakes
(inner circle of Section 2) were going at 20B per pack, 30B for two and 40B for three. A little push cart with a wok frying the fish cakes right on the spot and two pots of special sauces that made me fell in love with it! The fish cakes was nothing extraordinary but freshly fried with the special sauce (spicy green chilli) was so good and spicy that I had it 3 times in 2 days! I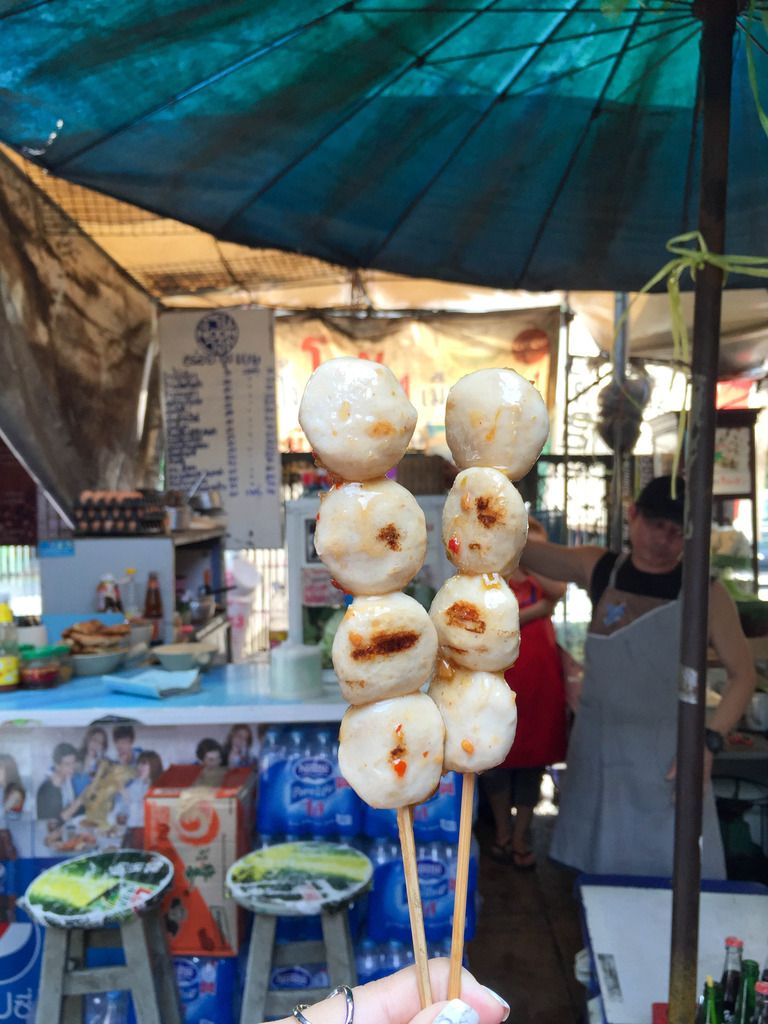 Skewers of
Pork Balls
(Section 2/3 outermost row) at 10B per stick, dipped in a sweet thai chilli sauce. We never fail to grab a few sticks of this whenever we're at Jatujak because it's so cheap and made for a good snack. The balls were grilled till slightly charred but still remained tender and paired well with the sauce.
A rather recent new addition to the Jatujak food section would be
Hello Garlic
(outside Chatuchak Park MRT), serving up freshly grilled sticks of toast with a sauce of your choice. We had the condensed milk version (Thais really love anything sweet) and the bread was surprisingly very light and fluffy!
These are some of the stalls that I've tried on my recent trip, but you definitely also can't forget the famous Chicken Noodles in Soi 21 and Coconut Ice Cream in Section1/2. Writing this post just makes me reminisce about the amazing food at Jatujak (Chatuchak) and salivating in the process. I think it's time to follow my heart and plan a trip back there soon!