T&K Seafood, Bangkok
One of my favourite eating places in Bangkok has got to be T&K Seafood. It's a light hearted and slightly unrefined eating place that serves up simple but delicious seafood fare, not to mention cheap as well. T&K is located in Bangkok's Chinatown and is a short cab ride away from the central Siam area. Many seemed to prefer to dine at the outdoor area for that "roadside dining experience" but I prefer to head into the air-conditioned indoor area. I consider myself a regular patron of this place and below are some of my must-orders when I'm there!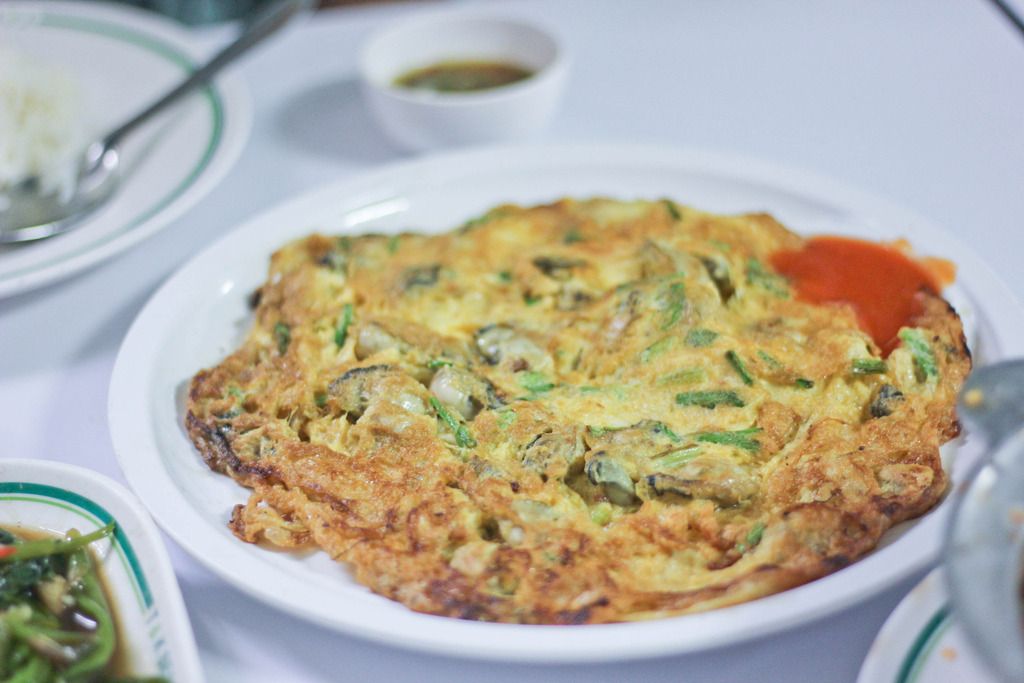 This oyster omelette is less like the "orh lua" back in Singapore and more similar to the omelette that you can get at any zichar place. Even though not exactly a full-fledged oyster lover myself, this oyster omelette has definitely won me over with the well-executed omelette and the generosity and freshness of the oysters. There must be at least over 20 oysters in this dish alone! How I eat this – pair the omelette with the Thai green chilli mix and I can easily finish the entire bowl of sauce! Amazing combination that I find it hard to get enough of. I feel a little embarrassed by the amount I eat but we once ordered a second omelette just because we had to!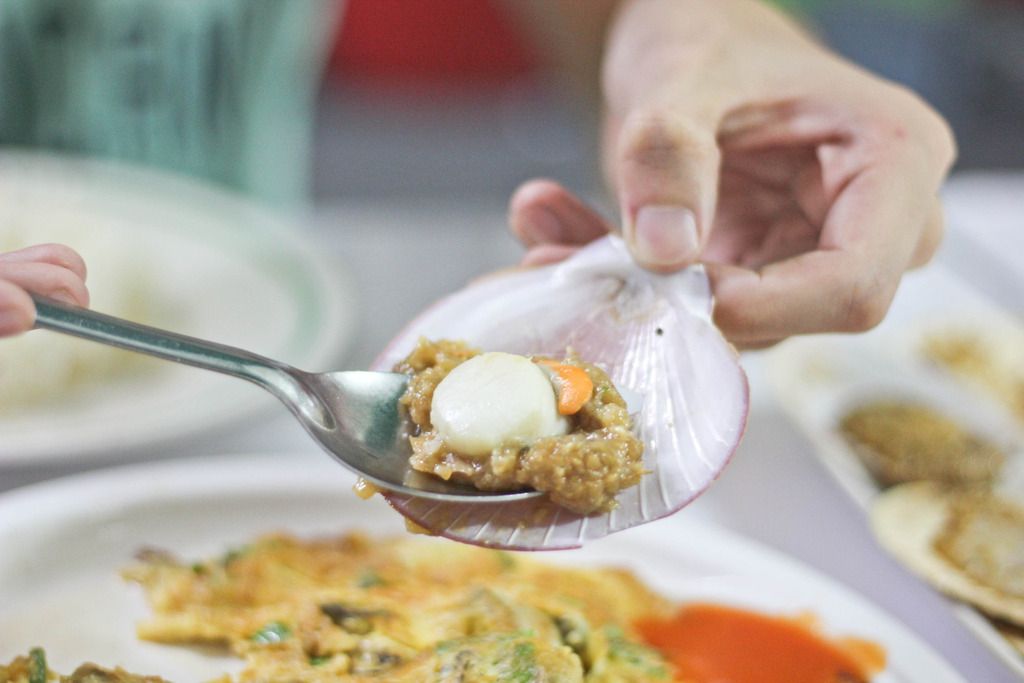 Grilled Scallops with Garlic and Butter (200B)
The scallops are one of the pricier dishes at T&K but very enjoyable. For 200B (~8 SGD), you get about 4 to 5 scallops depending on size. Not exactly cheap in Bangkok terms but do give it a try. The scallops are served in the shell with a generous dollop of garlic mix. I enjoy this by scooping the scallop out along with ALL of the garlic mix and savour it whole. The fresh scallop, together with that garlic, is a traditional pairing of seafood and garlic and it definitely works.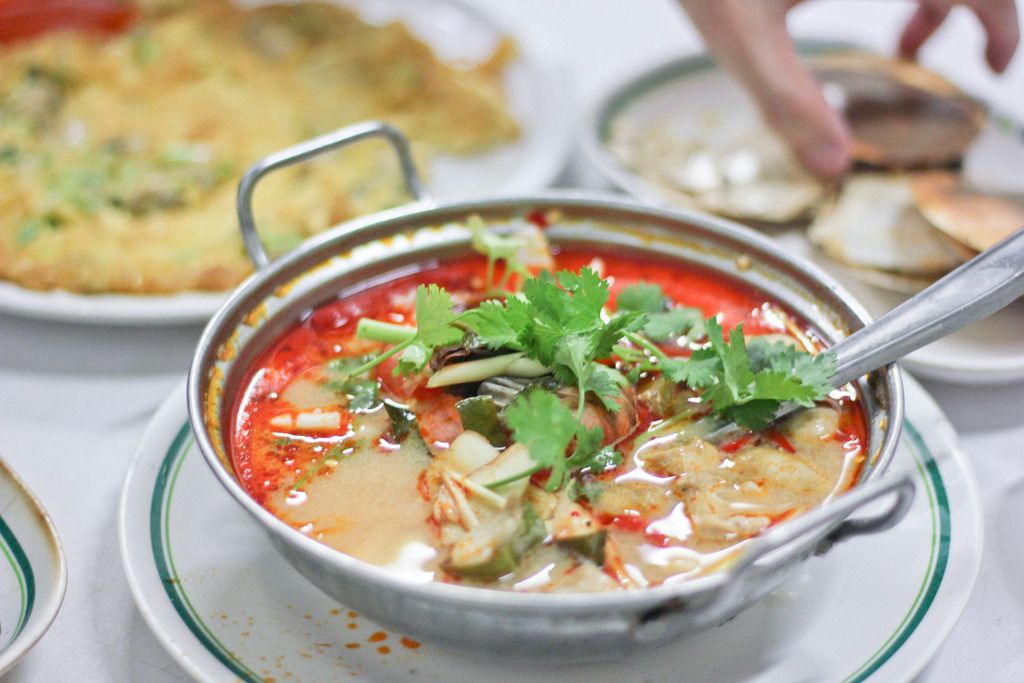 T&K serves up one of my favourite tom yum in Bangkok. The soup is filled with ample ingredients, which we realise may vary from day to day. We had more fish on one day and more squid the next and it's interesting to dine without exactly knowing what seafood you'll find in the soup. The broth itself is definitely the highlight. It balances the right amount of heat and acidity and gives that kick that all tom yum should.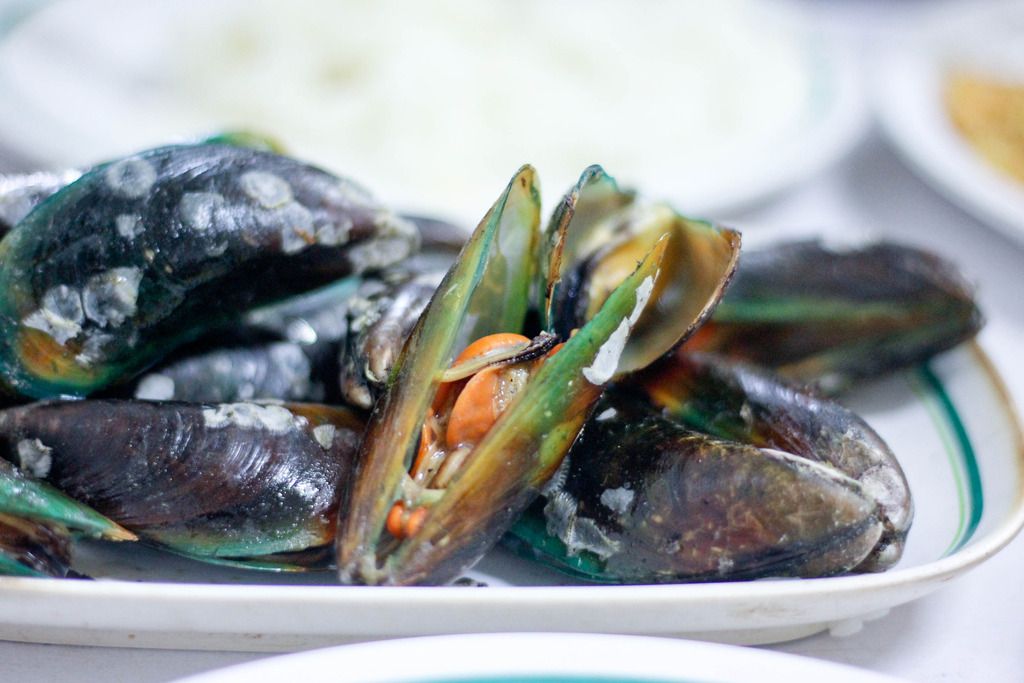 Besides nailing their kitchen-cooked dishes, the staff at T&K know how to work a grill. The grilled mussels were done nicely without losing the moisture within. The dish itself was not exceptional but still very enjoyable. The mussels were of reasonable size and again, I enjoy this by pairing it with the Thai green chilli mix. Shiok!
This has got to be one of the most value-for-money dishes at T&K. For most of us, a steamed fish back in Singapore of that size would cost upwards of at least $30, maybe $20 if there's some kind of promotion. For 300B (~12 SGD), you can get a whole fish in T&K and we chose it steamed in soya sauce and ginger - Chinese style. There are also other options available such as fried/grilled. The fish is served over a live flame so it remains hot throughout the meal. The fish itself was very fresh, perfectly steamed and almost too much for two of us to finish. Nevertheless, we did because it was just too good, especially so with the sauce on the fish.
The stir-fry morning glory is our go-to veggie dish, especially when it's so cheap! It is nothing fanciful but executed well. Taste-wise, it is delicious and goes well with the rice.
Some other dishes that we have tried before on our previous trips are the:
1)
Grilled prawns – hot favourite but unimpressive
2)
Prawn Tanghoon – nothing exceptional, better ones out there
3)
Stuffed crabs – again, nothing exceptional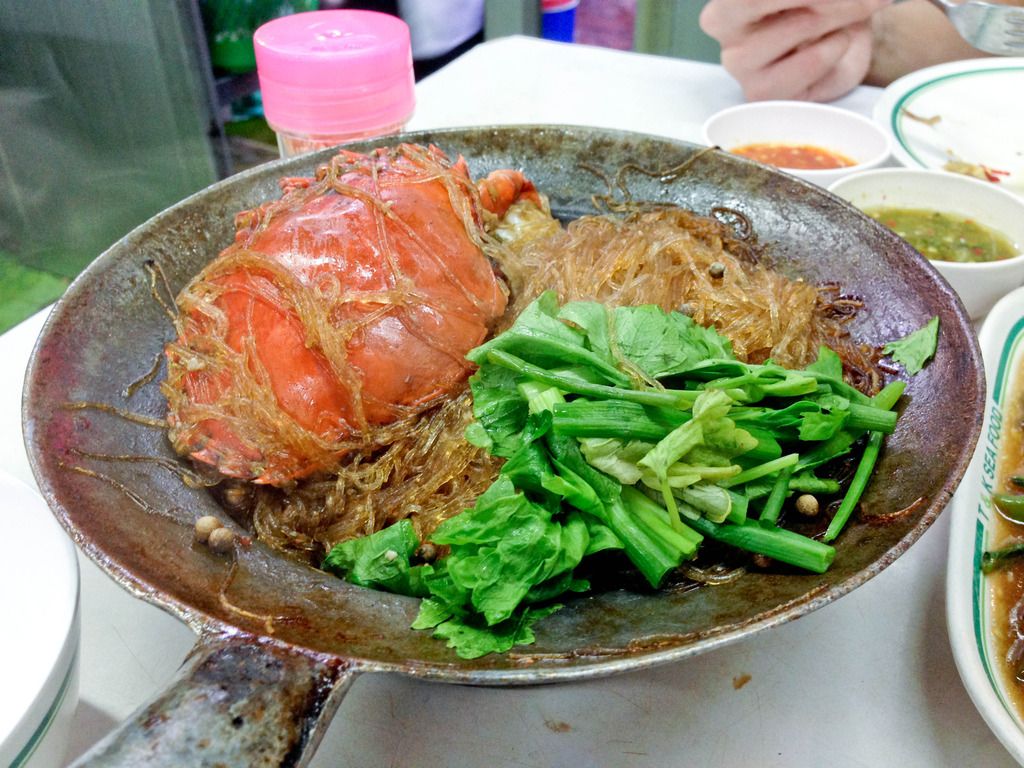 The above dishes are just a handful from the menu that T&K offers. They also serve up fresh oysters and many other dishes. When visiting Chinatown, just note that T&K is the restaurant with staff in green. There's a shop just across the road with staff in red that does similar seafood dishes. However, there was never a need to explore that one as T&K always delivers.
T&K Seafood
is located at:
49-51 Soi Phadung Dao, Yaowarat Road
Chinatown, Bangkok 10100, Thailand