Nahm, Bangkok
Ranked 7th in Asia's 50 Best Restaurants 2015 (8th in 2016) and 20th in World's 50 Best Restaurants 2015, Nahm is one of the top few restaurants in Bangkok that serves modern Thai cuisine. Interestingly, Nahm is led by Australian-born David Thompson and it is fascinating to find out how a foreigner can create such stunning Thai dishes!
A meal at Nahm doesn't hurt your pocket as compared to other famed restaurants (of course it's at a higher price point by local standards). A 6-course set lunch at Nahm will set you back by 1,500B (exclusive of 10% service charge and 7% VAT). For the set lunch, diners have to select a canape and soup for the individual, and salad, curry, stir fry/steamed/grill for the table to share. Dessert, however, is a standard platter.
Interestingly, the service staff at Nahm will give a heads up that certain dishes are very spicy or regular spicy - being hot and sour soup and green curry respectively for our choices. I'm not sure if they are able to tone it down for those who prefer it to be less spicy, but I went for the original because I wanted to experience the true flavor!
To start off the meal, we were served with the amuse bouche "Ma Hor" - Minced chicken, pork and prawn covered with palm sugar topped with fried shallots on a pineapple. It had a sticky and chewy texture due to the outer layer of palm sugar. The sweetness was broken down by the zesty pineapple as you chew into the fruit.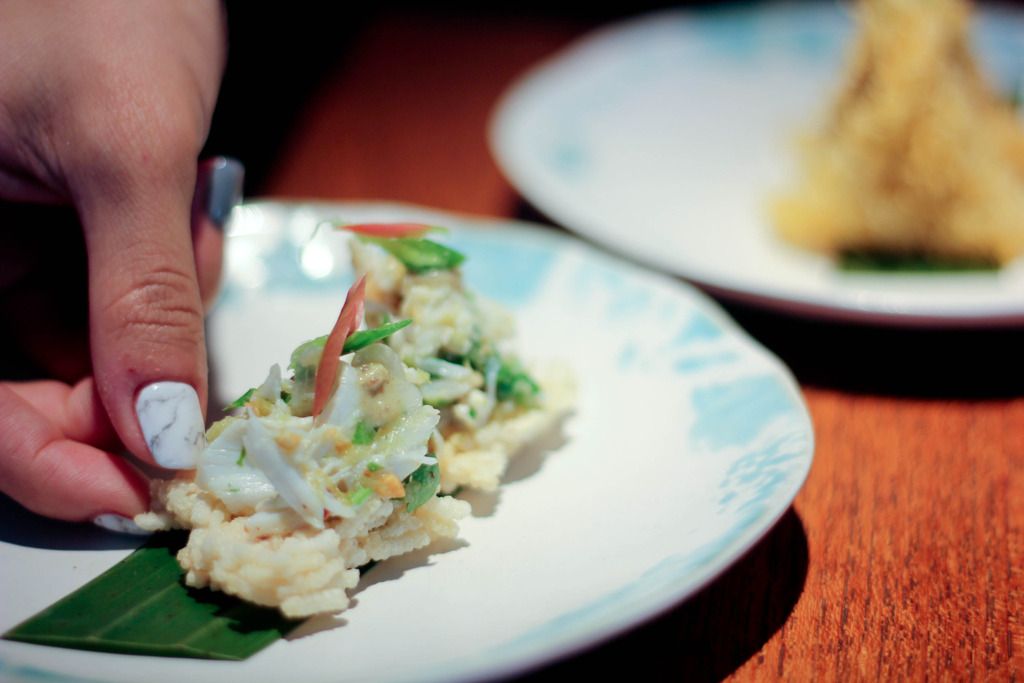 Canapés - Blue Swimmer Crab with peanuts and pickled garlic on rice cakes. This was my favorite out of the whole set menu! Soft swimmer crab seasoned with a slightly spicy and sour sauce, sitting atop a very crunchy and light rice cracker. Perfect! The other canape we tried was the Egg Nets with Prawns, Wild Almonds and Kaffir Lime. The texture of this was rather one dimensional with the stringy egg strands giving a savoury finish. As we dined as a couple, the staff at Nahm gave us both one each of the two canape choices.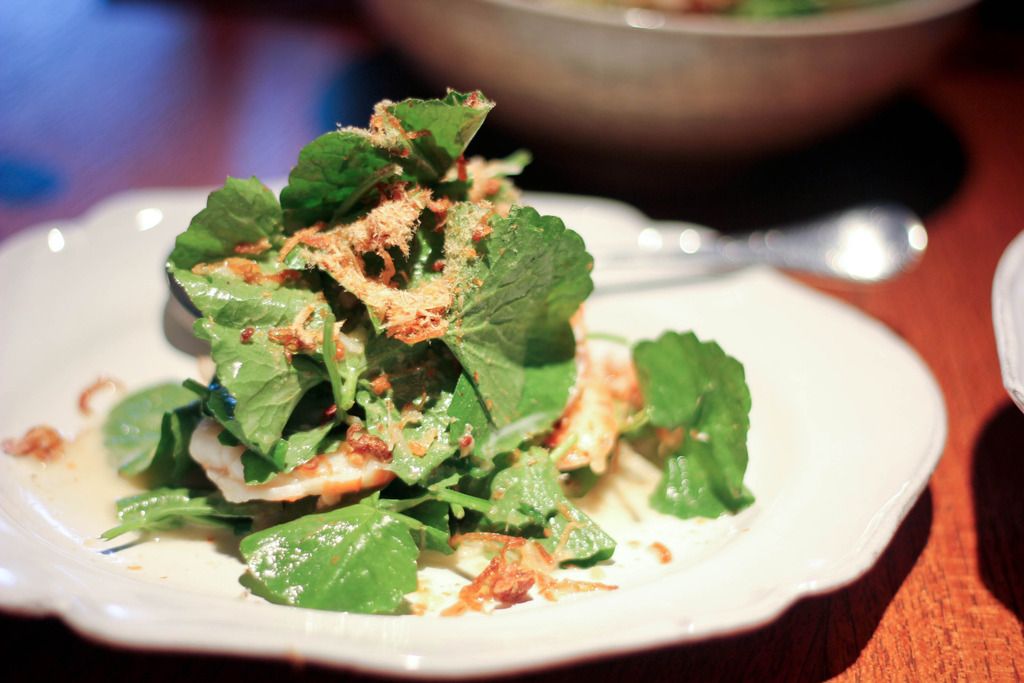 Salad - Salad of River Prawns with Pork and Asian Pennywort. Big fat juicy prawns in this salad drizzled with a little of thai green chilli giving it a tangy spicy flavor. The prawn itself was slightly tasteless to me, but this is the beauty of Thai food - using the flavor from the sauce to spice things up! This is indeed one flavorful salad!



Soup - Hot and Sour Soup / Clear Soup of Roast Duck. This is the hot and sour soup that I was really looking forward to as it is said to be super spicy! The first mouthful was pretty alright, and then the fire kicks in shortly after it goes down your throat. I am able to take my spice quite well so I found it spicy but acceptable! There were chicken, prawn and mushrooms in it, but I loved the addition of some fried garlic which adds to the aroma of the soup!
The clear soup of roast duck is the non-spicy option with thai basil and young coconut. Both the roast duck and coconut were succulent and tasty! I did not expect coconut meat to go so well in a soup! The soup had a sweet finish but with a heavy tinge of mint leaves taste that I did not fancy that much.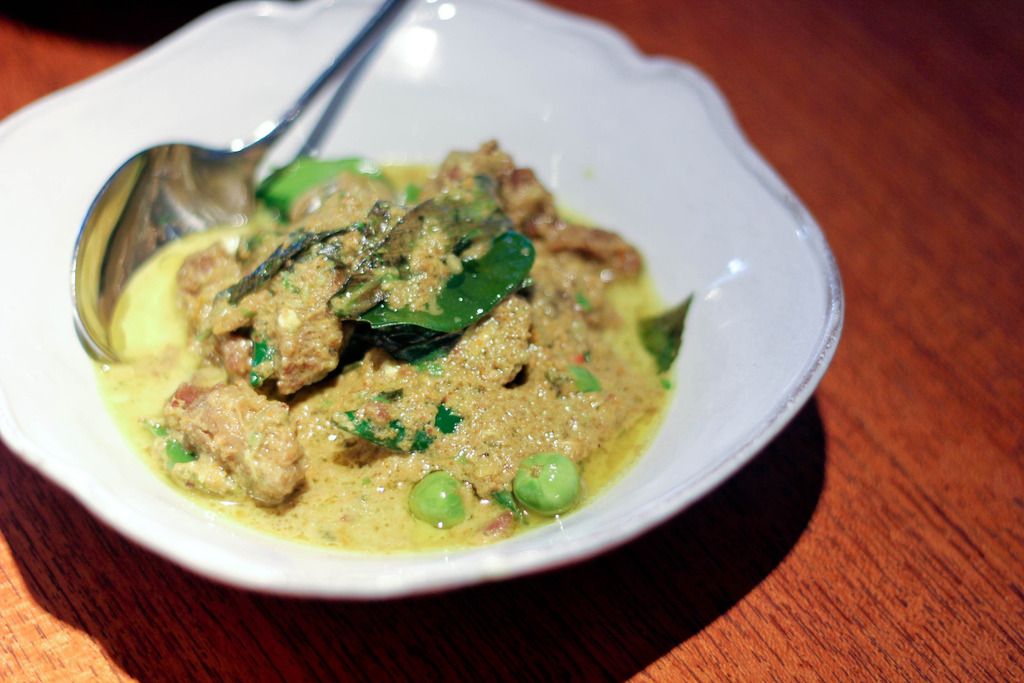 Curry - Minced chicken curry with yellow eggplants and shampoo ginger. This was another dish that the waiter had warned us to be spicy. The coconut based green curry was umami! That richness between the creamy coconut milk and curry just makes you yearn for more. It is undoubtedly spicy, but does not linger for long and goes well with the rice (free flow!). There was a fair share of chicken in it, but all I can remember was that curry!

Stir-fried/Steamed/Grilled - Steamed Coral Trout with Yellow Bangrak Beans and Pickled Garlic. Served with a sweet light soy sauce base, this reminded me very much of a Chinese steamed fish! Fish was definitely fresh and nicely cooked. A comforting dish that allows your tastebuds to take a short break from the heat that's going on in the other dishes!


Dessert - Thai Sweet Wafers with Poached Persimmons and Golden Duck Egg Noodles and Tropical Fruits in Scented Syrup. The wafers were superb, thin and crispy and cracks upon lightly biting onto it. The entire wafer breaks into a sweet mess with the varying textures from the wafer, fruit, cream and egg noodles. The iced dessert soup had a citrusy lime taste to it, topped with snackfruit and fried shallots. The fried shallots did not work for us though. We found the taste combination slightly too peculiar! The dessert take here wasn't too Thai-styled and I expected more!
For those searching for Thai food with an elevated profile, Nahm might just be the answer. Generally, I found the flavor profile of the dishes to be bold, daring and loud without a long aftertaste. I guess this is how David Thompson has managed to attract the attention of many gourmet inspectors and scored in the rankings.
Hotel Metropolitan by COMO
27 S Sathorn Rd, Thung Maha Mek, Sathon, Bangkok 10120, Thailand
Lunch | Mon - Fri 1200 - 1400
Dinner | Daily 1900 - 2230
nahm.met.bkk@comohotels.com