Bangkok's Cafe Guide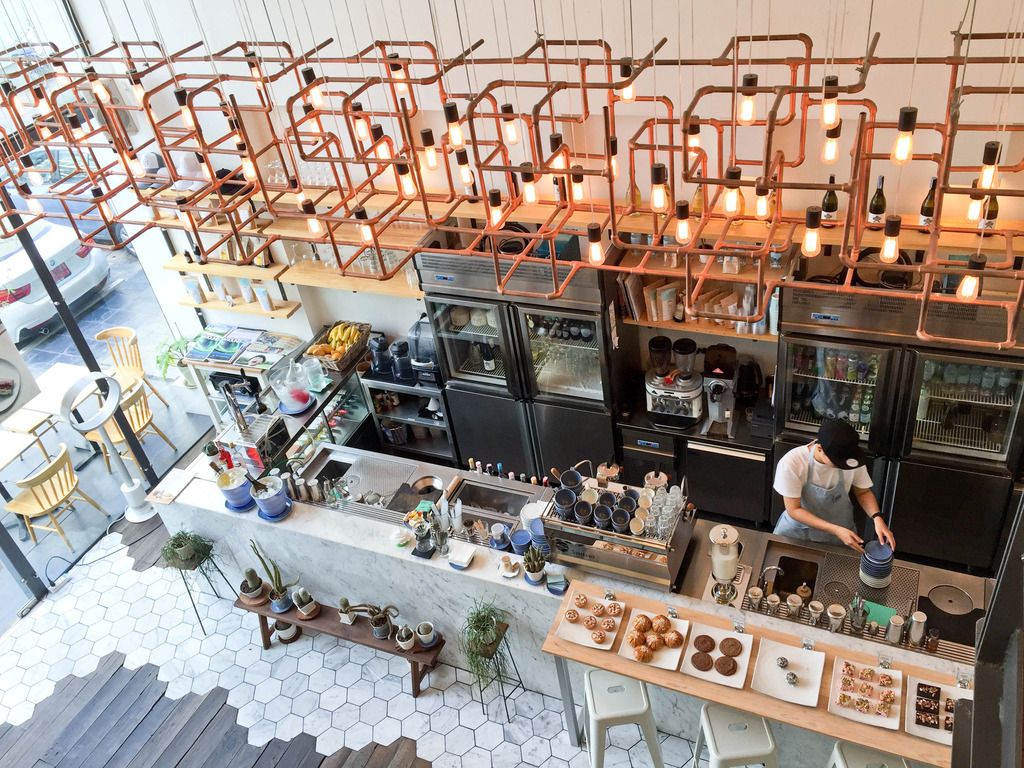 Other than being known as the land of smiles, Bangkok is definitely well known as the land of food! The cafe culture in Bangkok is growing, with many cafes sprouting out ever since my trips two years ago. During those trips, I visited After You, Roast, Petite Audrey, Mr Jones Orphanage and Greyhound Cafe. The only cafe that I've repeated on this trip is After You for that mouth-watering Shibuya Honey Toast.
In this guide, I would like to take you through some of the cafes that I've been to in November 2015. You will find that i've mostly only tried the drinks/desserts as I love the traditional Thai food too much! Cafes are my rest stops to take a break from the sweltering heat and that endless shopping.
Here are the five cafes that I visited this time round - Rocket Coffee Bar x49, Casa Lapin x26, Karmakamet Diner, After You and Kyo Roll En, plus a little bonus at the end of the post!
Monday to Thursday & Sunday | 0700 - 2100
Friday & Saturday | 0700 - 2300
Rocket Coffee Bar x49 is the newest installment of the rocket chain with its beautiful interior - minimal, wooden touches, marbled counters, high ceiling, hanging light bulbs and plenty of natural sunlight with the full glass window panes. The two storey cafe is especially gorgeous when you view it from the upper storey as you get a bird's eye view of the coffee counter. There are about 3 small tables with cushioned seats on the higher level and 2 communal and multiple tables on the ground floor.
The
Rocket Fuel
(Small, 105B)
is Rocket Coffee Bar's cold brew - a blend of Brazil, Guatemala, Indonesia and Thailand coffee beans. What we tasted was a medium-bodied smooth tasting coffee, which finished off on a slight chocolatey note. A slice of orange comes with the ice which added a little citrus touch to it! The small size comes in handy when you just need a quick caffeine boost for the day! The
Hot Cocoa
(180B) was presented in a very instagram-worthy manner, with a Ecuadorian cocoa stick, dollop of whipped cream and a huge cup of steamed milk. Swirl in the cocoa stick (or in actual fact you gotta leave it to melt because it's too huge a block to keep swirling) to get a warm comforting cup of hot chocolate. Probably too big a cup of milk, the end product tasted like chocolate milk instead!
Accompanying our drinks is the
Ichigo
(240B), a beautifully plated dessert with many components brought together. The highlight for me would definitely be the strawberry sorbet, not overly sweet nor sour, the icy refreshing sorbet tasted very close to the fruit but in a ice-cream form! The other ingredients such as the vanilla pudding, mousses, gels, meringues, lemon curd and star anise crumbles provided a nice contrast in the textures.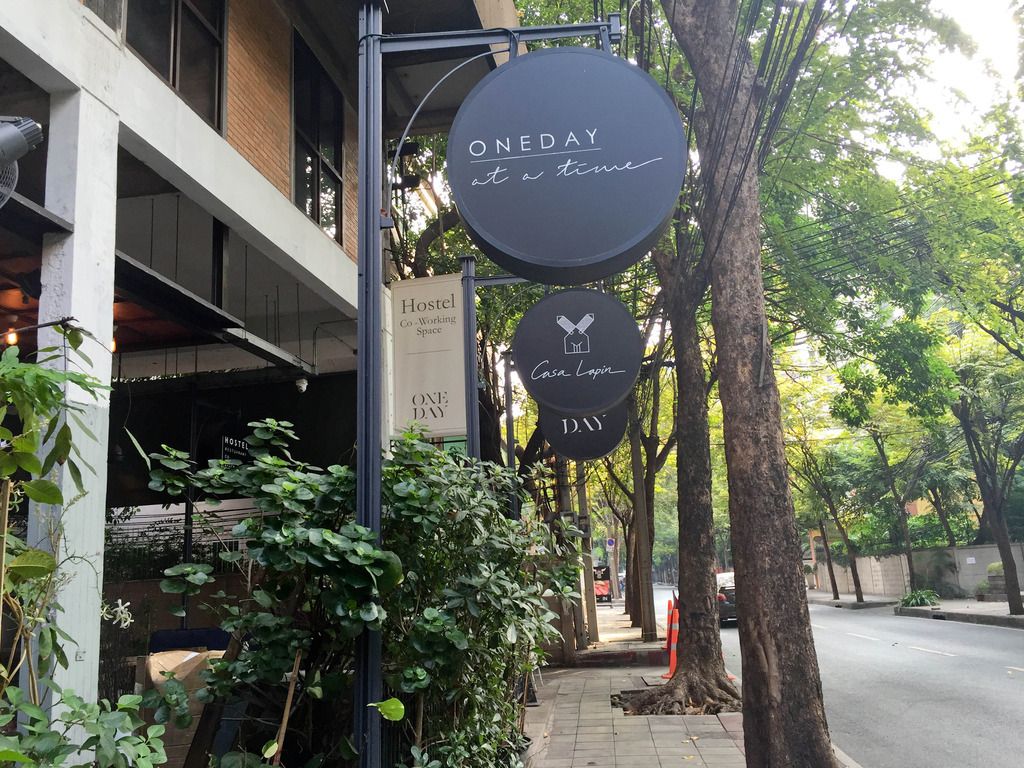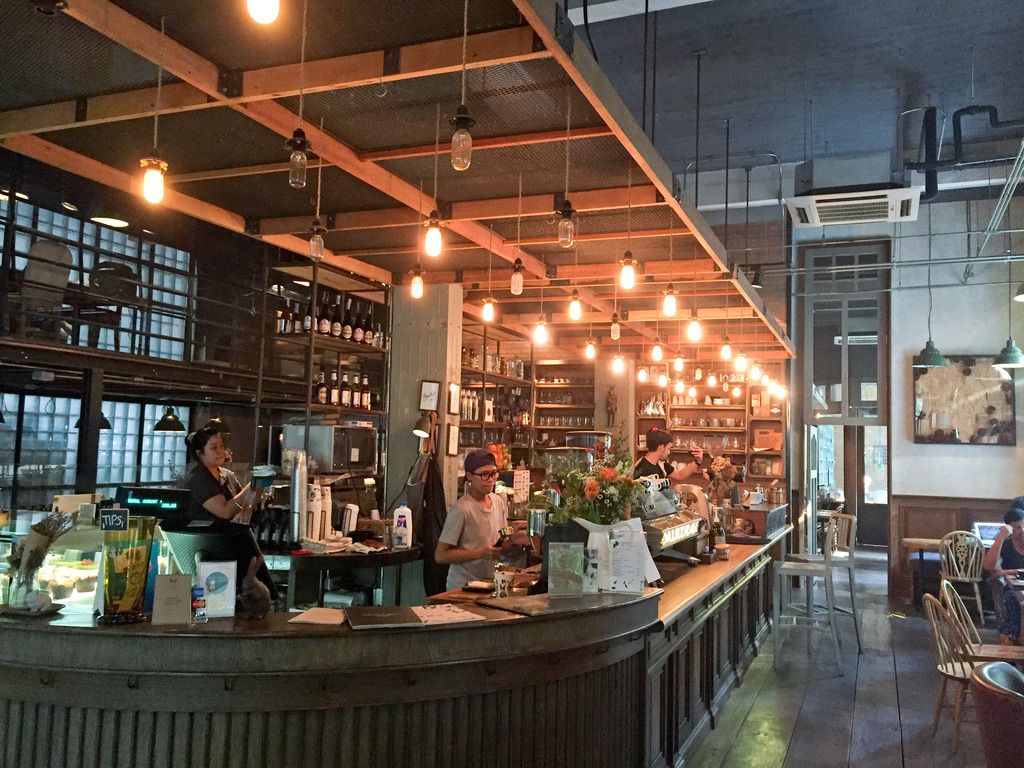 Casa Lapin x26 is housed in the same space with a florist, a restaurant, an office and a hostel, with Wallflower (the florist) located just right at the entrance of the area. The abundance of florals gave the cafe a calm and inviting appearance! Stepping into Casa Lapin x26 immediately surrounds you with the cafe's rustic charm from its wooden interior and dried florals all around. The inner areas of the cafe are more intimate with it being darker and I could imagine just lazing my whole afternoon here!
The
Flat White
(90B)
was smooth and well-balanced, while the
Lychee Tea & Thyme
(120B) was perfect for the afternoon heat but tasted more like an iced lemon tea than anything else. Wished that there was more lychee taste in the drink! While the drinks were nothing extraordinary, I would recommend this place to people who love anything floral and rustic. If there is something else worth trying, please do let me know!
Siam Square One Level One
List of other outlets
here
Kyo Roll En is a green tea specialty shop offering contemporary Japanese sweets. The meaning of its name translates into Kyoto, Roll Cakes and Garden. It aims to bring premium "uji" green tea from Kyoto, along with its artistic creations such as the bamboo charcoal roll cakes and offer its customers that pseudo Zen Japanese experience, with it's mini Japanese garden set-up. That explains the little wooden bridge that I spotted in the Siam Square One's outlet!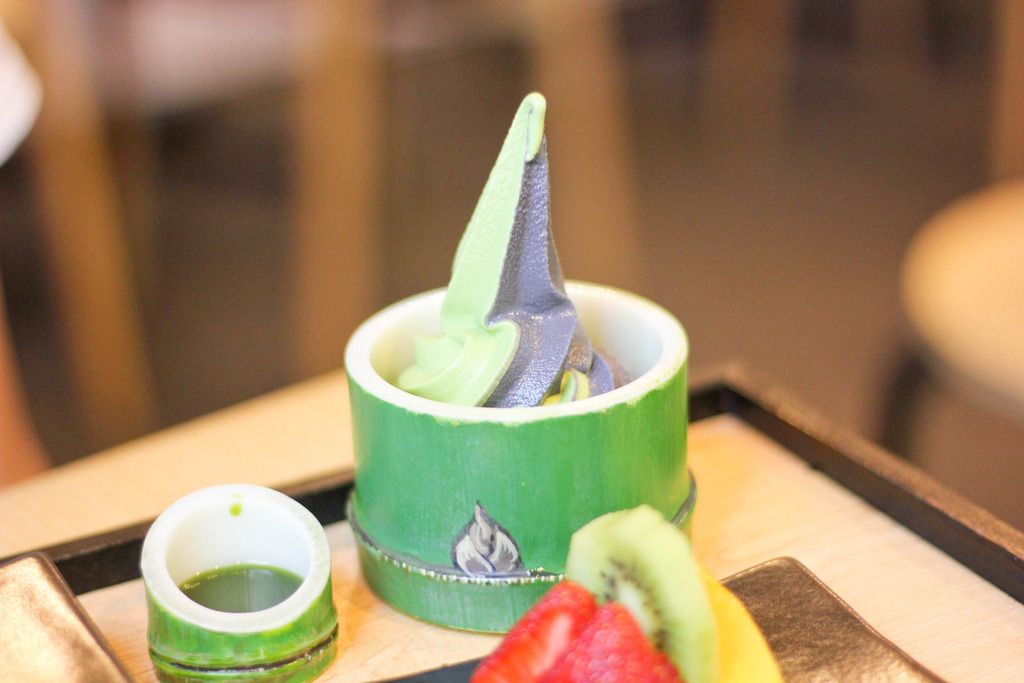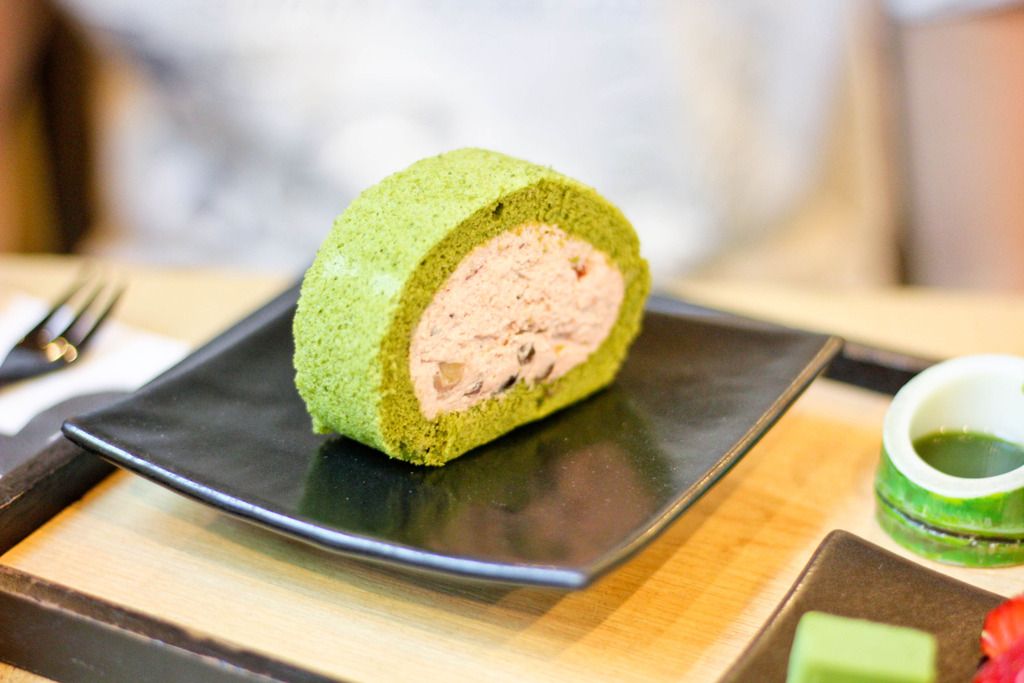 A perfect choice at Kyo Roll En is the Kyo Roll Set which comes with a soft-serve, a roll cake, fresh fruit platter, "nama" chocolate truffle and condimental sauce. Our choice was the set with matcha-azuki roll and charcoal-matcha mix soft serve (159B). The matcha-azuki roll had strawberry cream coiled within, which I found to be a little strange as the sweetness took away the bitterness that I was looking for. What is more memorable here would be the matcha soft serve. Forget about the charcoal flavored one as it tasted just like vanilla ice-cream, and felt like its presence diluted the matcha goodness. The matcha soft serve had a tinge of the tea bitterness and had the right amount of creamy-ness.
Nearest BTS: Phrom Phong (Head towards Emporium Suites)
10110, 30/1 Sukhumvit Rd, Khlong Tan, Khlong Toei, Bangkok 10110, Thailand
Karmakamet Diner is the F&B extension of Karmakamet which started out as a retail shop selling scents and essential oils located at places such as Central World and Jatujak Weekend Market. In the cafe, you can find spaces dedicated to the display of their fragrances and scented products. But that aside, we know that the foodie in us were there for that one dessert, which is a permanent feature on their instagram geotag location!
Strawberry in the clouds
(390B) is perfect for photos. A huge ball of fluffy rainbow-colored cotton candy that looks like the visual form of diabetes. The presentation of this dessert definitely can make most girls go gaga over it! After snapping countless photos, we started working our way through the cotton candy. The first few mouthfuls were fun and easy to eat but yes you are right, it is definitely too huge a cloud to conquer. As we proceed, the granulated sugar started getting stuck on our teeth and it got too cloyingly sweet. Oh and before we forget, there is still a cup of dessert beneath it. In the cup is a strawberry shortcake with strawberry ice cream, walnut crumbles and amaretto cream. Taste wasn't too impressive, or maybe my tastebuds were just flooded with the sweetness!
Even with that, I'm still glad I made a trip there to catch a glimpse of the cotton candy cloud. You might want to have a more fruitful trip there by having brunch/lunch as I've read a few fairly good reviews, albeit price being on the steeper side.
Central World, Siam Paragon, Siam Square One and many other branches across Bangkok found
here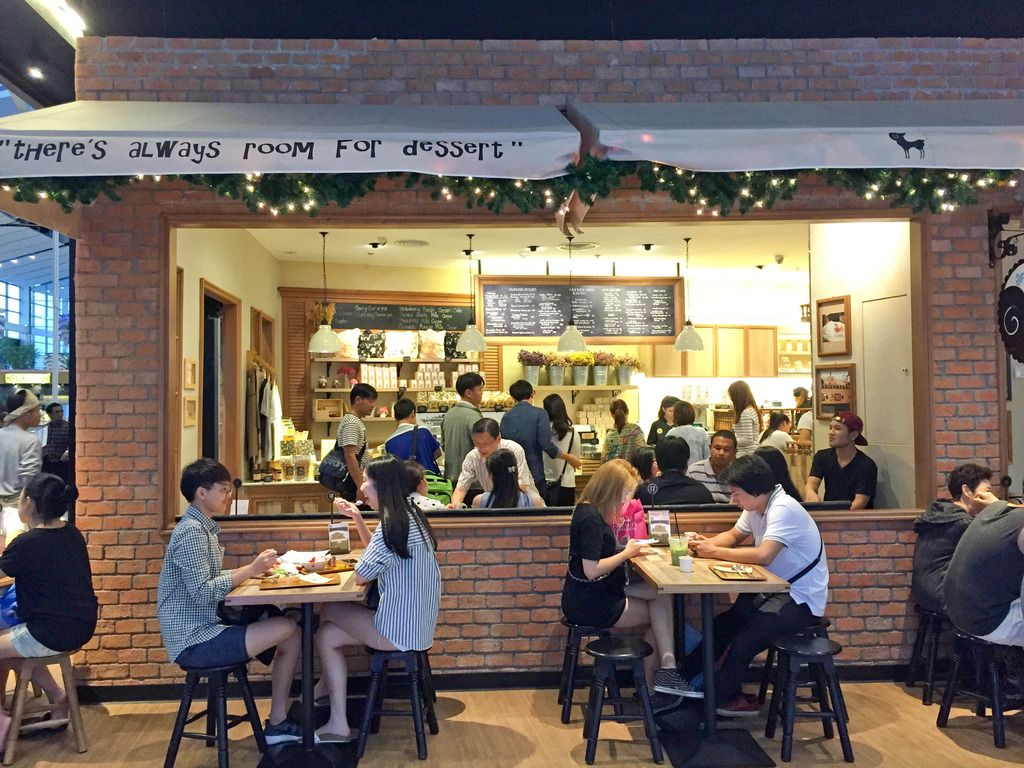 After You needs no introduction! There is one thing that you need to order and that would be the Shibuya Honey Toast (185B). The thick toast is so tall, fluffy with crispy toasted edges that leaves us all craving for more! Served generously with 2 scoops of vanilla ice cream, you are bound to have enough ice cream for each bite of the toast. And that pot of honey served at the side? It's just so damn good. It has the right consistency and sweetness that I can drench and drown my toast in but at the same time, not get sick of its sweetness.
Apart from the signature toast, After You is now serving kakigori which highly resembles Korean bingsu or the Singapore ice kachang. I didn't have space for that but it looks worthy of a try!
Bake
While wandering around EmQuartier, we stumbled upon a snaking queue in front of a bakery called Bake just right outside Harrods Cafe on the Ground Floor, The Glass Quartier. Bright yellow boxes filled up the shelves of the small open concept space and you can watch the cheese tarts being baked right on the spot. Each customer is only limited to 3 pieces (1 for 80B, 6 for 450B) . Coming from Hokkaido, I grabbed one wanting to find out what the hoo-ha was all about. The crust was a little too tough and dry for my liking, but that cheese filling was totally on point! It was extremely thick and creamy with a smooth consistency, and had a slight yogurt-sourness taste to it. I would recommend trying one if you were to pass by, but I wouldn't queue too long for it!