Orchard Central Food Trail
When I think about Orchard Central, I can't help but think of the endless F&B choices that this mall offers. From breakfast to lunch to tea and to dinner, there is always something to satisfy your hunger pangs. Just a few weeks back, I had the pleasure to embark on a Orchard Central Food Trail with a few of my foodie friends! Our itinerary of the day was Som Tam, Tonkin, Seeds of Joy and Table @ Pip's.
Som Tam is a modern Thai fusion restaurant on a mission to serve you thai food with a twist. From the same folks behind Gin Khao at East Coast, their knowledge in Thai cuisine enables them to take Thai flavors to a whole new level and experience. You can find creations such as Tom Yum Truffle Fries, Stir Fry Beef with Kimchi and of course Som Tam (green papaya salad)! Of the numerous dishes that we've tried, the
Oozy Chicken
was definitely a crowd pleaser - Creamy salted egg yolk sauce coating all over pieces of tender fried chicken. The
Green Curry Chicken Pasta
tasted decent with a rich coconut curry gravy and is a good Thai-Italian fusion dish!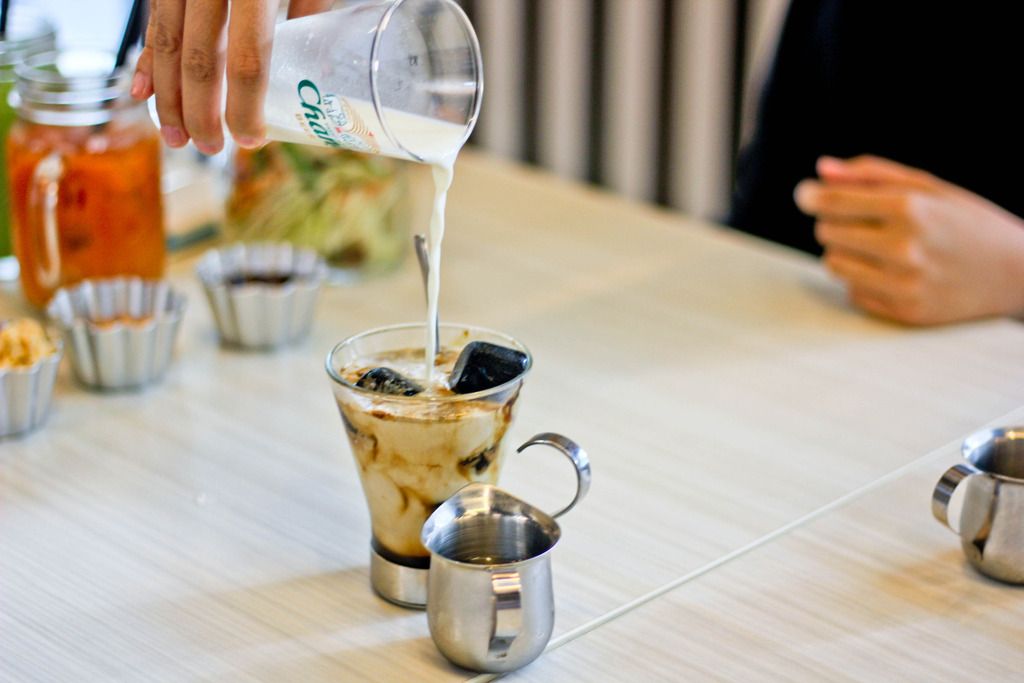 Beverages wise, Som Tam serves the good old
Thai Milk Tea,
which I thought was pretty authentic - sweetness overload with slight bitterness from the tea leaves. I had the
Thai Coffee
, which was served with espresso ice cubes and milk on the side. I thought the coffee could definitely be more fragrant, although I did enjoy being able to choose the amount of milk that I used.
You might have also heard about the After You Toast and Before You Toast at Som Tam, which probably reminds you of a familiar place in Bangkok. Som Tam's
After You Toast
uses a high fat content butter and tasted a little greasy to me. It was topped with a basil ice cream and I must say it is a rather unique and acquired taste!
2nd stop: Tonkin Authentic Vietnamese Cuisine #B1-02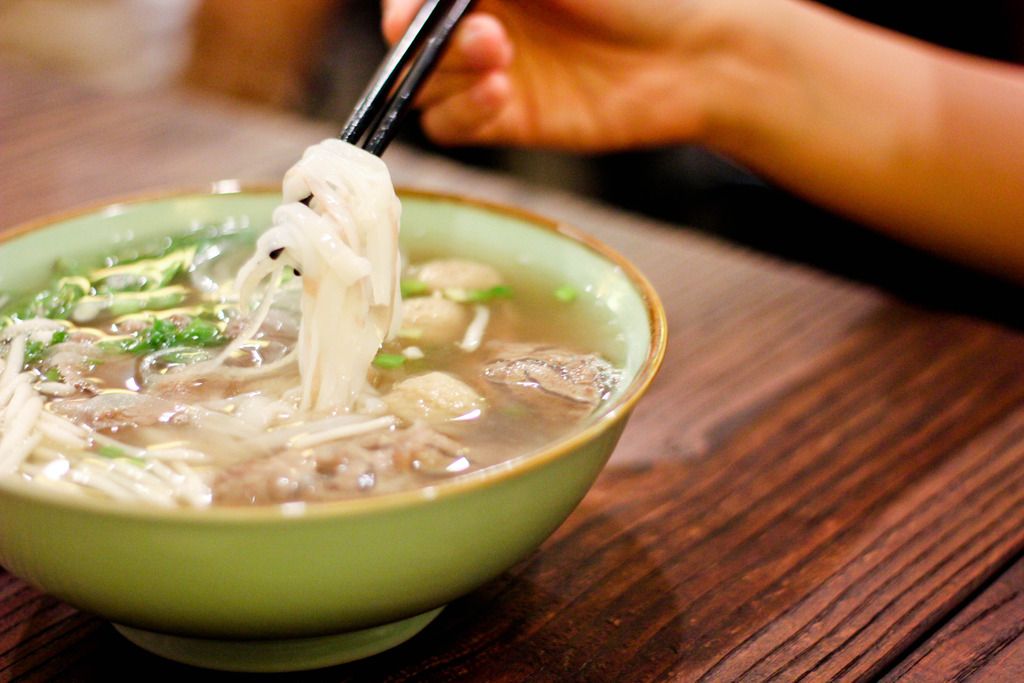 Our second stop - Tonkin! When I think of Vietnamese food, pho immediately comes to mind. Located at a corner of basement one, it is easy to miss Tonkin. I myself have never walked past this place. We were served with an array of dishes to try including the beef and chicken pho, spring rolls, green mango salad and rice flour rolls. My favorite was the
Deep Fried Fresh Spring Rolls
! Minced meat, mushrooms and glass noodles wrapped with crispy flaky skin and dipped into a sweet and spicy sauce. No trace of greasiness, all you get is a good crunch and the sweetness from within! You definitely have to order this to go with your pho! Onto the pho, I enjoyed the
Beef Combination Noodle Soup
which has beef slices, beef brisket slices and beef balls. The brisket was very tender with the fats running through them. The soup was slightly sweet with quite a big portion of rice noodles!
3rd stop: Seeds of Joy #B2-07
Seeds of Joy is your nut specialty shop where you can mix and match nuts and dried fruits in accordance to your preference! It's a great snack for the office ladies if you're planning on munching during a long work day. The dried fruits such as figs, apricots, cranberries, prunes and blueberries are good for the body - high fibre, high calcium, high iron, lowers risk of cancer, lowers fatigue etc. Nuts such as pine nuts, macadamia, walnuts and almonds can also lower cholesterol and have high levels of magnesium. In short, there are endless benefits that you can reap from having these nuts! For those who would prefer a tastier selection, Seeds of Joy also carries the honey roasted nuts series. Unhealthy me sinfully selected some to take home! You have no idea how convenient it was for me to munch on them as I work - resealable bag and bite-sized for easy consumption. There are also pre-packed nuts which may be a good option for Christmas exchanges!
4th stop: Table @ Pip's #B2-11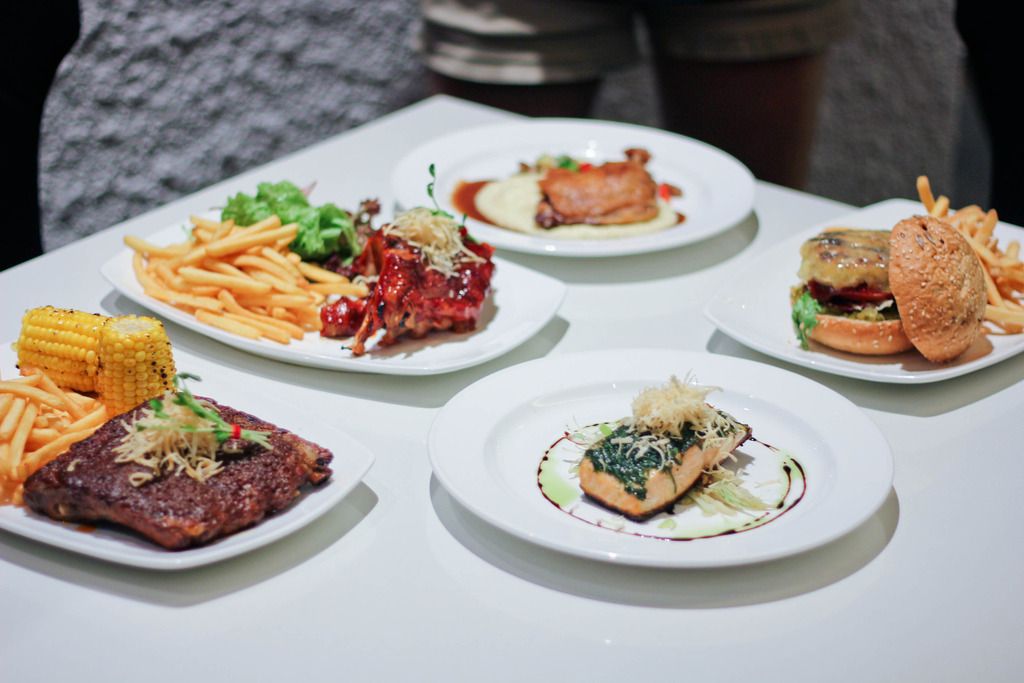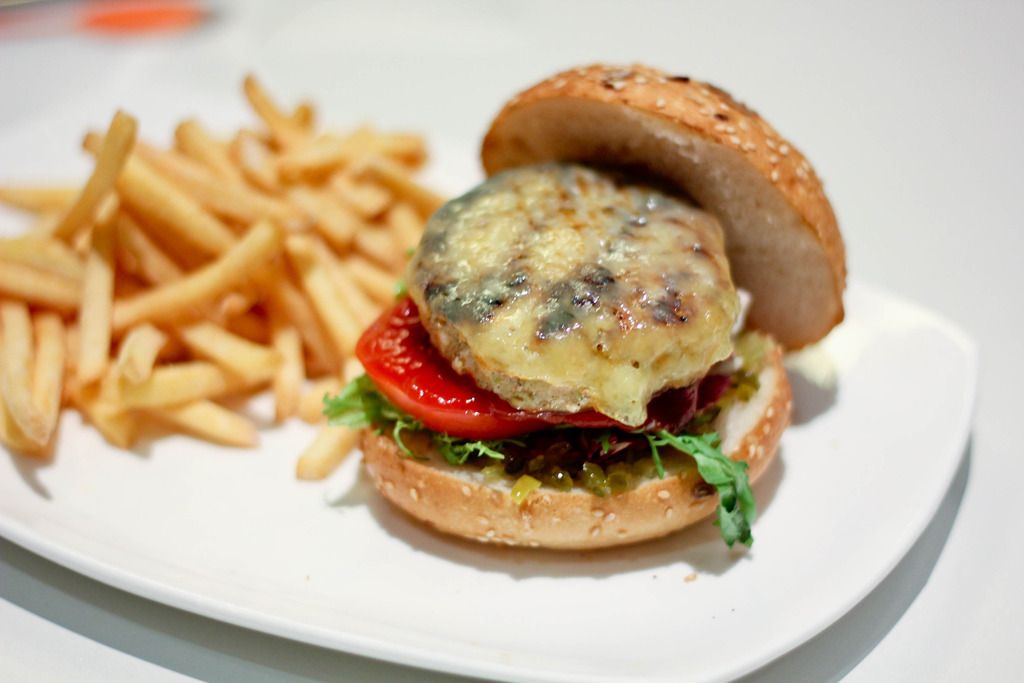 A casual wine and dine restaurant located on basement two of Orchard Central, Table @ Pip's boast a non-pretentious and homely dining environment for friends and family. What stands out on the menu would have to be the crocodile meat! They serve
BBQ Crocodile Ribs
and also a
Crocodile Patty Burger
. Crocodile meat is of a leaner cut which makes it naturally tougher. Longer cooking time is spent on this meat to make it palatable. This is my first time trying crocodile meat and it is quite similar to chicken. Sauces here at Pips are also all home-made. We managed to try the barbecue and laksa sauce - the latter tasted more alike to sambal. Other noteworthy dishes are the
Sweet Scallops
and
Chive Salmon Steak
. The scallops, wrapped in bacon, were nicely seared and retained its natural sweetness. The chive salmon steak was nicely done with a pan crusted skin and I liked the crunchy strips of fried wanton skin on top!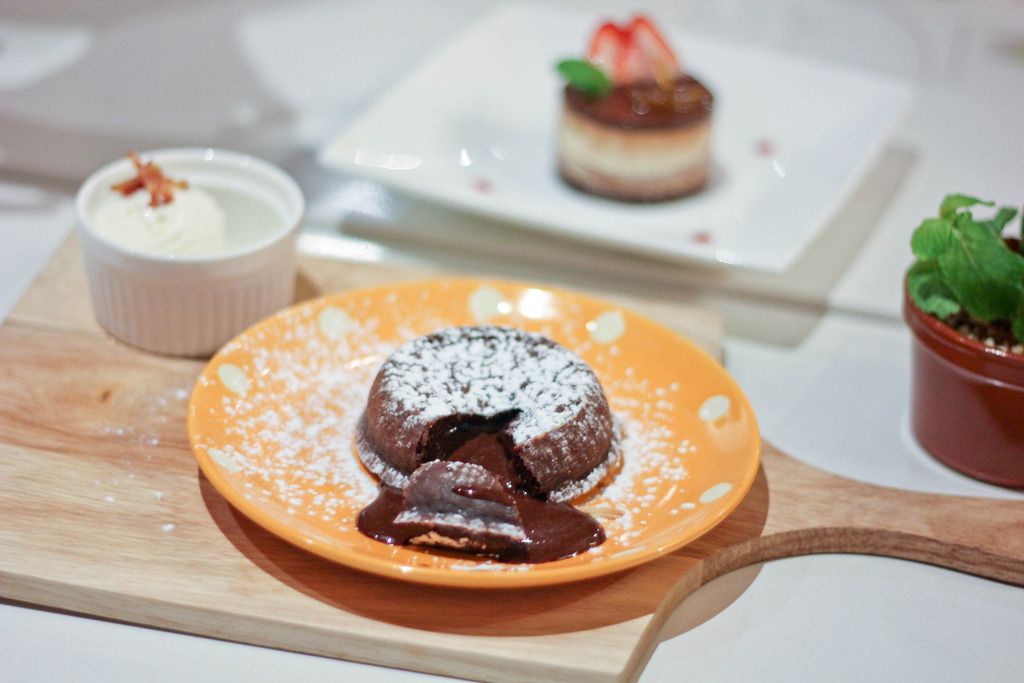 End off your meal with some sweets at Table @ Pip's! They do serve a good
Chocolate Lava Cake
with that perfect flow of rich liquid chocolate paired with classic vanilla ice cream. Other desserts we tried were the aesthetically pleasing
Flower Pot Milo Tiramisu
and the
Durian Chocolate.
Thank you
Saffron Communications
for the invite and the respective restaurants for hosting!