Jaan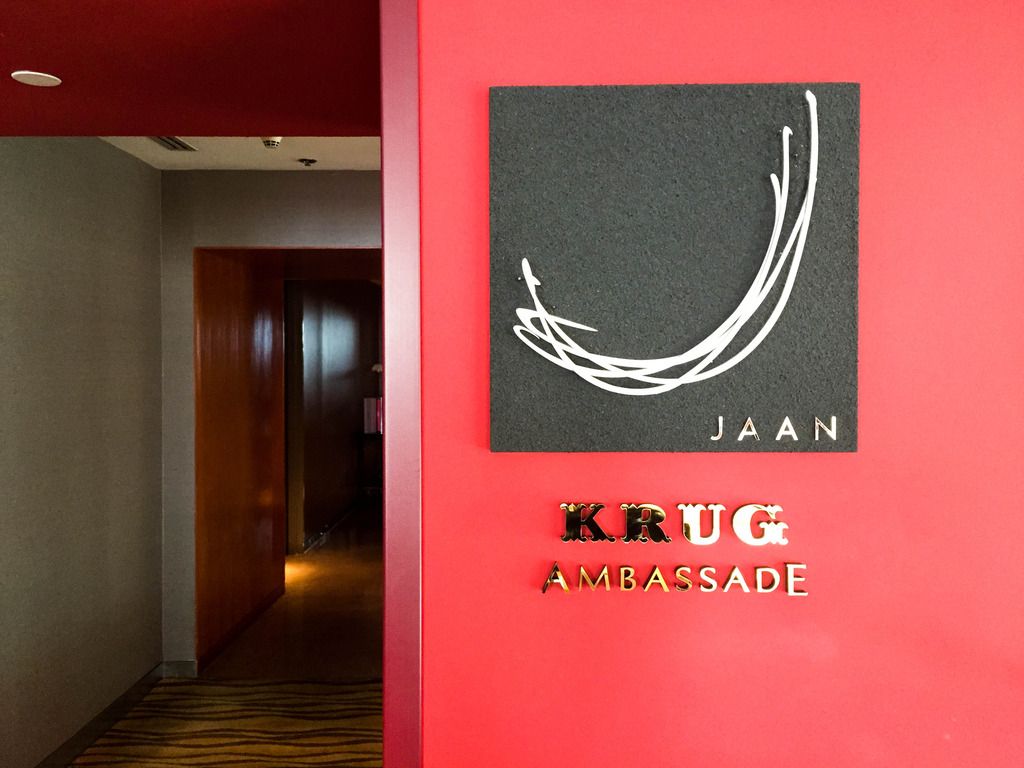 Jaan had always been a little milestone of my foodie journey on this little red dot. When I'm overseas, I'm always willing to splurge on my meals because more often than not, I'll only be there once. With no such pressure in Singapore, there are just too many restaurants on my to-eat list! Since my boyfriend and I were looking for a restaurant for a celebration, we decided to visit Jaan for its set lunch menu.
Situated on the 70th floor of Swisshotel Stamford, Jaan occupies a small and elegant space overlooking the key attractions in our central district. Whether day or night, you are bound to have an awesome view of Singapore when you dine at Jaan.
While the online website displays the 3, 5 and 7 course menu, only the 5 and 7 course menu was available at the time of my visit. We decided to have the 5 course set lunch menu.
Having a meal at a fine dining restaurant comes with the likes of amuse bouche and petit fours that are not listed on the menu. Shortly after placing our order, we were served 3 different canapes.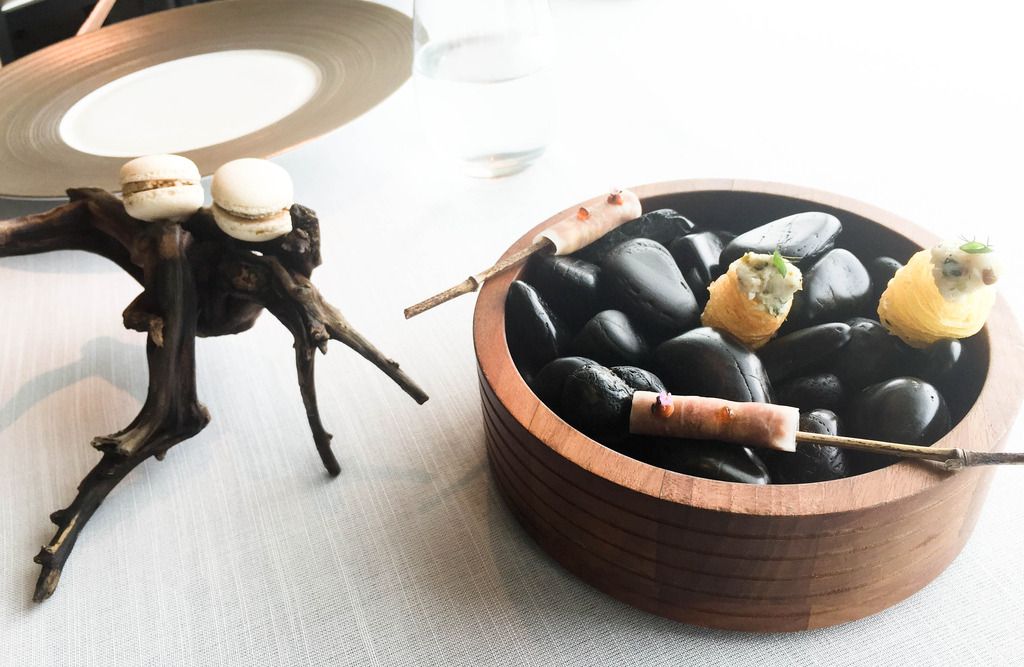 Wagyu beef tartare wrapped with jamon iberico, fish and chips and foie gras macarons
These bite sized treats were simply a delight with complex flavours and finesse in their creation. Of the 3, I was impressed with Jaan's rendition of the mini fish and chips that comes in the form of a small ring of crispy fried potato topped with a savoury fish paste that just wows your taste buds.
Moving on to our 2nd amuse bouche, the mushroom tea. Such an elegant soup that i've never tasted elsewhere. The mushroom tea was served in a french press, extracting a clean and pure tea to be poured over a sabayon of cep, lovage and walnuts. This brought the idea of a soup to a whole new level. The earthy soup had texture that is likened to water, except that it is loaded full of mushroom flavor and finishes off with a fragrant walnut crunch.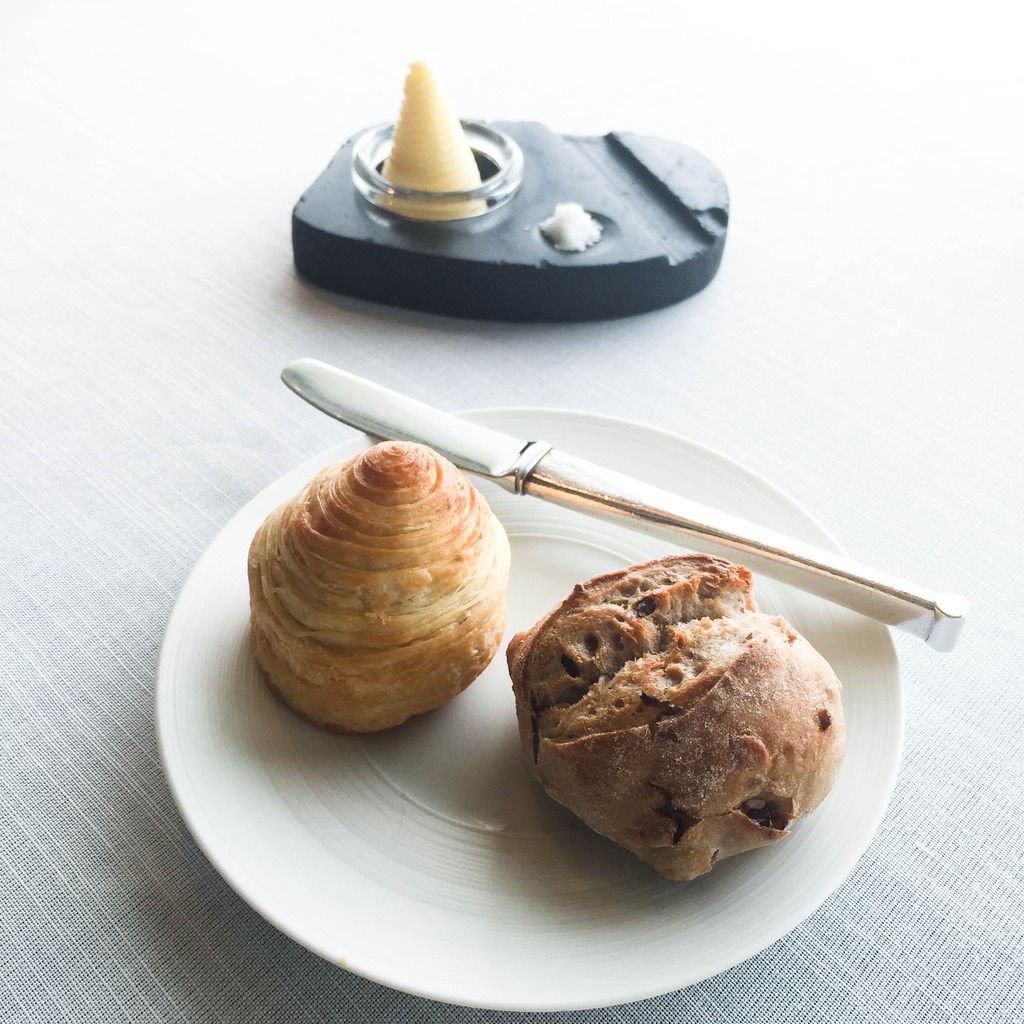 A bread basket will be brought around for you to make your selection. There was mini baguette, sourdough, onion brioche and walnut & raisins and my choice was the latter two. I most certainly love the warm onion brioche for its layers of flaky pastry. Spread it with a bit of the hand churned Yves Bordier butter, I found myself falling in love with it despite not being so much of a bread eater myself. After what seemed to be endless food going into our tummies, we finally proceeded to the 5 course menu!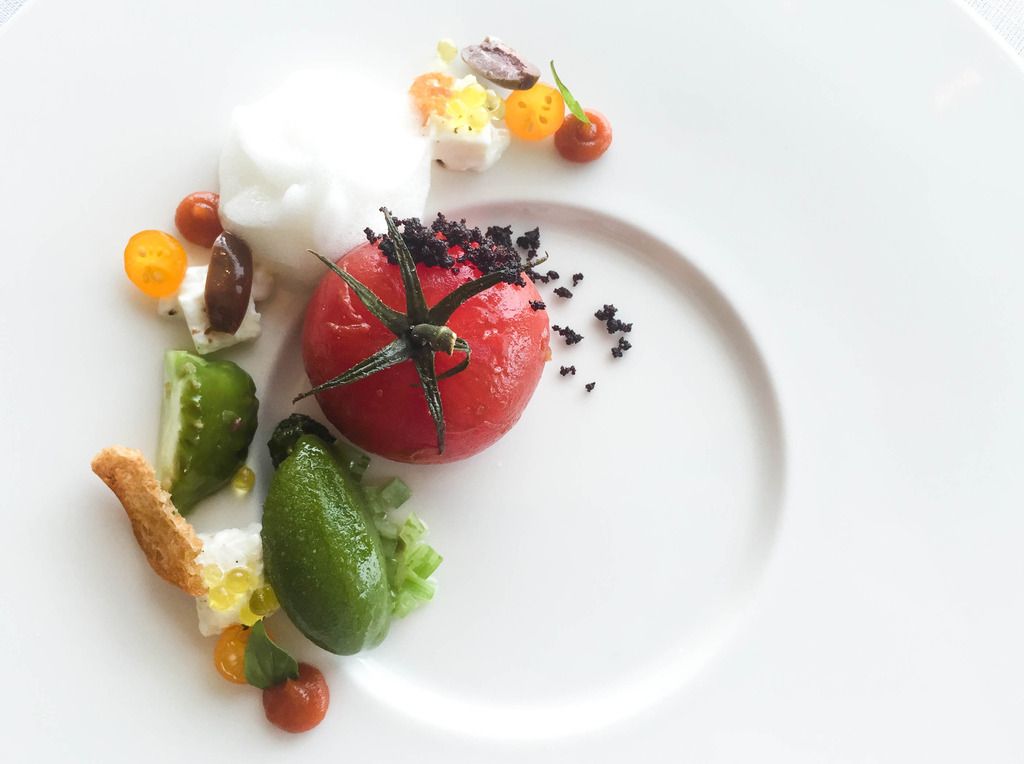 Bits of tomato stuffed in a large tomato, served with burrata, tomato espuma and basil sorbet. The flesh of the tomato was meaty with an abundance of tomato juice as you sink your teeth into it. Burrata on the side proved to be creamy, chewy and was a good complement to the tomato. It was a very refreshing dish that had the burst of basil fragrance from the sorbet against the robust and acidic tasting heirloom tomato.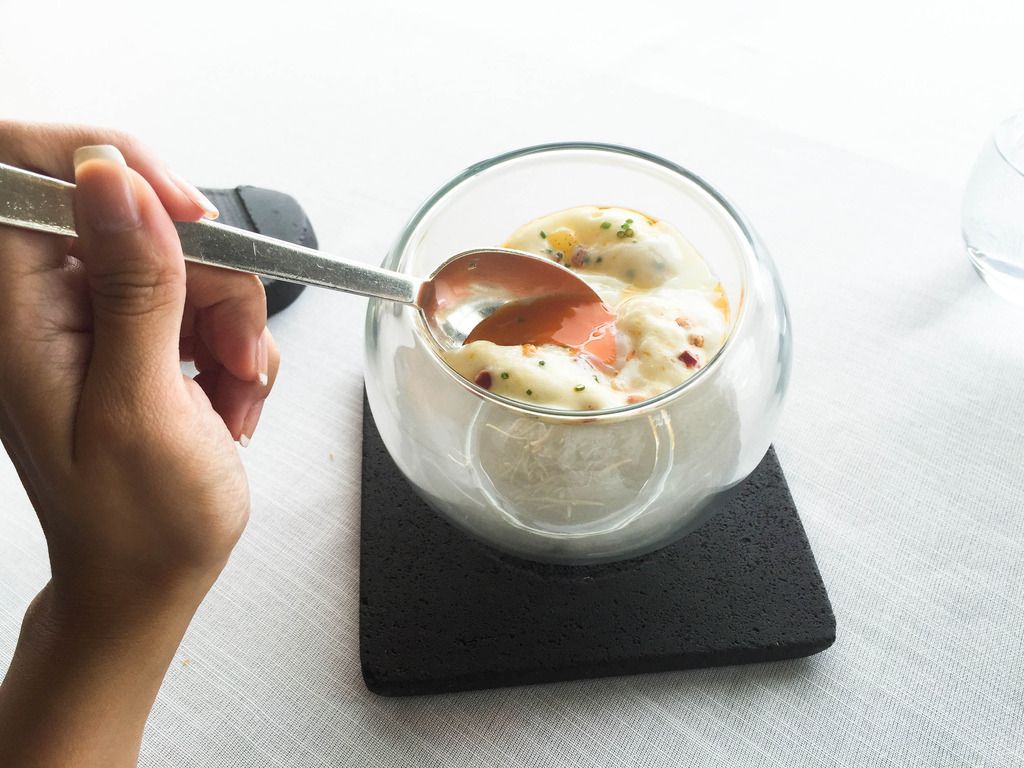 55' Rosemary Smoked Organic Egg
This dish clearly exemplifies how Jaan sets out to evoke all your senses during the dining experience. Feast with your eyes at the dreamy display of the 55' eggs and take in weaves of the smoked rosemary beneath the serving bowl. Cooked for exactly 55 minutes at 64 degrees, the wobbly runny egg is poured into the ratte potato with bits of chorizo iberico. The creamy egg is a wonderful concoction of egg white and egg yolk alongside with the nutty and buttery ratte potatoes.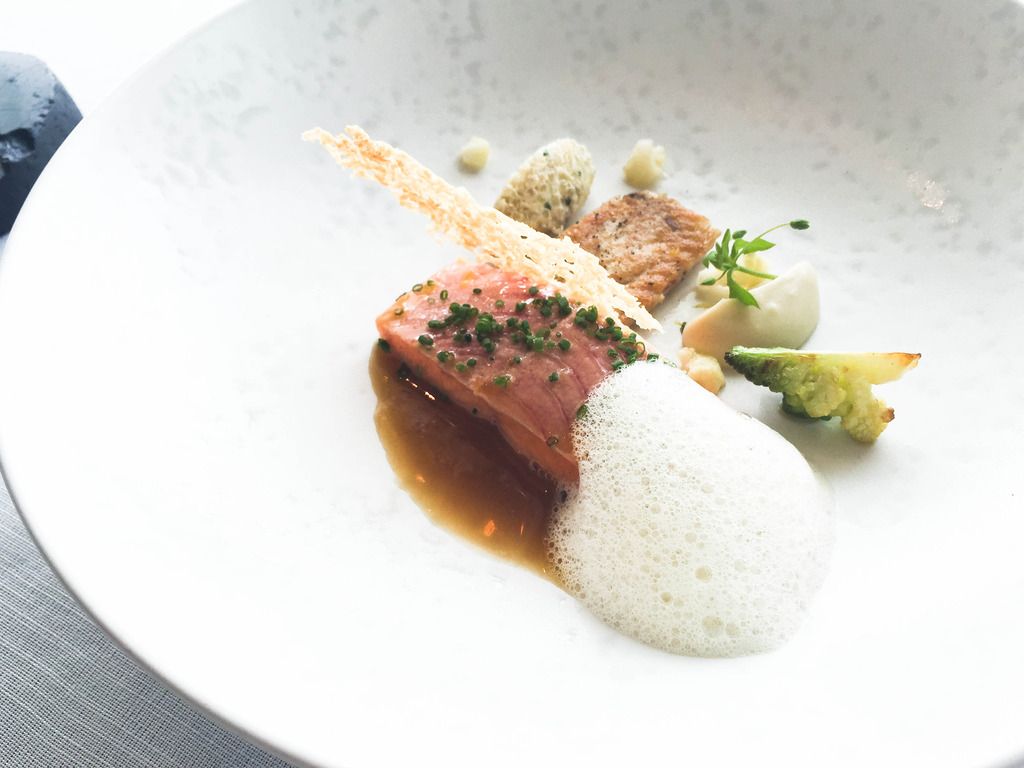 Confit Rainbow Trout with lemon quinoa
The rainbow trout is slightly cooked on the outer layer and rare on the inside to retain its freshness. You would have noticed that the food occupies only 50% of the plate, and this is how Chef Kirk Westaway focuses on the finishing touches of this dish to complete a dish beautifully. The organic chicken had a crispy skin and tender meat which was easy to pull apart. What we really love on this plate is actually that dollop of cauliflower puree! It was so incredibly smooth and spot on with the flavor!
The second main dish is the iberico pork served with fried pork skin, apple puree, onion espuma and roasted shallots. Cooked till medium, the pork was still juicy and tender. The green apple puree adds a touch of acidity to lighten the dish and the pork crackling was definitely crunchy!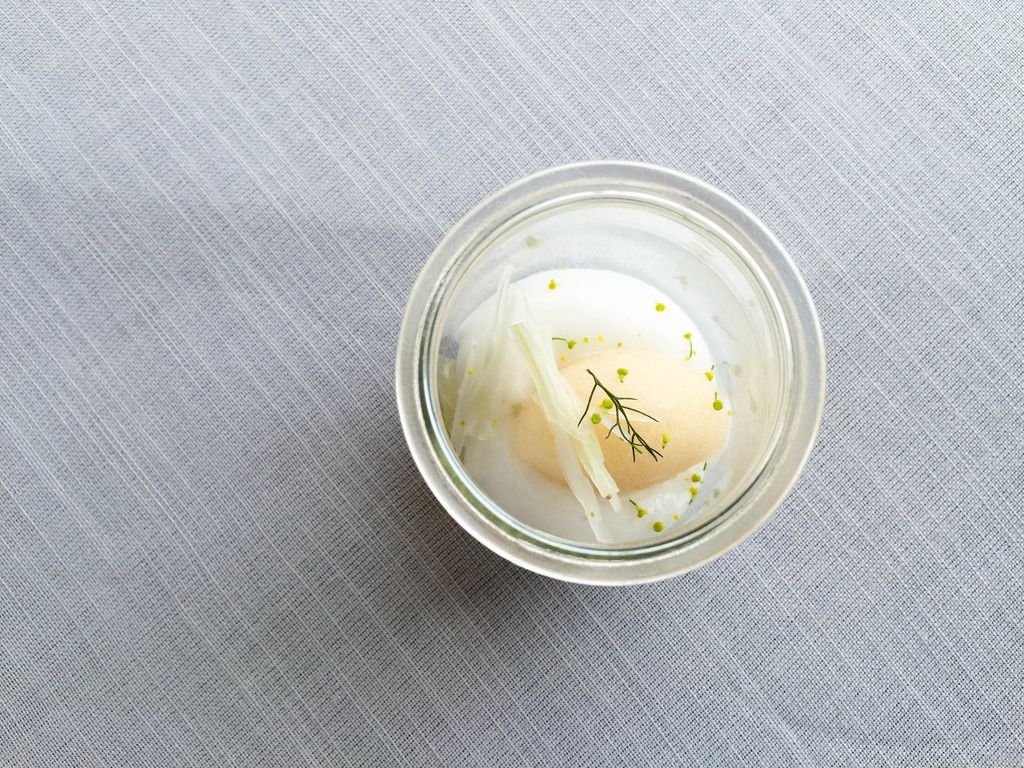 Before the dessert, we were served a refreshing shot of fennel sorbet and lemon cream as a palate cleanser.
A medley of different tastes and textures of chocolate, made of mousse, brownie, meringue, espuma, hazelnut crunch, biscotti, ice cream and dollops of caramel sauce. This makes a pretty interesting dessert and probably the only time I get to taste so many different textures of an ingredient on a plate!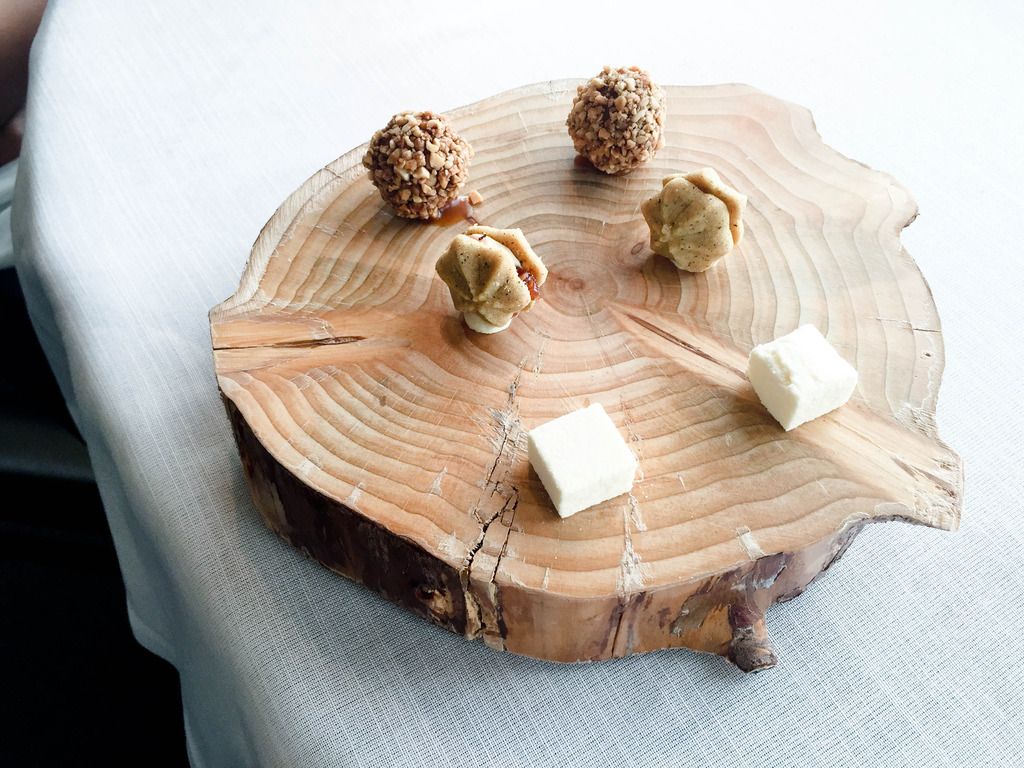 Ending off the meal, we were presented with mignardises and coffee/tea - Passionfruit Marshmallow, Earl Grey Biscuit with lemon cream and Almond Rocher. Courtesy of Jaan, we were given a salted caramel chocolate mousse cake for our anniversary celebration which they kindly allowed us to take-away after the filling meal that we had!
Dining at Jaan is more than tasting the food. It also places emphasis on the sight and smell of the food to fully engage your senses. Seating no more than 40, the restaurant is an intimate space for you to spend with your loved ones. Do remember to request for a seat next to the windows for the best view. Though it comes with a price tag, a meal at Jaan is definitely worthy of the bucks.

Jaan is located at:
Level 70 Equinox Complex
Swissotel The Stamford, 2 Stamford Road
Singapore 178882
Mon - Sat | 1200 - 1430, 1900 - 2200 (Closed on Sundays and PH)

+65 6837 3322
reservations@equinoxcomplex.com