Cato
Cato
is a modern asian restaurant along South Bridge Road in the Chinatown district that serves dishes incorporating many familiar asian flavors. For the bar, they carry over 60 small batched craft beers and spirits from all over the world and you're definitely bound to find something to your liking! Into the night, you can find a DJ spinning your favorite music on the second storey.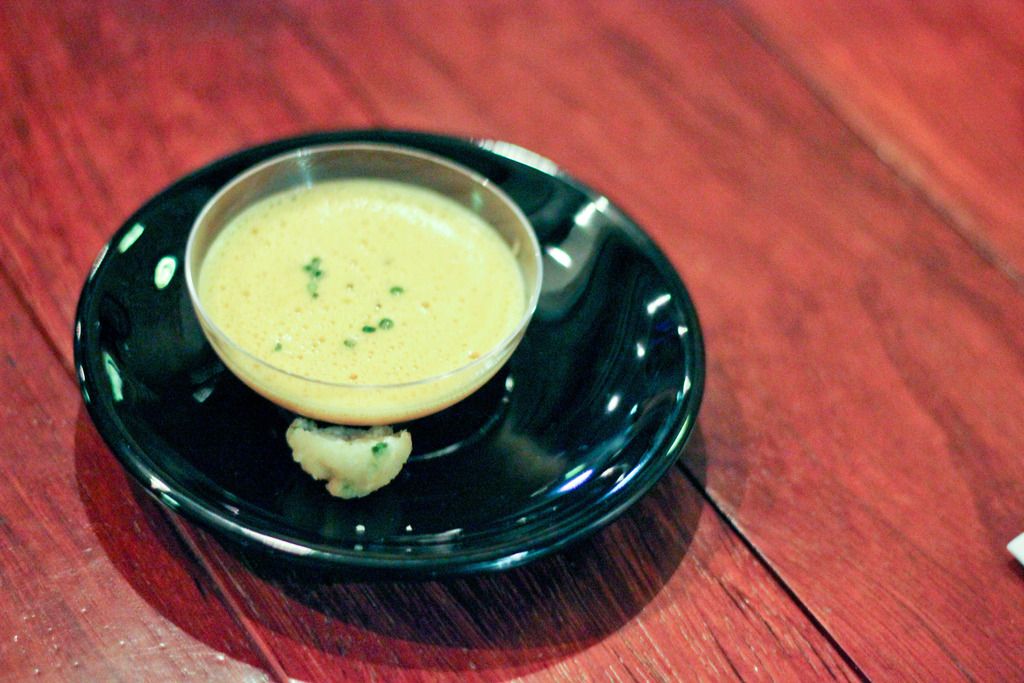 To start, we were served with a prawn bisque, which could be enjoyed in one shot or savoured with small sips. Upon my first sip, the umami flavor dispersed throughout my mouth and I thoroughly enjoyed this given how rich and flavorful it was. The cod fish ball, though small in size, was nicely seasoned with a crunch on the outside.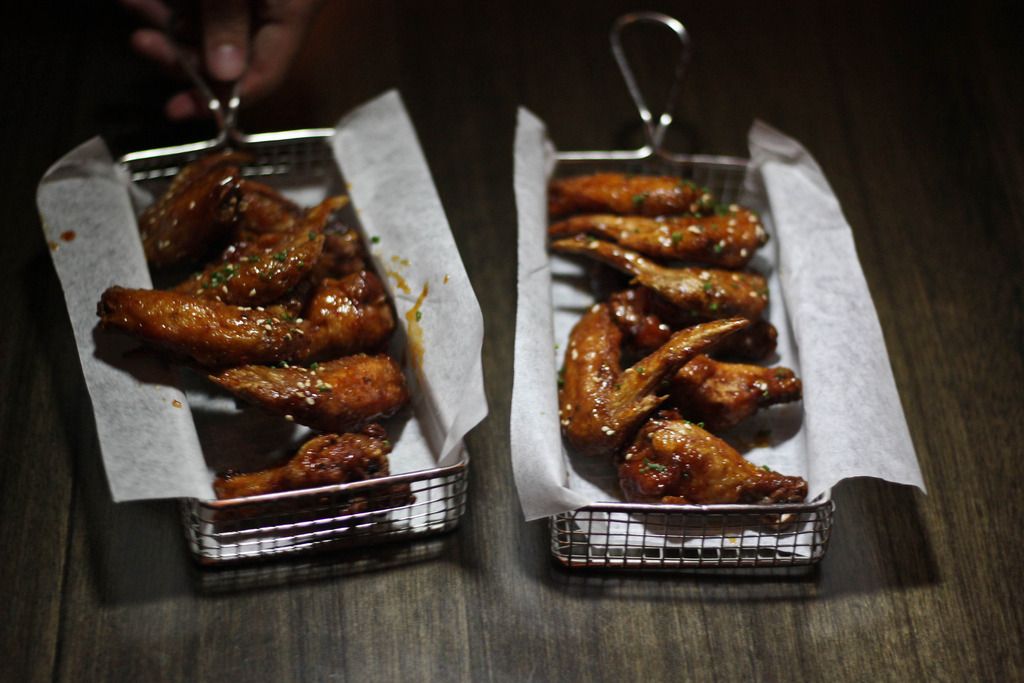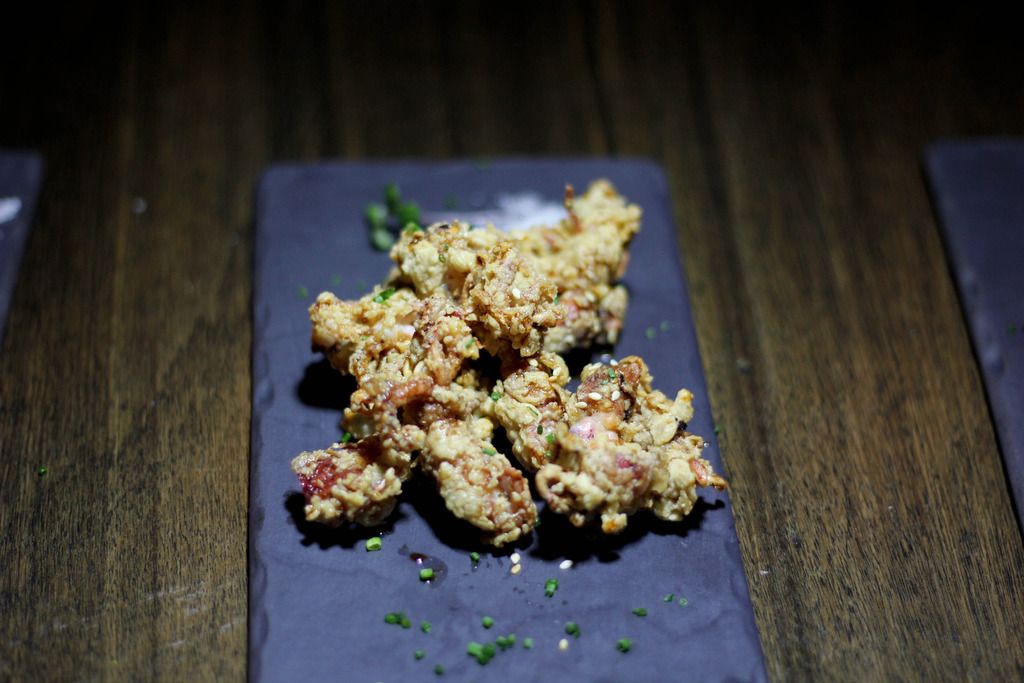 Snacks to Share:
Garlic Fries - SGD8 / Cato Wings in Homemade Chilli Glaze - SGD15 / Crispy Squid in Thai Style Glaze - SGD12
These dishes are a no-brainer. Fries, wings and fried squid are well liked by many and would make a good snack over drinks. Fries here at Cato are served with a garlic seasoning, albeit a little on the salty side. The wings are coated with a chilli sauce which I found to be more sweet than spicy, hence suitable even for those who don't take spice. The squid featured a thin layer of light batter that is fried until it is crispy and airy, leaving it without any trace of greasiness - thumbs up!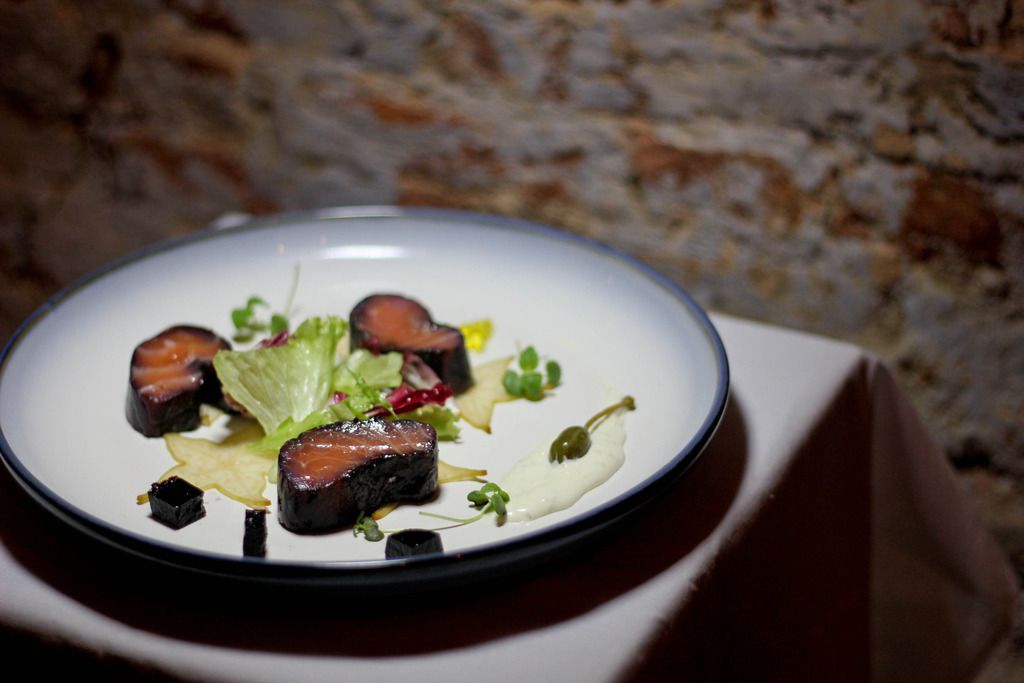 Acai Cured Salmon - SGD18


This dish is a healthier choice offered by Cato with the use of the superfood, Acai. Raw salmon is cured with acai as part of the preparation, which did not make any difference in taste. The black jelly on the side is acai jelly, which were harvested from the Amazon. Other components on this plate are the star fruit ceviche, salad and calamansi creme fraiche. Without any attention grabbing component, I found this dish to be nothing more than average.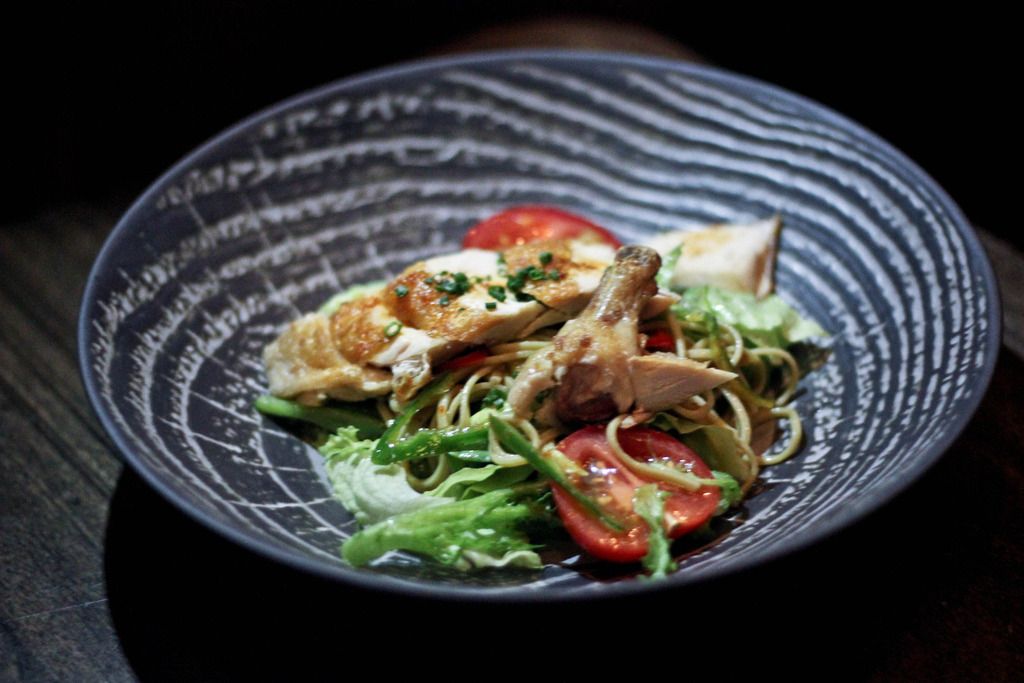 Chicken Noodles Salad - SGD16
Never judge a book by its cover! This chicken noodles salad may seem like any other salad out there, but the noodles are tossed with blended ghost chilli. Known as the world's hottest chilli, this is not for the faint hearted. This salad has 4 chillis next to it on the restaurant menu so diners are warned! As I'm a fan of spicy food, I was able to take the spice though it had a slight numbing effect on my tongue after a while. The chicken topping on the salad was roasted with tea and rice and served with big and juicy tomatoes.
Steamed Baked Pork Cheek - SGD28
Strips of pork cheeks wrapped within a foil and baked till tender. Unwrapping the "parcel", we were greeted with weaves of fragrance from the pork cheeks and seasonal vegetables. The cheeks were beautifully cooked and tender. The creamy port wine mustard sauce was surprisingly not too heavy and the combination worked quite well for me!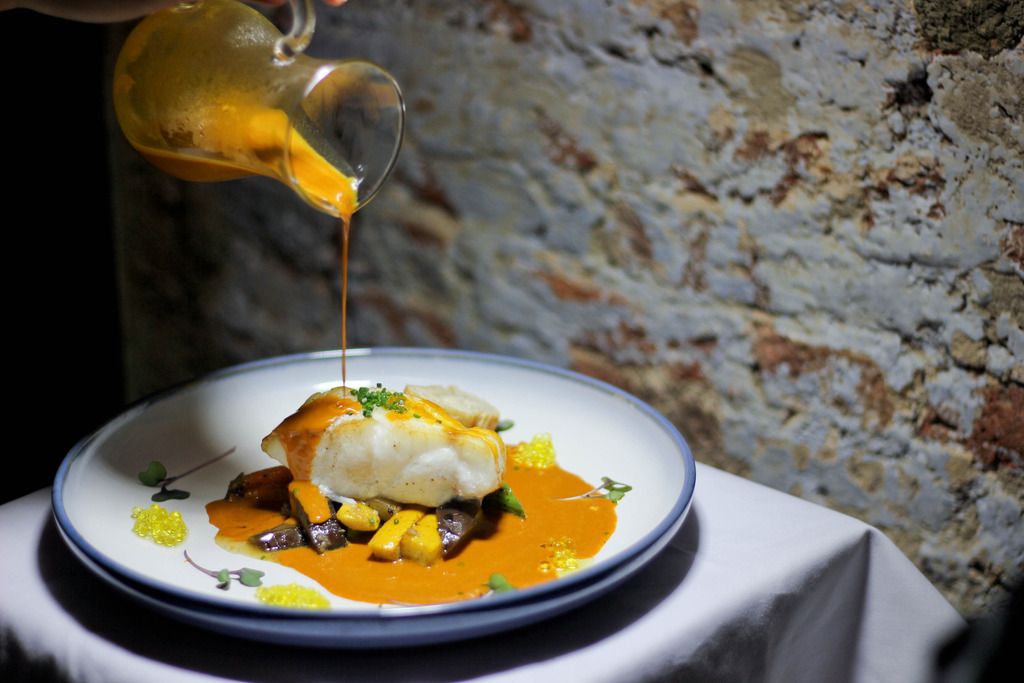 Auntie Jasmine's Fish Curry - SGD25
First mouthful of this curry and I was already sold! It reminded me very much of an Indian curry that you can find at prata stores, so it might feel a bit abstract having it in a bar restaurant! This is actually a family secret recipe from the owner's mother. New zealand ling fish is used in this dish, which I thought was slightly too tough and bland for my liking. Nevertheless, the fantastic sauce here makes up for it. Also on the plate are the star fruit ceviche, eggplant and little balls of olive.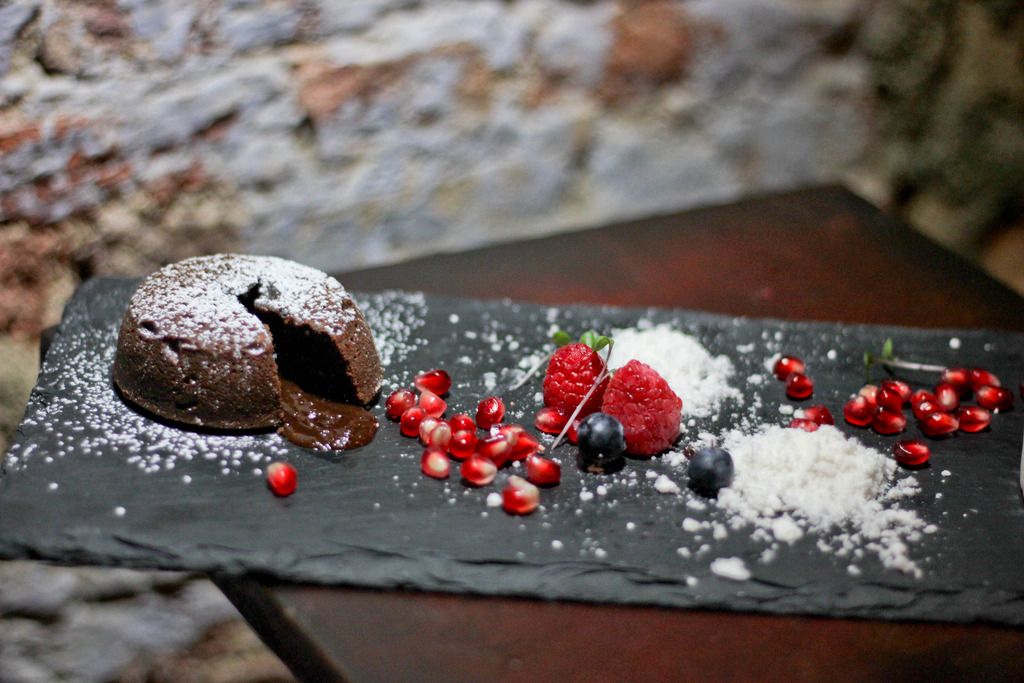 Desserts:
Papaya Nougat Glace - SGD14 / Valrhona Warm Pistachio Chocolate Cake - SGD14
A homemade nougat using fresh chunks of papaya and yogurt sitting in a plate of papaya and sweet wine reduction! It was slightly icy which makes a cooling dessert and the pomegranate bits added some sour tones. For something more classic, choose the chocolate lava cake. It is a definite hit and the combination of rich gooey chocolate with a scoop of ice cream rarely fails.
Located just right next to the Central Business District, I foresee Cato being a hot spot for office goers to unwind with a drink. Cato enables customers to dine in a modern setting yet being able to relate to dishes highlighting familiar asian flavors, from which I recommend the thai glazed crispy squid and fish curry.
Thank you

Cato

and

Openrice

for the invite!
Cato is located at:
237 South Bridge Road
Singapore 058786
Tues - Fri | 1800 - 0000 / Sat | 1800 -0100
+65 8299 6434