Diamond Kitchen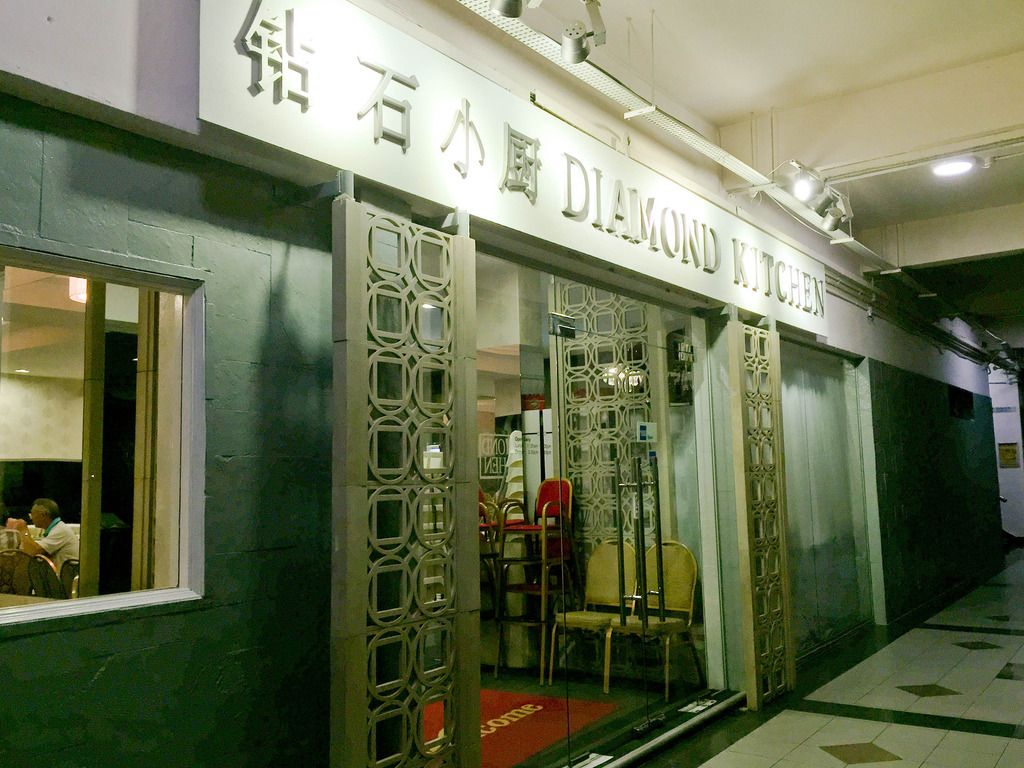 Accessibility might be an issue for Diamond Kitchen with only two outlets located at Marine Parade and Science Park. Therefore, the key question is - is the food worth travelling there for?
On every table, there is a "Media Recommendation" menu which features their signature dishes. This makes it easy for first time diners to decide on what to order! I appreciate the pictorial feature of the dishes, so we know exactly how each recommended dish will look like. These recommendations did enough to sway us and we finally ordered 4 out of the 5 dishes from the list!
Superior Stock Clam Bee Hoon SGD14 (Small)
Clam bee hoon is definitely gaining popularity in zichar stalls/seafood restaurants and Diamond's Kitchen rendition is definitely something that they take pride in! Served in a bowl of superior soup stock and topped lavishly with clams, we could almost taste it in our mouths the moment we saw it. The soup broth was very light but not bland, and also featured a distinct and tasty clam/seafood flavour. The generous serving of clams with big and fleshy meat also makes this a crowd favorite.
When the salted egg sotong was served, we were slightly worried that it might be too dry as there was no salted egg sauce! However, our concerns went away after we sunk our teeth into it. It was amazing - incredibly crisp coating of salted egg batter on the outside with fat and fresh sotong on the inside. I really love the big pieces of sotong, resulting in a good batter to sotong ratio and preventing the dish from being too greasy.
One bite and we knew why it's one of their recommended dishes - the pork ribs were so tender and succulent! The sweetness of the marinade exploded as we bit into the meat. Also, it had already been deboned for our convenience so no awkward moments of the pork rib bone uncomfortably staining our faces. This is definitely one of the dishes that will be well loved by the entire family!
Three Eggs Chinese Spinach SGD12 (Small)
This is a common vegetable dish to be found across many eateries, but Diamond's Kitchen's rendition features a thickened broth with the use of corn starch. We found it to be a little too sticky, and would have preferred a soupy base! Nonetheless, the taste was beautifully brought out by the wolfberries and garlic.
Crab Meat Fried Rice SGD9 (Small)
We wanted another carbohydrate dish to go along, and we picked the crab meat fried rice! We were pleasantly surprised to find the japanese crab stick meat instead of the usual crab sticks. However, it was average taste-wise. If you're a sambal chilli lover, do look out for the sambal served at Diamond Kitchen. It is finely grinded and gives a kick with that spicy sour burst of flavors. I mixed some with the fried rice and it was delish!
The dishes here may seem ordinary but the execution is definitely of high standards! Would I think that it is worth it for my 1 hour bus ride from the Central Business District area? Yes in a heartbeat.
Diamond Kitchen is located at:
Marine Parade Branch
5000F Marine Parade Road
Laguna Park Condominium, #01-22/23
Singapore 449289
+65 6448 0629
Science Park Branch
87 Science Park Drive
#01-01 Oasis (Previously known as Science Hub)
Singapore 118260
+65 6464 0410
Email: Reservation@DiamondKitchen.com.sg