The Pizza Collective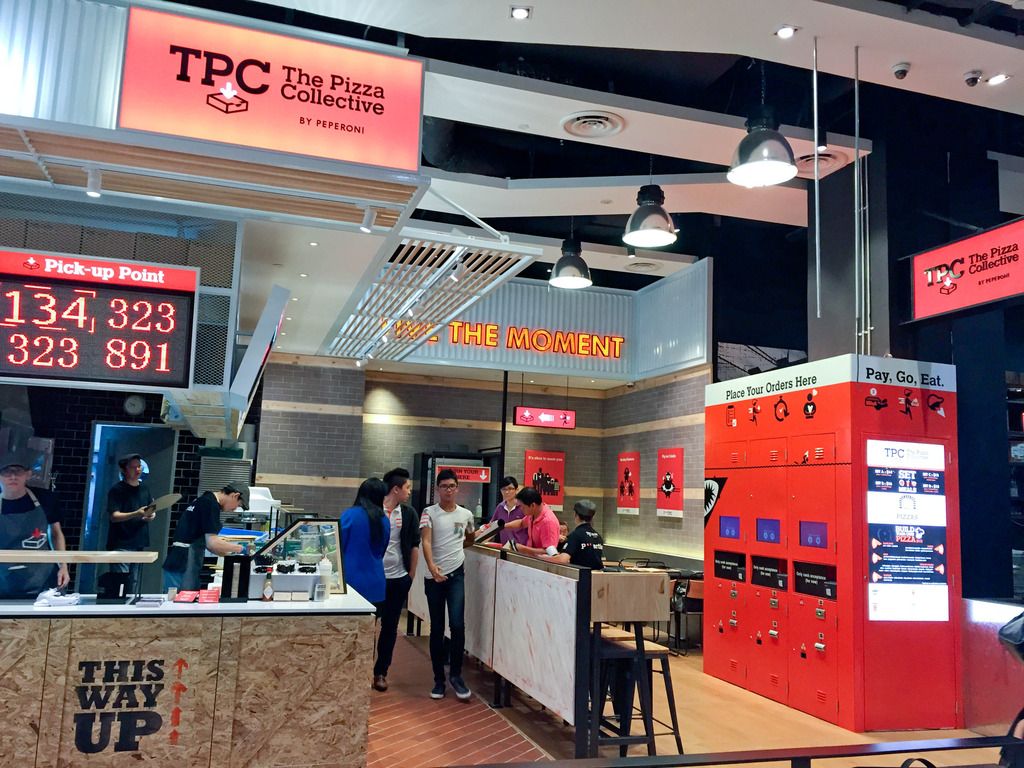 In its infant stage (less than a month old) is the newest arm of the Les Amis Group - The Pizza Collective ("TPC") located at Bugis Plus. They offer affordable 10.5" pizzas, and also the opportunity to put together your very own pizza with a selection of 28 toppings and 5 unique drizzles! A self-ordering kiosk concept is adopted here i.e. place your order and make payment before proceeding to the pizza station with your receipt.
Build Your Own Pizza (SGD12 nett)
Choose your sauce, cheese, meat, veggies/others and drizzle. The good news here is that the use of these ingredients are unlimited! For meat lovers, you can choose to go for an all meat pizza but through experience, a mix of ingredients is definitely a better choice!
We were very fortunate to be given the opportunity to go behind the counters and experience hands-on making our own pizza! TPC uses a high temperature equipment which helps to flatten the dough and cooks the surfaces before the fillings are added on top. This is where the exciting part starts: Unlimited toppings!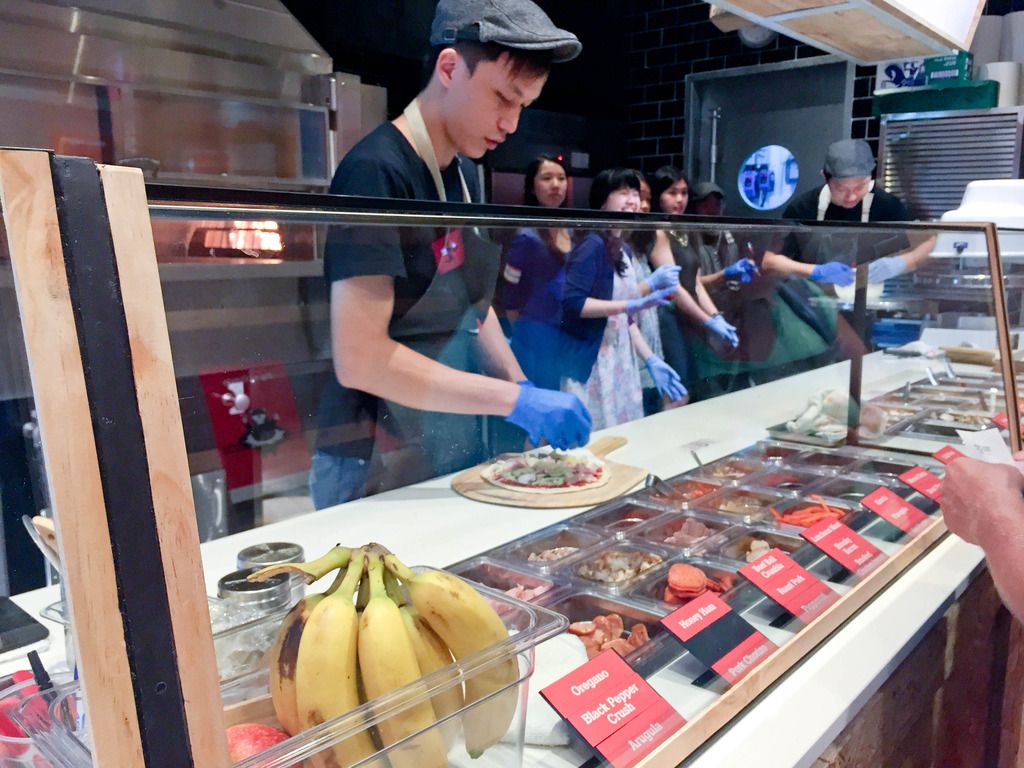 These are the choices available for the 5 steps:
Sauce: Red, White and Oriental
Cheese: Shredded Mozzarella, Mozzarella Ball, Blue Cheese, Ricotta, Grated Parmesan
Meat: Smoked Chicken Breast, Beef Ball Crumble, Streaky Bacon, Honey Ham, Pepperoni, Pork Chorizo, Roast Pork, Luncheon Meat
Veggies/Others: Bell pepper, Pineapple, Button Mushroom, Shiitake Mushroom, Black Olive, Zucchini, Fresh Basil, Kimchi, Cherry Tomato, Arugula, Chilli Padi, Caper, Onion, Minced Garlic, Oregano, Black Pepper Crush, Sea Salt Flakes
Drizzles: Spicy, Coke, BBQ, Olive Oil, Wasabi Aioli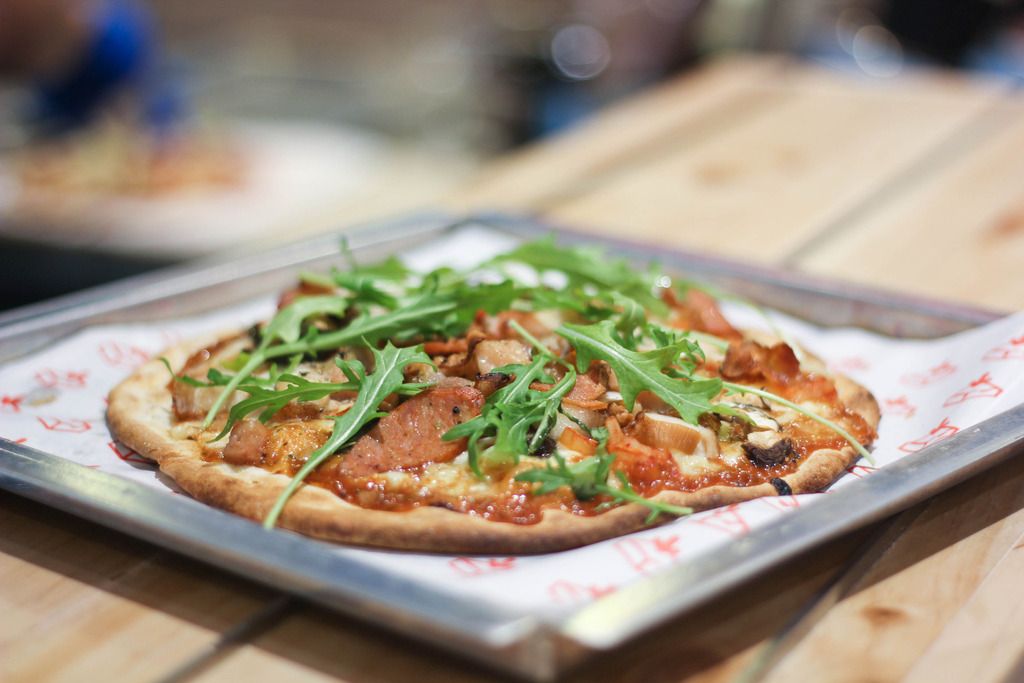 For the base sauce, I was very attracted to the oriental as it was somewhat an Asian fusion twist on an Italian pizza! We proceeded to throw in generous amounts of cheese for the sticky creamy pizza slice. For meat, we had the chicken breast, bacon, chorizo and roast pork! Some other toppings we added were the kimchi, mushrooms, onions and arugula.
Before it is served, you can choose a drizzle on your pizza. We went ahead with the recommended spicy drizzle and it was indeed a good choice! It gave my slice of pizza a spicy kick without overpowering the other ingredients. Overall, I fully enjoyed my self-built ingredient-filled pizza. Every bite was a joy!
If customization is not your cup of tea, there are 6 signature pizzas (4 savoury and 2 dessert) that you can choose from (all at SGD12 nett). From the 4 savoury options, my pick would be the Kim-ky - oriental sauce base, mozzarella, cheese, kimchi and luncheon meat. I've never thought that Korean kimchi would go so well on an Italian pizza! This is what a fusion dish brings about - discovery of more new flavours! From 7th August 2015 onwards, the Beef Rendang and Sal-murai will also be introduced as items on the menu. The beef rendang was pretty awesome with the tender and flavourful chunky beef pieces!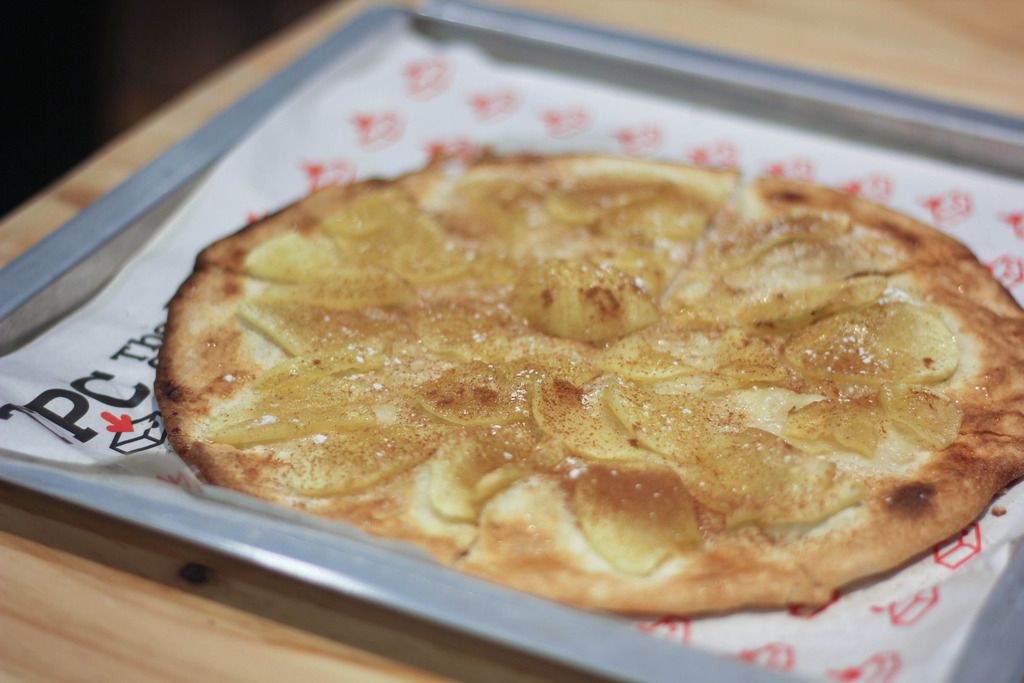 For the 2 dessert options, I preferred the Monkey Business - banana, nutella drizzle and almond flakes. The banana and nutella combination can never go wrong, and this is an ultimate comfort choice offered at TPC. Think warm crispy pizza base with banana and creamy nutty chocolate!
I would highly recommend building your own pizza at TPC as you can add more toppings and eat your money's worth (even though it is already affordably priced). As an official opening special, TPC will be offering a 1 for 1 promo from 14 - 16 August 2015. Pizzas for $6 nett! What are you waiting for?
Thank you

Burpple

for the invite and

The Pizza Collective

for hosting us!
The Pizza Collective is located at:
Bugis+ #01-12
201 Victoria Street
Daily | 11am-10pm