Joe & Dough - SG50 August Specials
For your cuppa Joe fix, you can head over to Joe & Dough (as the name suggests). Joe & Dough is founded by 2 Singaporeans who believe in serving "good honest food and coffee made by people who care".
Joe & Dough has recently revamped some of its menu offerings, including exclusive items that will only be available in August 2015 (1st August 2015 - 31st August 2015) in conjunction with Singapore's Golden Jubilee.
The SG50 specials include Soy Sauce Chicken and Achar Gourmet Sandwich, Durian Profiteroles and Bandung Cafe Latte (Hot/Cold).
Soy Sauce Chicken and Achar (SGD 8.80)
We are familiar with soy sauce chicken and achar found in our hawker food and Joe & Dough has brought these two together into their sandwich offering. It reminds me of a Vietnamese banh mi with that sour-ish achar. The well marinated and tender chicken pieces, along with the crunchy sour-ish vegetables was a good combination. The achar was refreshing and made it strangely addictive to have continuous bites of the sandwich!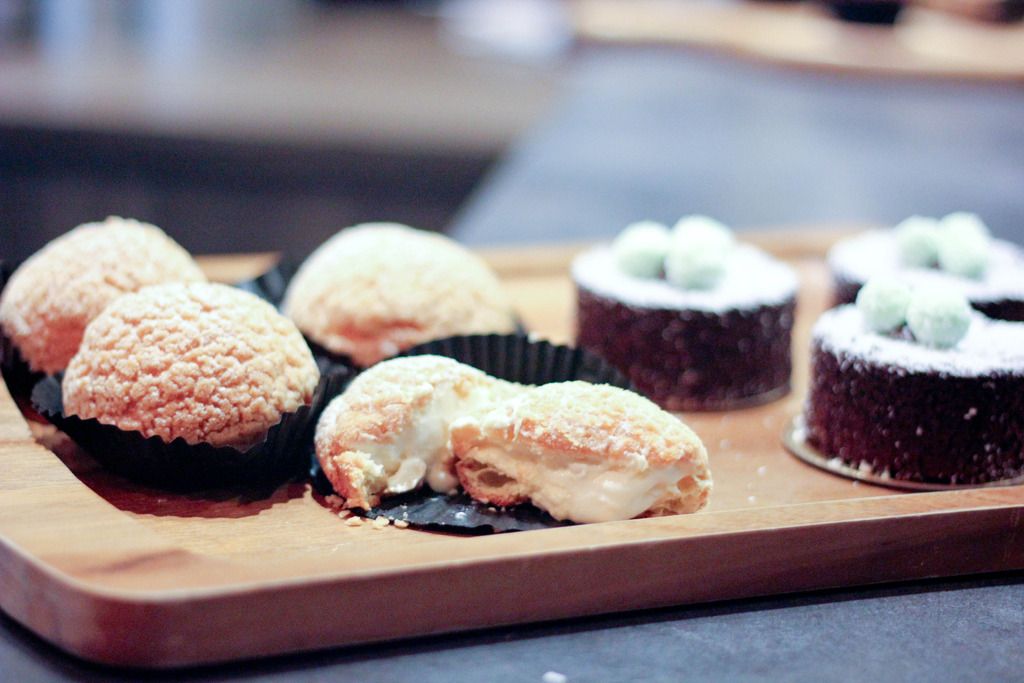 Durian Profiteroles (SGD4.80)
An iconic fruit in Singapore would definitely be the King of Fruits - durian! Introducing the durian profiteroles as one of the desserts, Joe & Dough definitely knows how to capture the hearts of Singaporeans! You will be happy to find that the profiteroles are of a larger size than usual, and bursting with mao shan wang durian on the inside!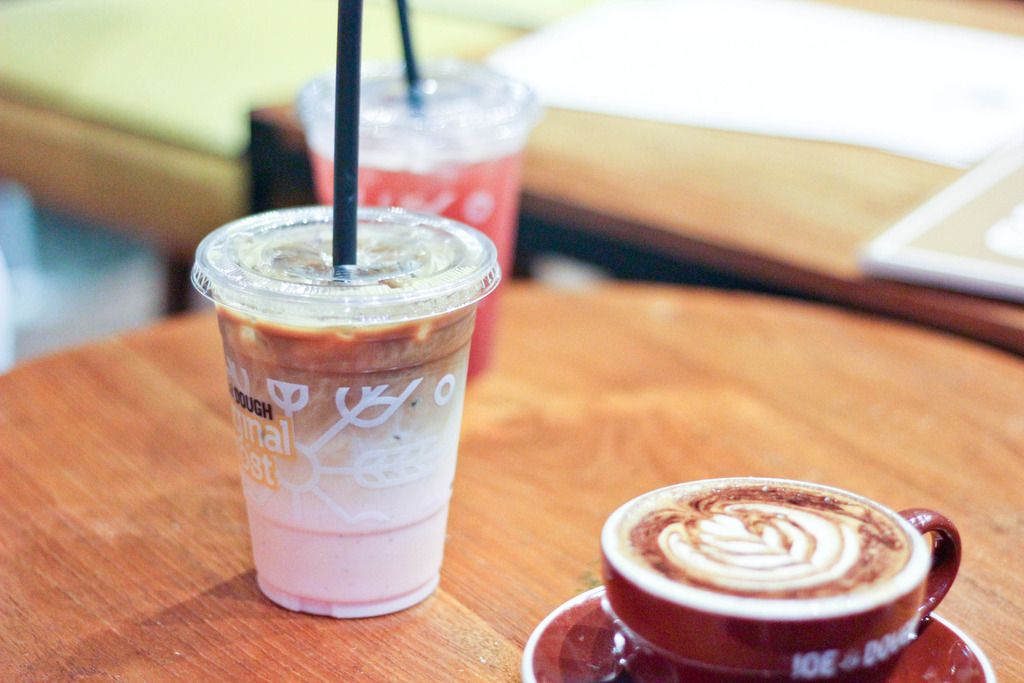 Bandung Cafe Latte - Hot (SGD5.50) / Cold (SGD6.30)
Bandung and coffee? Yes, they do go pretty well together! We tried both the hot and cold version and my vote goes to the hot version! The aromatic rose flavor of the bandung was subtly brought out by the roasted coffee beans. An interesting take on coffee and I would recommend giving it a try!
Apart from the SG50 specials, another new idea introduced by Joe & Dough would be the all day breakfast. Breakfast food is always a favourite and now you have this option all day at Joe & Dough!
Truffled Egg Mayo and Lumpfish Roe on Toast (SGD8.50)
Granola Yoghurt Bowl with Chia Seeds (SGD5.60)
Although not your usual toast, the truffled egg mayo and lumpfish roe on toast resembles a somewhat familiar homely taste of a egg mayo sandwich. The addition of truffle in the egg mayo gave this dish a luxe flavor profile, doubling the enjoyment! Another common breakfast favourite are their granola yoghurt bowls. Chia seeds are also added to make this a healthier choice!
Gourmet Sandwiches - Chicken Tikka (SGD8.50) / Turkey Ham (SGD9.00)
Other gourmet sandwiches that we sampled include the Chicken Tikka with Mint and Coriander Mayo and Turkey Ham and Curried Mango Chutney. I appreciate the use of quality ingredients with carefully thought out condiments and garnishes. All sandwiches were good and nothing to complain about.
Cupcakes (SGD3.80) / Chocolate Cake (SGD5.50)
For desserts, we sampled the Espresso Chocolate Cheesecake, Lemon Lime and Mixed Berry Cupcake and Flourless Chocolate Coconut Cake. The cheesecake is heavy on the espresso flavor, and encrusted by a chocolate cookie layer on the outside. Though the cupcakes were a little on the dry side, we were pleasantly surprised to find a berry jam and lemon curd filling on the inside for the respective cupcakes! These fillings did help to salvage the otherwise dry cupcakes. Similarly for the chocolate cake, a caramel gula melaka filling is enclosed within the cake. This gives a variation to the taste profile of the otherwise rather flat tasting chocolate cake.
Signature Joe (SGD5.40) / Hot Chocolate (SGD5.20/5.70 with marshmallows)
We also sampled some other beverages such as the Signature double ristretto Joe 1914 Coffee. Served with a close similarity to cappuccino but with lesser foam, it results in a cup of joe with good strength from the coffee beans and well balanced on the acidity level. If you are looking to have a refreshing drink, do consider their Cha Coolers (Strawberry/ Island Mango). Otherwise, the all time comforting Monbana Chocolate (Hot/ Iced with marshmallows) will never go wrong.
After sampling a wide array of food from Joe & Dough, I could sense the warmth and sincerity that the owners have put into their business. You know you can always turn to Joe & Dough for quality comfort offerings, a place that you can easily visit time and time again.
Thank you
Joe & Dough
for hosting and
Burpple
for the invite!
Joe & Dough is located at:
Square 2, Madame Tussads Sentosa, Leisure Park Kallang, Orchard Gateway, Millenia Walk, Marina Bay Link Mall, Golden Shoe Carpark and Income at Raffles.
More store details at
http://www.joeanddough.com/contactus.html
.