Daniel Food Diary x Tampines 1 "The Art of Food Blogging"
Just last month, I had the pleasure of joining Daniel from danielfoodiary with 20 other participants on a food trail around Tampines 1 while picking up valuable tips of food photography and blogging from him along the way! We had 4 food stops lined up for our afternoon - Ministry of Food, Thai Express, Dian Xiao Er and Milk Cow. I was extremely
excited for the experience to join like-minded friends in an afternoon of good food and chatter.
First stop: Ministry of Food (MOF)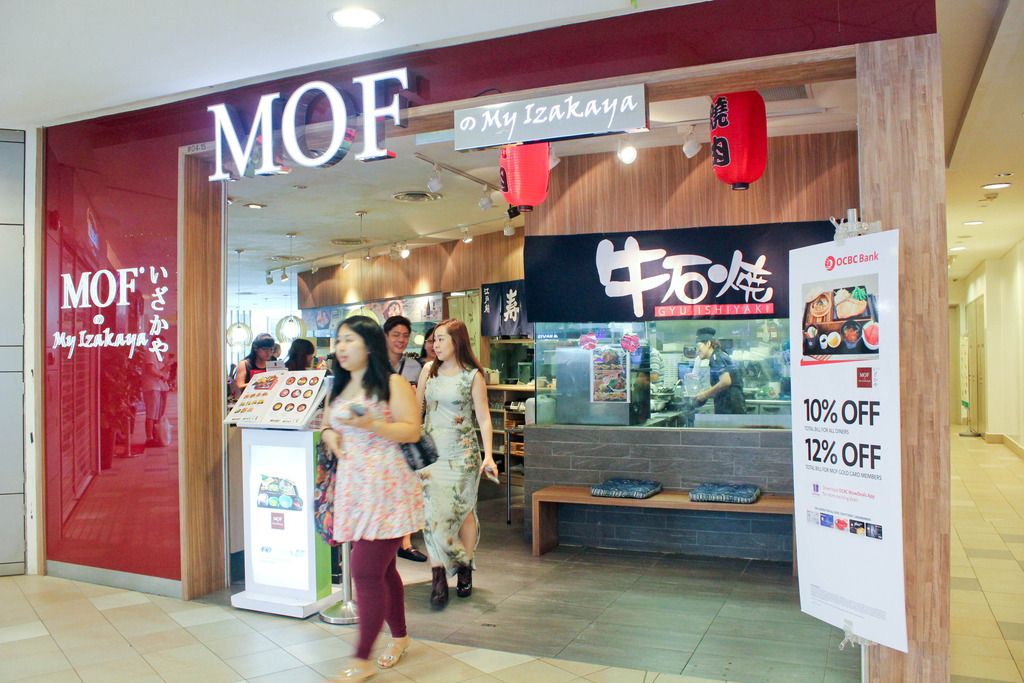 Here, we were served with the Unagi Hot Stone Rice, Ribeye Steak and Kurobuta Pork Set and not forgetting some Matcha Latte!
Tip #1: 3 is better than 2
Daniel shared with us that 3 cups of beverages often look better than 2! That is, of course, if you have more than 3 friends around. Please do not order extra beverages just because of a photo! To make your picture look more fun and interesting, you can get your friends to pose for you.
This is my take from the tips given: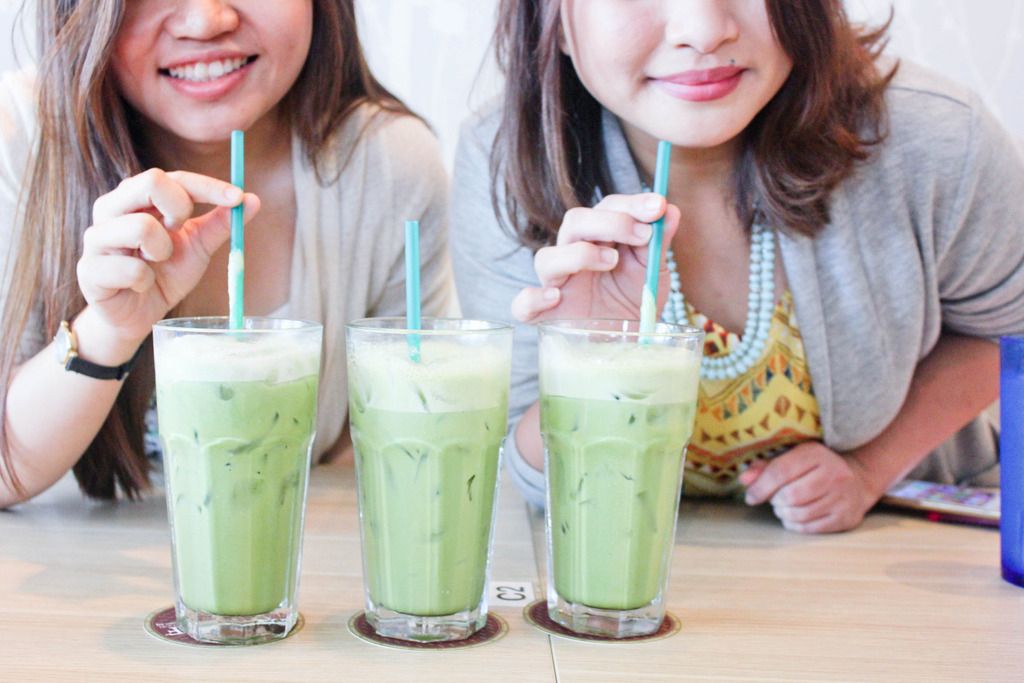 Of course, i'm sharing with you guys more pictures of what we had at MOF.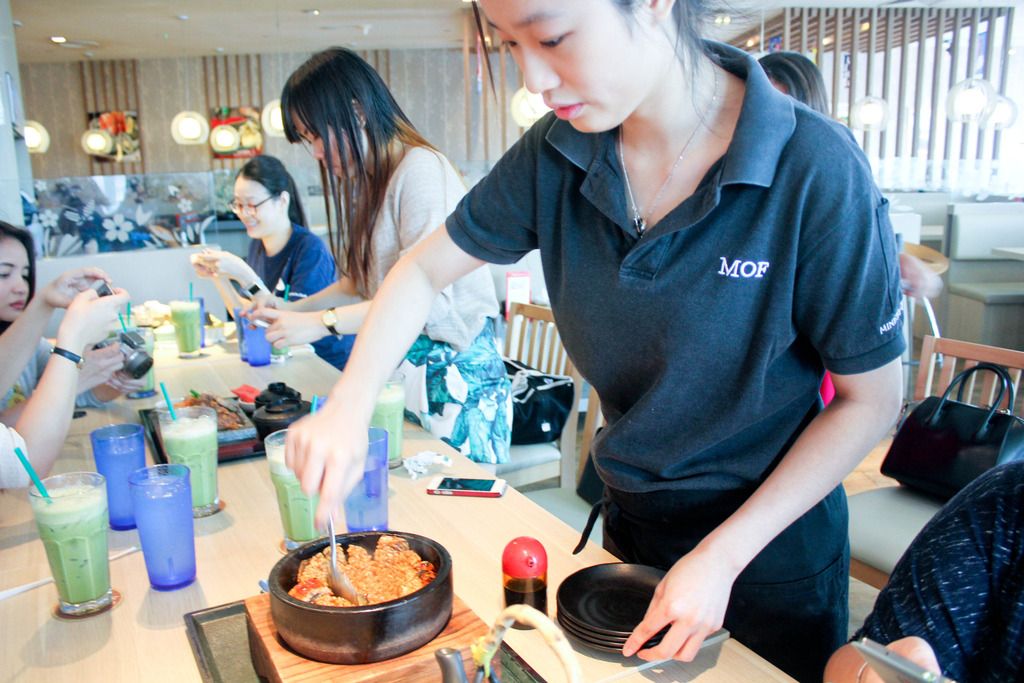 This was quite a satisfying main! When serving the dish, the waitress added some brown sauce before giving it a good mix. I was pleasantly surprised by the generous amount of unagi in this hot stone rice. The rice was also slightly charred, which was something that I did not mind at all - in fact, I love it this way!
I generally love my food served hot, and MOF delivered again (after the Unagi hot stone rice) with this Ribeye Steak and Kurobuta Pork on a hotplate! The pork was disappointing due to its fatty yet tough texture, but on the other hand, the steak was totally spot on! Grilled to a tender finish and topped with dollops of minced garlic, it was a very flavorful piece
of meat. The meat juice and sauces was also a good combination for the stack of bean sprouts! On the side, some sweet onion sauce and miso sauce was also served.
Before I move on to our next stop, we found out that MOF is founded by Lena (Yes, she's also behind the brand LENAS and several others!). She has an allergy towards MSG, so all the food you have at her chain of restaurants are definitely MSG free!
Second stop: Thai Express


Tip #2: Natural lighting is the best!
Natural lighting works well for food photography by bringing out the true colour of the object without the need for excessive editing! To make full use of the sunlight, do shoot opposite from the sunlight's direction so as to avoid shadows!
Thai Express at Tampines 1 has a lovely second storey dining space, where the glass panels allow natural light in. Shooting here was a breeze and these are the shots that I've attempted.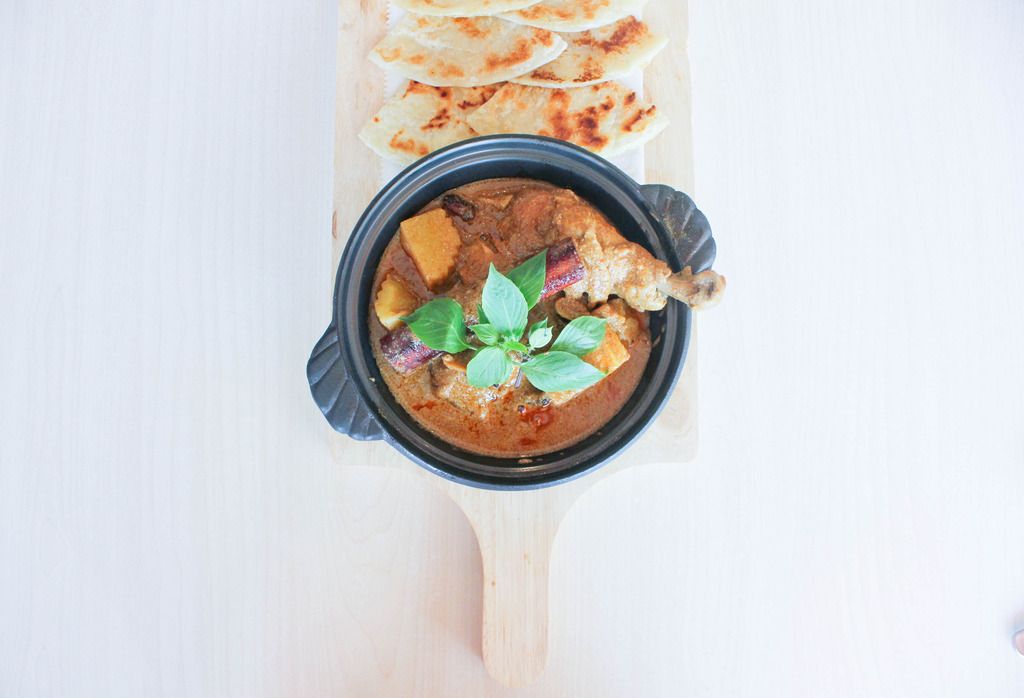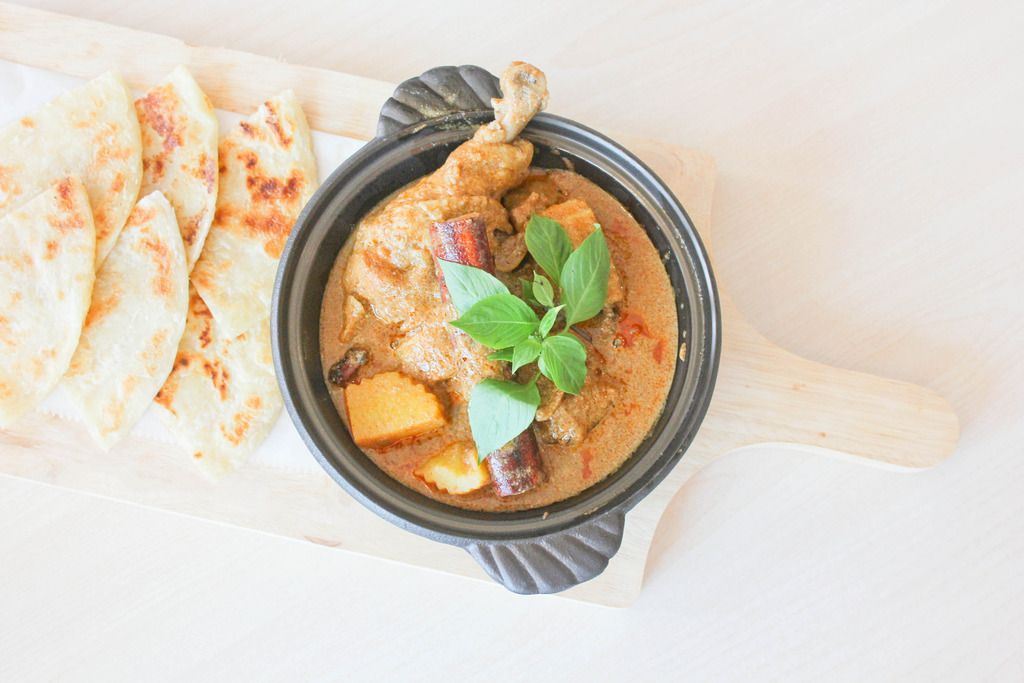 We were told that over 20 spices were used in the making of this bowl of curry. Naturally, we weren't able to identify all 20 spices but the strongest tasting and most identifiable of them all would be the use of cinammon. Additionally, it was cleverly used in the plating which added some points to the aesthetics of this dish!
The massaman curry had a taste profile leaning towards sweet rather than spicy, which makes it friendly for all! Thai Express has lovingly chose a local favorite of ours - bite sized prata, for us to dip into the curry. Curry and prata always works, and I'm happy to find this pairing here!
A classic thai dessert was also served. The mango sticky rice is a hot favorite amongst Singaporeans and I can't find a reason not to have this here. The sticky rice here was soft, making it easy to bite into along with the rich coconut drizzled over it. Needless to say, the mango was sweet and yummy!
Tip #3: Take a close up shot
Use your utensils to pick up a piece of meat, and let your camera zoom into the details.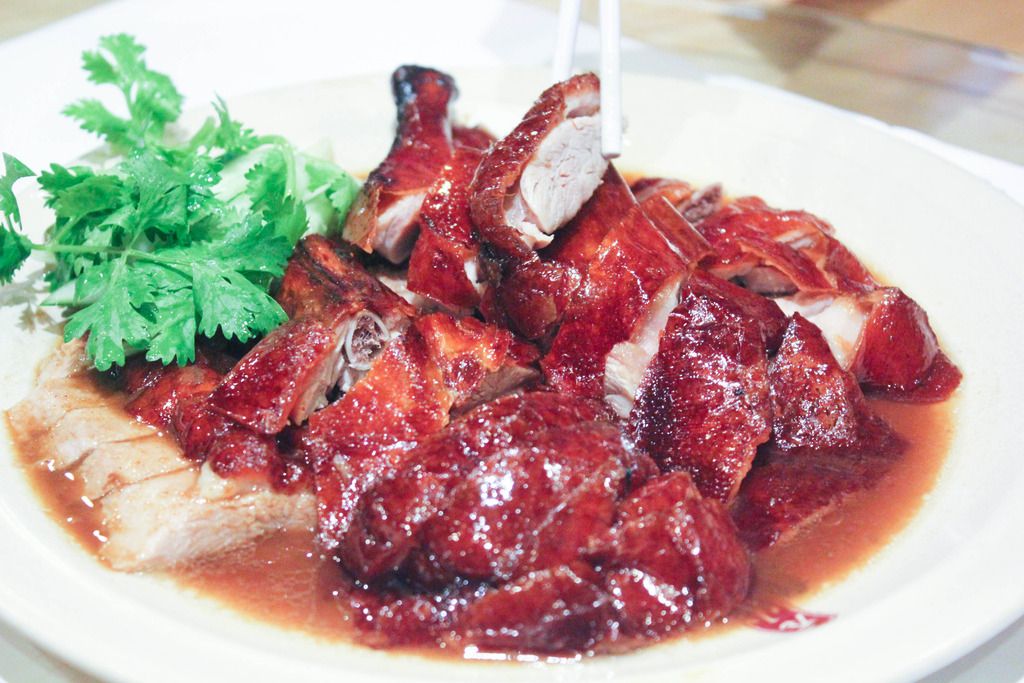 Doesn't the glistening skin of this dang gui duck make you salivate already? The dang gui duck was drenched in a herbal-ish broth, which balanced the oiliness of the duck, and I had no problem sending piece after piece into my tummy! The meat was tender and the skin was crispy - a definite must order at Dian Xiao Er!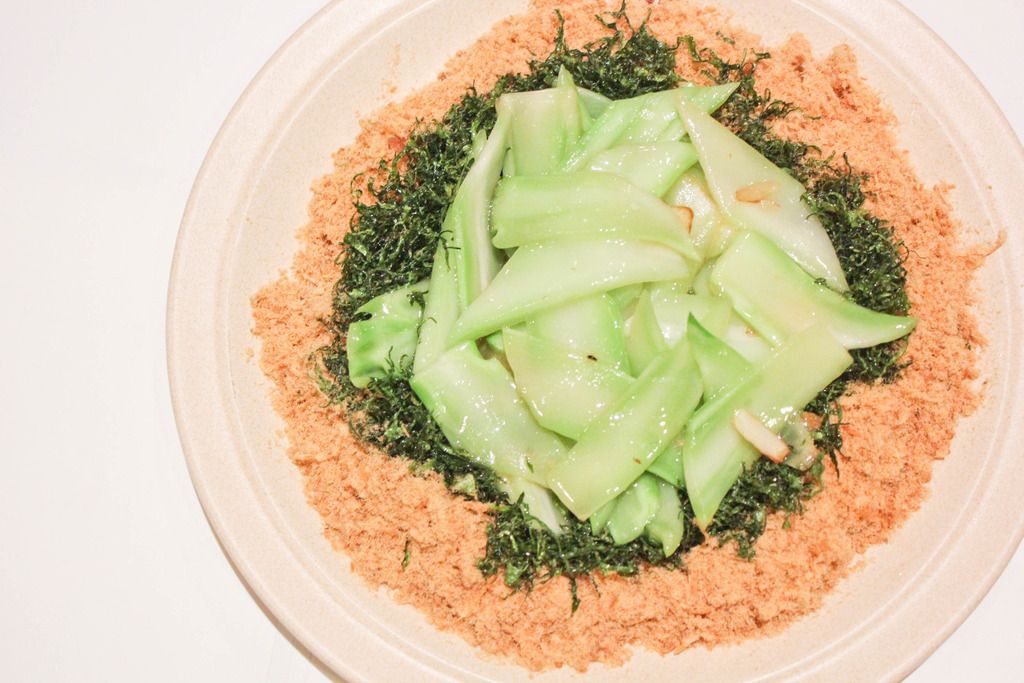 The deep fried kailan with floss may look simple, but all of us enjoyed it! The leaves of the kailan were deep fried till crispy and tossed with pork floss. The sweetness of floss along with the crunchiness of the kailan made it an easy dish to love.
Tip #4: Speed is key
Most of the time, food taste better when it's hot, but more often than not, we end up eating cold food as food photography addicts like myself try ways and means to get the perfect photograph! However, there are some kinds of food that loses its aesthetic appeal within a very short span of time. Ice cream is one such food that robs you of that luxury of time to explore the perfect angle. You have to be well prepared before it is served.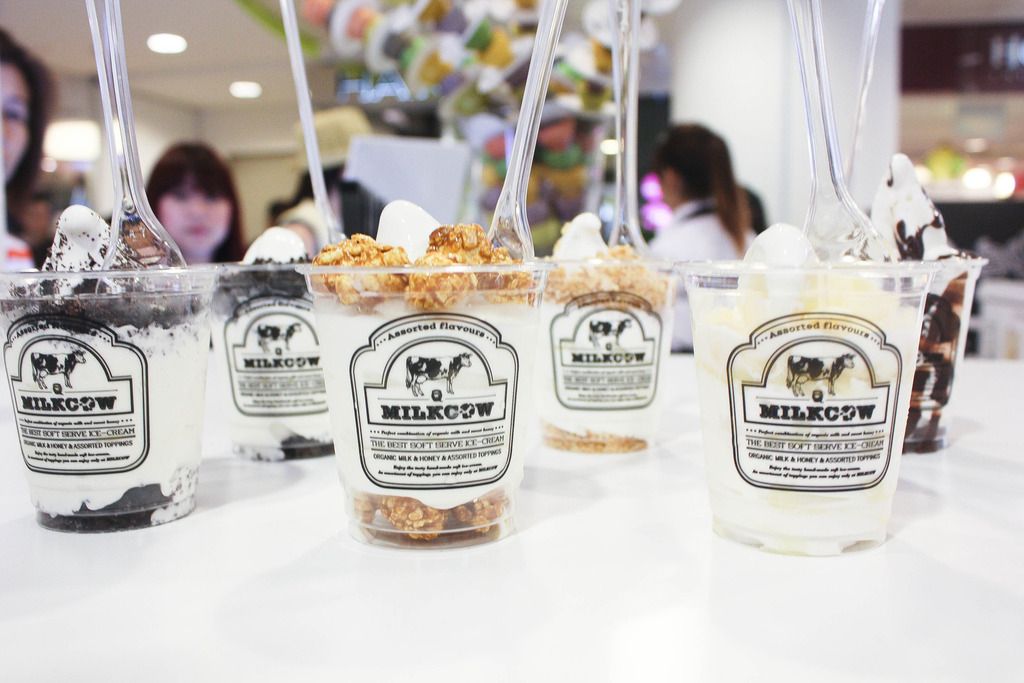 Given how pretty Milk Cow soft serves are, it actually didn't take that long to capture beautiful shots of it! Thanks to the generosity of Tampines 1 and Milk Cow, the soft serves were continuously being served. It was like a milk cow parade!
From Mocao Dream ($5.90) to Coco Magic ($5.90) to Snow Drop ($5.90), girls like me are definitely spoilt for choice! I love the soft serve here as it is extremely milky, almost tasting like frozen milk. My personal favourite is the good old organic honeycomb ($5.50) that simply goes so well with the plain tasting soft serve. The sticky and sweet honey added a good level of flavor to the ice cream.
Tampines 1 has recently introduced several new restaurants to the mall, giving you more reasons to head there! Think Chicken Up, Milk Cow and Sushi Express - you can easily find a place in Tampines 1 to settle your meal!