Afternoons in Taipei
You might have some time to spare before hitting those night markets. These are some places where you can rest your legs for the night ahead and letting those tastebuds feast! In this guide you will find: Drip Cafe (

好滴

), Myowa Cafe (

和茗甘味處

), Chun Shui Tang (

春水堂

), Smoothie House (

思慕昔

) and

天津蔥抓餅

.
No. 26, Lane 553, Section 4, Zhongxiao E Rd, Xinyi District, Taipei City, Taiwan 110
There are no shortage of cafes at the Zhong Xiao Dun Hua area, Drip cafe was one that we had visited. We had seen pictures of their strawberry cronuts and we just couldn't resist trying it! It is a two storey cafe, with more seatings on the upper level. It boasts an industrial chic interior with the cool tones, grey washed flooring and metal chairs. The hanging light bulbs from above give a nice touch of light to the cafe while the usage of glass panels supplemented with ample natural light. This also gives the illusion of a bigger space, which was very comfortable.
You can find a variety of food being served here at Drip Cafe, from pasta to sandwiches to specialty desserts.
Look at this beauty! Give me strawberry anything anytime! It is no wonder that many flock here just for this. The cronut is baked to a golden brown crust, sandwiching a layer of custard and strawberries in between. More strawberries were given on the side, accompanied with a scoop of ice cream and strawberry sauce. It also comes with a little pot of condensed milk too!
The cronut was extremely flaky and crispy, which was a great complement with the strawberries and ice cream! I loved the condensed milk drizzled on top too, as it adds a touch of milky sweetness to this dessert. The components all sound pretty heavy, but they all did come together quite nicely. Yes, it was a sinful dessert, but it's definitely worth it when it's delicious!
We also ordered a Matcha Latte and Drip Coffee to go along, both of which tasted decent. The Drip Coffee is made from Drip Cafe's specialty milk that was added to the coffee, and we enjoyed the torched sugar finish on the foam of the coffee!
No.211, Jinhua St., Da'an Dist., Taipei City (Address for Zhong Xiao outlet)
Closed on the last Monday of every month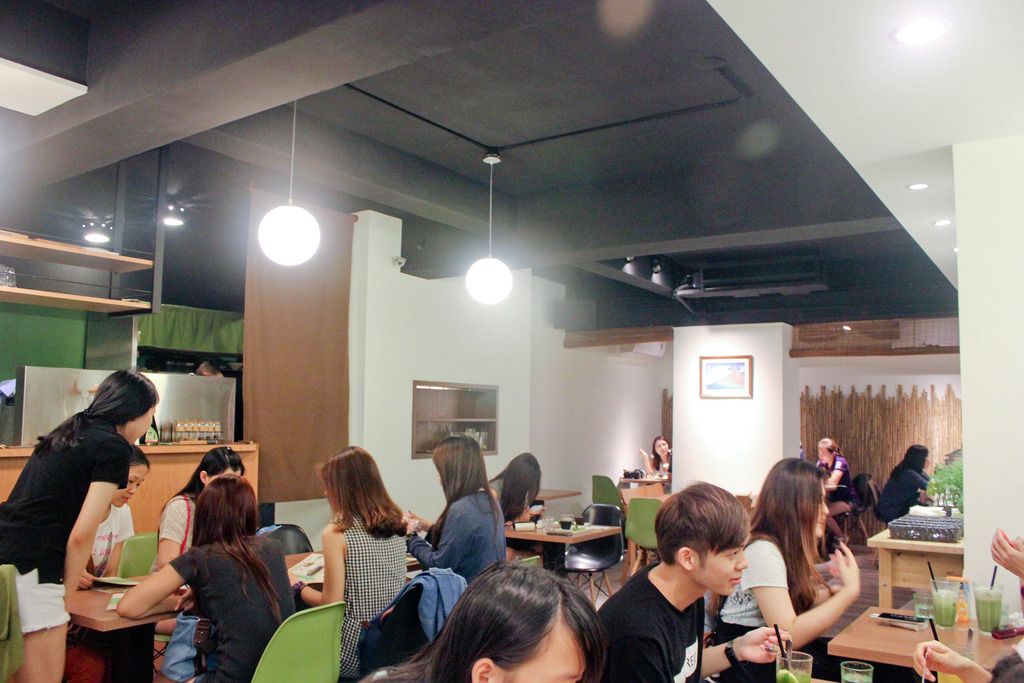 Green tea lovers rejoice! This is a cafe which specialises in all things matcha, and you are bound to find something that you like! The crowd of locals waiting for seats during the afternoon is a testimony to the crazy popularity of the cafe. We were there on a Saturday afternoon and the wait was a minimum of 2 hours!! Do try to contact the cafe beforehand to make reservations.
You will be spoilt for choice when it comes to ordering. They have a set which comes with a matcha soft serve and matcha profiterole. The main dessert item includes green tea red bean mille feuille (only available on Fridays and Saturdays), green tea crepe cake and green tea lava cake. So many delectable looking items but we only had a limited amount of stomach space.
Eventually, we settled for the mille feuille set, matcha parfait and the grilled mochi set.
Green Tea Red Bean Mille Feuille with Matcha Soft Serve and Matcha Profiterole
The mille feuille was extremely flaky, with layers of green tea and red bean alternating the pastry. The green tea had an earthy taste to it which was complemented by the sweeter red bean. Rich fillings with a light flaky pastry was definitely yummy, especially when paired with the cooling matcha soft serve.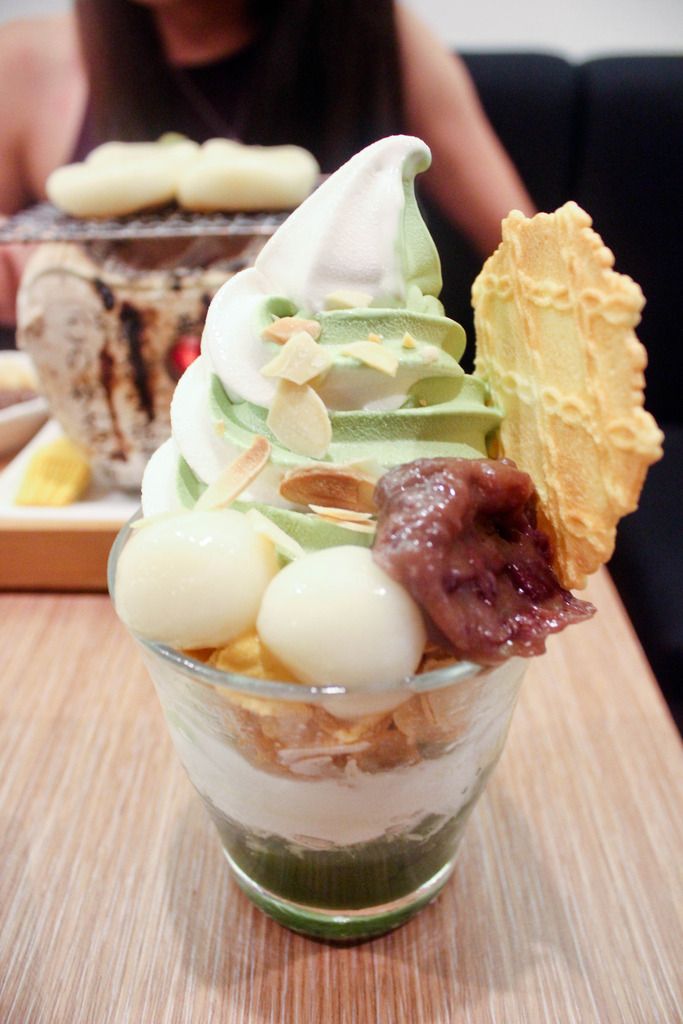 Matcha-Milk Soft Serve Parfait
This parfait has all ingredients that I love - red bean, mochi balls, corn flakes and green tea jelly. We opted for the matcha-milk mixed soft serve. The green tea served here has the slight bitter aftertaste. To me, that is the indication of a true blue authentic matcha taste that I didn't mind. If you do not like this taste, the mix with the milk soft serve increases the sweetness and milkiness of the ice cream.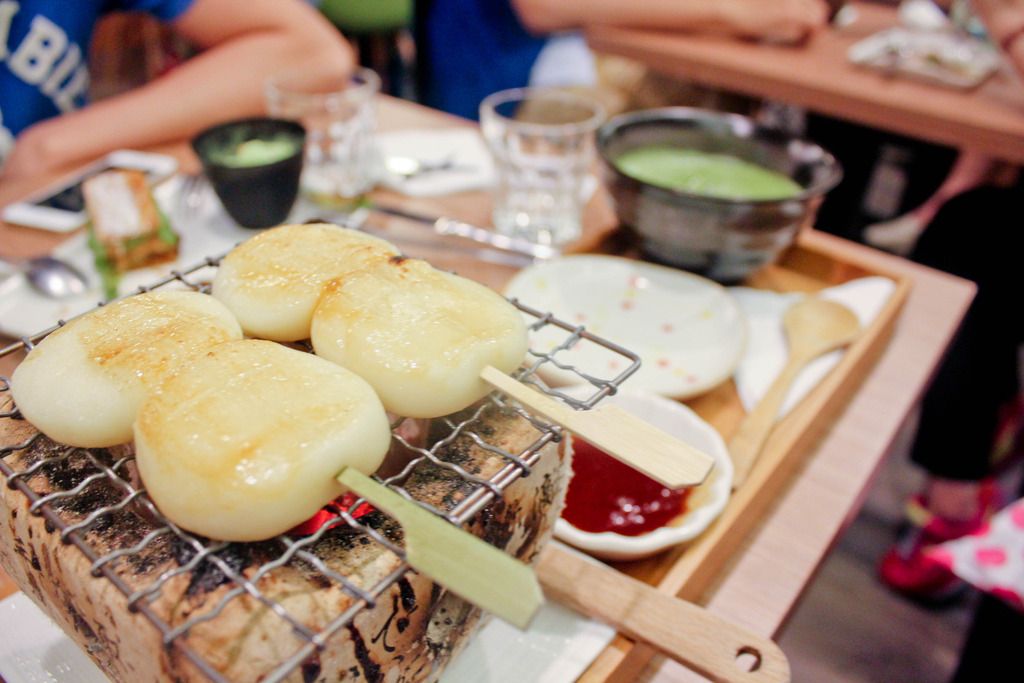 Grilled Mochi with Green Tea Red Bean Soup
Grilling your own mochis in a cafe? Definitely a yes for me! A mini charcoal grilling set was served, along with brown sweet and salty sauce for the mochis and a bowl of hot green tea red bean soup. So much effort is placed into this set! The charcoal came pretty hot so the mochi was heated and grilled with a slight charred exterior in no time. Mochis are great when they're hot, as they're extremely soft and chewy!! The grilling elevates these mochis and the subtle burnt taste coupled with the sauce (brown sugar mixed with soy sauce) really came well together. Wash it all down with the accompanying green tea soup that has a mild bitter taste. It was perfect to sooth your throat after gobbling down the mochis!
Don't these desserts warrant you to put this on your to-go list in Taipei already?
Sun Yat Sen Memorial Hall Exit 5
So this is where all it began for the bubble milk tea which had hit the shores of Singapore a few years back and attracted so many brands to spring up here. Pearl milk tea had originated way back from 1987, where the founder had chanced upon her favorite pearls one day and decided to put it into the milk tea! What a brilliant discovery which created the drink I was so crazy about years back.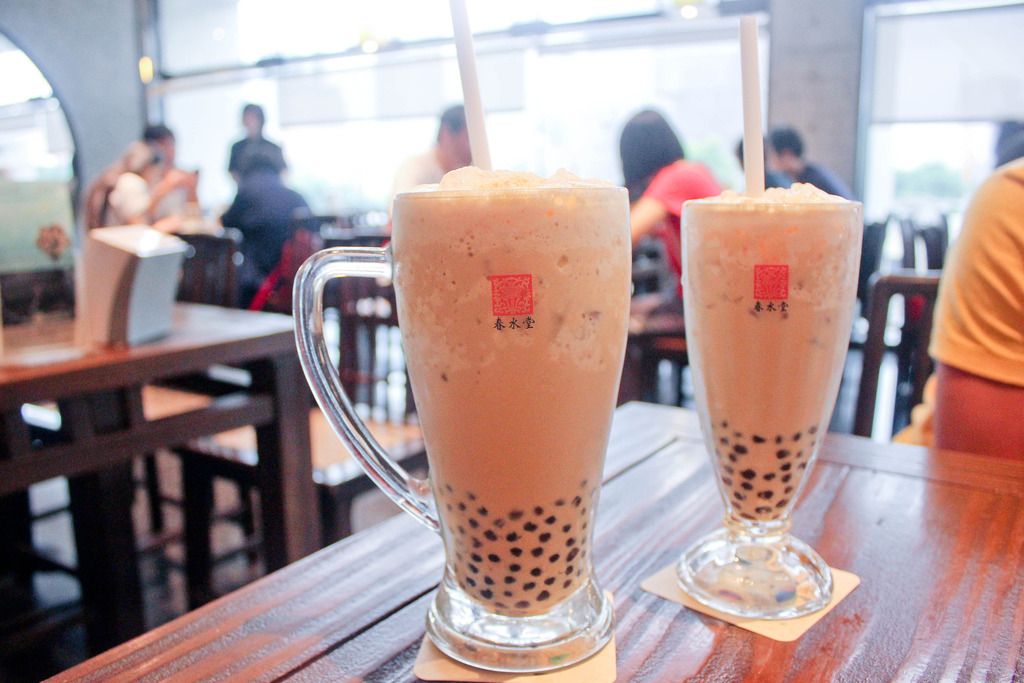 You might wonder what is so different about this cup of pearl milk tea. I might not be able to put it down in words, but it really tasted like a refined and elevated version of what you can find from other bubble tea shops. You can also choose the sweetness level here - where we were recommended with the 100% which was just nice for us. Any lesser than that might be a little too bland.
I feel that what truly differentiates this cup of milk tea is the addition of some milk tea crushed ice, and topping it off with some foam. The pearls were very very chewy and soft, indicating the freshness of it. As for the tea, the lightly brewed tea fragrance significantly differentiated itself from regular bubble milk tea, which can sometimes taste a tad artificial. We easily finished the entire cup (it was rather huge!) and wished that we had space for more!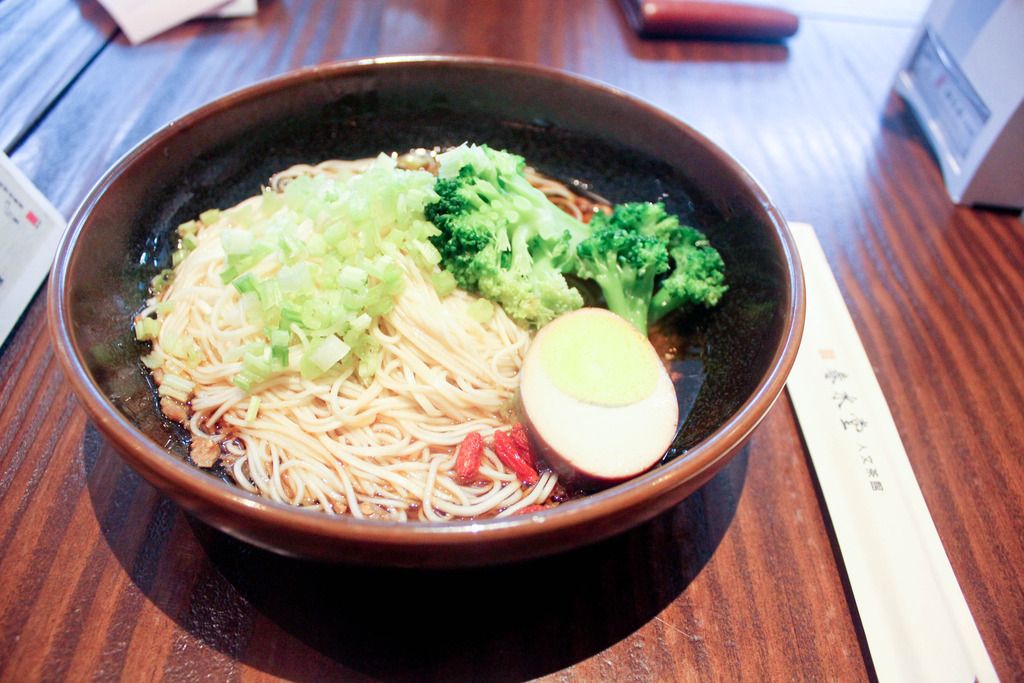 The teahouse has a rather large menu featuring chinese dishes and we selected the sesame oil mee sua to try. For the older folks, we saw many of them order the hot brewed tea served in the traditional tea pots too!
No.15, Yongkang St., Da'an Dist., Taipei City 10650, Taiwan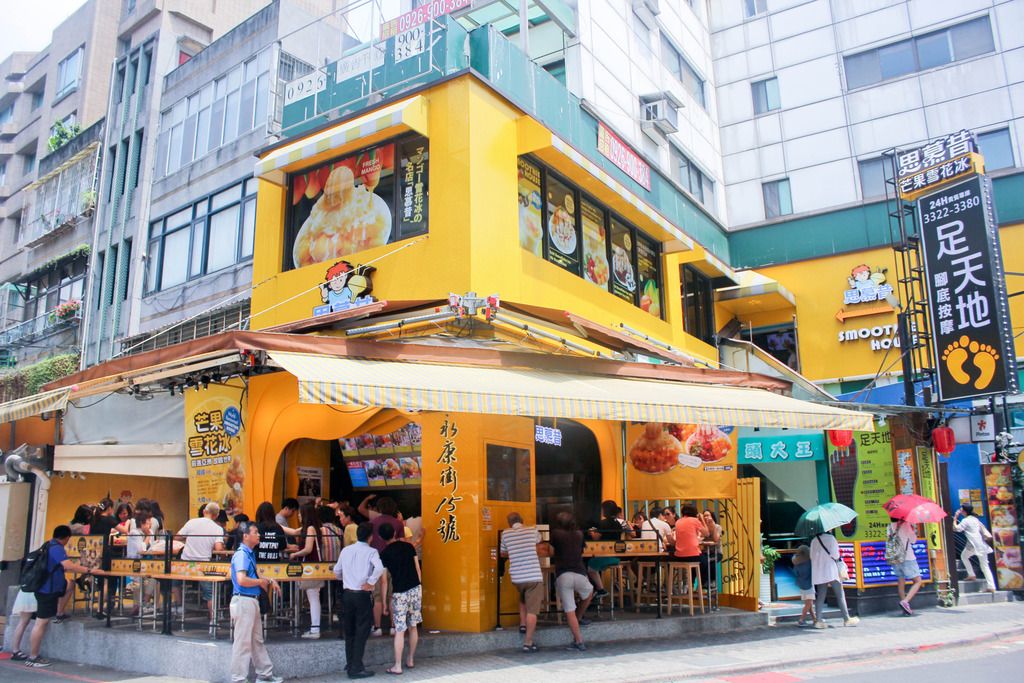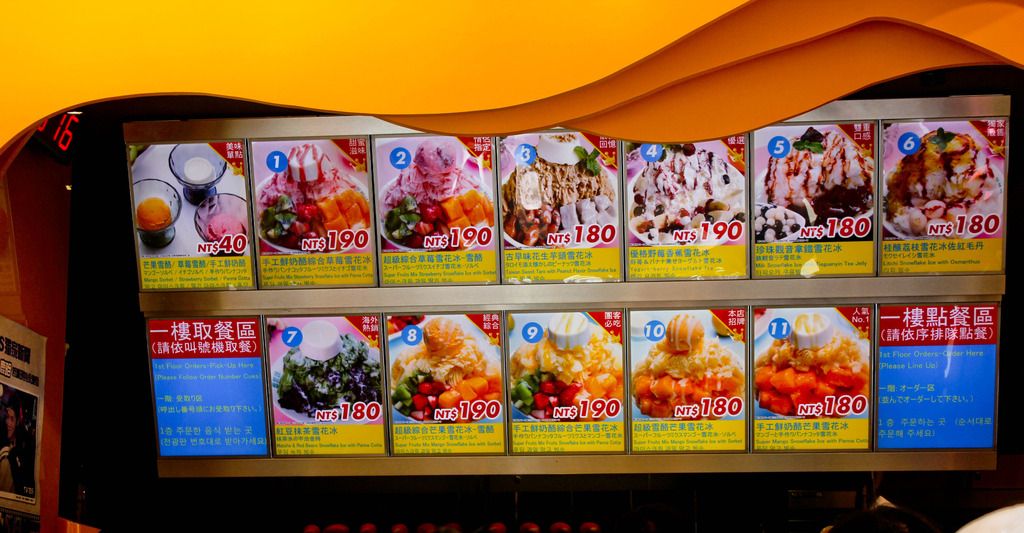 Cool down the summer heat with a bowl of snowflake ice! Even in cooler temperatures, you know that this sweet treat is bound to be to your liking! Situated along Yong Kang Street in Taipei, it is one shop that you should not miss. Their signature item is the Super Mango Snowflake Ice - generous amount of mangoes surrounding mango shaved ice! This time round, we tried the Super Fruits Mix Mango Snowflake Ice so that we could get a bit of everything.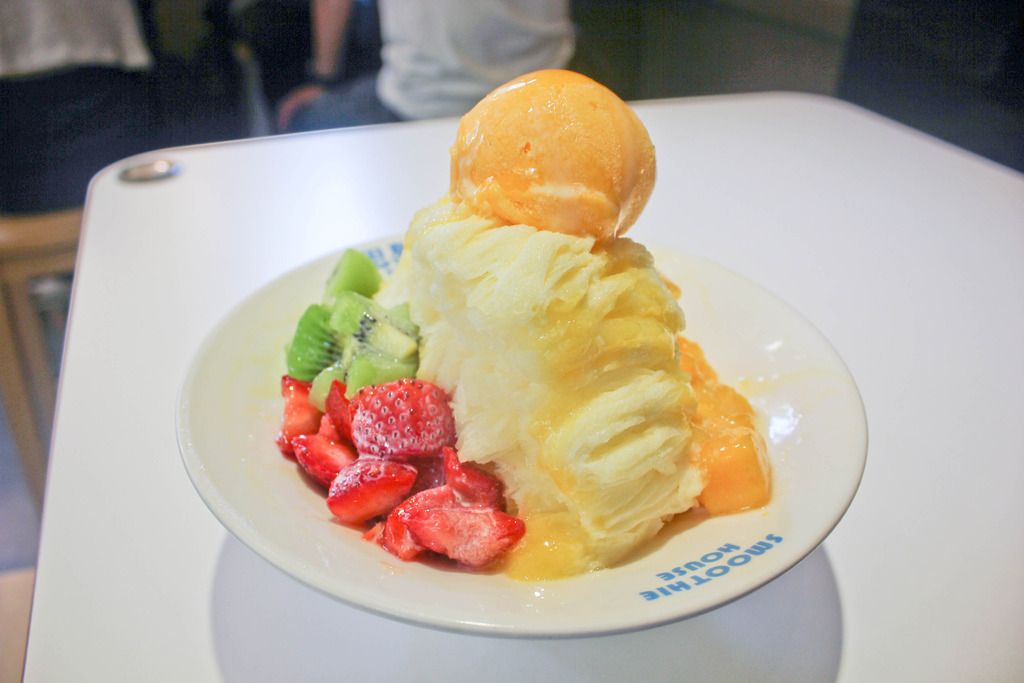 Super Fruits Mix Mango Snowflake Ice - NTD$190
Ours came with strawberries, kiwi and mangoes with mango snowflake ice completed with a mango sorbet on top. We especially love the sorbet! Its texture was half ice cream half sorbet and it tasted both creamy and icy. The snowflake ice was like a fluffy mountain, which melts immediately in our mouths. On the other hand, the fruits on the side were still slightly frozen. Nevertheless, we didn't really mind as the frozen fruits were quite enjoyable as well! However, the kiwis and strawberries were not as sweet as we would have wanted them to be.
Smoothie House has an outlet on the first level on 15 Yong Kang Street, but if you take a look carefully, there is a staircase which leads you up to their second storey, which might not be as crowded. The aircon on the second storey did leave us freezing cold, so I guess there's some sort of comfort in eating the shaved ice under the blazing heat on the first level too!
Located right opposite Smoothie House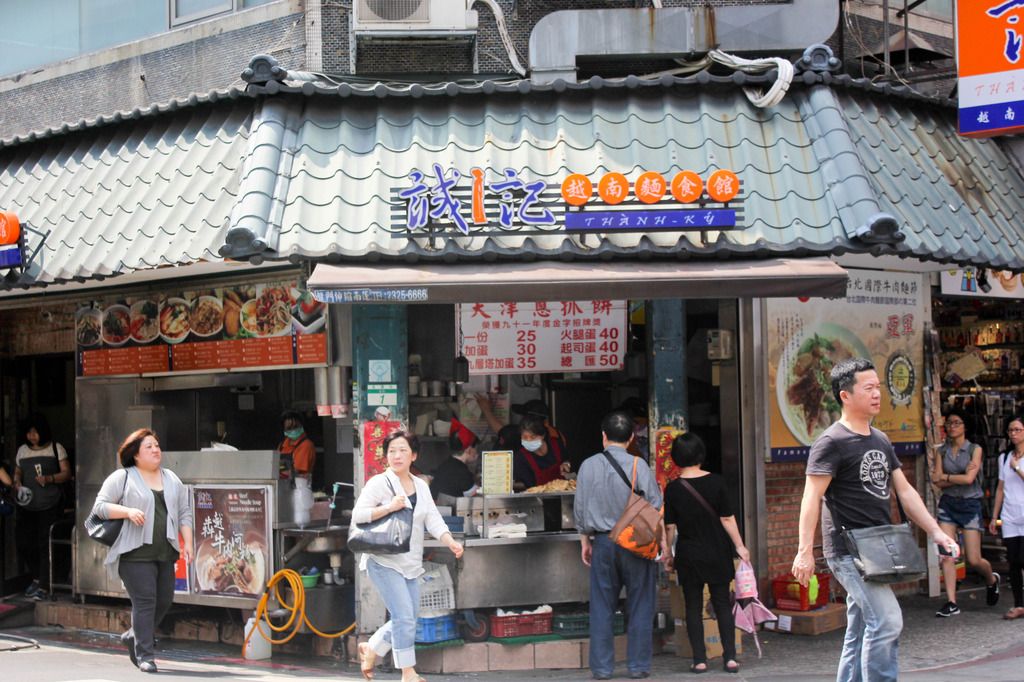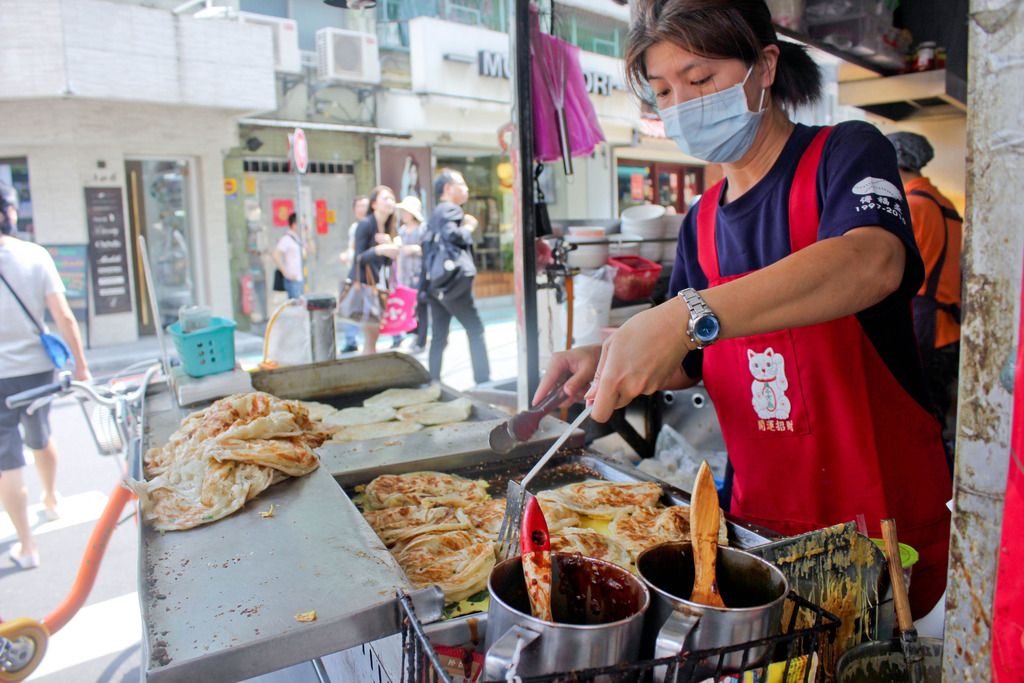 This is a little snack that I would like to include in this guide - which we chanced upon when we went to Smoothie House! This place served

蔥抓餅

which we know as roti prata in the Singaporean context. There are different toppings that you can add such as egg, cheese, ham and basil. You can spot the lady pan frying the pratas at the store front, which makes you want to grab one without thinking! We got the one with egg, cheese and ham. The lady poured the egg mixture over the pan, placed a prata over and added the cheese and ham on top of it, and brushing some brown spicy sauce on top to finish it off. What you get is a crispy fluffy prata filled with very fragrant egg and oozy cheese within. The addition of ham also adds on to the flavor. This tasted very yummy, especially after that freezing dessert that we had earlier on!