Your Guide to Taiwan's Night Market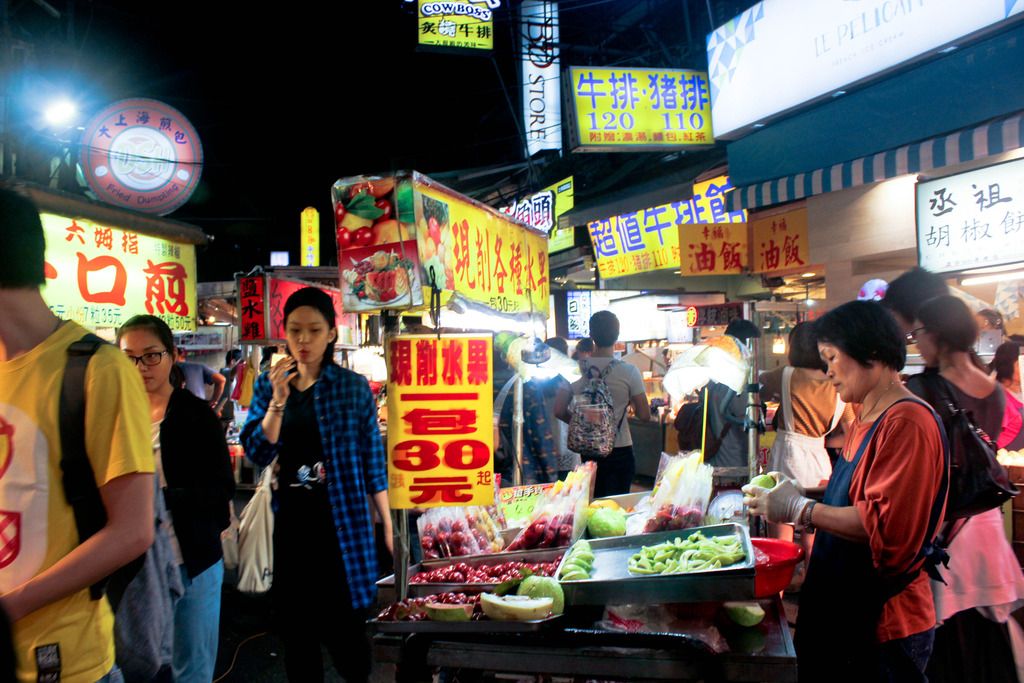 When you visit Taipei, one of the first things that come to your mind would be the night markets!! The night markets have become one of Taiwan's unique tourism attraction and something you can't miss out on. The night markets comprises of many different stalls that usually operate once the sun set. The vendors typically have a tiny cart space, from which they serve a variety of food. This gives customers plenty of stomach space to sample food from many different stalls in one night!
In this post, I would like to introduce the 4 night markets that i've visited in May 2015! They are Shilin Night Market (士林夜市), Ningxia Night Market (宁夏夜市), Raohe Night Market (饶河夜市) and Shi Da Night Market (师大夜市).
Jiantan Station 剑潭捷运站 Exit 1
Many would've heard of Shilin's revamp in the recent years. While the food stalls may not be concentrated in one area anymore, Shilin night market still remains one of the largest night market in Taipei! The entire area is quite massive and spans over several streets. This might make it slightly difficult if you are trying to find a particular stall.
士林 1: 新竹家乡碳烤香鸡排
基河路1号前 - Cross the road from exit 1 to the night market area, the stall will be on your left hand side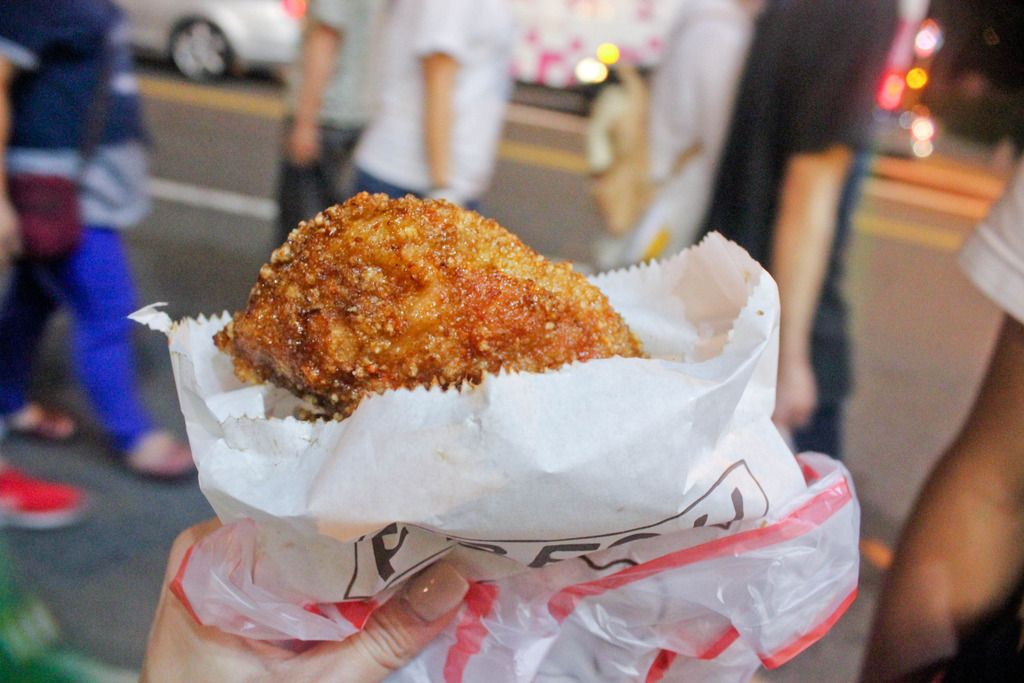 Chicken cutlet (鸡排) - NTD$70
There was a queue for this chicken cutlet, but we did not wait too long for it as the chicken were fried in sizeable batches. They were deep frying the cutlets, then removing them from the oil and making 2 slits to the meat before deep frying them again, just to ensure that the meat is thoroughly cooked. After the frying is done, each cutlet is dipped into a brown savory sauce before putting it above the charcoal grill. You can choose to have chicken cutlet cut into bite-sized pieces, but I would recommend you not to as there is some unexplainable satisfaction from eating the cutlet as a whole!

We were afraid that the meat would be tough and dry from the frying and grilling, but we were completely wrong. Instead, we got a piece of tender and juicy chicken cutlet, enhanced with a tinge of sweetness from the sauce that it was dipped in. Move away Hao Da Da, this is officially my favorite jipai!!
士林 2: 火焰牛
Along the same road as above, a few stalls down
Flame torched beef (火焰牛) - NTD$60
You would've probably seen or heard about this flame torched beef found in Taiwan's night market. It is probably one of the most affordable beef that you can purchase so conveniently from the night market! The angus black beef is first grilled, then torched before it is served. You can choose from an array of seasonings - from which I chose the rose salt to keep it simple. While I know many love this, I thought it wasn't extraordinary. The meat was quite tough in addition to it being under-seasoned. Overall, I felt it wasn't quite worth my stomach space!
士林
3
: 忠诚号
Basement food street (美食地下街)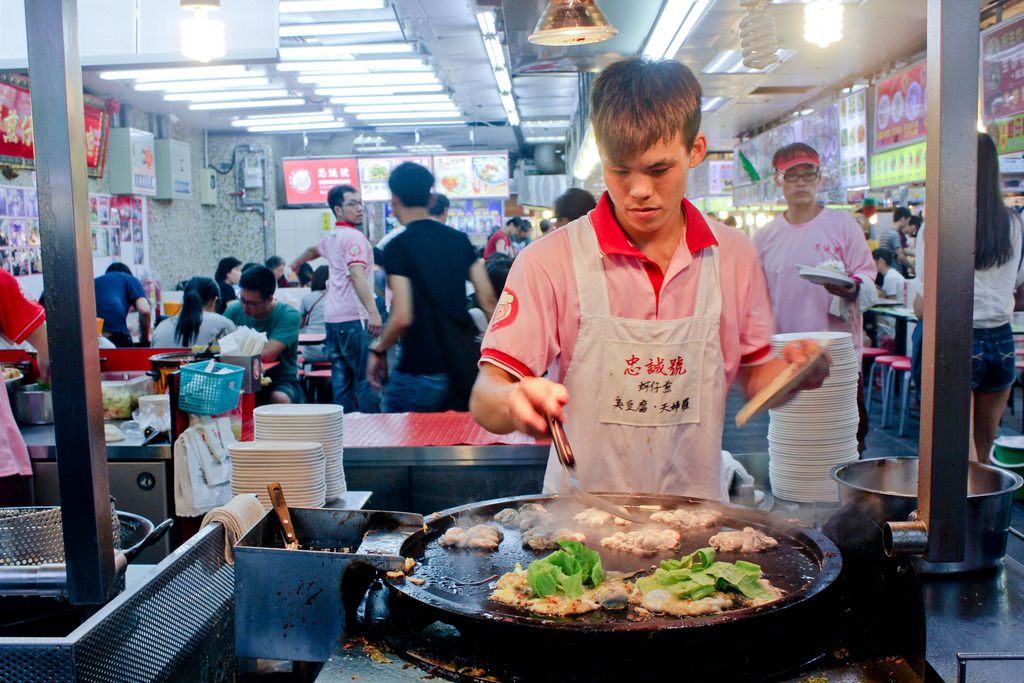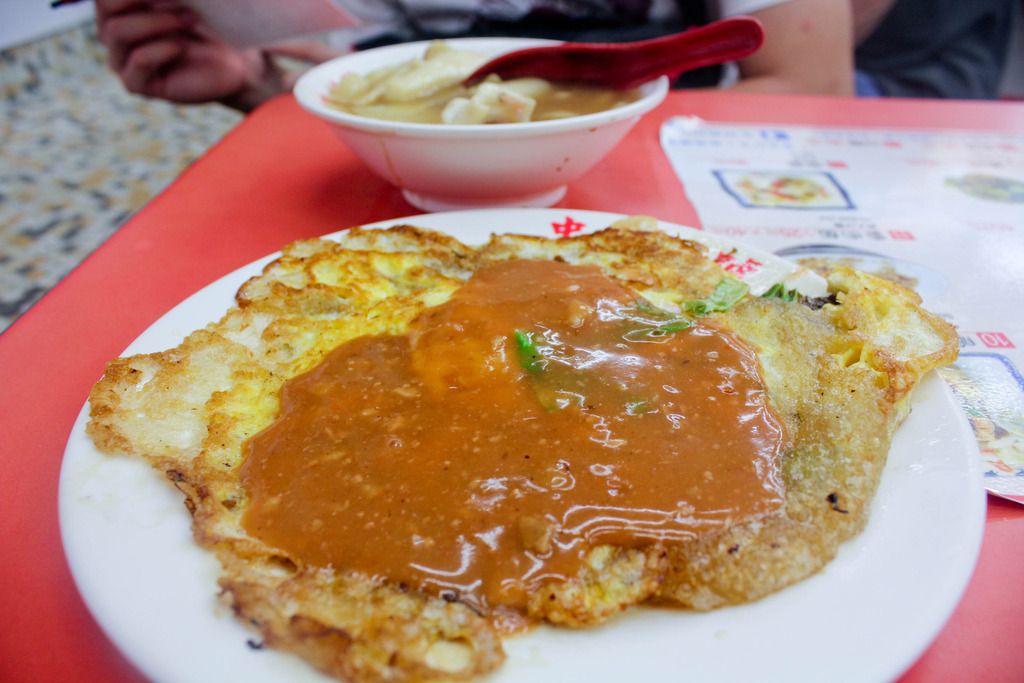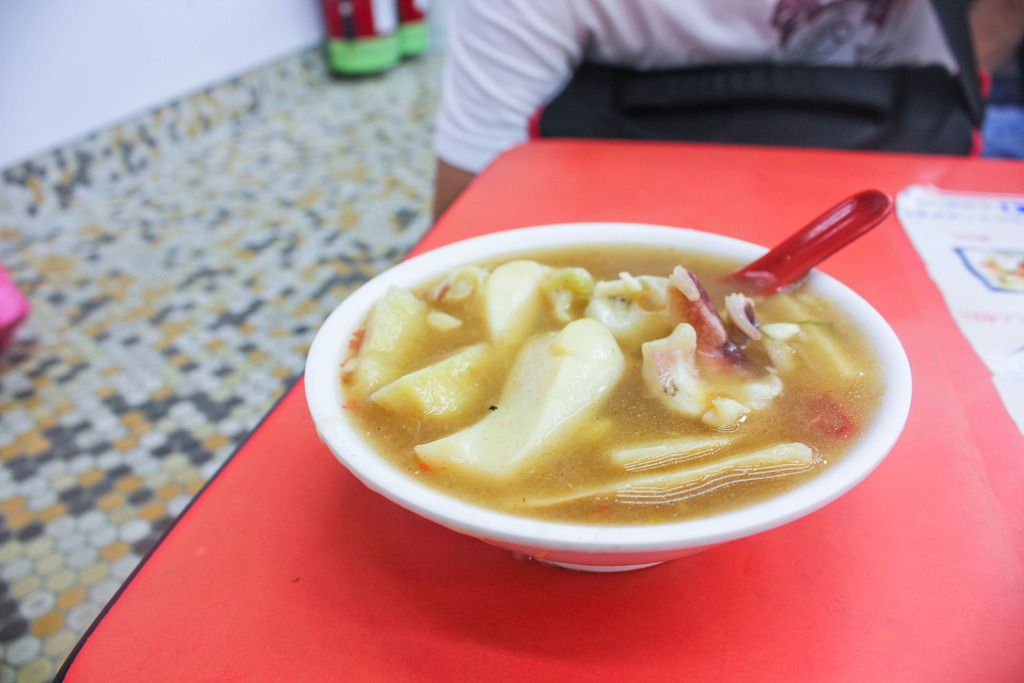 Prawn omelette (鸡蛋虾仁煎) - NTD$60
Cuttlefish thick soup (生抄鱿鱼庚) - NTD$80
A signature street food in Taiwan is their oyster omelette (we ordered the prawns version as we don't take oysters!). Corn starch-ed eggs and oysters are what we are familiar with, but their rendition is one that is drenched with an orange sauce. The orange sauce tasted a little nutty, giving it a completely different taste profile. Some may not fancy this taste, but I'm quite alright with it! We also ordered a cuttlefish thick soup to go with it. Within this bowl, we had generous servings of cuttlefish and bamboo shoots. Pretty worth it I must say!
士林
4:
玉子烧
Somewhere amidst shilin night market area
Signature original (招牌原味) - NTD$50
As mentioned earlier, it is difficult to find an exact store in Shilin and this stall was one that I was unable to identify its location. However, I'm sure you'll be able to chance upon it when you walk around, just like I did! This egg roll omelette definitely appeals to many, with its delicious molten centre and many fancy toppings such as korean kimchi, cheese, prawns or crabmeat with asparagus.
We went for the original, which came with corn, seaweed and dried bonito flakes. We realized that it was quite a tedious process for the guy, having to light and relight the stove in order to make use of the heat to let the egg form and come together without overcooking it. I enjoyed the original flavor as the corn and mayonnaise were quite good complements to the sweet tasting egg roll!
Ningxia Night Market 宁夏夜市
Zhong Shan Station - Exit 5/6 (nearer to the tail)
Shuang Lian Station (nearer to the head)
From both stations, it should take around 10 minutes to walk. Ningxia night market is situated along Ningxia Road, which consists of stalls lined up along this clearly marked street. There are only food stalls here along one road, making it easy for you to navigate. Here, you can find far more stir fried stalls serving up zi-char style dishes. These stalls are usually equipped with a few small tables so you can just grab a seat and have a quick bite. Ningxia night market is my favorite amongst all, as it offers a variety of food that is to my liking!
宁夏
1: 海鲜贝
Near Family Mart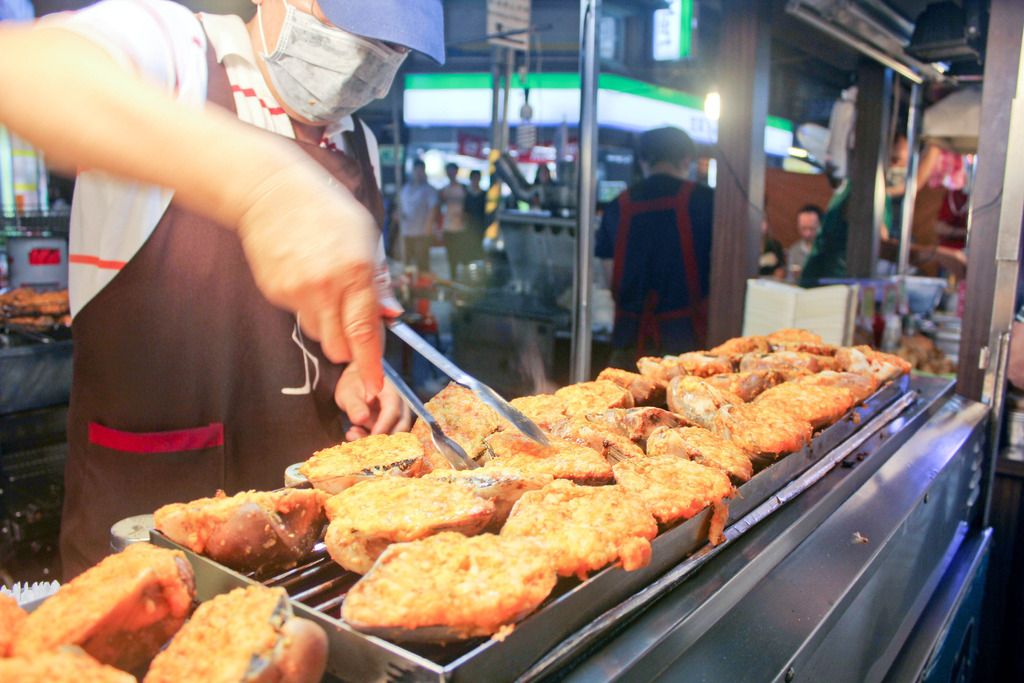 Scallops (海鲜贝) - NTD$30
This cheesy scallop encrusted in its shell definitely makes a good snack! I'm not sure what went into it, but the chewy savoury texture and taste of it made it likeable. Although some parts can be quite tough, the creamy goodness of it was overall quite enjoyable!
宁夏
2
: 鸡肉饭
Stall Number 60
Chicken rice (鸡肉饭) - NTD$30
Stir fry liver (抄猪肝) - NTD$100
Spring onion omelette (葱仔蛋) - NTD$30
Shredded chicken with brown sauce over rice - this is the signature dish of the stall. It may look like a seemingly simple bowl of rice, but the flavors worked! However, the bowl got a little boring after awhile as the rice:meat ratio was not balanced. What I preferred at this stall was their liver - stir fried with a generous amount of onions, scallions and pickled cabbage. The onions brought out the sweetness of the liver, while the pickled cabbage added on to the tastiness. The liver still remained soft, and the thickness of the pieces were just right for us!
宁夏
3
: 料理长胡椒虾
Stall Number 5
Pepper prawns (胡椒虾) - NTD$300
Specializing in prawns served in claypots, this definitely caught our attention! Priced at NTD$300 per serving, it is certainly not cheap for night market food. However, we got between 9 to 12 medium sized prawns, which is a decent number. They only have 4 small tables so you might have to queue at peak hours, so do head to the back of their stall to wait for a seat! The fragrance emitting from the claypot when it was first served was so alluring. We chose their signature pepper prawns, which came with white pepper coated all over it. It was slightly on the spicy side, but not to worry, they had a good selection of different flavours available. We had a fun time sucking the prawn's head, then indulging in the sweet prawn meat!
宁夏
4
: 林记烧麻糬
Stall Number 97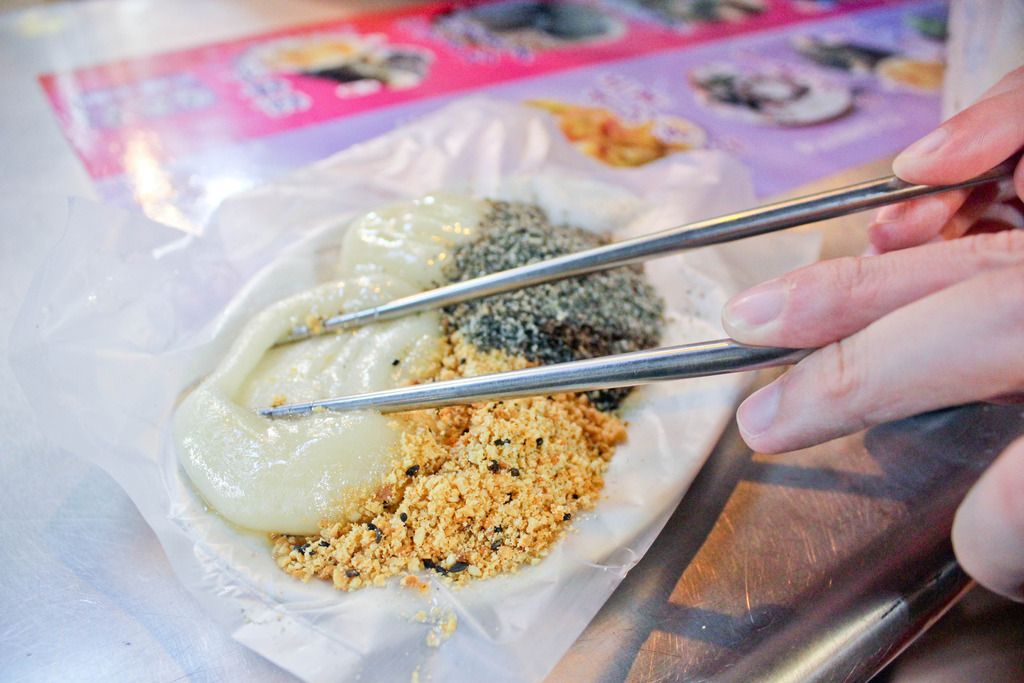 Hot Muah Chee (烧麻糬) - NTD$40
This was one stall that I've been wanting to try! Hot and fluffy balls of muah chee boiled and served straightaway! We got to choose between peanut and sesame or a combination of both Needless to say, we got both as we wanted to try as much as possible. The muah chee was incredibly soft and chewy. For me, it tasted best when dipped with the grains of peanut and sesame mixed together. I have concluded that muah chee really taste best when they're served hot!
宁夏
5
: 詹记鸡脚翅
Opposite the start of Ningxia night market, below Hang Ten next to 50 岚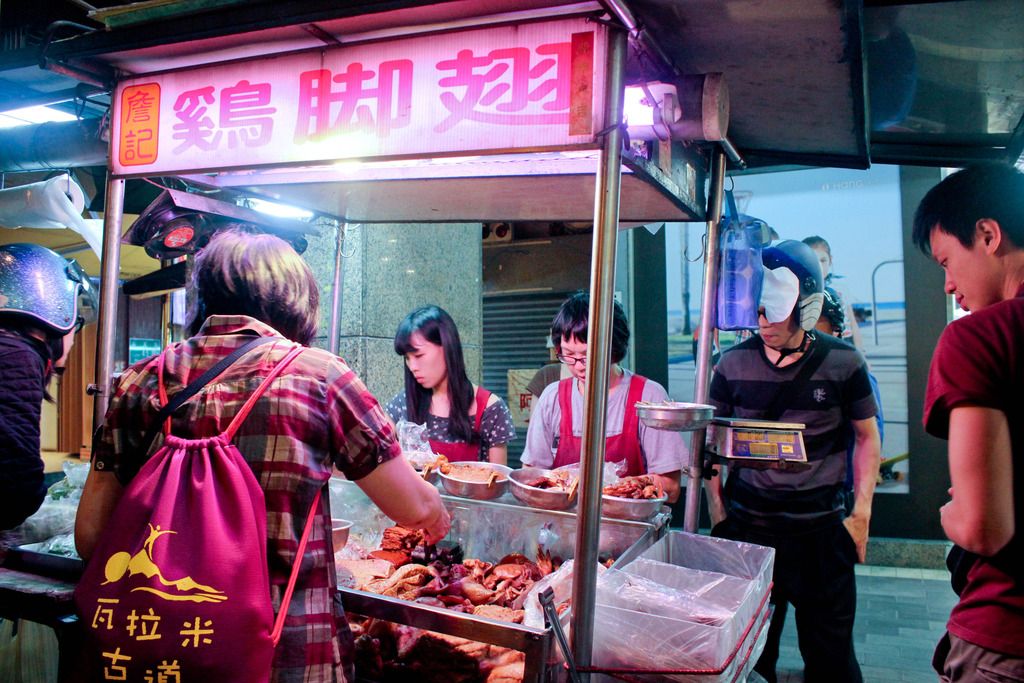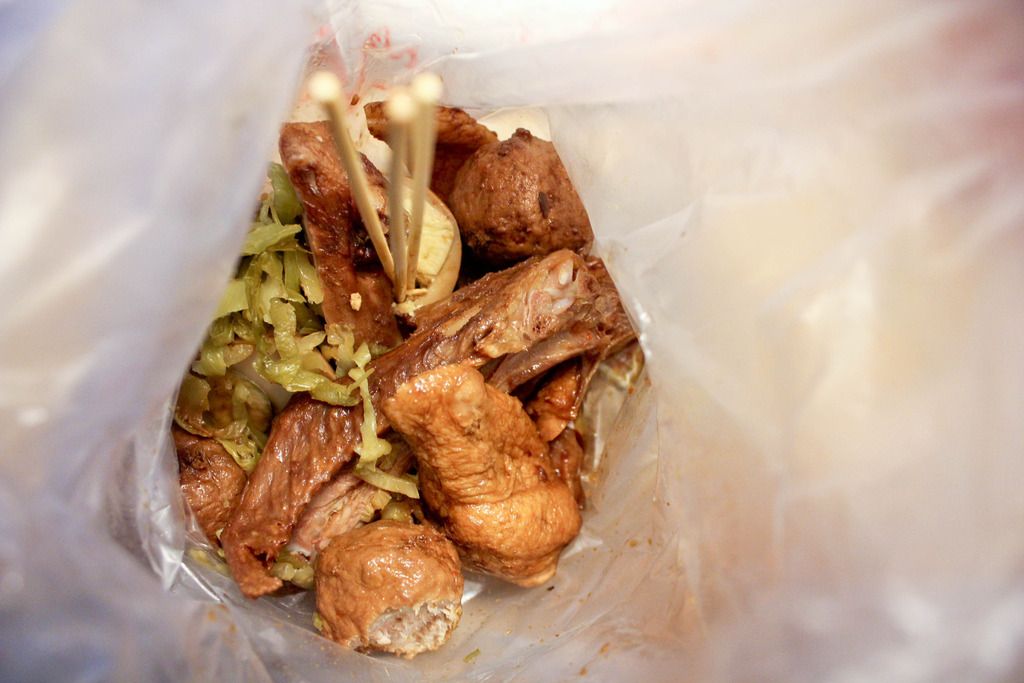 Combination - NTD$160
A very local taiwanese street snack would be the braised products. This is a stall that is very popular amongst the locals, and hence, I decided to give it a try! I must say that it was very affordable. I chose a duck wing, chicken wing, eggs, taiwanese fish cake and meat balls and it only cost me about SGD7! It was a perfect takeaway snack to be enjoyed in the comforts of the hotel! The braise was nicely done, perfectly soaked by the ingredients without being overly salty. While it was quite yummy, I think some might not fancy this as it is served cold.
Raohe Night Market 饶河夜市
Song Shan Station
Raohe night market is famous for their black pepper buns (胡椒饼), and it is not hard to find a beeline of locals & tourists queuing for this! Having tried this on our previous trips and not that impressed by it, we gave this a miss this time round! Raohe offers a mixture of small snacks and full meals.
饶河 1
: 北京羊肉串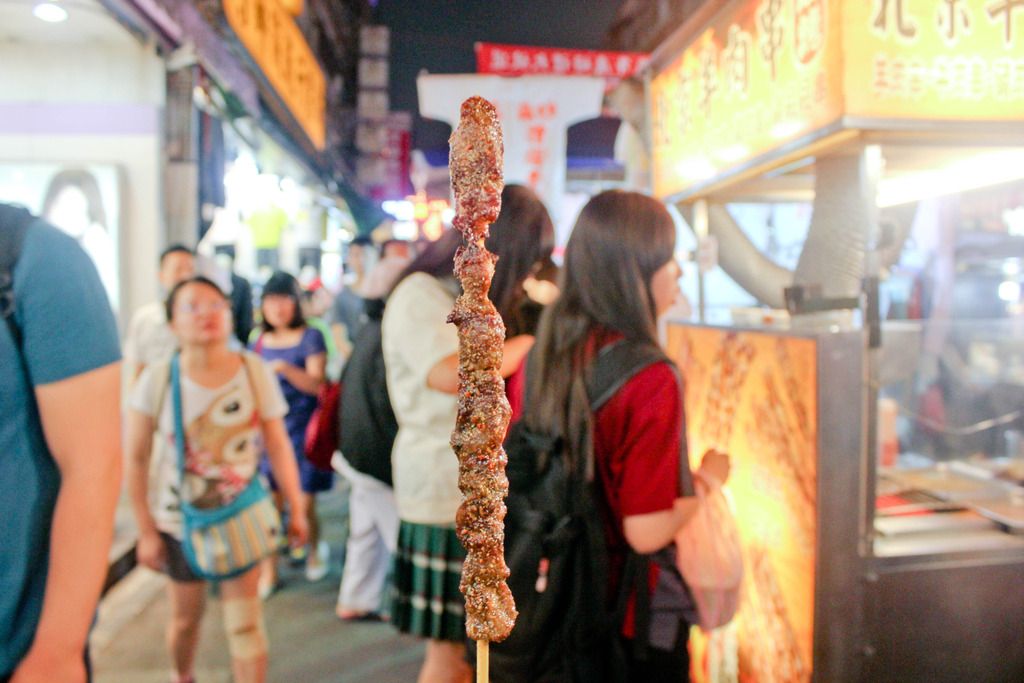 Lamb skewer (羊肉串) - 1 for NTD$35, 3 for NTD$100
This is a common street food found in China and we couldn't resist having it here! We tried the lamb, beef and chicken and they were all very well seasoned and beautifully grilled. Quite a good snack to munch on without taking up too much stomach space while deciding on what to eat next!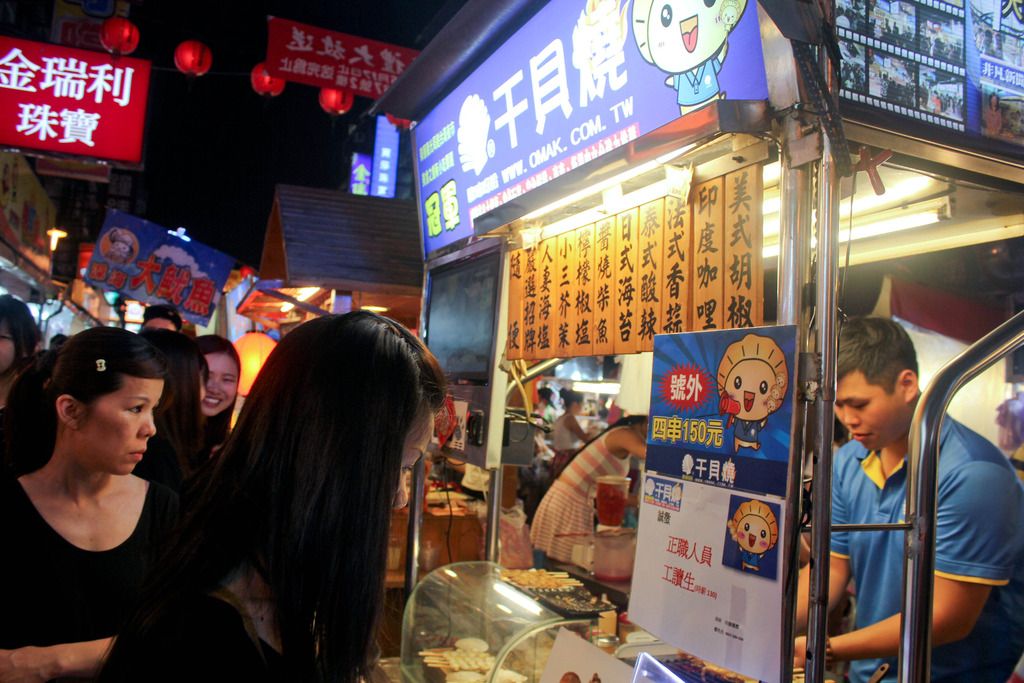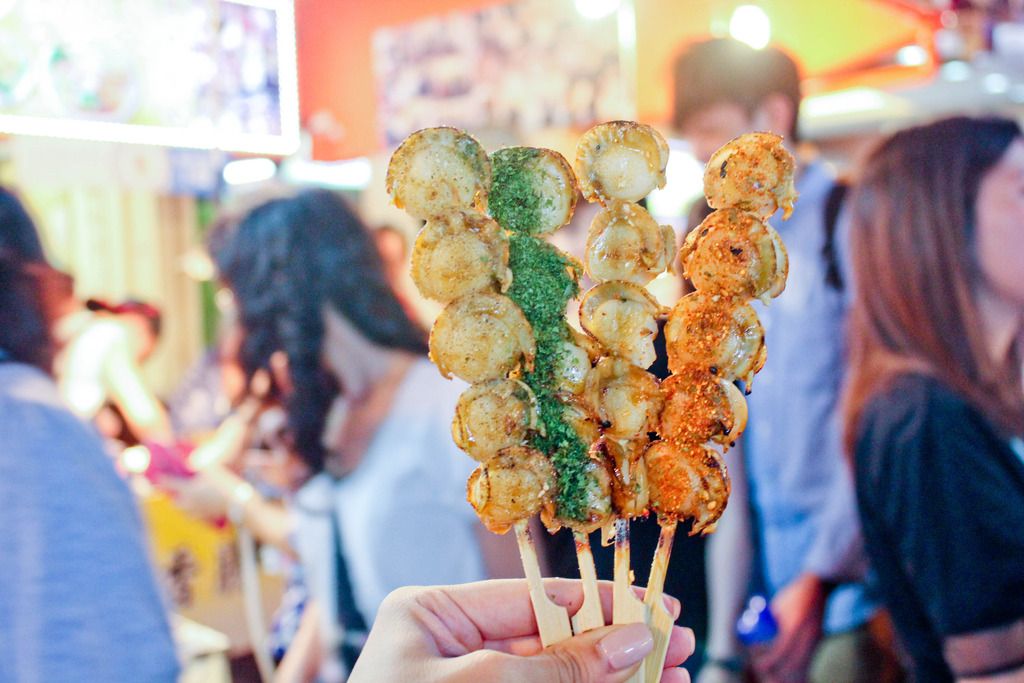 Scallops (干贝烧) - 4 for NTD$150
These scallops came in a variety of flavors, so there will be definitely something to your liking (unless you don't like scallops of course)! The scallops are grilled first, with layers of sweet brown sauce coated over them before the different toppings are added. We tried the original (spicy), seaweed, pesto cream and lemon pepper. We thought all were decent, except the original spice which doesn't go too well with it!
饶河
3: 杨记排骨酥面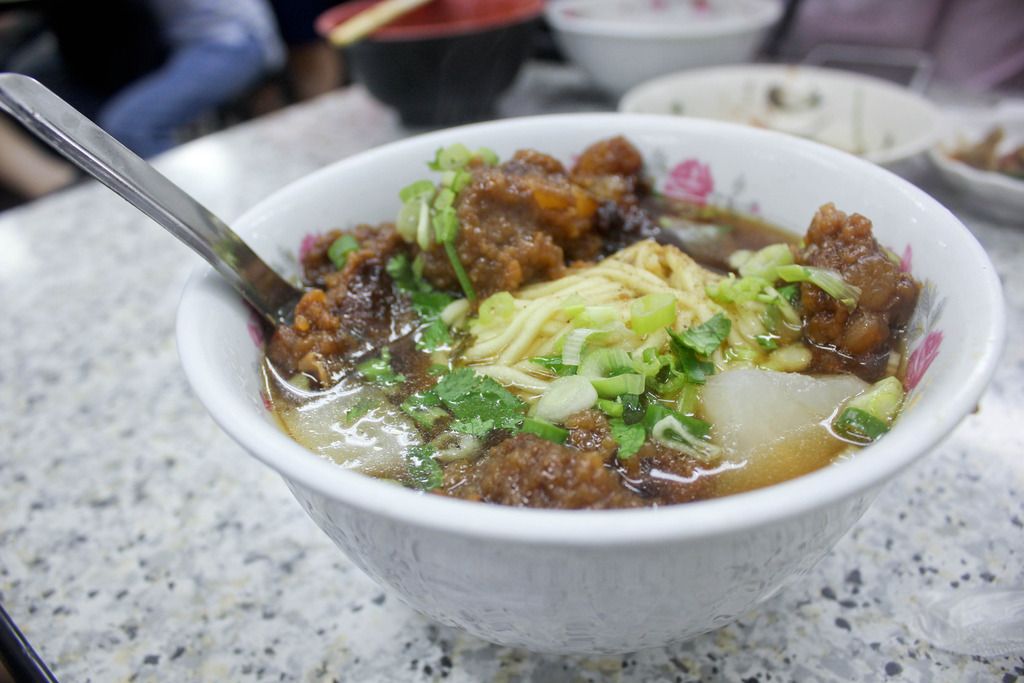 Pork rib noodles (排骨面) - NTD$80
Keep your eyes peeled on the big signboard showing "杨记" popping out from the proper food stalls. This bowl of noodles, unique to Taiwan, is served with fried pork pieces and radish simmered in the soup broth. The pork is somewhat similar to what we know as gu lou yok. It was quite a delish bowl of noodles with the soft bone pork ribs and radish adding on a hint of sweetness to the broth!
饶河
4: 齿牛香牛肉面
Braised beef noodles soup (红烧牛肉面) - NTD$120
We happily slurped down the rich and fragrant broth of this homely bowl of beef noodles after a long night of walking around! The noodles could have been more uniform in its thickness and the beef could be softer, but the shiok soup still left us as happy diners!
饶河 5: 巷口亭豆花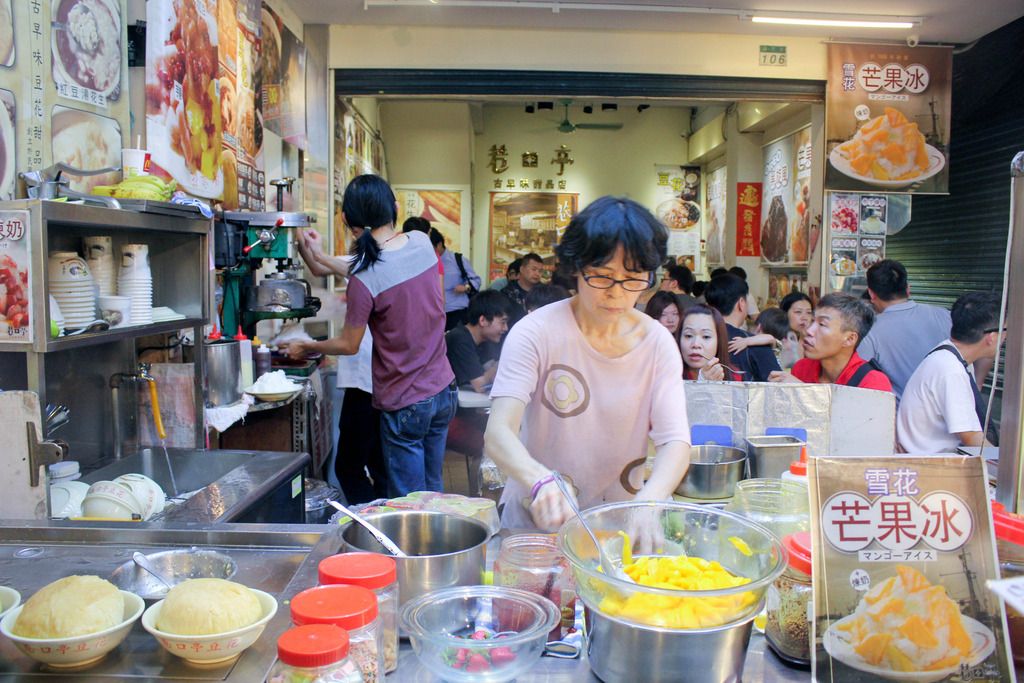 Pudding milk ice with additional colorful jelly (布丁炼奶) - NTD65 + NTD10
I remember visiting this stall years back, where seats were only available around their stall area. 5 years down the road, they have taken over the shop space behind them with a steady stream of customers. What amazes me is how their shaved ice still taste the same even after all these years, and still hasn't lost that homely touch! We wanted something light after the very heavy dinner that we had, so we went for the milk pudding ice! Such a simple combination, but it worked magic.
Shi Da Night Market (师大夜市)
Guting or Taipower Building Station
This night market is situated near National Taiwan Normal University, which explains the young and vibrant atmosphere found here. It is an area bustling with activities from the numerous trendy fashion boutiques and food vendors. There is no clear signage that marks the start of the night market, so just roam around to soak in the sights and sounds! This makes quite a good place to visit if you want to shop around and occasionally have some night market eats.
师大 1: 许记生煎包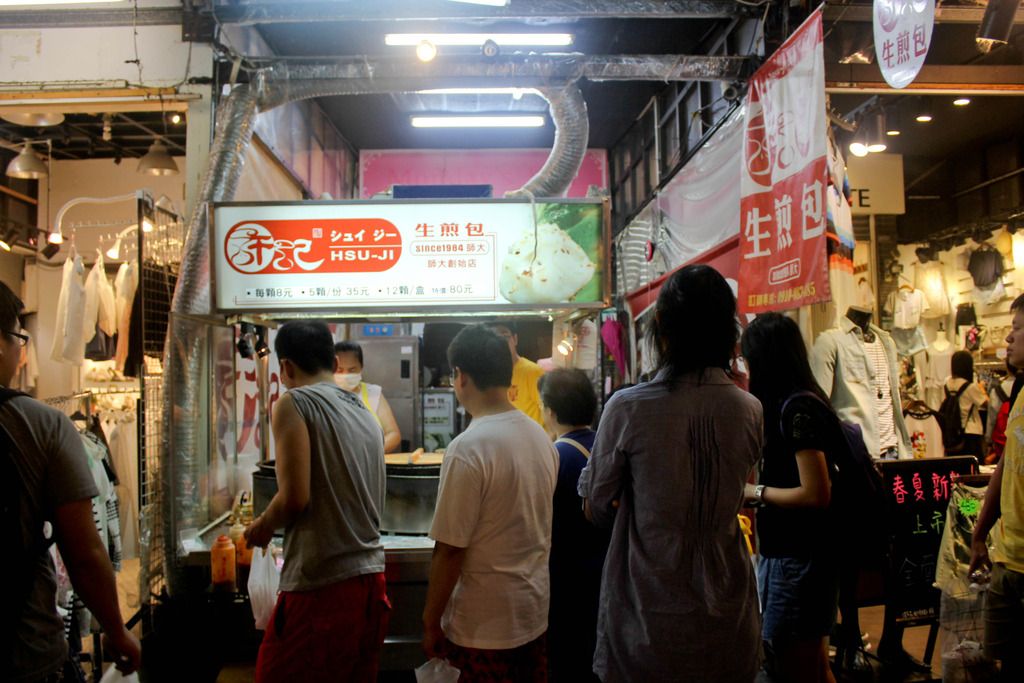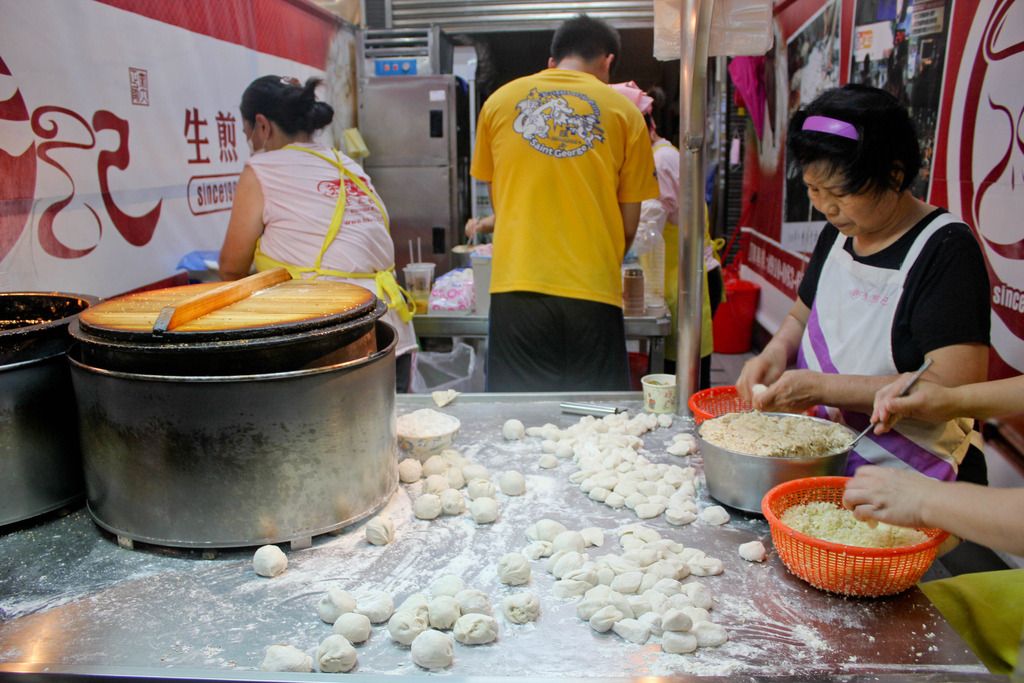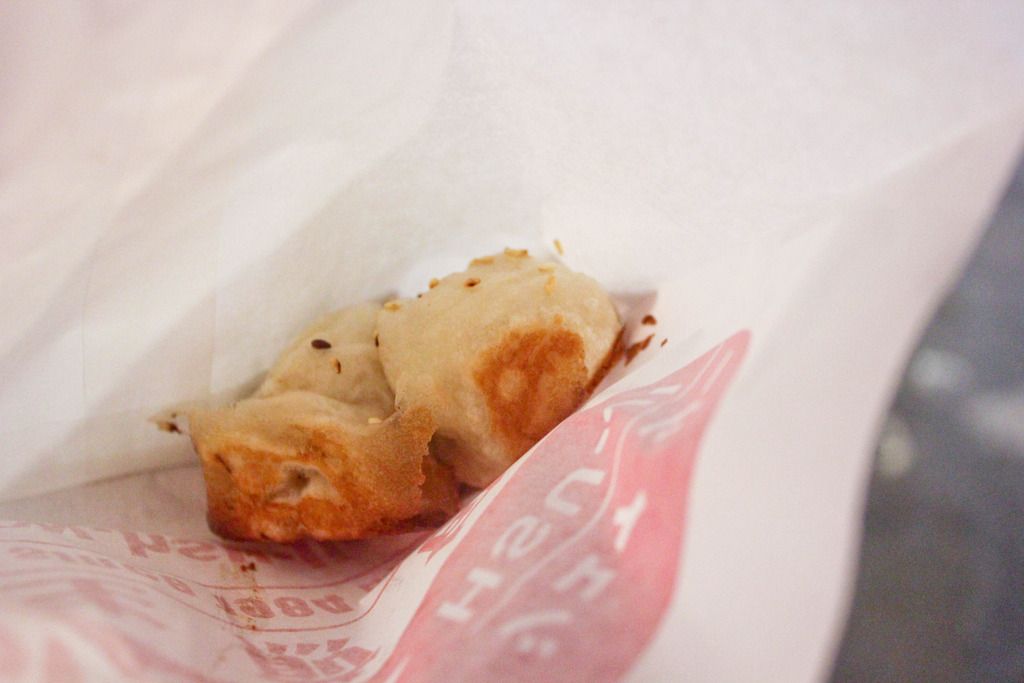 Pan-fried dumplings (生煎包) - 1 for NTD8, 5 for NTD$35, 12 for NTD$80
These dumplings reminds me of the fried version of xiao long bao-s, and they are guaranteed to be packed with soup / juice. Freshness is assured with the dumplings made at the stall and pan-fried almost immediately! I think popularity is a key distinguishing factor as it ensures that the dumplings are constantly from a fresh batch and served hot. Nothing beats sinking your teeth into a dumpling filled with so much juice!
Radish, kang kong, quail eggs, golden mushrooms, intestines, beancurd tofu and instant noodles - NTD$200
Almost like yong tau foo in Singapore, you pick your ingredients in a basket, pay for it and wait in line for your food to be ready. The ingredients are cooked in a brown gravy to give a light braised flavour. This made the golden mushrooms, radish and instant noodles (wang zi mian) very delectable as they were able to absorb the gravy! On a side note, I would recommend adding the noodles as it makes for a filling meal.
Kudos to the lady who cooked them in an orderly manner, and she would shout out some of the ingredients that you've chosen so please do remember what you've ordered so that you can identify your dish! To top it off, she puts a handful of brown gravy, chilli and spring onions over it before serving. Overall, I think this would be something that the Singaporeans' tastebud would be able to relate to and is definitely value for money!
We can never have enough stomach space to conquer all the food in Taiwan's night market scene, but we can definitely savour as much as we can! These are my two cents worth on the food that i've managed to try on this trip. In general, some of these stalls can be found across all night markets so it's a matter of where you want to try it! Go with an empty stomach, and you will definitely be filled to the brim with the Taiwanese food and also the hospitality of the Taiwanese!