The Royal Mail - British cuisine with modern influences
The Royal Mail sits on the second level of Ascott Raffles Place with a kitchen that offers you a wide array of British cuisine with lots of modern influences. You can find the classic roast prime rib and yorkshire pudding here, which can instantly transport you back to Britain, as well as new creations that are put together by the team of chefs. The Royal Mail has recently revamped their menu to bring new and interesting flavors revolving around seafood to excite the taste buds of diners.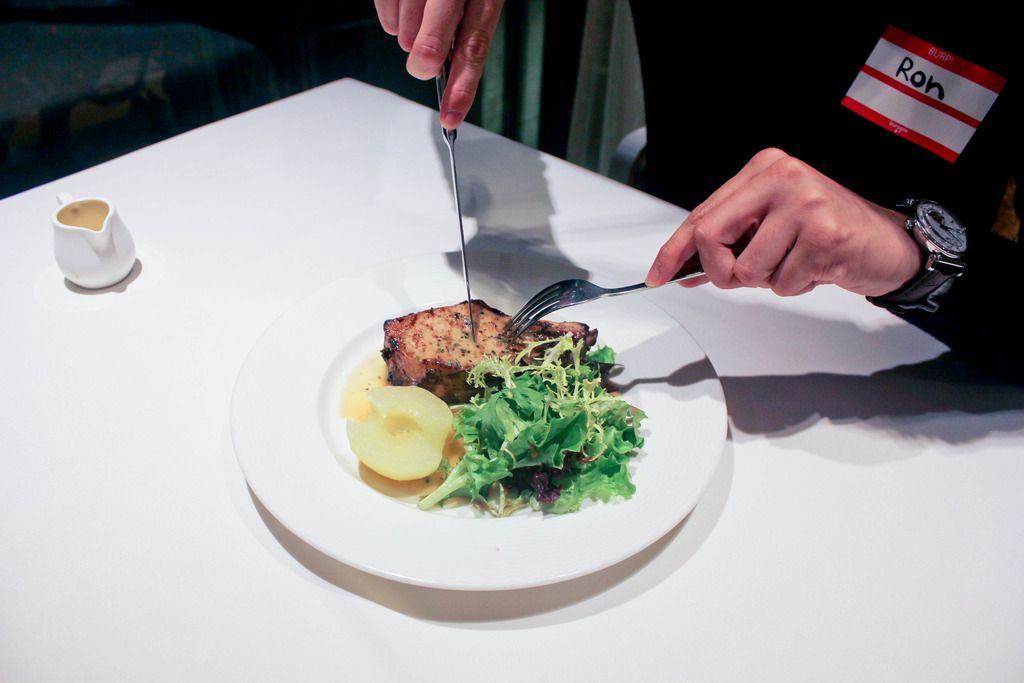 We were served with three different starters to begin our meal.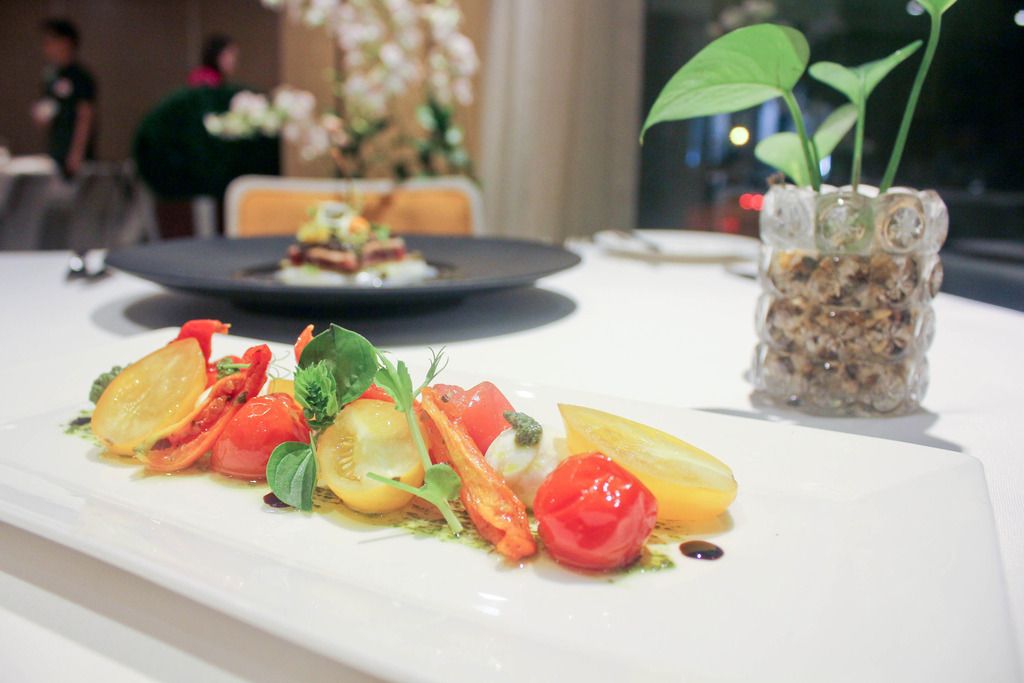 Two's a company and three's a crowd. But it's never too crowded when it comes to food!
The Trio of Tomatoes is made up of cherry tomato confit, semi-dried tomato and fresh yellow cherry tomato with bocconcini and pesto. You can never go wrong with balls of cheesy goodness and juicy tomatoes! A refreshing starter for the night.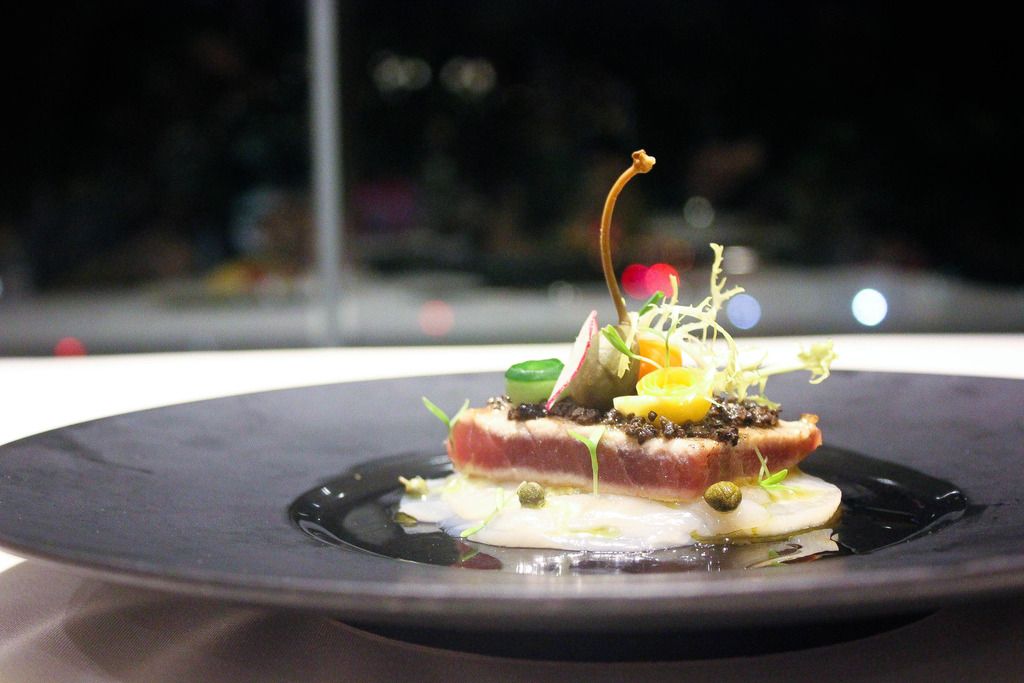 Scallop Carpaccio and Tuna - SGD26
The Scallop Carpaccio and Tuna came with a beautiful lightly seared tuna with a bed of scallop carpaccio beneath it. Let the sweetness of the scallops sink into your tongue and play up the flavors with the accompanying ingredients which includes capers, olive, coriander, preserved lemon and fresh vegetable ribbon. A dish that has various amazing taste combinations.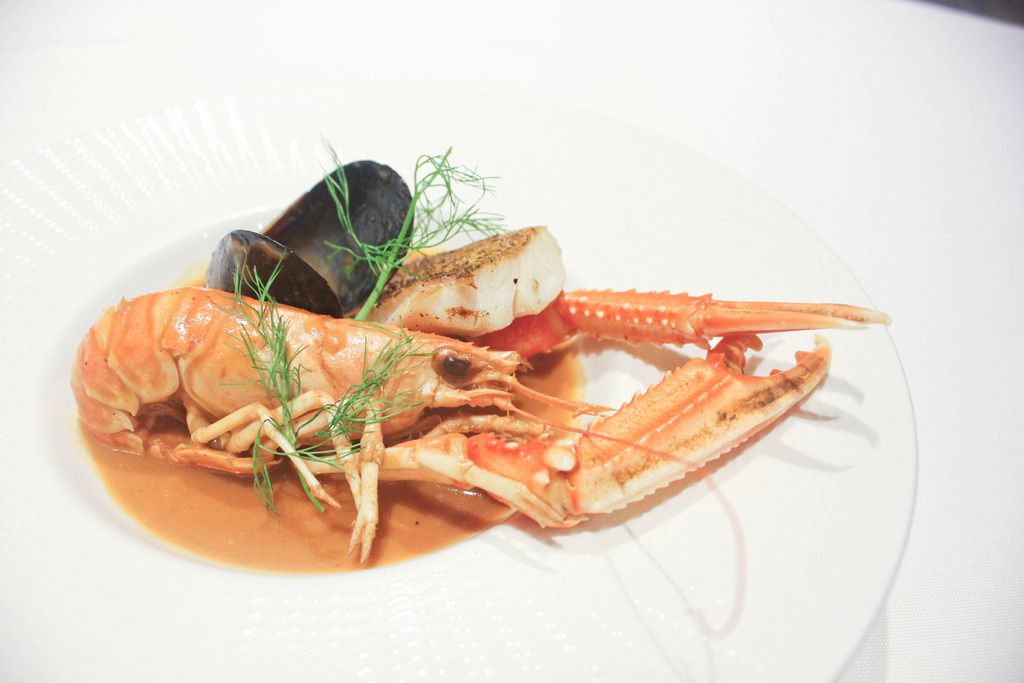 Seafood Bouillabaisse - SGD28
The Seafood Bouillabaisse is made for the seafood lovers.
You might notice the whole langoustine, red malabar snapper and mussels, but really - the star of this dish is that bouillabaisse. The richness of this broth clearly indicates the abundance of seafood that went in there. It wasn't overpowering and was appropriately seasoned, allowing the freshness of the seafood to come through in this dish.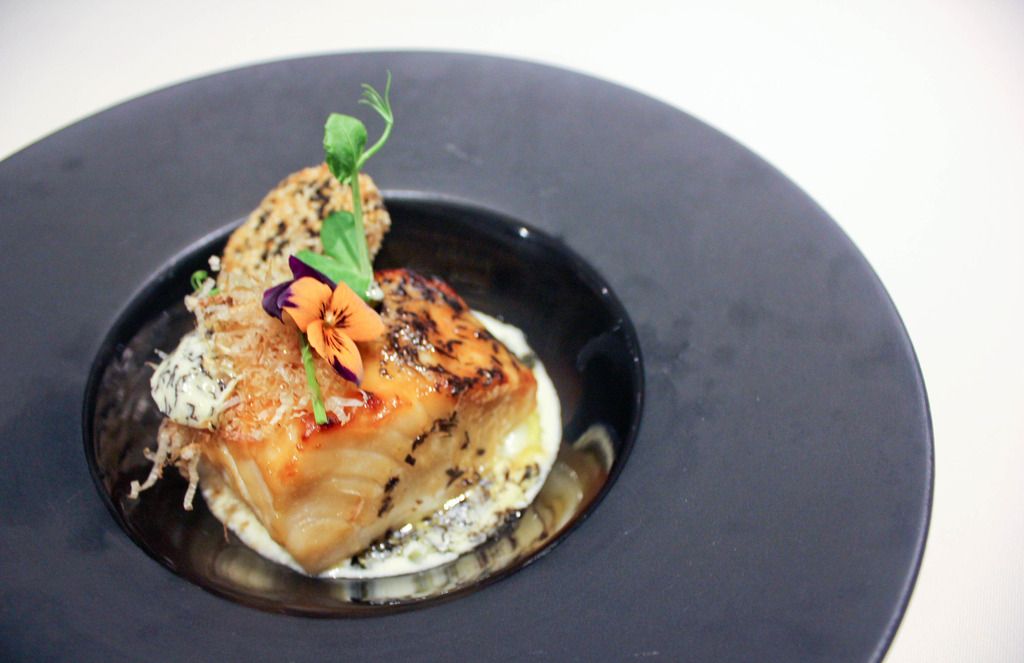 Miso Black Cod - SGD42
Moving on the mains, we were first presented with the Miso Black Cod.
Even before tasting it, I was already blown away by the sheer size of the cod!! Served in a bed of leek fondue, the creamy sauce was light enough to complement the cod nicely. The cod was extremely sweet and creamy with each layer firm yet melting in your mouth. The sesame tuille at the side was an addictive addition, which tasted very much like a honey coated sesame cracker.
Honey Glazed Kurobuta Pork - SGD56
The
Honey Glazed Kurobuta Pork
is set out to satisfy your meat cravings.
With a whole slab of meat drizzled with an apple butter sauce, you know you're in for a good treat. Sink your knife into the meat and you can find the pork still slightly pink; however, I thought it could have been a little less done to be even more tender. Taste-wise, the honey glaze sweetness atop the browning of the exterior layer on the grill brought together a good charred-sweet combination. The white wine apple and greens accompanying the main adds on a refreshing crunch to the meaty main.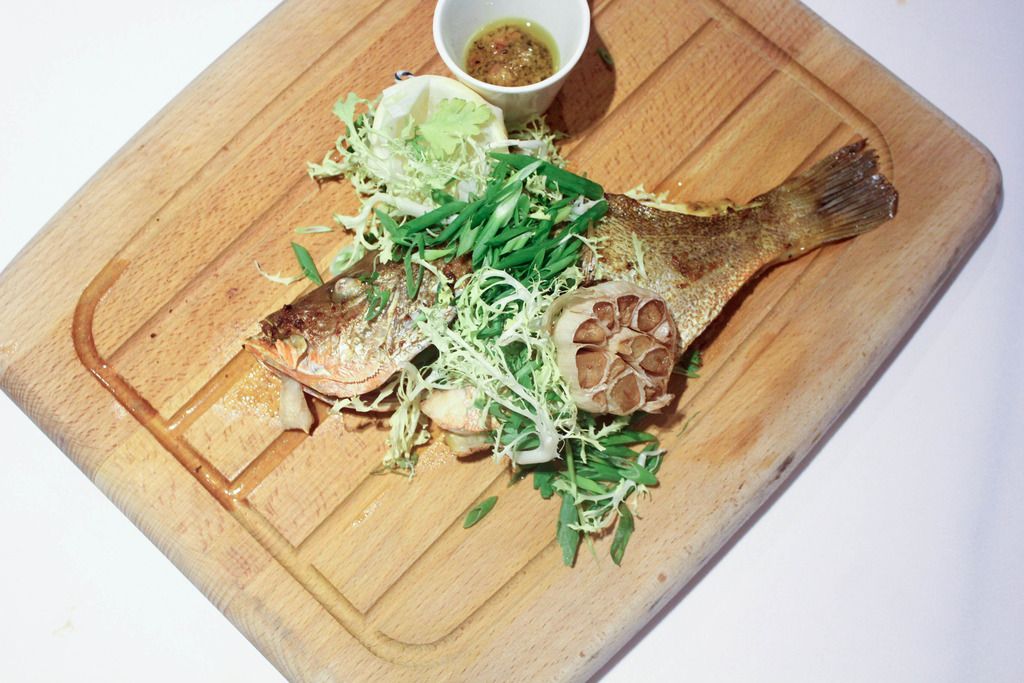 Roasted Whole Fish with choice of Barramundi, Red Malabar Snapper or Japanese Yellow Sea Bream - SGD54/62/78
Aesthetics do play a great part in food, and this was clearly displayed in the
Roasted Whole Fish
, which
was served on a wooden board and thrown together with some garlic confit, lemon and scallions. Doesn't it look appetizing already? Some might find it a hassle in consuming a whole fish but fret not, the fish is mostly deboned! Flip open the fish in half and you will find both surfaces well-seasoned with spices. The fish had a good flavor from the seasoning, with a few drops of lemon juice to bring about a tinge of citrusy freshness. On the side, the garlic confit was slow cooked, which gave it a delicate texture and a sweetness that accompanied the fish well.
The Lobster Linguine was served with squid ink foam on top along with some semi-dried tomatoes. While a pasta with lobster sounds like a luxurious dish, it did not leave a lasting impression on me. The squid ink foam soon disappear upon mixing the linguine, and the overall taste was too light for me. For me, the other dishes shone way more!
A Dessert Platter - SGD32
A
Dessert Platter
, as the name suggests, is a selection of 4 desserts in tasting portions that is put together by the dessert chef. It makes a great option for those who like variety! The sweets in this platter comprises a brownie, sticky date, raspberries, matcha sponge, coffee ice cream, vanilla bean ice cream, meringue, popcorn, honeycomb, banana brulee and strawberries. Sounds amazing, doesn't it? The abundance of components on this plate makes it hard not to love it!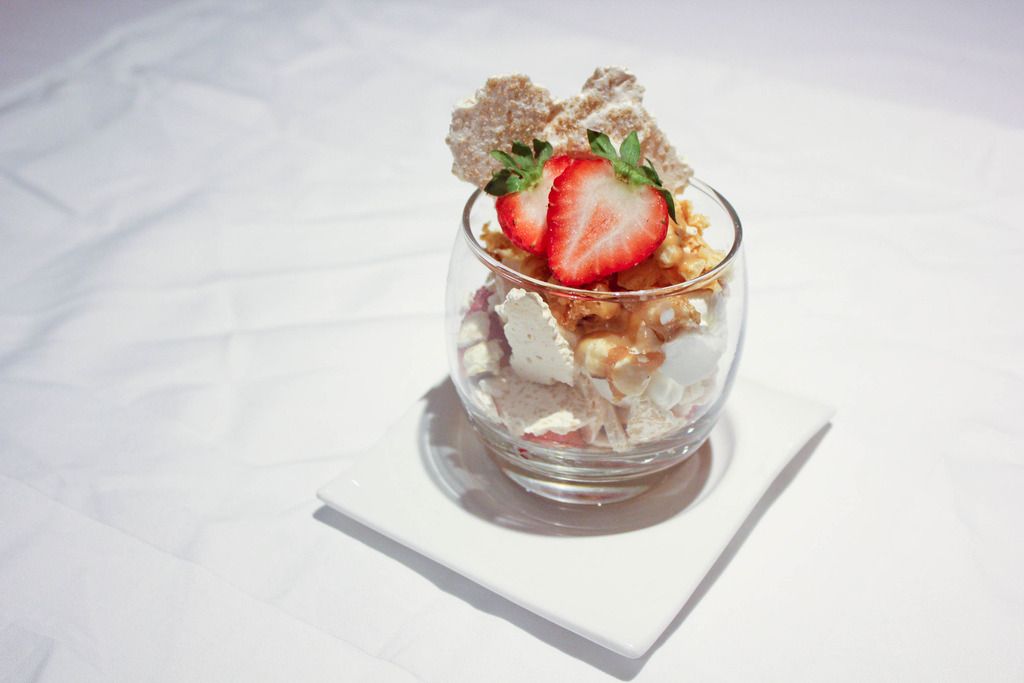 Eton Mess - SGD18
Eton Mess
is a full cup of devon cream, strawberries, meringue, hazelnut crunch and salted caramel combined together. I really liked the crunch in this cup of dessert, alongside the sweetness of the meringue and the light and fluffy cream!
Enhanced Bergamot Earl Grey Jelly - SGD15
This
Earl Grey Jelly
is what I dream of having at the end of every meal; something cold and refreshing. I thought it was brilliant for the dessert chef to use a tea jelly and infusing it with a touch of lemon to give that citrus touch! It is topped off with a scoop of frozen yogurt, which is a less sinful option than the usual ice cream without compromising on taste.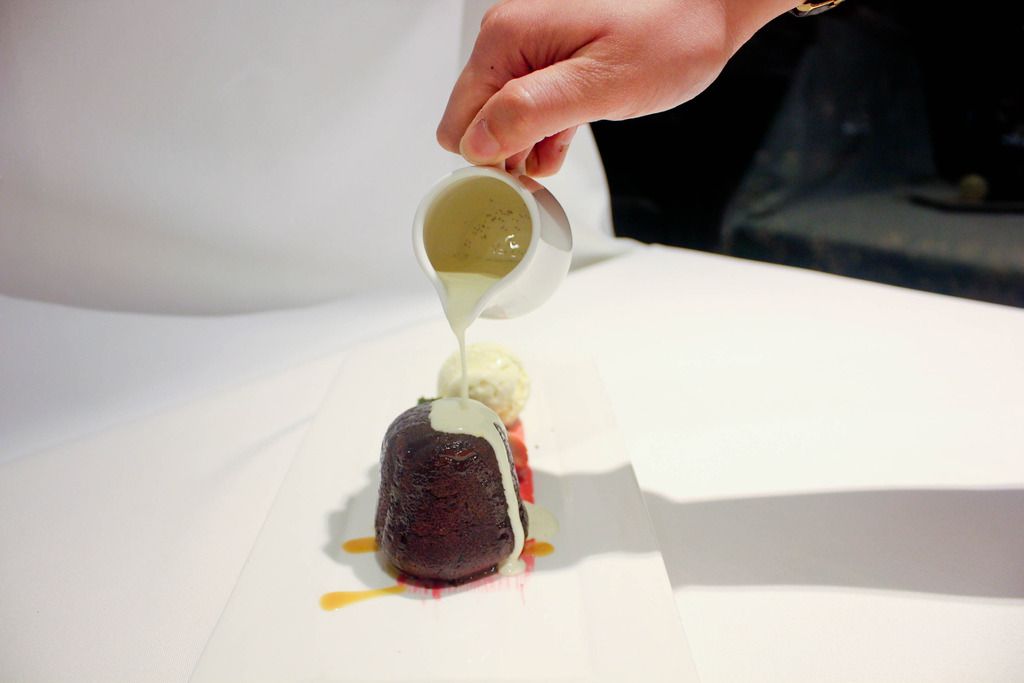 Sticky Date Pudding - SGD18
A vanilla brandy drenched Sticky Date Pudding was really pleasing to the eye! However, the pudding was too dense for my liking. Taste-wise, it was acceptable but the texture made it difficult to finish after a full meal.
The Royal Mail definitely dishes out above average food that is worth your dollar. Situated in a quieter area of the Central Business District, I think it is a great place to host your business lunches or to take your date out for a romantic dinner. Dine at The Royal Mail on your birthday and you can get a complimentary bottle of champagne! Do drop them a call or email to find out more :)

Thank you Burpple and The Royal Mail for hosting us!
The Royal Mail is located at:
Ascott Raffles Place Singapore
2 Finlayson Green Singapore 049247
+65 6509 3589
info@theroyalmail.sg