Criollo Cocoa Cafe - people watch along the busy streets of Orchard Road
Ever found Orchard Road to be too busy and wanted a quiet corner to people watch on a weekend afternoon? If so, then
Criollo Cocoa Cafe
is the perfect choice for you. Located at Level 2 of Orchard Gateway, its direct link to Somerset MRT station means that you do not even need to brave that blazing sun! You can expect to find comfort food favorites here such as big breakfast, burgers, pasta and desserts all day long.
My initial impression of the place would definitely be their fanciful name! Mr. Lam, one of the owners, very kindly shared with us that the name was taken after one of the three main varieties of cacao beans. His partners and him took a liking to criollo and decided to name their new business venture after it!
Courtesy of Openrice, I had the opportunity to try out some of their dishes!
Big Breakfast - SGD12
It is definitely happiness on the plate for those who love having brunch! Think scrambled eggs, chicken sausage, sauteed mushrooms, bacon, hash brown and toast! And no i'm not done yet - there's even fruits with sweet yogurt! I thought this was really value for money. Special mention goes to their toast as it was toasted with butter till crispy and finished off with sugar. Such a simple touch but it made the dish very homely!
Portobello Burger - SGD12.90
One for the vegetarians out there, this burger has a portobello mushroom "patty". Stuffed with lots of onions and capsicum then sealed with toasted cheese, this makes a very juicy and flavorful component of the burger! The onions and capsicum were a great addition, as it added more layers of flavor. I wished that the filling:bun ratio would be more equal though. The fries had crispy edges filled with soft potatoes on the inside, quite addictive i must say!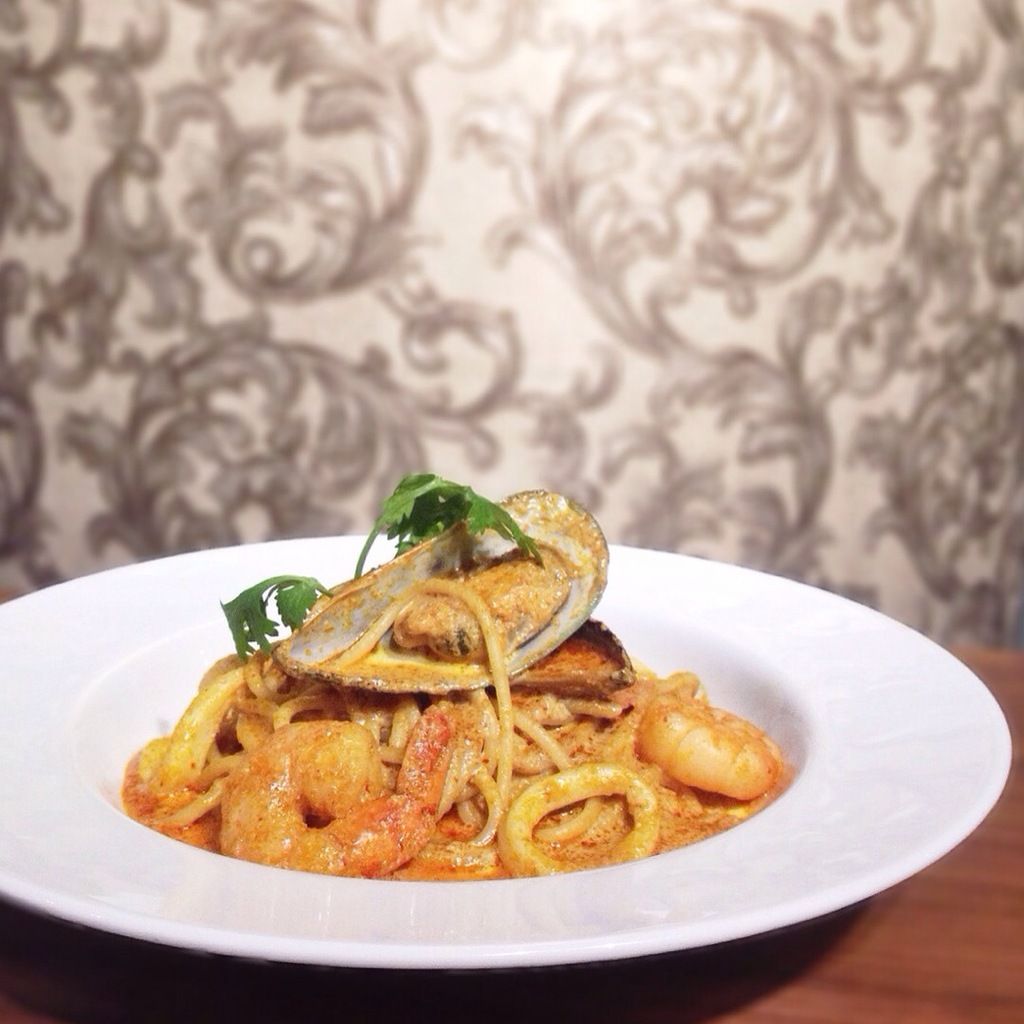 Seafood Laksa Pasta - SGD16.90
The dish that I was most looking forward to! Yay to having laksa even in a cafe! I love how they incorporate local flavors into their food for the Singaporean taste buds. Laksa sauce and abundance of seafood - what's not to like? Criollo Cocoa does not scrimp on their ingredients at all. You get 2 huge mussels, 2 huge prawns and squid rings in your pasta. The sauce was rich in coconut taste, with an appropriate amount of heat which means that almost everyone can have it!
Mixed Grilled Platter - SGD18.90
This sounded so good at first, but when the dish arrived… we were underwhelmed. 4 yakitori sticks, 2 sausages, some greens and a bucket of fries doesn't match up to what one might expect from a platter. The beef yakitori was on the tough side, while the chicken yakitori was under seasoned. The whole dish just felt like they were forcefully placed together.
Chocolate Waffle - SGD9.90
Finally a dish that is representative of the chocolate-named cafe; their chocolate waffles! Cocoa flavored waffles topped with chocolate ice cream, marshmallow, dark chocolate sauce, strawberries and maple syrup drizzled all over. Made for that sweet tooth in us! I thought that the waffles could be slightly fluffier and crispier, only then would it be perfect for me! The highlight here would definitely be their in-house ice cream, where new batches of ice cream would be made every 10 days. During our visit, they had chocolate, vanilla, lychee, coconut and mango. It was a unanimous vote that the best flavour was the coconut.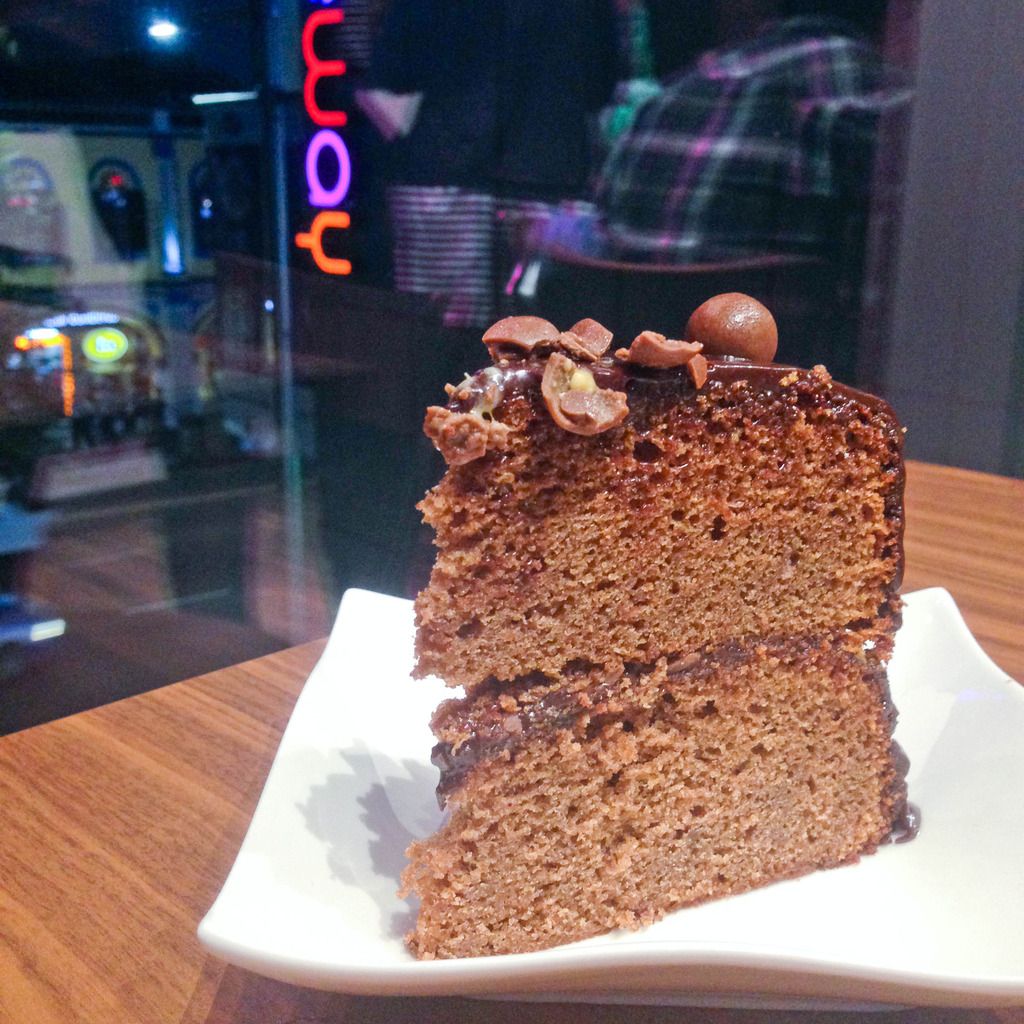 The Malt Cake - SGD6.90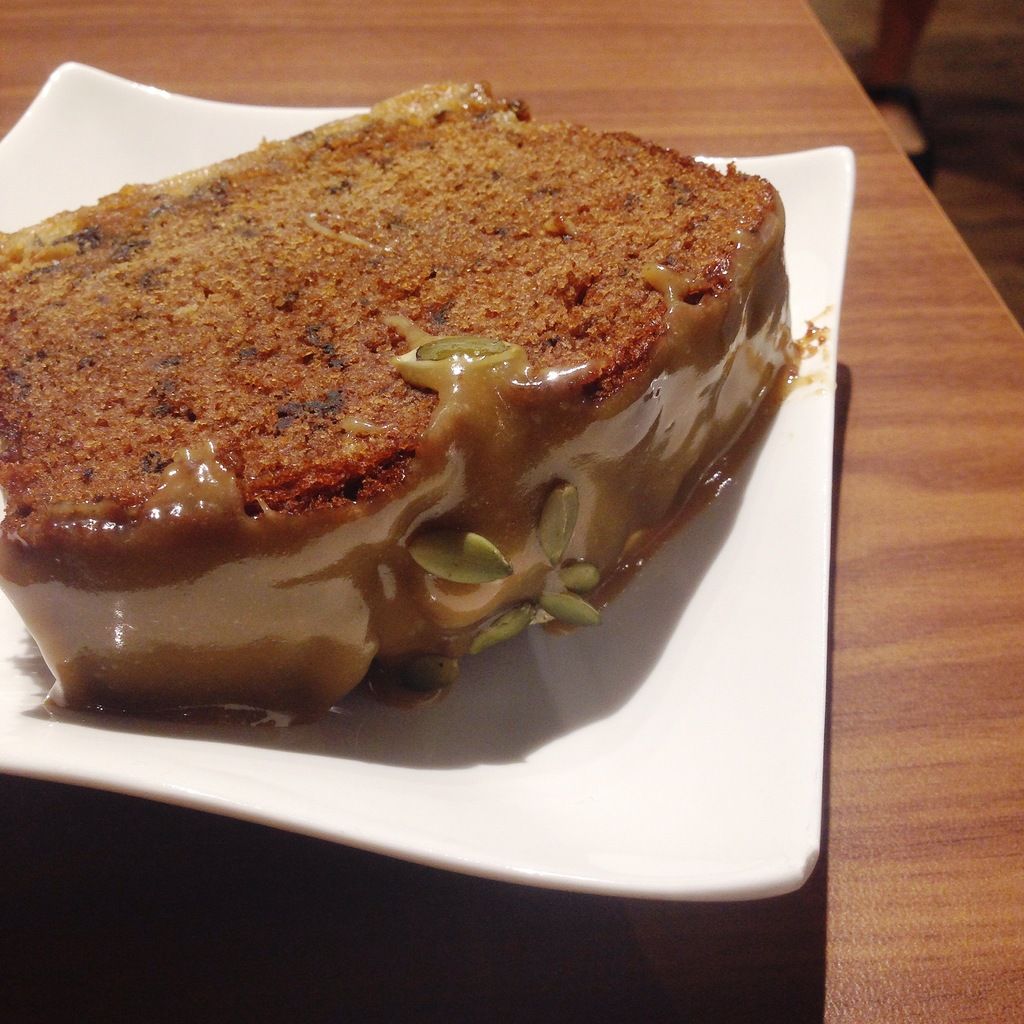 Earl Grey Tea Cake - SGD5.90
Due to some of our major cravings for more sweets that was activated by their display of cakes, the kind folks at Criollo Cocoa also let us sample 2 of their cakes - The Malt Cake and The Earl Grey Tea Cake. Cakes here are supplied by the central kitchen of Pies & Coffee. The portions are very generous and are good for sharing amongst your girlfriends!
Criollo Cocoa Cafe is offering a 20% discount
till 30 June 2015. In the coming months (July - Sep), they will also be rolling out new items, new discounts and more! Prices here are also nett, so be sure to head on down to enjoy the promotions!
Criollo Cocoa Cafe is located at:
Orchard Gateway (Somerset MRT)