Violet Herbs - Modern European Restaurant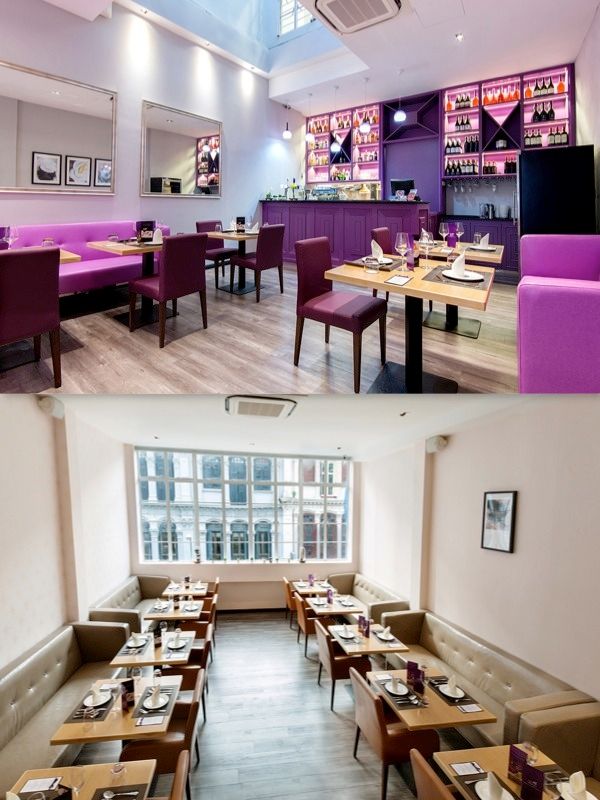 (Images taken from http://www.violetherbs.com.sg/)
Violet Herbs is a relatively new restaurant along Tras Street, which caught my attention from its name. Purple hues can be found in their space on the first level. If you are not used to it and want a more neutral location for your gatherings or even corporate events, the space on the second level boast a more formal color setting. Why Violet Herbs you might ask? Interestingly, the couple shared with us that violet herbs are actually quite a rare breed of herbs. They wanted to stand out from the crowd and be unique, hence taking after this name. They have cleverly incorporated various herbs into their dishes to enhance its taste profile. Also, they have their own mini herb garden at their roof top!
Set course meals or ala carte items are available at Violet Herbs. From what I have observed, prices seemed to be rather pocket friendly!! Set lunch starts from $32++, set dinner from $48++ (Mon-Thurs) and 6 course degustation from $98++. Menu available here:
http://www.violetherbs.com.sg/menu/.
Courtesy of Openrice, I was able to try a few of the dishes that Violet Herbs have to offer.
Beef Tender and Saffron Bread
The amuse bouche for the day was Beef Tender with Madeira Sauce. Though it might be small in quantity, it was packed with flavors especially with the red wine sauce. The bread of the day was the Saffron Bread. It was unlike the usual plain breads that are served and it was rather memorable as it was a very rich and herb-y bun. At the same time, it shows how much effort was placed in the food being served!
Mango Scallops
To start, we had the Mango Scallops with parsnip puree, mango gel, mango salsa and micro herb. Scallops make a very good starter, more so with accompanying ingredients that can bring out the sweetness. I appreciate the use of mango in this dish, as the slightly tangy taste worked very well with the freshness of the scallop. I love the mango salsa atop the scallops, as I bite into the juicy mango flesh against the scallop.
Parsnip Veloute
Next, we had the Parsnip Veloute with fresh sri lankan crab, crumble and herb oil. This is a form of slightly thickened soup with a smooth consistency throughout. It is hard not to like it with the chunk of crab meat within! The sweet little touch of edible flowers also adds a classy tone to this soup.
Truffle Foie Gras
The Truffle Foie Gras with one hour poached egg, summer truffle, cepes reduction and shiso cress was a combination of common favorites. I've got to say that the flowy egg yolk really stole the limelight here! Mix in the egg with the soy sauce base and you get a velvety gooey mixture. Coat it around the foie gras and it was definitely a delight. Thank you for putting 2 things that I like (foie gras & eggs) together and letting me have it at the same time!! Be assured that good quality truffles are used as the cost price was really high!
Braised Kurobuta Pork Belly
Marinated Red Miso Cod
Onto the mains, I had the Braised Kurobuta Pork Belly and Marinated Red Miso Cod. The pork belly came with asparagus, homemade herb fries, spicy blood orange sauce and micro herbs. It is one sinful dish for the ladies, but it is worth it when it's delicious! While I thought the meat could be even more tender, the braise on the belly was to my liking! The other codfish main was my favorite of the night. Just look at the piece of beautiful cod! I have a personal preference for cod, and Violet Herbs really did a great job with it. The cod was nicely marinated, bringing out that creamy and sweet flavor of the fish at the same time. It was a main that I wish would not end that soon. Accompanying the cod on the plate is some almond eggplant, roasted pumpkin puree and mix herbs. I did not enjoy them as much as I do not take eggplant and pumpkin. It's either you hate it or love it. In any case, I still finished them up as they're healthy food for the body!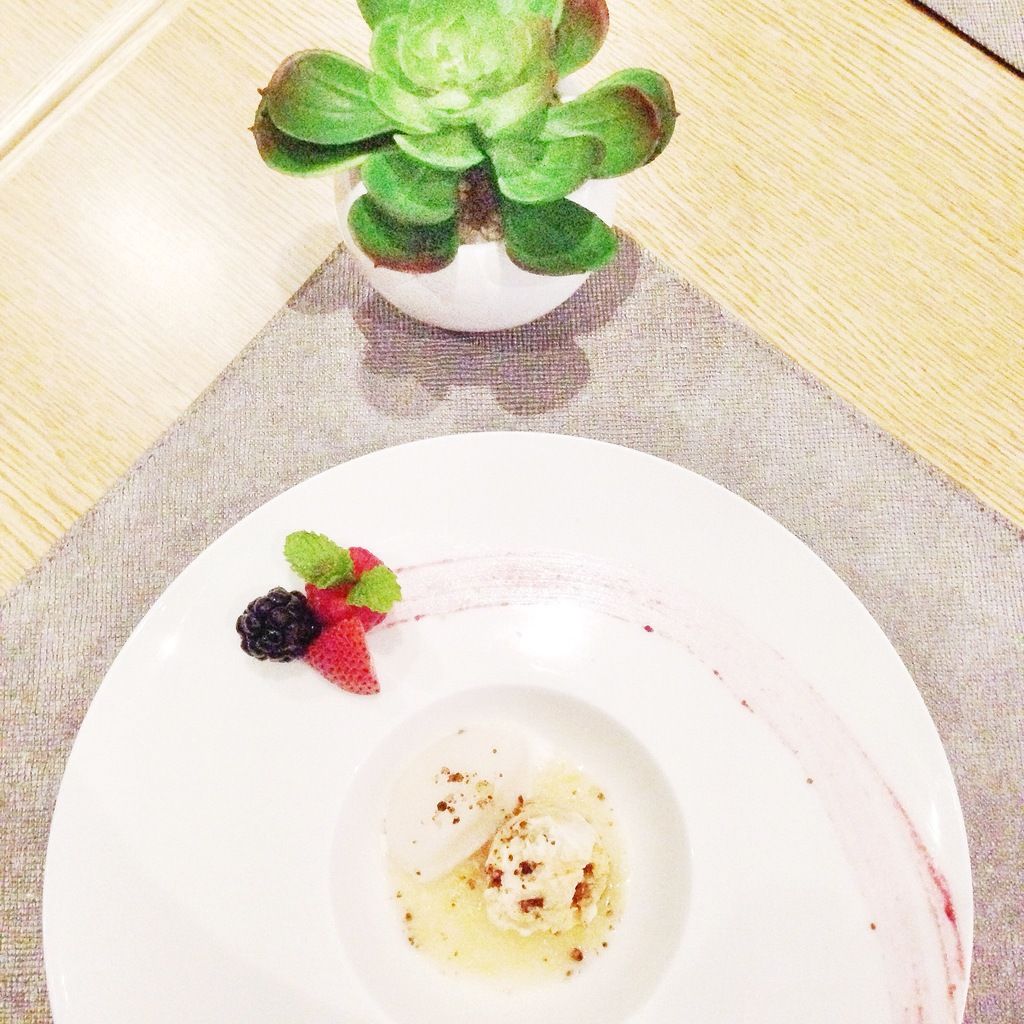 Frozen Nougat with Lychee Sorbet
We ended our meal with the Frozen Nougat with lychee sorbet, raspberry sauce and mixed berries. Nicely plated with a minimalist touch as it was served on a wide white plate. Nougats are familiar to many and it can be tough and dry at times. Pairing it with the refreshing lychee sorbet was a good match!
Find them at:
81 Tras Street 079020
Mon-Sat | 1130am-3pm, 6-10pm
+65 6221 3988