Guide to Bali - Seminyak
Bali is a great place for a weekend getaway for Singaporeans, with 3D2N sufficient for us to unwind and to take in the beauty of the Indonesia island. I was lucky enough to be able to take time off in November for a short trip to Bali. I managed to get my air tickets at around SGD230 via Jetstar, flying off on Saturday early morning and departing on Monday night - fully utilizing the 3 whole days!
Bali is known to experience its monsoon season from October to March. While I was there in November, the weather was rather humid and cloudy, with only a slight drizzle on an afternoon. So not to worry if you're afraid of bad weather!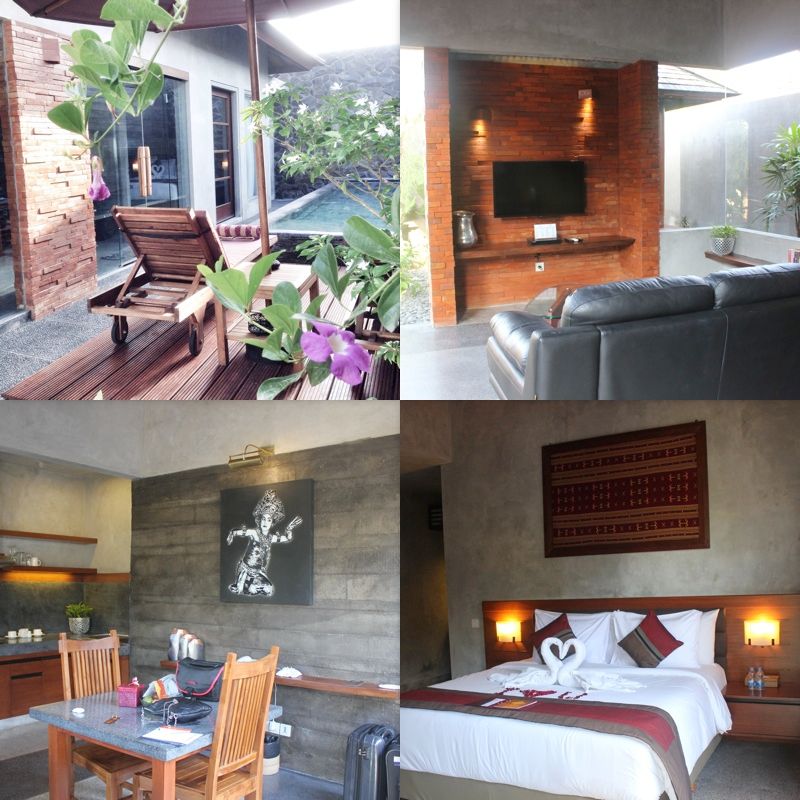 There are plenty of choices when it comes to accommodation in Bali - big name hotels, spa resorts, villas and hostels etc. Know what you want and set a budget before searching for one! For me, I knew I wanted a pool in a private villa so I stuck to it while looking around for a decent option. Eventually, I set my heart on Bracha Villas (
http://www.brachavillasbali.com/)
- located on Jalan Braban in Seminyak (near to restaurants like Ultimo, Rumours and Mamasan). My reservation was placed through Agoda and it includes a one-way airport transfer and breakfast. Everything went smoothly for my experience with Bracha Villas - airport transfer service was on time, early check-in (subjected to availability and we were lucky!), breakfast spread (choice of Western or Indonesian cuisine) at your designated timing, clean private pool, fully air-conditioned villa with close to no mosquitoes/insects, television with channels such as HBO and comfortable bed for you to rest. A small mishap was when we had arranged for a shuttle service (free within Seminyak area) but we were only informed that the shuttle van will not be back till 15 mins later when we went to check with them. Slightly disappointed and we had to take a short walk to the main road to get a cab. You can request for the villa or any restaurants to call the cab for you but the minimum fare would be 30,000IDR. with the starting fare at 6,000IDR.
Just a small note - Following the directions on Google Maps may not bring you to the destination... It happened when I was searching for Revolver Coffee and realized the shop numbers do not run in order. I managed to locate it after asking a local for directions. So do not panic!! Chances are the locals will know what you're looking for so just ask for help (: In other instances, I just told the taxi driver where I was going so I didn't need to use Google Maps.
Jalan Sunset Road No. 5, Seminyak, Kuta, Bali, Indonesia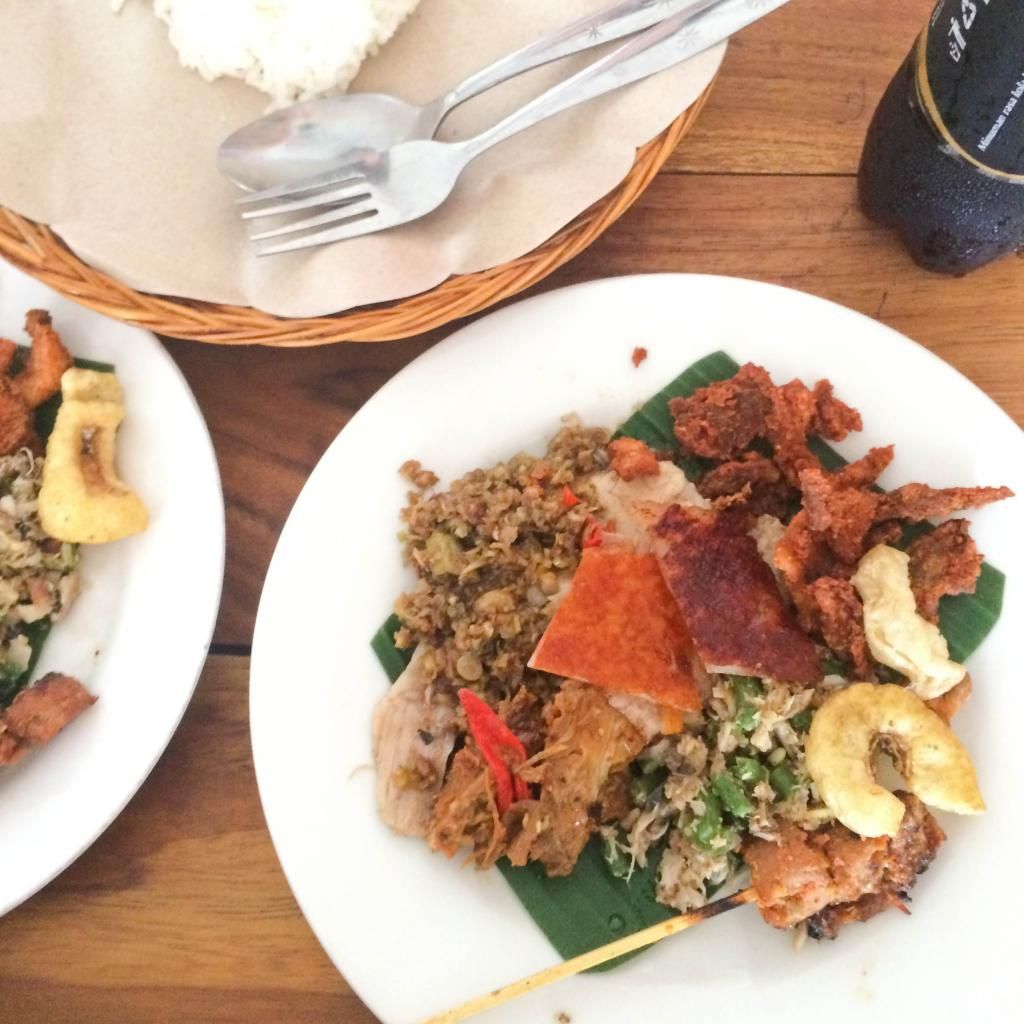 Here, the Babi Guling goes for 25,000IDR for the complete and 45,000IDR for the special set. From what I understand, the special set comes in a larger set with more variety and the ingredients are also served separately from the rice. To be honest, I wasn't too sure what I was eating, but there was a very spicy green chilli mixed with lots of spices which was shiok! You can also find some crispy pork cracklings, pork meat and satay amidst the plate of jumbled up ingredients. The highlight was the suckling pig skin which was super crispy!! But it wasn't consistent as there were some pieces which were a little tough. I guess for the price that you're paying, no complaints there. I suggest you should just drop by for a quick lunch as the place is not air-conditioned and it may get a little hot & stuffy after while.
Jalan Batubelig, 41 (Kerobokan Kelod, Kuta, Bali)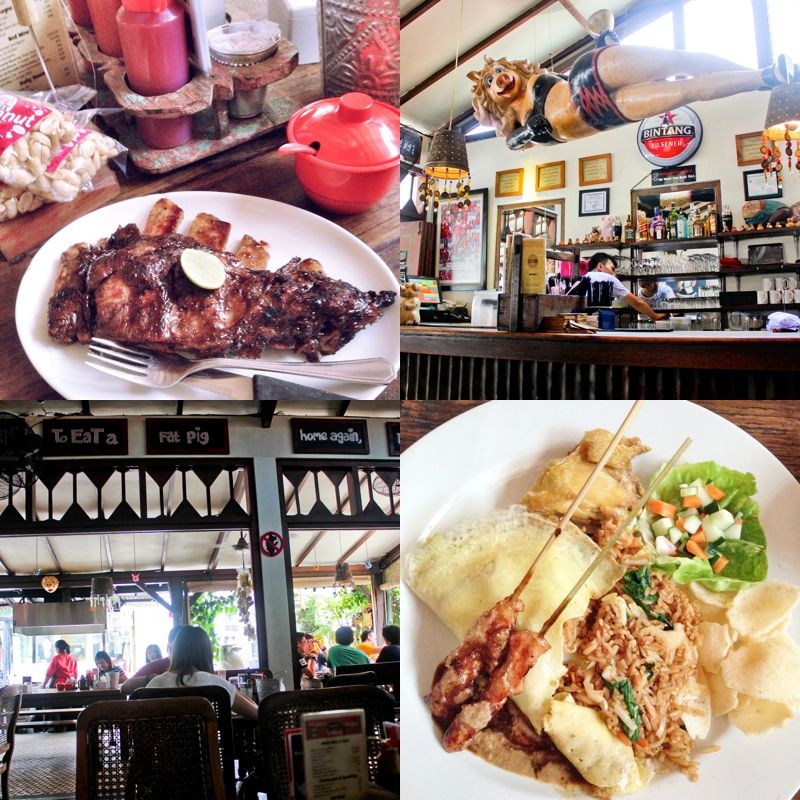 (Left to right) Pork Ribs, Nasi Goreng
The star dish of Naughty Nuri's would be the Pork Ribs (full rack going at 119,000IDR). They are grilled over charcoal right at their door step, talk about making full use of their selling point. The warung features some outdoor and indoor seatings, with wooden tables for that rustic touch. A huge flying pig model can be found hanging above the bar, and also figurines and posters of pigs found all around the warung. While I was there, we saw a group who ordered martinis and it came with "a short booty dance" from the waitresses hahaha. The pork ribs was tender and nicely marinated, grilled but yet retaining the moisture within the meat. We also had the Nasi Goreng (55,000IDR), which was decent and especially enjoyable with the super spicy Indonesian chilli. It was fairly empty when we visited on Saturday for an early lunch. While it is located along a rather quiet road, it was fairly easy to flag for a cab.
Revolver Coffee at Gang 51 (Gang means alley in Bahasa Indonesia)
Jalan Kayu Aya No 3, Oberoi, Seminyak Bali
If you like exploring for cool coffee joints, this is the place to be. Revolver Coffee is located in a small alleyway opposite the Bali Clinic, behind This is a Love Song store. Do look out for these two shops while searching for Revolver! We were there for post-breakfast/ pre-lunch and hence we were lucky to walk into Revolver relatively empty at around 10am. The crowd started to build up towards lunch time. They have a all-day breakfast menu and lunch menu from 11am-6pm. The breakfast menu items ranges from 25,000IDR to 55,000IDR, pretty affordable I must say. We ordered a Goodfellas - pancake stack with blueberries, ice-cream and canadian maple syrup (49,000IDR) to share. It was served fluffy and went very very well with the ice cream and syrup, till we almost forgot we just had breakfast! Coffee wise, we tried the flat white and iced cappuccino. Flat white was smooth and the sweetness was just right without compromising on the aroma of the coffee. The iced cappuccino was fairly decent and it was served with an ice cream inside. I would recommend you to avoid lunch hours should you want to visit Revolver Coffee.
Merah Putih Restaurant
Jalan Petitenget No.100x, Kerobokan, Seminyak, Bali 80361, Indonesia
Daily | 12-3pm, 6pm-late
Reservations recommended
Menu:
https://merahputihbali.com/restaurant.html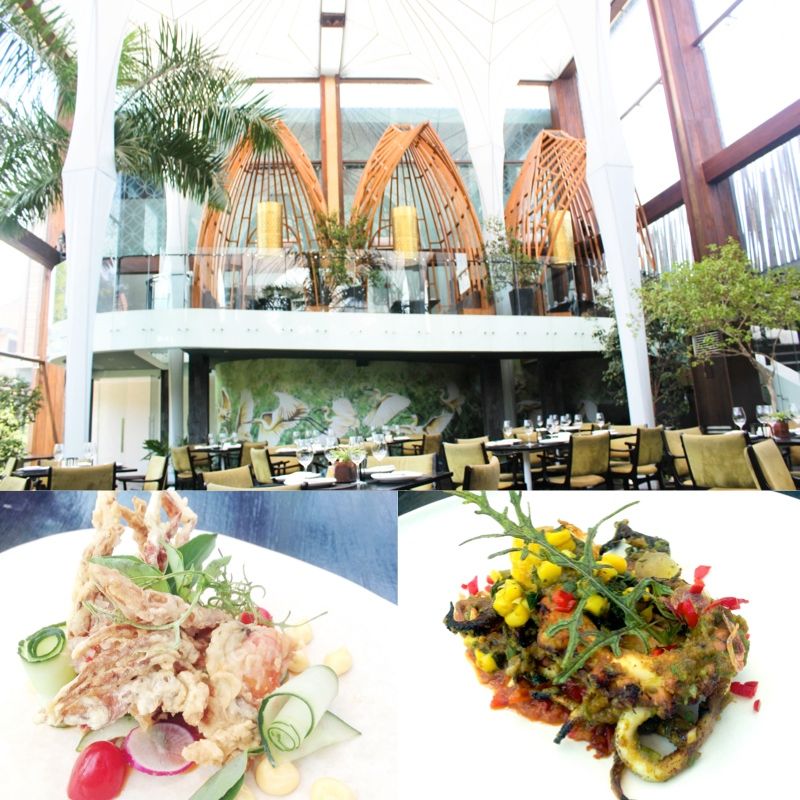 (Bottom left to right) Soft Shell Crab, Char-grilled octopus
(Left to right) Barramundi Fillet in Curry, Gado-gado, Merah Pu-Tea, Creme Brulee


Merah Putih sets out to serve Indonesian cuisine, and also incorporating some modern elements into its dishes. To bring about the communal dining culture in Indonesian food, small plates and share plates are available to allow diners to tuck into their meal as a group and also the opportunity to taste a variety of dishes. I particularly enjoyed the dining space - high ceilings, clear glass to allow ample natural sunlight into its interior, presence of greenery. It really sets the mood right for a wonderful lunch. Dishes that I have tried are Jangkang (fried soft shell crab salad), Gurita Bakar (char-grilled octopus, shallots, sweet corn, sambal hijau), Kare Ikan Tuturuga (barramundi fillet, coconut curry, school prawns, tomato) and Pecel(Gado-gado). The soft shell crab and grilled octopus were executed decently, but I have tasted better elsewhere. The barramundi and curry had robust flavors, which had us wanting more. Special mention goes to the Gado-Gado. This Javanese green vegetables salad together with the peanut sauce was addictive! The crunchiness of the greens was very refreshing when paired with the peanut sauce. Oh, we also had their Merah Pu-Tea which came with tea ice cubes. Sweet thought! Overall, I think Merah Putih is suitable for both lunch and dinner with its gorgeous design of the restaurant.
Mamasan
Jl. Raya Kerobokan No. 135
Br. Taman, Bali.
Daily | 12-5pm, 6-11pm
Reservations recommended
Menu:
http://mamasanbali.com/wp-content/uploads/2011/12/SIGNATURE-DISH-ALL-DAY-MENU-1.pdf (actual menu in restaurant offers more choices)
(Bottom right) Roti Canai
(Left to right)Bamboo Dumplings, Peking Duck, Stir Fry Prawns, Short Rib Beef


Mamasan is one of those sexy restaurants where you would want definitely want to dine at when visiting Bali. Coupled with a slightly vintage finish with those old school photographs hung up on the walls and the large signature Mamasan portrait in the restaurant, one can forget that this used to be a warehouse. It is now converted to a two-storey bar and dining restaurant. Operated by the people behind Sarong, that speaks a lot about it. If you are indecisive when it comes to food, I can assure you a headache at Mamasan. The menu here consists of Asian Bites, Salads, Curries & Braises, Stir Fry, Crispy Things and Side Dishes with each category consisting of 7-10 choices. Just go with your gut feeling & recommendations from the staff! We ultimately went for the Peking Duck and Beef and Bamboo Dumplings under Asian Bites, Stir Fry prawns under Curries & Braises and Short Rib beef under Crispy Things. We also added a Roti Canai - also known as our Roti Prata haha. The Peking duck here doesn't come with the usual crispy skin that we know of in Singapore, but rather very tender duck meat with a thin crispy skin accompanied by hoisin sauce. The Beef and Bamboo dumplings fell short of expectations though, as i've heard good reviews on it. I felt that it tasted like an ordinary meat dumpling. The mains here were really impressive though! I like how they are able to create the sauces that complements the ingredients so well. For the stir fry prawns, there was a slight spice to it as they have used a chilli jam. The sweetness from the prawns, onions and baby corn, together with the crunchiness of the cashew nuts was definitely a party in my mouth. The caramelized beef short ribs were very well marinated with that sweet coat of sauce on the meat - though some pieces may be a little too tough. Do order some cocktails to go along with the food! They do have quite a few Mamasan creations and I love the one I ordered - something along vanilla & poached apple, I think it would be the choice for girls!
Lia cafe
Jalan Pemelisan Agung, Kuta Selatan, Bali 80361, Indonesia
On one of the nights, we also took a short ride out to Jimbaran for a seafood dinner by the beach! I've read lots of reviews stating that they were overcharged for such seafood, and hence after research, i've decided to visit Lia cafe! Reason being they have a set menu with fixed prices, and prices start from IDR250,000 inclusive of a one way taxi transport. We just had to email them with our preferred date, let them know where we're staying and the driver will be there to pick you! Our set includes prawns, fish, clams & squid. There were other sets which includes crabs and lobsters but we were feeling lazy! We also managed to change the coconut to their Bintang beer. The seafood was quite fresh! At the price that we are paying, I must say that it was very worth it. I particularly enjoyed the squid, as it was grilled but still retaining the sweetness of it. Prawns were fat and juicy, while there was also a fair share of meat for the fish. I found the clams a little too slimy, hence I did not really enjoy it. We had wanted to catch the sunset during dinner but it was unfortunately cloudy on the evening when I was there. Nevertheless, a seafood beach dinner with the sand in your feet and the seaview is definitely an experience that you should have when you visit Bali without hurting your pocket!