Grub
Nestled within Bishan Park, Grub is a relatively new establishment which has already gained the likes of many. They offer weekend brunch for the ladies, burgers for the boys and beers for the drinkers. Seems like they've got it all covered!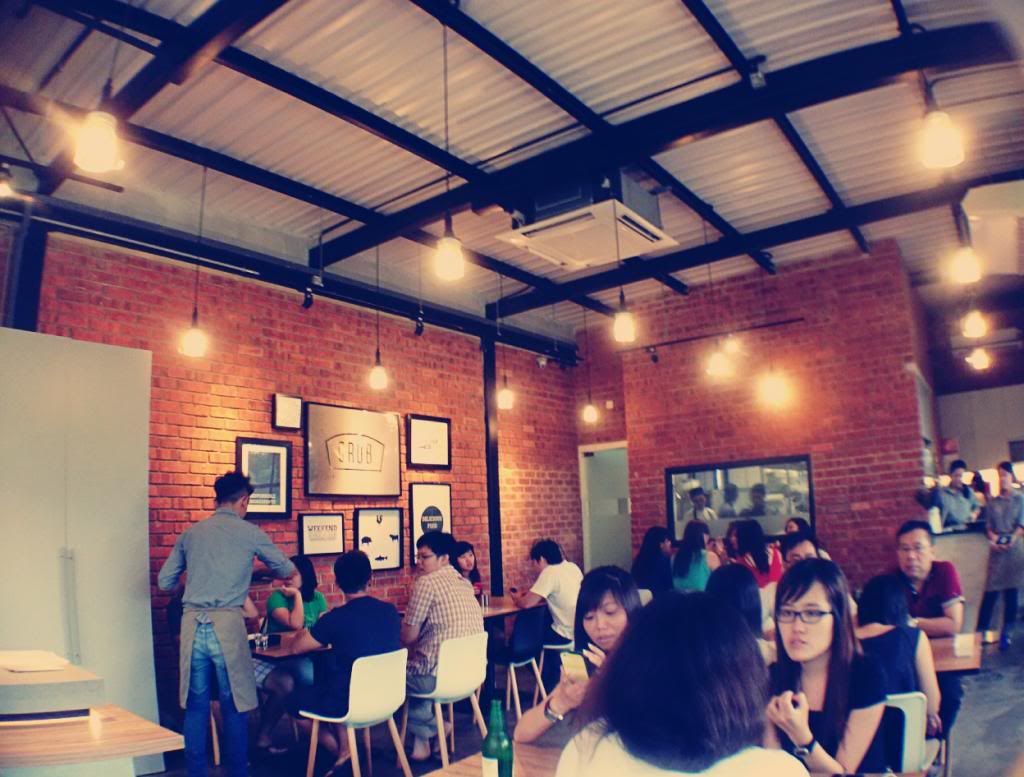 Strategically located within Bishan Park, it is a good option for families to dine there after spending a day at the park ( I spotted families donned in sports attire when I was there! ). I arrived just 15 minutes after dinner service started and was immediately ushered to my seat. However, not long after, queues started to form, so remember to go early to avoid the queue!
Truffled Egg Cocotte SGD7
The strong smell of truffle was what greeted us when this was served. The truffle was a smart pairing with the perfectly cooked soft boiled eggs, and dipped with the foccacia bread that was oh-so-crispy. Yes, the serving was rather small and some of you may find it pricey for just eggs & bread. But let me tell you, they were extraordinary to me. Truffle is a tricky ingredient to prepare and Grub seems to have done it right!
Crispy Fish Burger SGD14
The crispy fish in the burger came beautifully fried. I was happy to see the oversized fish, which means a more satisfying meat to bun ratio
!
How many of you like it this way too? ;) The fish was well seasoned, and had a nice coat of crumbs. The burger had remoulade (also known as tartar) and crunchy lettuce, which went very well with the fish and soft buns.
GRUB Cheeseburger SGD13
Another signature of Grub - their cheeseburger. Just look at the cheese melted over the patty!! However, my first bite of their signature dish left me disappointed in terms of taste and juiciness of the burger. It might have been the hyped up expectations from the aesthetically pleasing burger that was served. Definitely pales in comparison to other burgers I have tried.


Churros SGD8.50
How can you leave Grub without trying their churros! These came along with 2 dips - dark chocolate and tangy creme anglaise. The churros came piping hot and was crispy on the outside, soft on the inside. Their version is a lot fluffier than the churros from Max Brenner (which are denser), so it's up to your personal preference in which mine lies with the Grub ones.
Grub is located at
510, Ang Mo Kio Ave 1
Bishan Park 1
Singapore 569983
No reservations.
Closed on Mondays and last Tuesday of every month
Tue to Fri | 1730-2230
Sat, Sun & PH | 0900-1430 1730-2230
Kitchen closes at 1400 and 2145 daily