SKIRT - The Boldest Grill
You might have heard about the gorgeous W Hotel at Sentosa Cove and SKIRT - The Boldest Grill is just located on the ground level. Upon arrival at the hotel, you will be welcomed by the big sexy W sign outside the lobby area, which lights up in different colors at night. I was there for my 3rd year anniversary dinner with my boyfriend. We picked this restaurant because we were craving for some good steak (without burning our pockets)!
SKIRT has adopted an open kitchen concept with an open-top grill where all the steaks are grilled! They have an aging chamber housing their beef, which was quite a sight! Overall, the restaurant has a funky and chic vibe to it, with a glass wrapped exterior and a mix of both leather booth seats or wooden tables and chairs. Whilst scanning the place, I also spotted an interesting "chandelier" made up of rustic looking knives and forks!
Foccacia bread


A warm foccacia bread roll was served after our orders were placed and it came with a seaweed dip and chorizo lard oil. I must say that I really prefer this to the usual olive oil. I may be bias to anything seaweed - just like how I love Macdonald's seaweed shaker fries! The dips were so good that we finished the entire loaf!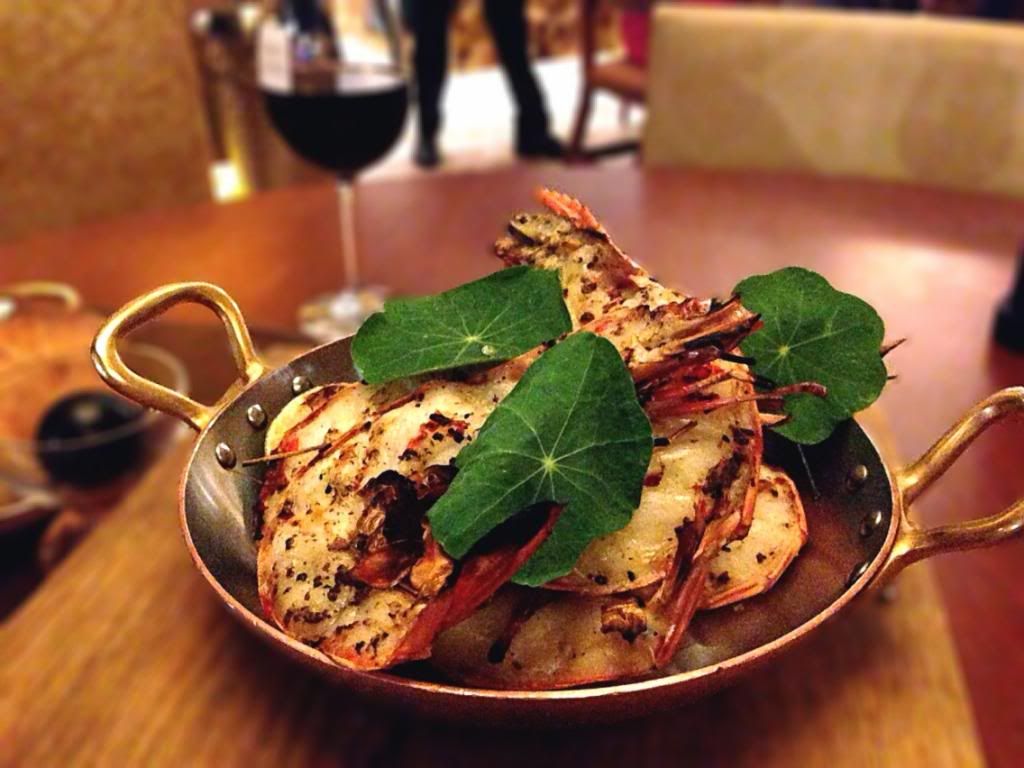 King Prawns Split and Peppered SGD25
I was happy that the prawns were fat and juicy enough, such that it still remains delicious after being split up. As a result of grilling, the prawns were slightly charred and gave a tinge of smokiness to the taste. In addition, the natural sweetness of the prawn was retained and was overall, a delightful and enjoyable appetizer.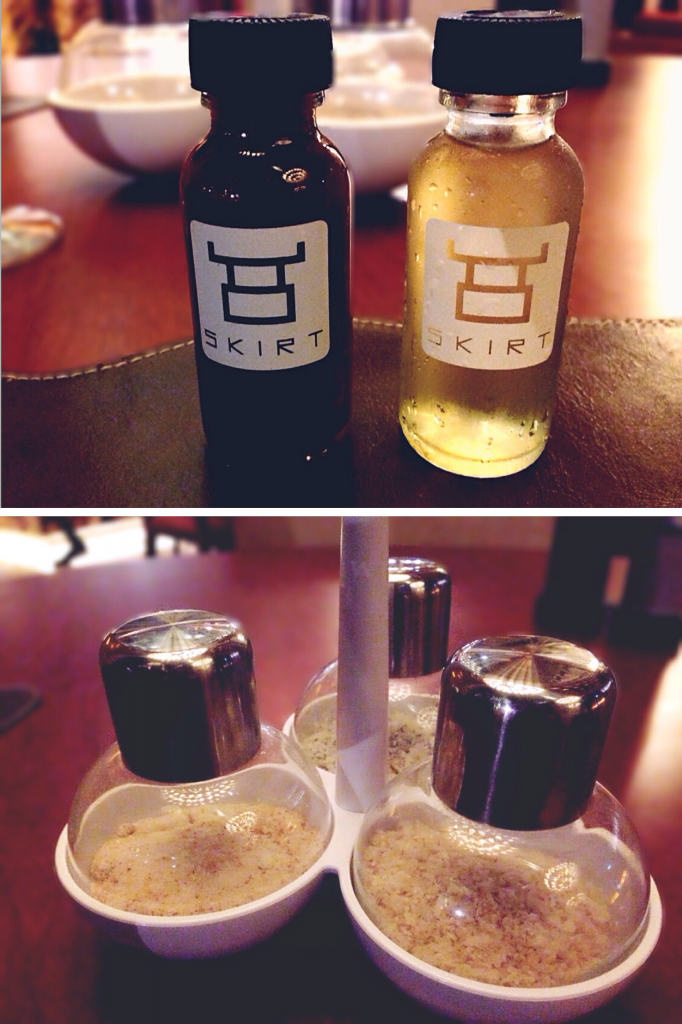 BBQ Sauce | Apple Bourbon
Rosemary Salt | Roasted Garlic Salt | Smoked Salt
A traditional BBQ sauce to go with the steaks, and also 3 variations of salt were served just before our mains. They also had an apple bourbon shot which functions as a palate cleanser and it was very refreshing!
Skirt 3 Mustards
At SKIRT, they have 12 condiments which are available for you to go with your steak. We requested for 8 different types to have a try and these included the Skirt 3 Mustards, Chocolate Bourbon Sauce, Horseradish Cream, Red wine and Marrow Sauce, Four Peppercorn Sauce and Taragon Bearnaise.
Tajima Australian Crossbred Wagyu
25 days Dry Aged Sirloin MS 8 250g
SGD75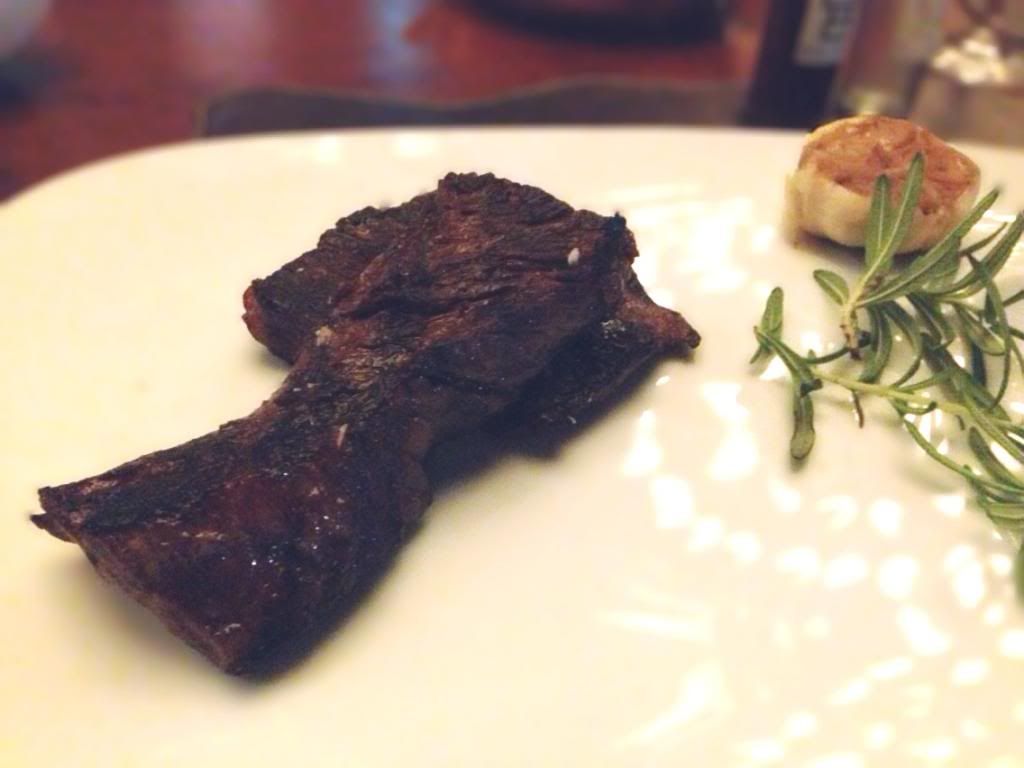 Blackmore Australian Full Blood 9+ Wagyu
Skirt Steak 250g
SGD55
I had the Tajima Australian Sirloin (medium) as my main, and it came beautifully grilled. My boyfriend had the signature Skirt Steak (medium rare) and it was slightly more charred than the sirloin. Both the steaks had perfect amounts of marbling that rendered each bite a juicy and heavenly experience. The steaks were quite tender and had just enough fats. The Skirt Steak had a tinge of the intentional charred flavor and a richer taste, and was my choice steak between the two. Trying my steak with the different condiments was quite an experience, and I've found my personal favorites to be the smoked salt and four peppercorn sauce. Nevertheless, the other condiments such as the chocolate bourbon sauce were also great pairings with the steak.

Each steak was served with a clove of soft garlic, which enhanced the flavor of the steak. Definitely not to be avoided, especially for those who are skeptical of the strong garlic-y taste!
Asparagus, Quail Eggs, Burnt Butter SGD12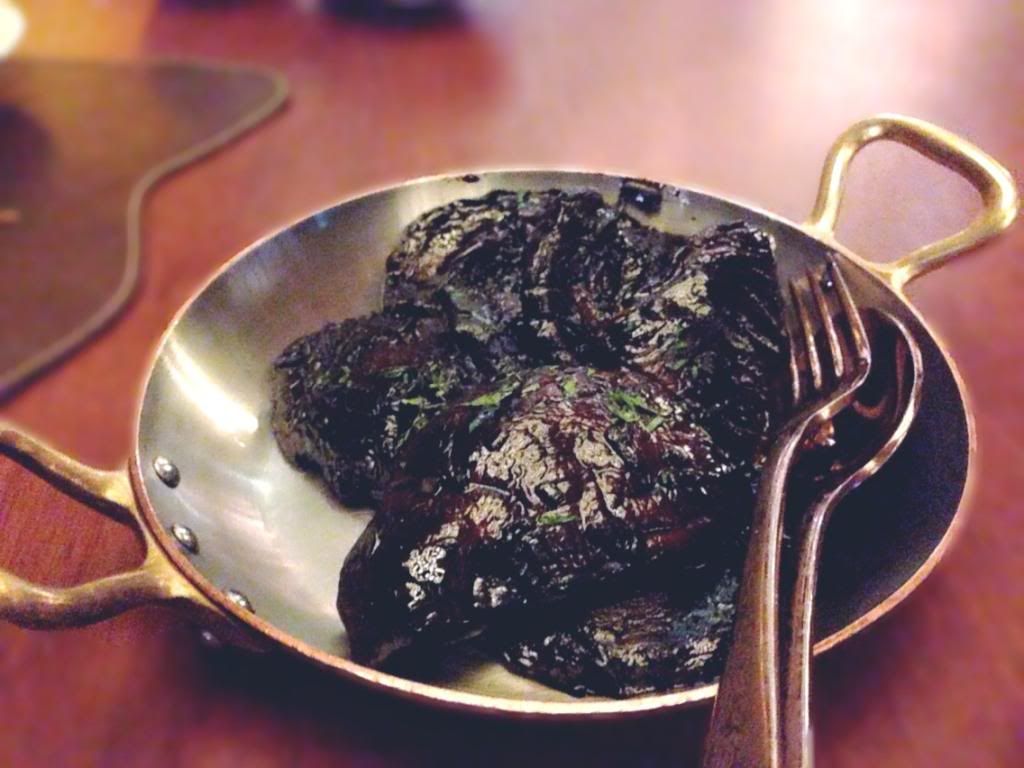 Sauteed Portobello Mushroom SGD12
We had the asparagus and mushroom as sides to share along with our main. The asparagus were fat, crunchy and had the fragrance of the burnt butter. However, I felt that the dish could do with a tad more seasoning. The portobello mushroom on the other hand, was full of flavor - definitely not easy to whip up such a deceptively easy-looking mushroom dish!
We were dead full when we were about done with the food featured above (blame it on the foccacia maybe? :p), hence we gave their desserts a miss! We had made a reservation 2 weeks in advanced and was kindly offered the booth seating, which was very comfortable and contributed to the lovely dinner. SKIRT had quite a decent crowd on a Monday evening, so I'm guessing reservations are recommended especially on weekends! After the meal, you have the option of taking a stroll along the beautiful yachts at Sentosa Cove, which could pass off as an overseas location.
Oh and please pardon some of the photos as it was quite a challenge to capture the beauty of the steak with just an iPhone :)
SKIRT is located at
21 Ocean Way, W Hotel
Singapore 098374
+65 6808 7278
Daily | 1900-0000