Nam Nam Noodle Bar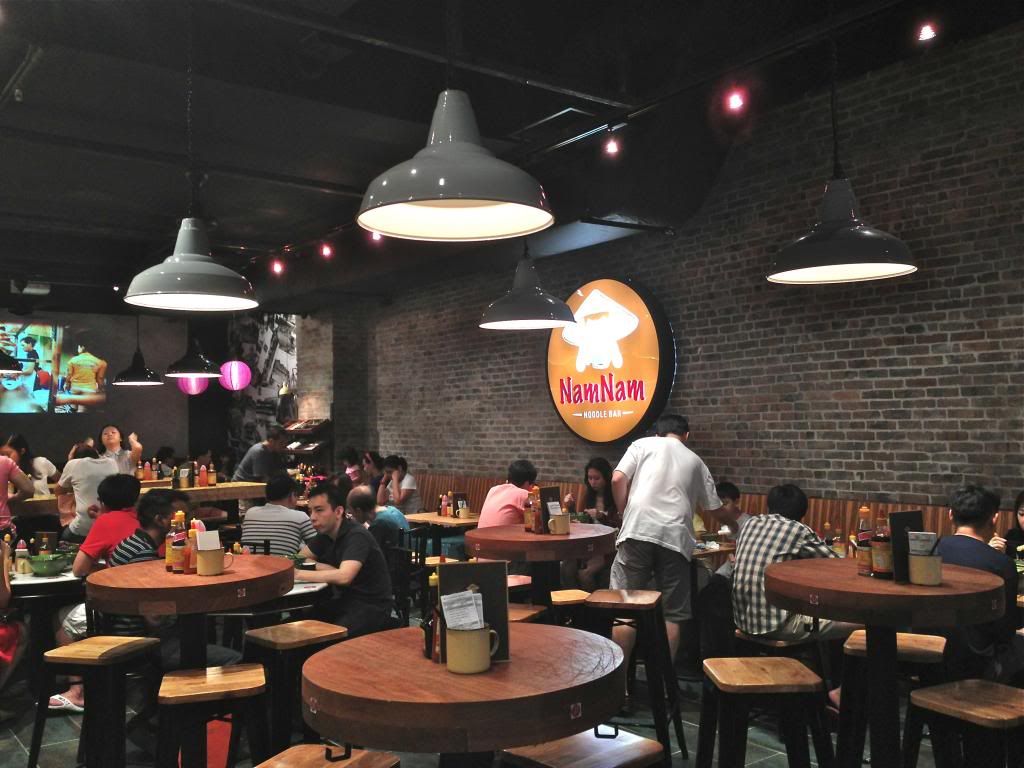 A few weekends back saw me at Nam Nam Noodle Bar for some pho-tastic Vietnamese food! You can easily spot Nam Nam at Raffles City and Wheelock Place as there is always a queue forming up during meal hours. This is how popular Nam Nam is! However, i've decided to pop by their newly opened outlet at Suntec City Mall after their revamp, and I was glad to find it relatively empty on a Sunday evening :)
Nam Nam has a neatly organized menu, separated into sections - Banh Mi, Small Plates, Hanoi Pho, Other Noodles (from Southern and Central Vietnam), Desserts and Beverages. You tick your choice of food on the order sheet found on the tables, then proceed to submit your order and payment at the counter. Utensils, serviettes, coasters, condensed milk are all also self serviced.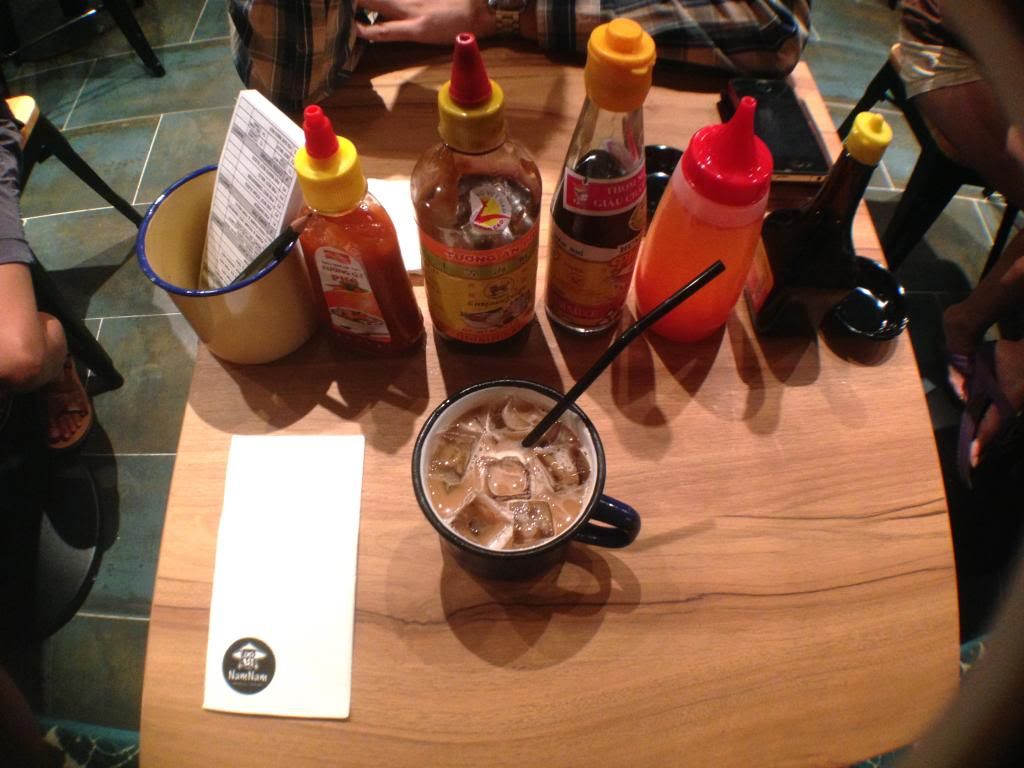 Viet Classic iced coffee with condensed milk SGD2.50
I knew I had to try the iced coffee when I come to Nam Nam. Being a coffee lover, I enjoy the thickness of viet coffee and I must say that Nam Nam's rendition did not disappoint. It was "gao" and sweet at the same time, yet not too overpowering. The amount of caffeine in it was proved to be very strong when I was unable to fall asleep on that very night!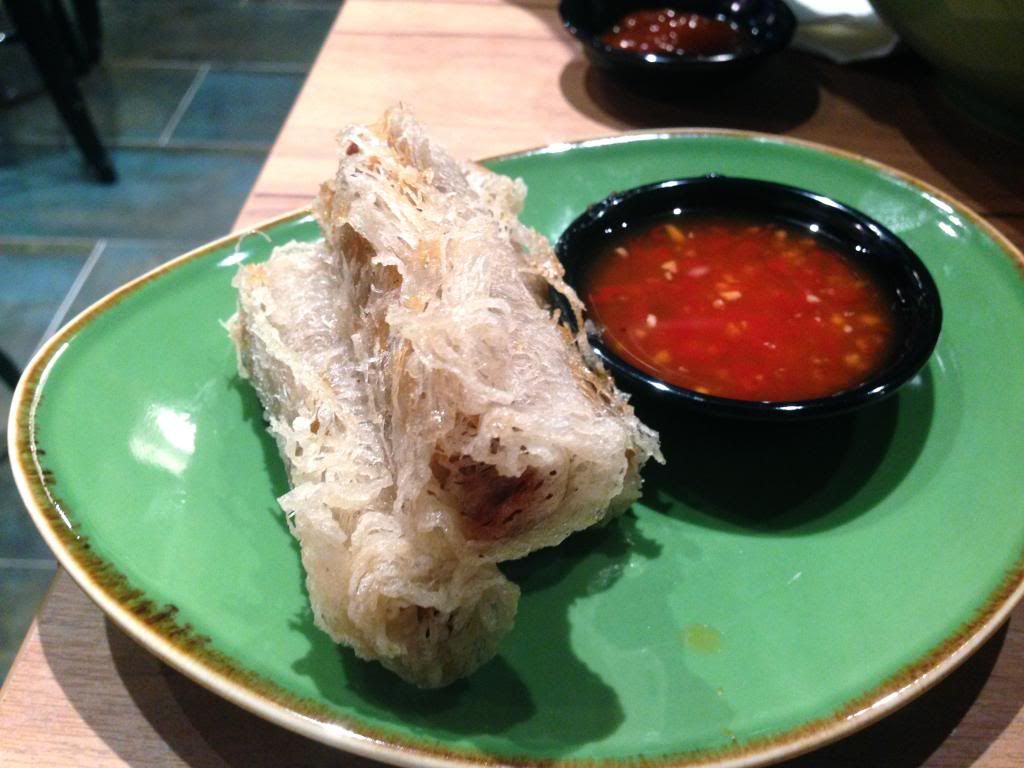 Fried prawn & pork rolls SGD4.90
We ordered a fried prawn & pork rolls from the small plates section to share. It was good, without it being over greasy - something which I always fear of fried food. Dip it with the accompanying sweet chilli sauce and it was very satisfying. You can give their Fresh Southern Rolls with sweet shrimps, egg and fresh herbs (SGD4.90) a try as it is a signature dish of Vietnamese cuisine. I gave it a miss as I did not enjoy the fresh herbs(basil leaf, mint...) in the rolls.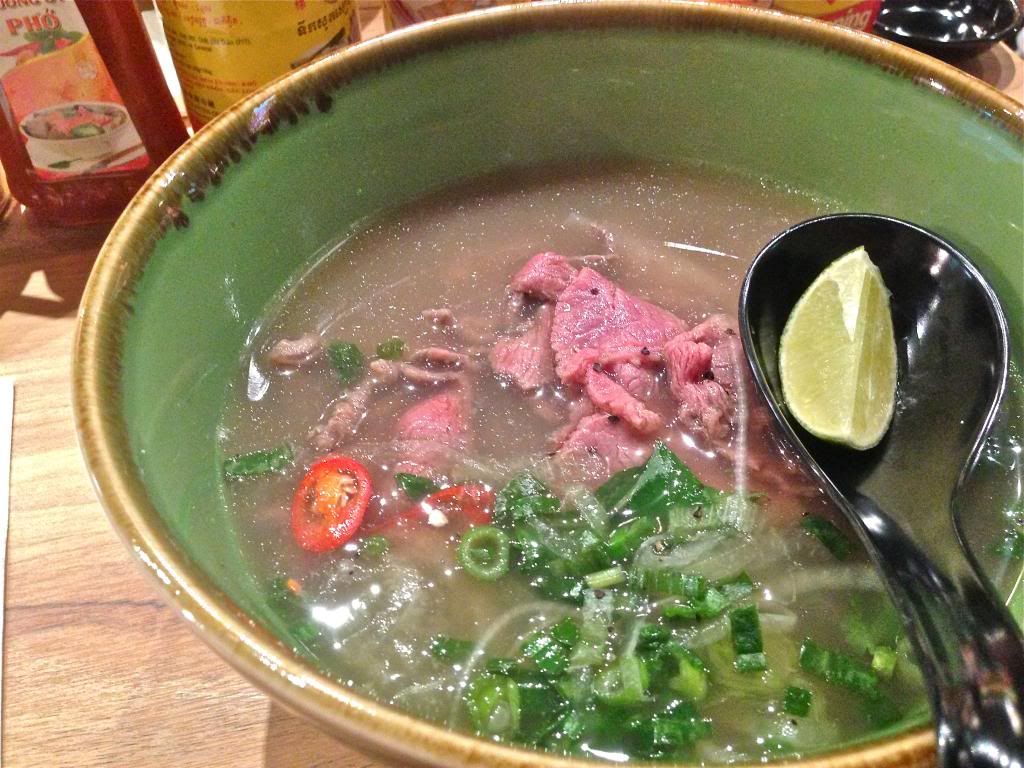 Pho Beef Steak Slices SGD8.90
How can we visit Nam Nam without trying their Pho? We decided on the beef slices in their flavorful broth that is boiled over 24 hours. The Pho came with slightly reddish beef slices, which were then cooked using the heat from the soup. However, the beef slices got a little too tough towards the end! The soup was definitely the limelight of this dish. It was extremely tasty, sweet and a little tangy with a squeeze of the lime.
Flower Crab Noodle Soup SGD13.90
We also had the tomato based flower crab noodle soup, as contrasted to the plain beef slices Pho. I was pleasantly surprised by this dish, as the flavors packed a punch and making it very addictive. The soft shell crab was quite crispy, and dipping it in the tomato based soup makes it taste even better!
Nam Nam Noodle Bar is definitely a must-go place in Singapore for some authentic Vietnamese food, especially so when vietnamese food is not so commonly found here. If you noticed, they have a row of condiments on their table, and it is up to us on how we want to add even more flavors to our dishes. I only used a little seafood & chilli sauce for the beef slices for my Pho, so that I can retain the sweetness of the broth.
On the other hand, I was in Ho Chi Minh for a short trip last weekend and have managed to try one of their top Pho in the city. Do check back for my review! :)
Nam Nam Noodle Bar is located at
Suntec City (Fountain Area)
Temasek Boulevard
#B1-131, Lot 510 TS 11
Singapore 038983
Daily | 0800-2130 (last order)
Also located at Raffles City & Wheelock Place
http://namnamnoodlebar.com.sg/