Tangerine (ESPA)
Situated amidst the lush greenery at ESPA, Tangerine serves spa cuisine specially brought to us by celebrity chefs Sam & Forest Leong. Together, they work closely with the in-house nutritionist to create dishes which can satisfy our taste buds in a healthy manner. If you want to eat clean, this is the place to come to.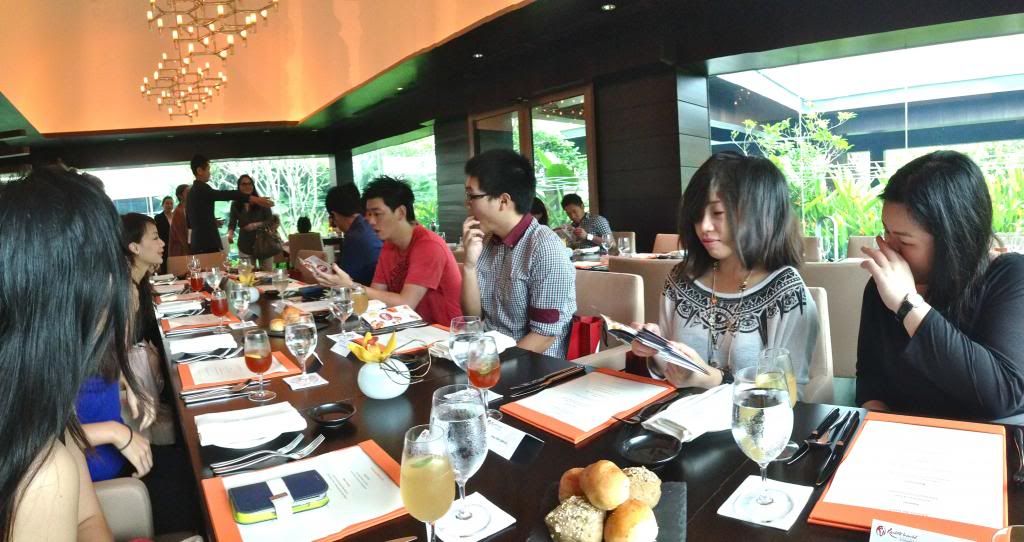 I was thankful for the opportunity to join
ladyironchef
on a Saturday afternoon to try out Tangerine's 3-course lunch menu which they are offering for the RWS Food Affair! We were given the choice of either a Bael Fruit or Lemongrass drink whilst waiting for lunch to be served.
Summer Green and Cress, Extra Virgin Coconut Vinaigrette
We started off lunch with our appetizer - Summer Green and Cress, Extra Virgin Coconut Vinaigrette. Chef Forest Leong had kindly introduced her dish to us before we started digging in. It was only then we realized that coconut oil is a healthier option than olive oil - which explains her choice in this appetizer. The coconut strips and oil not only added extra fragrance to the dish, but also made an impression since the taste is not commonly found in other salads.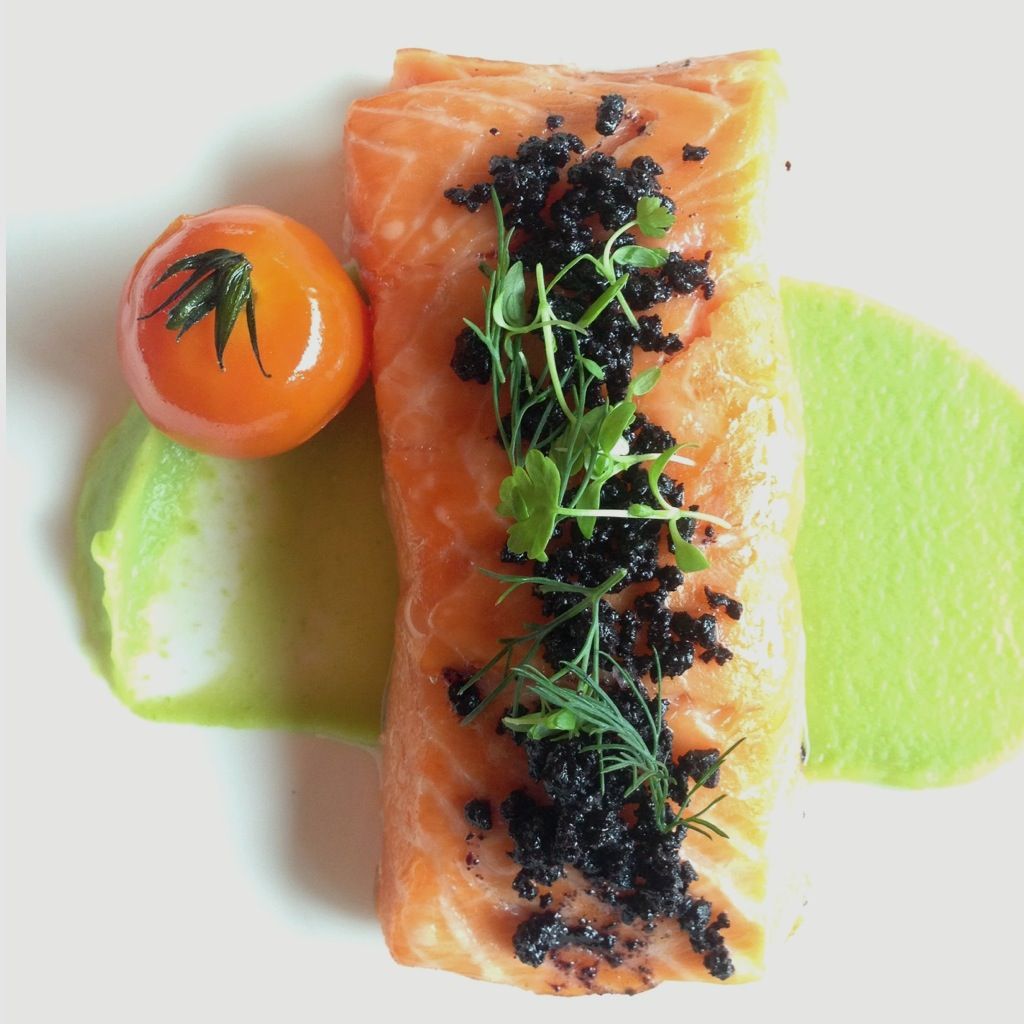 Chef Forest's Sous Vide Salmon
Olive Dust, Confit Tomato and Green Pea Mash
I had the salmon as my main course, and it was sous vide at 48 degrees in order to retain the omega 3. This method of cooking will enable the salmon to be cooked evenly, without overcooking on the outside. Chef Forest Leong had pre-empted us that the salmon would not be served hot due to the cooking method. The salmon was full of freshness, while the other components of the dish complemented it well. The "doneness" was perfect for me - not too undercooked or overcooked.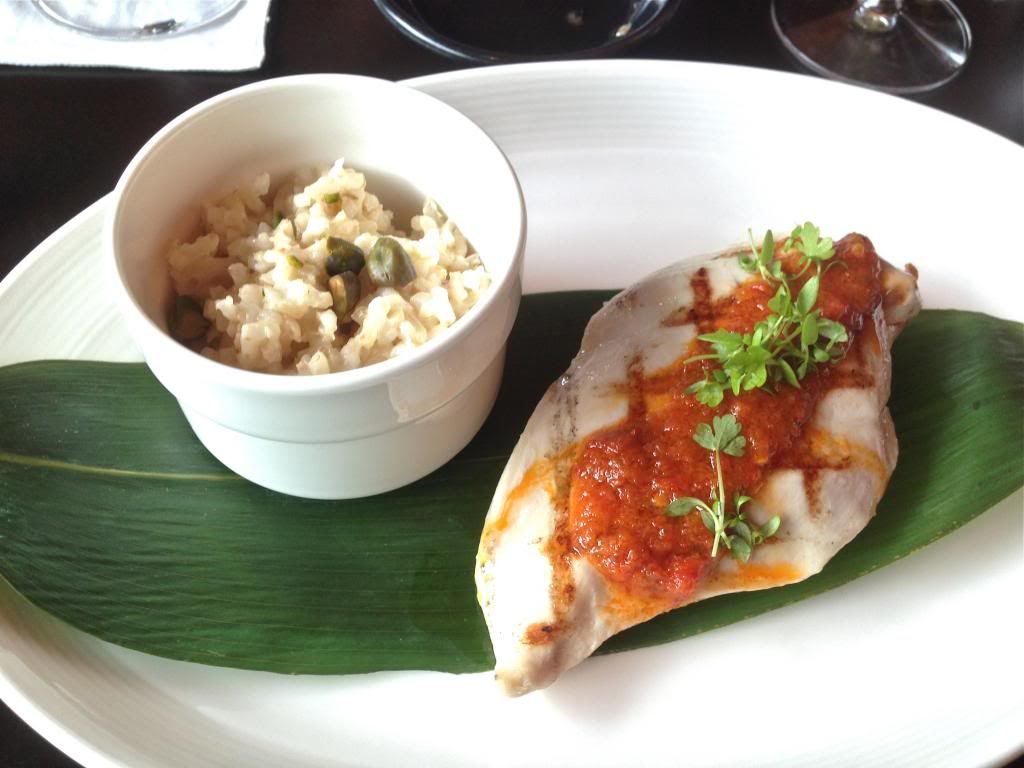 Organic Lemongrass Chicken
Pepper Tamarind Sauce and Brown Rice
The other option for the main would be the chicken. Even though chicken breast was used, it was tender and remained moist. Superb cooking technique there! But what blown us away was the brown rice which was extremely yummy!! This dish incorporates just two very basic ingredients, but is transformed into something remarkable by Chef Forest Leong.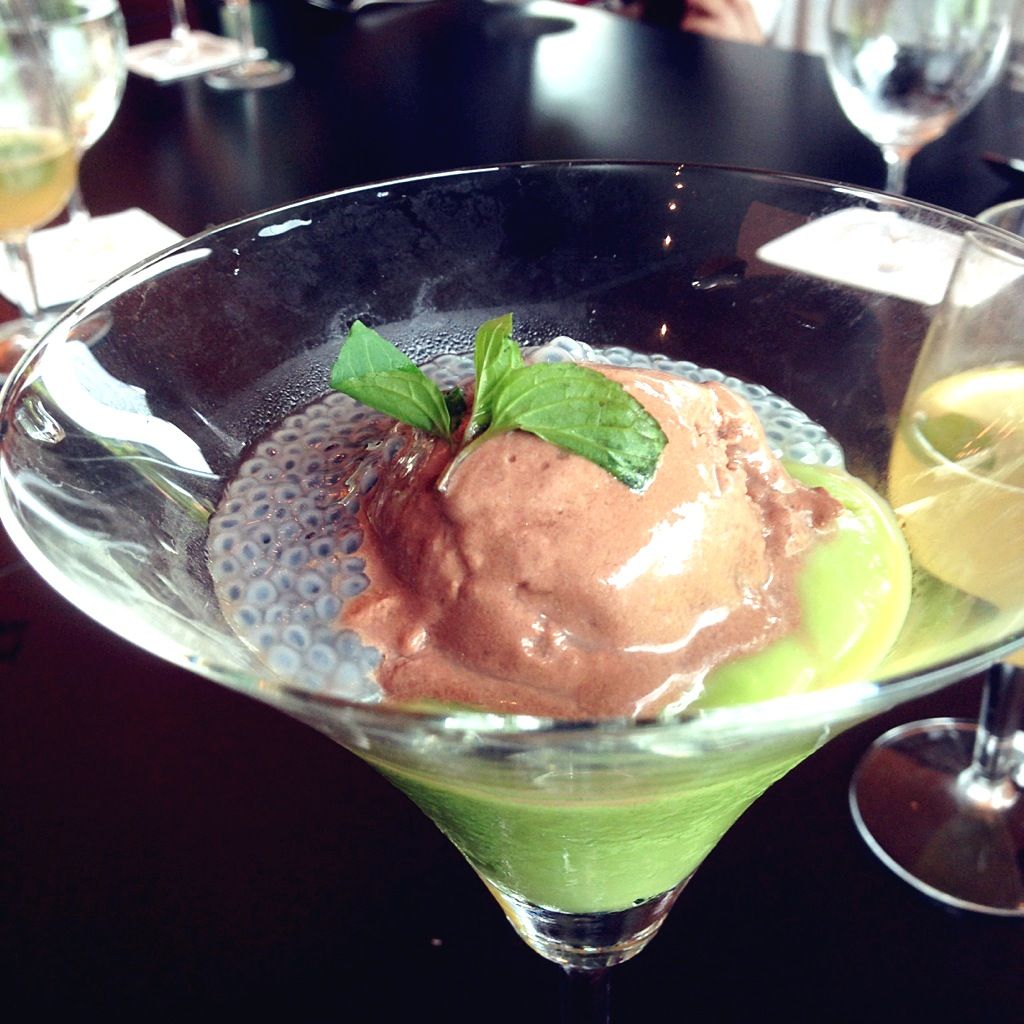 Chilled Avocado and Chocolate Sorbet
And finally, onto my favorite part of the meal - dessert! Chef Sam Leong had cleverly paired chocolate and avocado together, which allowed us to enjoy our dessert without feeling sinful at all! I personally do not fancy avocado, but I still finished every spoonful of it. Definitely a clear sign of how delicious it was!
Also, Tangerine has their own garden beside the restaurant, where they grow their own Oregano, Chilli Purple, Aloe Vera, Key Lime & etc! Very cool indeed! Just how many restaurants can we think of that grow their ingredients in Singapore?
Throughout the meal, we were honoured to have Chefs Sam & Forest Leong introducing their dishes to us. It was interesting to find out their concept behind the inception of each dish! They had also shared with us how they had to tweak their recipe in order to fit the concept of spa cuisine which requires a balance of nutrition in ESPA. This was challenging for them since they have been specializing on Asian food which focuses a lot on carbohydrates(rice) and flavors (lots of sugar).
So, do not forget to check out Tangerine at ESPA during the
RWS Food Affair
which is happening from now till 22 September 2013. The above featured set lunch is priced at $45++. Mastercard cardholders and RWS Invites members get to enjoy 20% off.
I've also checked out their usual menu, and their mains are reasonably priced at $18++ onwards. Moreover, it is located at ESPA Resorts World Sentosa which feels like we're on a getaway!
Tangerine
is located at
Level 1 ESPA
Resorts World Sentosa
8 Sentosa Gateway
Daily | 1000-2200 (last order at 2130)